CKX, Inc., its subsidiary Elvis Presley Enterprises and Cirque du Soleil have reached an agreement with MGM MIRAGE to create a permanent Elvis Presley show at the multi-billiion dollar, multi-use urban CityCenter project currently under construction on the Strip. The show is expected to open with the hotel in November 2009.
In May, the CKX and Cirque companies announced an agreement for the creation, development, production and promotion of Elvis Presley Projects, featuring touring and permanent shows as well as multi-media interactive "Elvis Experiences" throughout the world. They are expecting by 2008 to open at least one touring Elvis show in Europe and/or Asia, and one "Elvis Experience" outside the United States. Beginning in 2009, at least one Elvis Presley Project will open in each of the next six years.

Column Continues Below Advertisement


KRAVE Entertainment, LLC. will be renaming the 250-seat Krave Theater and calling it The Harmon Theater since it is located at the intersection of the Strip and Harmon. The venue continues to host multiple entertainment offerings including "The Sopranos Last Supper," "Funny Business Comedy Club," "John Stagliano's Fashionistas" and the recently opened, "Shag With A Twist." It will also remain the site of the popular KRAVE Nightclub on Friday and Saturday nights.
Since opening in 2004, KRAVE, a 17,000-square-foot entertainment venue, has established itself as the preeminent gay and alternative nightclub in Las Vegas. The Harmon Theater adds a versatile free-standing Las Vegas Theater venue offering entertainment not defined by gender orientation.
To prepare for the re-branding, The Harmon Theater recently augmented the state-of-the-art sound system, increased lighting grids and renovated the video projection system. The multi-use facility features a full-service kitchen and several bars, and can be configured to offer Theater-style, cabaret or banquet seating and is also available for group bookings.
In September, Japonais-noted restaurateurs Miae Lim and Rick Wahlstedt, along with design guru Jeffrey Beers, will open a second Japonais location at The Mirage. Japonais debuted in Chicago in 2003 and blends modern-day Japan with European elegance. The new 8,000-square-foot, 300-seat Japonais will be situated in the space previously occupied by Mikado and Ava Lounge. The new establishment will include the traditional Red Room, featuring formal tables and banquettes as well as a casual Sushi Bar; the sophisticated tropical Lounge offering views of the casino; and an exclusive "island" created for private retreats and VIPs.
The Social House, which will open inside TI -Treasure Island in October and have an outdoor patio overlooking Sirens' Cove, will be the first restaurant from nightlife innovators PURE Management Group. The venue will operate as both a restaurant and lounge.
TI has the only Vietnamese restaurant on the Strip, Pho, with Chef Theresa Nguyen. This eatery is open for lunch and dinner.
The Mirage recently opened the Italian-inspired, 58-seat, Onda Wine Lounge featuring a large selection of wines by the glass, bottle or individual flights and an assortment of food dish accompaniments. It's open daily, 4 p.m. - midnight.
Acclaimed Chef Michael Mina has plans for his first steak-house concept to join his other hit Strip dining ventures. Strip Steak will open at Mandalay Bay and Mina's kitchen will feature inventive equipment including two 12-foot wood-burning grills, each with four chambers, and six circulating machines to utilize low cooking temperatures for slow poaching. The sprawling space will accommodate 250 guests in an arrangement of dining areas, lounges and private rooms.
Comedian Pete Barbutti and Bobby Ruffin's Tribute to the Drifters are performing in a casual showroom hidden away on the second floor at the Four Queens downtown. There's little to no advertising and you can't even find a listing for the show, which costs $19.95 and is a heck of a deal. Shows are at 8 p.m., Thursday - Sunday.
Recently caught Barbutti's show with many of his Vegas entertainer pals in attendance who got up afterwards and also performed: singer Frankie Randall, Sweet Louie of the Checkmates, lounge legend Freddie Bell, songwriter Artie Schroeck, his wife jingle queen Linda November, and comedy impersonator Babe Pier.
Barbutti is famous for many late night talk show appearances, fabulous comedy routines and playing his cigar.
Barry Manilow recently taped a promo video in the Hilton Theater with a special set for his upcoming "The Greatest Songs of the Sixties" album. After undergoing outpatient arthroscopic hip surgery, Manilow will resume his long-term Las Vegas Hilton engagement through 2007 on Nov. 8.
The Golden Nugget downtown recently opened its new high-end watch shop, Perfect Timing, in the main lobby. It's open from 10 a.m. until 10 p.m. The store also carries a line of Mont Blanc products: cufflinks, pens and watches.
Perfect Timing joins the latest of recent renovations and additions to the Golden Nugget, which observes its 60th anniversary this month. On July 14, a new, plush poker room opened, which offers 10 smoke-free tables. Earlier this year, renovations to the Spa at the Golden Nugget were completed, and a high-limit slot salon and exclusive VIP lounge were added.
In the coming months, the Golden Nugget will put the finishing touches on its expanded, new buffet; Grotto Italian Ristorante; new pool, complete with shark tank; and upscale race and sports book.
The new Dan Marino's Fine Food & Spirits restaurant at Hooters Casino Hotel is a 2007 AAA Three Diamond Award recipient. With this distinction, AAA recognizes the cuisine, professional service, and engaging ambiance. The masculine interior features dramatic lighting, elegant stonework, an exhibition kitchen, sweeping Porsche-style leather booths and mahogany wood. Commemorating Marino's football accomplishments, the eatery is subtly decorated with his sports memorabilia including a jersey, autographed football helmet, photographs and more.
The Southern Nevada Bluegrass Music Society will present the 17th annual Logandale Bluegrass Festival, Oct. 13-15, at the Clark County Fairgrounds located in Logandale about an hour's drive outside of Las Vegas, and feature regional and national bands. The weekend will include music workshop, band scramble, 24-hour jamming, and food and craft vendors. For information, call 702-566-9372.
Chris Botti will offer an evening of his trumpet stylings on the floating stage for the 2006 Stars on the Lake concert series at MonteLago Village at Lake Las Vegas Resort on Friday, Sept. 16, at 8 p.m. Tickets are $69.95 for VIP seats and $39.95 for general admission, call 702-795-SHOW (795-7469).
Since the release of his 1995 debut solo album, "First Wish," Botti has built his reputation as a veteran of both contemporary and pop jazz with musical partners such as Joni Mitchell, Natalie Merchant, Sting, Paul Simon and film composer John Barry. Botti also struck gold with "Night Sessions," which peaked at No. 2 on the Top Contemporary Jazz charts. The streak continued as his 2003 recording "A Thousand Kisses Deep" reached No. 20 on the Billboard Top Heatseekers Chart. In 2004, Botti's latest album "To Love Again," was No. 1 on the Top Jazz sales chart for four weeks.
Multi-talented musical comedian, actor, impressionist and musician Stephen Sorrentino will host the annual Italian outdoor San Gennaro Feast, Sept 12 -17 and be opening again for funnyman Dennis Miller at the MGM Grand's Hollywood Theatre, Sept 21-25.
Singer Allen Fawcett, who hosted Dick Clark's lip-synch game show "Puttin' on the Hits" for five years in the 1980s, has a recurring role in "CSI" Crime Scene Investigation" this season as casino manager Matt, opposite Gary Dourdan, who plays Warrick. Fawcett also starred in Broadway musicals and played "Joseph" in the original production of "Joseph and His Amazing Technicolor Dreamcoat." Now he's performing at Hannah's Bistro in Summerlin.
After a 12-year absence, the Muscular Dystrophy Association's 2006 Jerry Lewis Labor Day Telethon will be broadcast live from the new South Coast for more than 21 hours on Sept. 3 and 4. Many Las Vegas headliners including Celine Dion, Louie Anderson, Lance Burton, Clint Holmes, and Rita Rudner will make appearances. One big number will highlight 50 showgirls and showmen from the Tropicana's "Folies Bergere" doing their high-energy Can Can number on Sept. 4.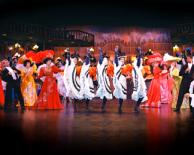 On Monday, Sept. 11, at 7 p.m. at the Sahara, Bill Medley of the Righteous Brothers, will be honored by The Cast, Inc. organization at a dinner and receive the first Louie Prima Award for outstanding achievement in the entertainment industry. His daughter Lena Prima, who is keeping her dad's legacy alive with her show at the Sahara, "Louie Prima, That's my Dad," will present the first Louie Prima Award. This event is open to the public and Righteous Brothers' impersonators, Gene Sironen and Doug Masters, and the 10-piece Benny Bennet Orchestra will provide entertainment.
The prizes for two reality show winners ended up being jobs in Las Vegas. Heather West who won on Fox's "Hell's Kitchen" accepted a job at the new Red Rock Resort. The 26-year-old will be senior chef at Terra Rossa, the resort's Italian restaurant. Benji Schwimmer, the 22-year-old who won on "So You Think You Can Dance," earned a $100,000 grand prize, a national dance tour with the top 10 contestants, and a one-year contract with Celine Dion's show, "A New Day," at Caesars Palace.
Comedy Central is planning a one-hour special starring Amazing Johnathan, who headlines his own show at The Sahara.
"Strip Las Vegas" magazine debuted last January. The monthly glossy publication that features the women who make Sin City sizzle has gained national attention and is now available across the United States in more than 52 markets. There are 450 Hudson News stores located in airport newsstands and bookstores that will be distributing the magazine as well as outlets ranging from Barnes & Noble to Tower Records.
Legendary musician, songwriter Leon Russell will perform at the Cannery in North Las Vegas inside The Club on Friday, Sept. 29 at 8 p.m. Tickets are $14.95, call 702-617-5585 or 866-287-4643.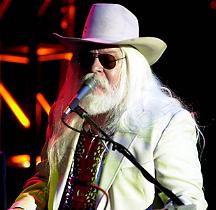 Born in Lawton, Okla., Russell began studying classical piano at age three. As a teenager, he toured with Jerry Lee Lewis and then settled in Los Angeles working as a studio musician. Russell played on many of the finest pop singles of the 1960s.
His first songwriting hit was Joe Cocker's "Delta Lady," and in 1970, he also organized Cocker's legendary Mad Dogs and Englishmen tour. In 1971, Russell appeared at George Harrison's Concert for Bangladesh. After touring with the Rolling Stones, Russell's solo career took off with the 1972 album "Carney," and his first pop hit single "Tight Rope." The success of the 1973 three-LP set "Leon Live" further established his concert draw reputation.
George Benson's cover of "This Masquerade" written by Russell was the first song in music history to occupy the No. 1 spot on the jazz, pop and R&B charts and it won Record of the Year at the 1976 Grammys.
The Cannery in North Las Vegas has a new 288-seat Bingo Room with eight sessions daily on even hours beginning at 8 a.m. Complimentary beverage service is available at every session and fresh pastries are served daily at the 8 a.m. session. The Bingo Room is part of the $45 million expansion, which began in August 2004.
Giveaways while supplies last inside the Bingo Room will start on Sunday, Sept. 10, with all players receiving a free 18-piece manicure and cosmetic kit. On Sept. 20, players will get a free Cannery Bingo dauber. Minimum buy-in is required.
There are CashBall Jackpots and a Double Action Dual Daub Progressive at every session. For information, call 702-507-5825.
CONTINUE ON TO...:
>THIS WEEK'S LAUGHLIN SEGMENT
>LAST WEEK'S LAS VEGAS SEGMENT
>VEGAS VIEWS FULL ARCHIVES
>Return to "Heard Around Town"
>Return to Las Vegas Leisure Guide