XISHI FROM THE ONE GROUP WILL OPEN AT THE PALMS!

The Palms, which is currently underway with the first phase of a property-wide transformation, is closing Little Buddha in order to make room for the pan-Asian restaurant XISHI, (pronounced "zai-she"). Expected to open in December, XISHI will offer traditional and contemporary Asian dishes in a modern vibe-driven space with a feminine twist.

The new venue, located next to The ONE Group's recently announced sports restaurant and lounge, Heraea, will be nestled between both the casino floor and the Palms Pool & Bungalows. XISHI's appealing design aesthetic will center around a chic lounge bar and have a deejay spinning nightly.


Column Continues Below Advertisement



EDGY GASTROPUB, CULINARY DROPOUT OPENS AT HARD ROCK

Culinary Dropout, the first Las Vegas restaurant by five-time James Beard Foundation Outstanding Restaurateur semi-finalist Sam Fox, just opened at the Hard Rock Hotel. The hip- and rebel-style gastropub with pub fare is located near the casino floor and adjacent to the pool, and has more than 6,000 square feet with an additional 3,000-square-foot patio, seating more than 320 guests.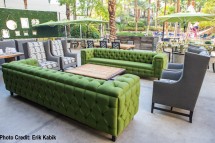 BONKERZ COMEDY CLUB WILL OPEN AT PRIMM VALLEY RESORT
Bonkerz Comedy Productions, which opened in Orlando, Fla., in 1984, and has more than two dozen locations, will open a Bonkerz Comedy Club next month at Primm Valley Resort & Casino in a custom built venue. Many of today's hottest comedians began their career at Bonkerz Comedy Clubs including Larry The Cable Guy, Carrot Top, Daniel Tosh and Billy Gardell, star of CBS' hit sitcom "Mike and Molly."
Shows will be offered Friday and Saturday evenings, with the inaugural show taking place on September 14 with razor-sharp humor from Dean Napolitano, who is a co-star on the sitcom "Hollywood Handyman" and a comedy correspondent for ABC's "Good Morning America."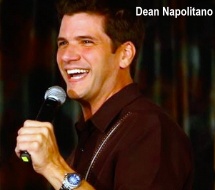 'CRAZY HORSE PARIs' WILL CLOSE AT MGM GRAND
"Crazy Horse Paris" will close on Oct. 1 at the MGM Grand and expand its brand by moving on to other cities. The show first opened at the hotel in 2001 as "La Femme" and replicated the notable Paris cabaret's interior design, picture-frame stage and kaleidoscopic patterns of light that envelope the dances. The show's makeover came in 2009 and included the name change.
PROJECT DINNERTABLE WILL RETURN SEPTEMBER 8 AT TOWN SQUARE
Project Dinner Table returns this fall with a county fair-themed event created by Bellagio Executive Chef Edmund Wong and Executive Chef Royden Ellamar of Sensi at Bellagio. The first in Project Dinner Table's series of fall dinners will be a six-course meal and cocktail pairing on Saturday, September 8, at one long table seating 175 guests outside on North Main Street at Town Square. Tickets are $175 and $4,000 will be donated to Safe Nest.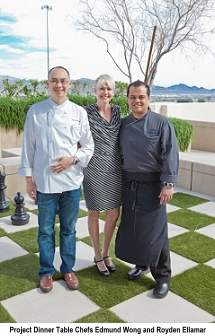 DA VINCI STATUE 'HORSE AND RIDER' CAN BE SEEN AT VENETIAN
The public can now view a rare Leonardo da Vinci statue, "Horse and Rider," at the "Da Vinci – The Genius" exhibit in The Venetian off the main reception lobby. "Horse and Rider" is an extraordinary new discovery from the hands of the genius himself and has been authenticated by the world's foremost authority on the life and works of da Vinci, Dr. Carlo Pedretti.
Created more than 500 years ago from a block of solid beeswax, the model was an early step in an apparently unfinished sculpture-casting process, kept safe following da Vinci's death in 1519. In the late 1900s, a mold and bronze cast were created from the delicate wax sculpture to preserve da Vinci's work.
A limited edition of the sculpture is available for purchase in four different patinas. All four statues, the mold and original bronze cast of "Horse and Rider" are on display daily through Oct.15.
RICH LITTLE'S ONE-MAN SHOW IS YET AGAIN EXTENDED AT LVH
Legendary comedian and impersonator Rich Little has once again had his "Jimmy Stewart & Friends" one-man show extended at LVH. His run at the Shimmer Cabaret will continue through Oct. 3.
LON BRONSON-SAM RIDDLE ARE REGULARS AT GREEN VALLEY RANCH
The Lon Bronson All-Star Band and country star Sam Riddle are becoming part of the weekly entertainment lineup in the Ovation at Green Valley Ranch.
Expanding on what was already a monthly appearance at Ovation, the Lon Bronson All-Star band, which includes frequent well-known special guests, will perform every Friday night, beginning September 7. Cowboy-hat wearing pianist Sam Riddle will bring his country sounds complete with line dancing to Saturday nights starting September 1. Doors open at 10:30 p.m. for both shows, which are free.
ELVIS MONROE JOINS RED ROCK LINEUP AND RELEASES ALBUM
Elvis Monroe is joining the entertainment lineup at the Rocks Lounge inside the Red Rock Resort performing the last Thursday of each month beginning on September 27 and following on Oct. 25 and Nov. 29 at 9 p.m. There's no admittance fee.
In addition, Elvis Monroe, which features musicians from some of the world most accomplished and popular bands, will celebrate its new album with a release party and special performance on Saturday, September 8, at 7 p.m.
GNOMES ARE VISITING CITY HALL AND LIKE VISITORS
The public is invited to enjoy "Gnot The Proper Gnomenclature," by visiting the two whimsical jumbo garden gnome sculptures on display on the second-floor outside patio at Las Vegas City Hall through Jan. 17, 2013. The giant gnomes are available for viewing and photographing during regular City Hall hours. Visitors can share their pictures with the sculptures online at http://ourlasvegas.wordpress.com/.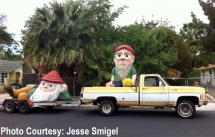 The sculpture garden project by local artist Jesse Smigel features one reclining and one standing 9-foot gnome. As gnomes are "gnown" to travel, they will move to a new location next year.
OLYMPIA WEEKEND RETURNS TO ORLEANS ARENA
Olympia Weekend, the most prestigious event in the world of bodybuilding with more than 100 participants, will return to the Orleans Arena, September 28-30.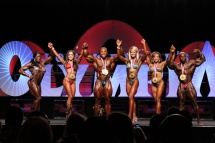 For the seventh consecutive year, the Mr. Olympia contest -- an annual bodybuilding competition sanctioned by the International Federation of Bodybuilders Professional League (IFBB Pro League) -- will take center stage at the Orleans Arena. Winning this prestigious event is considered the highest accolade in the sport of professional bodybuilding. The total prize money exceeding $900,000 will be the all-time highest single purse in the history of the sport.
The parallel contest, Ms. Olympia, will feature seven-time and current Ms. Olympia Iris Kyle.
STRATOSPHERE HOLDS 'TOTALLY 80'S WEEKEND PARTY'
The Stratosphere Casino will turn back time on September 14 and 15 to celebrate the "Totally 80's Weekend Party" throughout the property with gaming, entertainment, drawing and drink specials.
A couple highlights will include free viewings of "Ghostbusters" and "Back To The Future," a Lookalike Contest at 6 p.m. both days, and karaoke in the Images Lounge daily from 7-10 p.m.
OASIS 105.7 FREESTYLE EXPLOSION RETURNS TO ORLEANS ARENA
Oasis 105.7 Freestyle Explosion will return to the Orleans Arena on Saturday, September 15, at 7:30 p.m. Acts performing in this year's lineup are: Stevie B; Lisa Lisa; Trinere; Debbie Deb; Shannon; Connie; Pretty Poison; Stacey Q; and Nocera. Tickets are $31, $40 and $75.
SHORT NEWS ITEMS
Las Vegas Jam Band Society will present their 200th show since 2000 with The Greyboy Allstars at the Hard Rock Cafe on the Strip on Friday, September 28. Their rollicking jams can be heard in countless films, including "Get Shorty," and in extreme sports videos. Tickets are $30 in advance and $35 day of show.
Five-time World Champion Mixed Martial Arts fighter Randy Duane Couture, known as Randy "The Natural" Couture, will visit the Las Vegas Fight Shop inside Miracle Mile Shops at Planet Hollywood for a meet and greet on Saturday, September 1, from 11 a.m. to 1 p.m. There is no charge.
In recognition of the Prince Harry's recent royal shenanigans, i♥burgers at The Shoppes at The Palazzo has unveiled a brand new gourmet burger: "The Exposed Prince."
TOP OF NEXT COLUMN
Reminder, Las Vegas Restaurant Week is Aug. 27-September 2. Diners can visit any participating restaurant during the specified dates and enjoy a multi-course, prix fixe menu specially created for the occasion. Each restaurant will create their own menu at price points ranging from $20.12 to $50.12, with a fixed portion of the proceeds benefiting Three Square.
Motley Crue's Vince Neil recently visited the new "iCandy Burlesque THE SHOW" at the Saxe Theater inside Miracle Mile Shops at Planet Hollywood.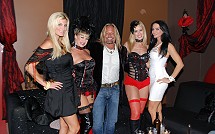 On September 2, the Michael Jackson tribute "MJ Live!" will move from the 5 p.m. time slot to 8:30 p.m. at the Rio's Crown Theater.
Rapper Wiz Khalifa will perform at the Palms Pool & Bungalows for Ditch Fridays on Aug. 31 in the mid-afternoon. The party runs from noon to 6 p.m.
Mi Casa Grill Cantina at the Silverton will turn into your Monday Night Football headquarters for the season with giveaways, weekly prizes and food and drink specials such as $2 tacos and quesadillas and $2 Jägermeister shots, $3 Skyy Vodka cocktails and $12 Corona and Corona Light buckets.
The Cannery will hold a blood drive on Aug. 28 from 9 a.m. to 5 p.m. and all donors receive two free Cannery Buffet coupons as a special thank you.
The Injured Police Officer's Fund (IPOF) will host the seventh annual Classic Car Show and Motorcycle Ride on Saturday, Sept. 8, at 7 a.m. starting at the Bass Pro Shops located at 8200 Dean Martin Dr. and ending at noon at the annual car show; visit: www.helplasvegascops.com.
GAY PRIDE NIGHT PARADE AND FESTIVAL PLANNED SEPTEMBER 7-8
MGM Resort International will present the 2012 PRIDE Night Parade on First Friday, Sept. 7, at 8 p.m. with a pre-parade show at the Main Stage at the Fremont Street Experience at 7 p.m. The parade route will begin at West Charleston Blvd. and head north along 4th Street to Ogden Avenue. Afterwards, all ages are invited to the Jackie Gaughan Plaza in front of the El Cortez for the free Party After the Parade with Zappos.
The Gay Pride Festival will be held on Saturday, Sept. 8, at the Clark County Amphitheater from noon to 10 p.m. and will feature with more than 100 exhibitors on site.
FRANK SINATRA JR. CONTINUES FAMILY LEGACY AT THE CANNERY
Frank Sinatra Jr. will perform his father's classics with his 20-piece orchestra at The Club at the Cannery on Saturday, September 8. By the late 1980s, Frank Sinatra Jr. was one of the few performers who still toured with a full big-band. He has released six albums over the course of his career with his most recent CD, "That Face!," out in 2006.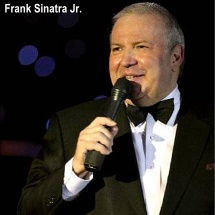 HISTORICAL NEWS BUREAU PHOTOS ON DISPLAY AT COSMOPOLITAN
An exhibit at the Cosmopolitan of 20 large-scale photos, curated by Brian Alvarez, is honoring the 65th anniversary of the Las Vegas News Bureau, which originated as a marketing arm for the Las Vegas Chamber of Commerce and has since documented the city's entertainment and tourism-related images. The photos are on display through 2012.
IT'S FOOTBALL SEASON AT BOYD GAMING PROPERTIES
Pick the Pros, Boyd Gaming's award-winning free football contest, will kick off its 35th season on Aug. 28 at 5 p.m.. In addition to the contest's guaranteed prize pool of $500,000, Boyd Gaming is introducing a new, special cash prize of $1 million, to be awarded to any player who correctly picks at least 196 of the 238 regular-season Sunday and Monday games. Participants must play every week of the season to qualify.
Unlike other football contests, Pick the Pros, which is picking winners straight-up without a point spread, starts a new contest each week, so players have a chance at sharing in a $30,000 weekly prize pool. The six participating properties: The Orleans, Sam's Town, Suncoast, Gold Coast, California and Fremont.
THE ABYSSINIANS WILL PERFORM AT SILVERTON
The Abyssinians will bring their tight reggae harmonies poolside at the Sway Pool Lounge at the Silverton on Saturday, September 15, at 7 p.m. The trio was formed in the late 1960s by brothers Donald and Lynford Manning and longtime friend Bernard Collins. The Abyssinians are responsible for hits like "The Declaration of Rights" and "Satta Massagana," which is one of reggae's most popular anthems. The Abyssinians have seen many incarnations over the last 40 years. Tickets are $10 in advance; $15 day of show.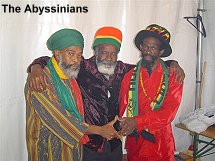 'WINES DU JOUR' SHOW CELEBRATES 11th ANNIVERSARY
"Wines Du Jour," the nationally syndicated wine radio and television show featuring Chef Les Kincaid, a winery and three of its wines each week with an invited guest audience of around 35-plus guests at an upscale restaurant location in Las Vegas, is celebrating its eleventh year on Thursday, September 6, from 7- 8 p.m., at Smith & Wollensky restaurant on the Strip. Congratulations to Les Kincaid with this accomplishment.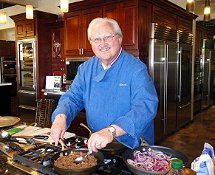 CHEF LES KINCAID HOLDS FUNDRAISER AT WHOLE FOODS
From Aug. 28 – Sept. 13, Whole Foods Markets are promoting the Whole Kid Foundation fundraiser campaign to help raise funds to help schools have healthy choices in their lunch rooms. On Saturday Sept. 8, at 6 p.m. Chef Les Kincaid will prepare a special dinner, including wines at the Whole Foods Market at Town Square. Your donation cost is $35, call 702- 589-7711. Seating is limited.
THE FIRM HOLDS PLAY-DOH® SCULPTURE CONTEST
The Firm Public Relations & Marketing agency is inviting everyone to celebrate "National Play-Doh® Day," which will be Sept. 16, early by entering a sculpture contest using Play-Doh® or another type of modeling compound. You can create your masterpiece, take a photo of it and submit it to create@thefirmpr.com. The 20 finalists will be announced on Sept 10 via www.pinterest.com/thefirmpr. A representative from Las Vegas-based Brett Wesley Gallery will select a winner, who will receive a brand new iPad. Plus the photo on Pinterest receiving the most likes will be the "fan favorite" and winner of a $100 American Express gift card.
LABOR DAY WEEKEND HAPPENINGS
Iconic recording artist, record producer, actor and entrepreneur, Sean 'P. Diddy' Combs, will ignite Labor Day weekend as he hosts "The Sexiest Party in the City" at Chateau Nightclub & Gardens at Paris on Saturday, Sept. 1.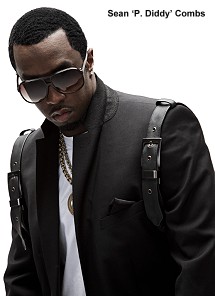 Over the weekend, the Palms will have Wiz Khalifa, Taboo of Black Eyed Peas, DJ Roger Sanchez, Disco Fries and Sex Panther performing.
The premier daylife and nightlife venues of Encore Beach Club and Surrender Nightclub at Encore will present a powerhouse lineup of world-renowned electronic dance music DJs over Labor Day Weekend. Surrender will have Porter Robinson, Steve Aoki, Afrojack, Sidney Samson, and Calvin Harris with an opening set by Burns.
The new Señor Frog's at Treasure Island will offer a buy-one-get-one special on all well drinks and margaritas and half-priced appetizers from 3-6 p.m. and non-stop entertainment including conga lines, crazy contests, live music and karaoke every day starting at 5 p.m., August 31 - September 3.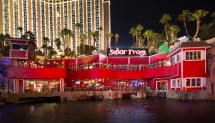 RHUMBAR at The Mirage on Monday, Sept. 3, will have a party on its patio, complete with cocktail specials and a live DJ from noon to 6 p.m.
The Silverton will celebrate Labor Day poolside with $5 food and drink specials and music by DJ R.O.B. Freddie McGregor will perform Saturday, September 1, at 7 p.m. as part of the Bikinis, Bands and Burgers Poolside Concert Series with special guest Las Vegas Roots Allstars. Tickets are $10 presale and $15 day of show. R&B artist Chico DeBarge with special guest Barry Black & The Senzuals will play on Sunday, Sept. 2, at 7 p.m. Tickets are $20 presale and $25 day of show. On Monday, Sept.3 reggae band Natural Heights will play sets at 2 and 4 p.m. Tickets are $5.
Lynyrd Skynyrd BBQ & Beer will celebrate Labor Day Weekend with food and drink specials and nightly entertainment from Thursday, August 30, through Monday, September 3, at the Excalibur.
PBR Rock Bar & Grill inside Miracle Mile Shops at Planet Hollywood Tacos & Tequila (T&T) at the Luxor will celebrate Labor Day Weekend with food and drink specials from Friday, Aug. 31, to Monday, Sept. 3.
Column Continues Below Advertisement
CONTINUE ON TO...:

THIS WEEK'S >LAUGHLIN NEWS
LAST WEEK'S >LAS VEGAS NEWS
>VEGAS VIEW FULL NEWS ARCHIVES
Return to >"Heard Around Town"
Return to >Las Vegas Leisure Guide