<!A-- Left Column -->

Magician Aaron Radatz will be performing his tricks at Don Laughlin's Riverside, Sept. 9-14 at 8 p.m. Tickets are $30.
Radatz has studied with many of the masters of magic including Harry Blackstone Jr. Radatz, an only child, started performing at the young age of 6 and quickly turned his grand-mother's gift of a magic set into a full-time hobby. From the earliest moments of his professional career, Radatz has attracted clients who were leaders in their industry including Ameritech, Bally's Casino, Holland America Cruise Line, Hilton Hotels and General Motors Corporation.
Radatz and his cast have toured more than 37 U.S. states, 20 countries, and five continents. His magic and innovative illusions continue to capture the imagination of audiences worldwide as he performs more than 400 shows each year. Radatz was also commissioned by the U.S. Pentagon for a command performance for the U.S. military.
Harrah's will present legendary blues man, B.B. King at 8 p.m. on Sept. 6 in the Rio Vista Outdoor Amphitheater. Tickets are $40, $50 and $65, call 702-298-8510.
Born Riley B. King in Itta Bena, Miss. Sept. 16, 1925, King has been the face and sound of blues music for more than 40 years. Guests may expect to experience the unique mixing of traditional blues, jazz, swing, pop and jump music when King takes the stage.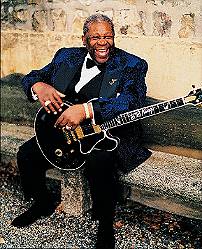 In 1948, King first hit the airwaves on the Sonny Boy Williamson radio program broadcasting from West Memphis, Tenn. This opportunity presented King with steady engagements, his own radio segment and a new name. Riley B. King soon became known as Beale Street Blues Boy then shortened to Blues Boy King and finally, B.B. King.
In the 1950s, fate stepped in to tie King with another name, Lucille. While performing at a dance hall in Twist, Ark., a fire broke out causing King to race to safety outdoors - without his $30 acoustic guitar. While narrowly escaping death, King rushed into the dance hall to retrieve his guitar. He later named his guitar after learning the fire was caused by two men fighting over a woman named Lucille. Since then, King's trademark Gibson guitars have been named Lucille.
The "King of Blues" has released more than 50 albums and produced classic hits. King's inimitable guitar style has influenced musicians such as Eric Clapton and the late George Harrison as well as many other contemporary artists.

TOP OF NEXT COLUMN
The River Palms is keeping the laughter center stage at the River Palms Comedy Room. Comedians Mick Lazinski and Luke Torres with host Ron Morey will be telling the jokes Sept. 2-6. Shows are presented Tuesdays through Saturdays at 9 p.m. Tickets are $17.95 for general seating and $22.95 for preferred seating, call 1-866-448-7849 or 702-474-4000.
Lazinski has made numerous television appearances including: The Ben Stiller Show and Comic Strip Live on Fox; Showtime All-Stars VII and Full Frontal Comedy on Showtime; Comedy on the Road and Evening at the Improv on A&E; and Stand Up Spotlight on VH1.
Torres has appeared at Bally's in Las Vegas and Atlantic City and the Desert Inn in Las Vegas. He has opened for Dennis Miller, Jerry Seinfeld, Louie Anderson, Howie Mandel, Three Dog Night, Rita Rudner and many others. Torres has performed in colleges across the United States. He is a freelance contributor to Premiere Radio's National Comedy Network. As an impressionist and writer, his work is sent to hundreds of radio stations across the United States. His television credits include Late Night with Louie Anderson, In Living Color, Loco Slam, Full Frontal Comedy, Comedy Compadres, Comic Justice, Late Night, Friday Night Videos and Summer Laugh Festival. His film credits include Space Jam, All Points In-between and The Misery Brothers.
Morey's energetic, physical humor has entertained audiences and troops in such places as Italy, Spain, Greece, Bahrain and Kuwait. He's been featured on NFL Films Blast, PBS and Comedy Central.
NASCAR viewing parties at the Colorado Belle cover all the action on big screen TVs in the Mardi Gras Room. Cost is $10 per person and that includes two drinks, stadium snack food, and a drawing ticket for your chance to win official NASCAR merchandise. Upcoming viewing parties are set for: Sunday, Aug. 31 - Pepsi 500; Saturday, Sept. 6 - Chevy Rock & Roll 400; Saturday, Oct. 11 - Bank of America 500; and Sunday, Nov. 9- Checker Auto Parts 500.
On Saturday, Sept. 6, The Guess Who will headline at the Tropicana Express in the Pavilion Showroom at 8 p.m. In 1968, The Guess Who's record release contained the Top 10 hits Laughing (the B-Side of These Eyes) and No Time as well as the Top 40 hit Undun. Ironically it was American Woman from March of 1970 that gave The Guess Who a No. 1 single in the United States; unseating The Beatles for three weeks straight. The Top 10 album, also entitled American Woman contained the hits No Sugar Tonight/New Mother Nature (the B-Side of American Woman). Tickets for their are $35, $39 and $49, call 800-343-4533.
The Aquarius will present superstar Kid Rock in his debut Laughlin performance on Saturday, Sept. 27 at 8 p.m. in the Aquarius Outdoor Amphitheater. Rock shot to success with his major label debut, Devil Without, which has gone seven times Platinum and was nominated for three Grammy Awards. The release of Picture, off his album, Cocky, a country-influenced duet with Sheryl Crow, became an instant hit. Released in 2007, Rock N Roll Jesus became Rock's first album to go No. 1. Tickets are Rock's show are $61.50 with an A.C.E. Rewards card and $71.50 without.
On Sept. 6, Tom & Sharon's Ballroom, Latin and Swing Dance Party will take place from 1:30 p.m. to 4:30 p.m. For details on the party or dance classes, call 928-7554-2097 or 702-298-2535, ext. 5708.
Fireworks will take place in the sky over the river at the Avi on Aug. 31 at dusk. The fireworks display will be produced by Zambelli International and viewing is free.
CONTINUE ON TO...:
>THIS WEEK'S LAS VEGAS NEWS
>LAST WEEK'S LAUGHLIN NEWS
>VEGAS VIEW FULL ARCHIVES
>Return to "Heard Around Town"
>Return to Las Vegas Leisure Guide