BILL ENGVALL HITS AQUARIUS OUTDOOR AMPHITHEATER


Popular comedian and star of television and film, Bill Engvall will headline at the Aquarius Outdoor Amphitheater on Friday, Sept. 18 at 8 p.m. Tickets are $20 and $30, call 800-435-8469.

Engvall is currently starring in and executive producing the new half hour sitcom for TBS entitled "The Bill Engvall Show." The show centers on Engvall as the father at the core of a family comedy. Engvall also hosts one of the top-rated shows on CMT, "Country Fried Home Videos." On Nov. 22, Engvall's new Comedy Central special "Aged and Confused" will premiere. He has also starred in "Bait Shop," which had its world premiere on USA and is currently available on DVD. Additionally, Engvall starred in the movie "Delta Farce" with Larry the Cable Guy and D.J. Qualls, which was released on May 11, 2007.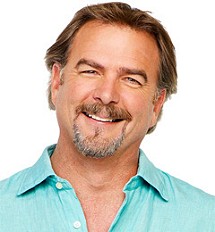 Prior to his big screen debut, Engvall was one of the stars of the sketch comedy show, "Blue Collar TV," on the WB network. The ensemble cast included Jeff Foxworthy and Larry the Cable Guy. Engvall is also a platinum recording artist. His first album, "Here's Your Sign." has been certified platinum and held the No. 1 position on the Billboard Comedy Chart for 15 straight weeks. He has also written several books including his autobiography, "Bill Engvall - Just A Guy."
HARRAH'S WELCOMES 'CIRQUE SHANGHAI BAI XI'
"Cirque Shanghai Bai Xi" will perform at the Harrah's Fiesta Showroom at 8 p.m. nightly from Sept. 15-20.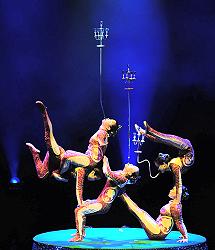 The production features Chinese acrobats performing feats of physical strength and balance, contemporary dance, and martial arts. The spectacular includes colorful costumes. Tickets are $23.95, $28.95, and $33.95, call 800-447-8700 or 702-298-8510.

EDGEWATER DISHES UP LAUGHTER

"Comedy on the Edge" with two stand-up comedians featured each Friday, Saturday and Sunday at 7 p.m. in Kokopelli's Showroom has Vic Dunlop and Erik Mackenroth on the lineup for Aug. 28-30, followed by Don Friesen and Jim Connolly Sept. 4-6. Tickets are $10, call 702-298-2453.

"Make Me Laugh" offered Vic Dunlop his first TV shot as a solo performer. Then he became a regular performer on "The Richard Pryor Show." Through that show, Dunlop was noticed by Universal Pictures and scored a role as a series regular on the Barbara Eden sitcom, "Harper Valley PTA."

Movie parts followed including "Meatball III," "The Devil and Max Devlin," "Skatetown USA" co-starring Patrick Swayze, "Breakfast of Aliens" and "Martians Go Home." Dunlop has also had recent success as a screenwriter and producer and he continues to tour the country and work the corporate and comedy club circuit and open for name headliners in Las Vegas.

Dunlop attributes his success in comedy to three major influences--his father, Catholic school, and the Army. His father, Vic Dunlop, Sr. (stage name: Victor Marko) is a successful character actor and gave Dunlop the acting bug. Catholic school is where the nuns' strict discipline prepared him for his stint in the Army at age 19, where he was sent to the "fat farm" and forced to wear a pink armband to separate him from the skinnier recruits.

TOP OF NEXT COLUMN
RIVER PALMS STICKS WITH COMEDY
Ongoing at the River Palms is Sammy's Comedy by the Shore, Wednesday through Sunday at 8 p.m. Upcoming comics are: Aug 26-30-Tom Clark and Mickey Joseph; and Sept. 2-6-Adam Hunter and Aaron Bowden. Tickets are $15, call 800-835-7904.
Tom Clark won the U.S. Comedy Arts Festival in Chicago, Ill., in 1999, and also completed the Conservatory Program at Second City in Chicago. In 2001, Clark decided to pursue comedy full time and moved to Los Angeles. That year, he was runner up in Comedy Central's "Laugh Riots Competition." Since then, he's appeared on CBS's "Late Late Show" and NBC's "Late Friday," and made commercials for movietickets.com.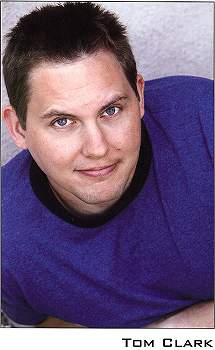 Clark has performed internationally at both The Montreal Comedy Festival in 2004 as part of the New Faces Program and in 2007 at the Main Arena of The Cape Town Comedy Festival in South Africa. Clark has written and acted in numerous short films including "El Dorko," which is based on his stand up.
EDGEWATER AND COLORADO BELLE HOLD OUTDOOR FESTIVALS
The San Gennaro Festival Laughlin will be held, Sept. 4-6, on the Riverwalk between the Edgewater and Colorado Belle resorts. This Italian festival will feature music by Lena Prima, Italian food, carnival games. Hours for the Friday-Sunday event are 2 - 10 p.m. with the music beginning at 8 p.m.
Later that month, Sept. 18-19, the Mexican Independence Celebration" in the same location will highlight a strolling mariachi band and Mexican food. Hours on Friday are 4-10 p.m. and on Saturday 2-10 p.m. For both events, admission will be free with food and beverages sold separately.
GARY ALLAN PERFORMS AT HARRAH'S OUTDOOR AMPHITHEATER
Country artist, Gary Allan will perform on Sept. 12, at the Rio Vista Outdoor Amphitheater at Harrah's. Allan's numerous hits include "Best I Ever Had," "Watching Airplanes," "Her Man" and "Right Where I Need To Be." In the past, this platinum recording artist has toured with Rascal Flatts and Keith Urban and Kenny Chesney for the 2008 Poets and Pirates Tour. Tickets for the 8 p.m. show are $35, $45, $55, and $65, call 800-447-8700 or 702-298-8510.
QUICK CLIPS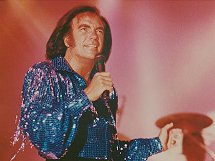 The Riverside has scheduled "Hot August Nights - Celebrating the Music of Neil Diamond" starring Barrie Cunningham, Aug. 25-30, in Don's Celebrity Theatre. Tickets for the 8 p.m. shows are $32.50, call 702-298-2535 ext 616 or 800-227-3849, ext 616.
The Tropicana Express on Sept. 5 will headline "Liverpool Invasion" - featuring Billy J. Kramer and The Dakotas, Terry Sylvester formerly of The Hollie, and Joey Molland of Badfinger. Tickets for the 8 p.m. Saturday show are $25, $35, and $45, call 800-243-6846.
The "Ya Gotta Regatta" will be held Aug. 28 and 29. For information, call The Laughlin Chamber of Commerce, 702-298-2214 or 800-227-5245; or visit www.laughlinchamber.com. For regatta information, visit bullheadregatta.com.


CONTINUE ON TO...:


>THIS WEEK'S LAS VEGAS NEWS
>LAST WEEK'S LAUGHLIN NEWS
>VEGAS VIEW FULL ARCHIVES
>Return to "Heard Around Town"
>Return to Las Vegas Leisure Guide