'VEGAS! THE SHOW' IS A GLAMOROUS RETRO SHOW
Producer David Saxe's new extravaganza "Vegas! The Show" at his new intimate, 400-seat Saxe Theater at the Miracle Mile Shops at Planet Hollywood is a glorious step back in time to "old Vegas" defined in the show as before Cirque du Soleil. Visually stimulating and appealing are the elaborate sets, colorful costumes energetic dancing, and two dynamic specialty acts: magician Joseph Gabriel and identical twin tap dancers Sean & John. Most retro and enjoyable is the 11-piece "live" orchestra.
Column Continues Below Advertisement
Opening in a neon sign graveyard, which is an incredible set, the caretaker readies you to revisit Vegas' past entertainment offerings. While the show is not a true history show, it attempts to replicate what put Las Vegas on the worldwide radar by paying homage to the Rat Pack, famous headliners such as Elvis, live music and showgirls. Thrilling to see again is the famous can-can, which was a notable staple in the "Folies Bergere" show that closed last year at the Tropicana.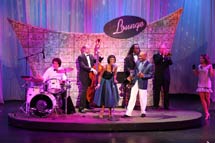 A number of elements touched upon included weddings, lounge acts with a tribute to Louie Prima and Keely Smith, and many headliners. "Vegas! The Show" is not a tribute show like "Legends In Concert." In fact, it's quite the opposite with Elvis not even wearing a jumpsuit and being blond. Have to admit that was disarming. Overall the cast is very talented with Eric Jordan Young being a major standout.
"Vegas! The Show" is a welcome addition to Vegas' entertainment landscape and Saxe deserves applause for his expensive efforts that created this show in three months. The show opened in June and plays nighty except Thursday at 7 and 9 p.m. Tickets are $79-$99, call 702-260-7200.
MICHAEL BUBLÉ HEADLINES MGM GRAND GARDEN ARENA
Grammy® Award-winner Michael Bublé brings his Crazy Love Tour to the MGM Grand Garden Arena for a one-night-only performance on Saturday, Aug. 28. Bublé's No. 1-selling release "Crazy Love" entered the Billboard Top 200 Chart at No. 1 and remained there for two consecutive weeks. Tickets are $49.50, $69.50 and $89.50, call 800-745-3000.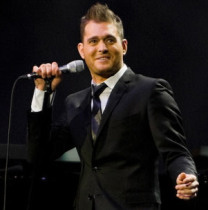 WES WINTERS OPENS SUPPER CLUB AT SAM's TOWN.
A new weekly "supper club" will be launched at Café in the Park inside Sam's Town on Sept. 3 and 4 with Wes Winters' 88 Key Club. Continuing every Friday and Saturday night from 6:30 to 10:30 p.m., guests will enjoy dining, cocktails and dancing to showman Winters' music. Positioned center stage at a nine-foot grand piano, Winters will entertain guests in an intimate setting.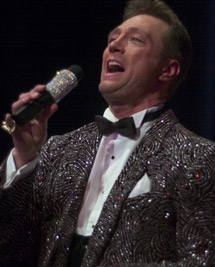 Since moving from Kansas City in 1993, the award-winning musician, Winters may be best known in Las Vegas for "A Musical Tribute to Liberace," an act he conceived, wrote, produced and starred in for five years at the Liberace Museum, as well as an engagement at Planet Hollywood. His signature one-man nightclub act, "Wes Winters Live," also ran for five years at Liberace's Carluccio's Tivoli Gardens Piano Lounge. Earlier this year at the Suncoast, Winters debuted a new live show named after his most recent CD, "Las Vegas Saturday Night," and followed up with a second weekend engagement "Wes Winters All Keyed Up!"
SIEGFRIED & ROY's SECRET GARDEN HAS NEW TIGER CUBS
The Mirage introduced its newest additions, two 7-week-old, white-striped tiger cubs, to Siegfried & Roy's Secret Garden and Dolphin Habitat. Guests can see these rare and adorable cubs in a special nursery created just for them.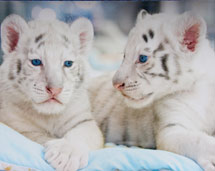 The sibling brothers, Mohan and Majestic, were born June 22 and weighed approximately two pounds each at birth. Their mother and father, part of Siegfried & Roy's breeding program, are carriers of the rare recessive gene necessary to produce white offspring.
Daily nursery hours for the tiger cubs are 11 a.m. – 3:30 p.m. and are subject to change. Admission prices are $15 for adults, $10 for children ages 4 – 12, and free for children under three.
EPICUREAN AFFAIR WILL BE HELD AT THE PALAZZO
The Las Vegas Epicurean Affair will be held poolside at The Palazzo on Thursday, Sept. 9. Hosted by the Nevada Restaurant Association (NvRA) and The Palazzo, guests will savor samplings of cuisine and cocktails from nearly 75 renowned restaurants and beverage purveyors. The event is open to the public from 7 to 10 p.m. General admission tickets are $100 and $150 for VIP, which includes early admission at 6 p.m., call 702-414-9000.
ROCK TOWN IS WEEKLY DANCE PARTY AT SAM's TOWN
Sam's Town on Boulder Highway is presenting Rock Town, a free weekly Friday night concert and dance event at Sam's Town Live! featuring Las Vegas-based classic rock cover and tribute bands. The bands play under full concert lighting from 9 p.m. to 1 a.m. Sponsored by 97.1 The Point and Coca Cola, upcoming bands include: Phoenix – Aug. 27; Unauthorized Ozzie and The Larry Hall Project – Sept. 3; Separate Ways and Rockford – Sept. 10; and Crossfire – Sept. 17. Admission is free, call 702-456-7777 for information or visit www.samstownlv.com.
VEGAS ELVIS TRIBUTE ARTIST WINNER WINS MEMPHIS FINALS
Justin Shandor, the winner of the recent "Las Vegas Ultimate Elvis Tribute Artist "contest at the Fremont Street Experience in July, took first place in the national competition in Memphis during Elvis Week in August.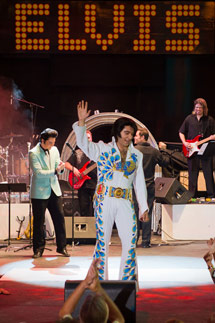 "The Ultimate Elvis Tribute Artist Contest" in Memphis is one of the highlights of Elvis Week, attracting more than 70,000 fans worldwide last year. As the winner of the contest, Shandor, will be offered the opportunity to sign a performance contract with "Legends in Concert," $20,000 cash, recognition by Elvis Presley Enterprises as the "Ultimate Elvis Tribute Artist of 2010" and a selection of other valuable prizes.
TOP OF NEXT COLUMN
QUICK CLIPS
To keep you up to date with changes, the restaurant/nightclub rumjungle at Mandalay Bay has closed its doors. It opened in March 1999.
Comedian and impressionist Frank Caliendo has changed days and times to his weekly lineup at the Monte Carlo Theater. The show will be dark Sept. 7 – 22, and beginning Sept. 23, Caliendo will be performing Tuesday – Saturday at 7:30 p.m.
On Aug. 27, Rob Garrett will be performing his fifth "Neil Diamond" tribute concert at the Cannery in North Las Vegas. The show will feature an eight-piece band which includes back-up vocalists Michelle Rohl and Elisia Tutt Notermann, whose dad is legendary drummer Ron Tutt who, Diamond's drummer for the last 30-years. He was also Elvis Presley's drummer during all the 'live' concert years (1969-1977).
The Cabo Wabo Cantina at the Miracle Mile Shops inside Planet Hollywood will feature the Edgar vs. Penn Lightweight Championship re-match of the year by holding a viewing party broadcasting the event live on 10 high-definition big screen televisions on Saturday, Aug. 28, starting at 7 p.m. The first ever Boston-based UFC fight will also showcase the UFC and MMA debut of James Toney fighting Vegas local and UFC legend, Randy Couture. Admission is $20. For information, call 702-385-2226.
Effective Aug. 31, "Gordie Brown Live!" at the Golden Nugget will perform Tuesdays through Saturdays at a new time 7:30 p.m. Tickets start at $25.
The Stratosphere's "BITE®" show celebrated its sixth anniversary on Friday the 13th by having the audience bare their fangs with a celebratory champagne toast. "BITE®" is performed at 10:30 p.m., Friday through Wednesday.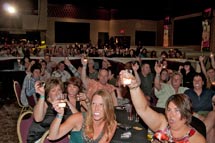 On Saturday, Sep. 18 from noon – 6 p.m., Ethel M will host its inaugural Art Walk to benefit Opportunity Village. Guests will be able to stroll through the scenic three-acre Ethel M Botanical Cactus Garden and view original artwork created by clients of Opportunity Village. Ethel M's chocolatier, Chef Jin Caldwell, will host chocolate art demonstrations every hour and there will be face painters, balloon artists and an interactive art station. The event is free and open to the public and all the pieces on display will be available for purchase with proceeds benefitting Opportunity Village. The famous Slidin' Thru Slider Truck will sell sliders.
Caesars Palace mainstay Matt Goss will perform at London's fabled music venue – Royal Albert Hall – on Oct. 19.
"Matt Dusk: Live From Las Vegas" will be taped before a private live audience on Wednesday, Aug. 25 from 6 – 9 p.m. at the Crown Theater in the Rio. It's a return to the city where Dusk got his start and he'll perform a special duet with Lorna Luft.
The "Frankie & Sherry Show" starring Mark Maynard as Frankie Valli and Coren Zai as Sherry takes the audience on a 90-minute journey from breakup to makeup on Saturday, Aug. 28 at the Italian American Club located at 2333 S. Sahara Avenue. The cost is $15 for the 8 p.m. show, call 702-457-3866.
The Mirage will host a special date in the third episode of "Bachelor Pad," ABC's hot new summer series. The episode will cover a unique group date with an intimate pool party at Bare pool lounge and a gourmet dinner in one of The Mirage's luxurious Villas.
NFL great and 2010 Pro Football Hall of Fame Inductee, Emmitt Smith, will participate in the Justin Timberlake Shriners Hospitals for Children Open Pro-Am event Wednesday, Oct. 2 at TPC Summerlin.
The 3rd Annual Barrett-Jackson Las Vegas Event will be held at the Mandalay Bay Events Center, Sept. 23-25. For nearly four decades, the Barrett-Jackson Auction Company has been recognized for offering a unique selection of collector vehicles. Cost ranges from $10 for a one-day pass to $40 for a three-day pass.
Murphy's Law, a local bar located a couple miles off the Strip at 1590 E. Flamingo Road, will celebrate its one-year anniversary on Saturday, Aug. 28 with an all-day party and hamburgers and gourmet hotdogs for $3 along with drink specials like $2 green beer.
The reigning Miss Universe, Stefania Fernandez saw a performance of the Beatles "LOVE" show by Cirque du Soleil at the Mirage. It was the Venezuelan beauty's first Cirque du Soleil experience. Fernandez is in town for the Miss Universe 2010 pageant, which airs Monday, Aug. 23 on NBC and will feature a performance by "Viva ELVIS."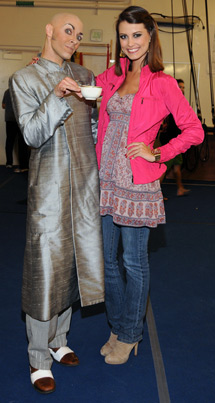 Crown Boxing will hold matches beginning Labor Day weekend beginning Friday, Sept. 3. First bout is 7 p.m. Tickets are $25 and $100, visit www.crownboxing-inc.com.
MONTE CARLO HOLDS 'CONCERT SERIES AT THE PUB'
The Monte Carlo's "Concert Series At The Pub" has lined up Wang Chung, Mini Kiss and Seven Mary Three.
United Kingdom sensation Wang Chung will take the stage on Saturday, Sept. 4 at 10 p.m. Although largely known for their smash hit, "Everybody Have Fun Tonight," Wang Chung also released "Fire in the Twilight" for the popular 80s film, "The Breakfast Club." British studio band Boys Don't Cry, known for their hit single "I Wanna Be a Cowboy," will open for Chung. Tickets for the 10 p.m. show are $24.20.
Mini Kiss, a KISS tribute band made up of four little people, will invade The Pub on Sunday, Oct. 31 at 10 p.m. Tickets are $30.
Hard rock band Seven Mary Three will take over on Saturday, Nov. 20 at 10 p.m. Recently, Seven Mary Three re-released their debut album "Chum" and in February 2010 released the live acoustic album, "Backbooth." Tickets are $24.20.
CREEDENCE CLEARWATER REVISITED PERFORM AT THE ORLEANS
Creedence Clearwater Revival founding members Stu Cook and Doug "Cosmo" Clifford will bring their band to The Orleans Showroom for two nights, Sept. 11 and 12. The Orleans concerts mark the near conclusion of the group's six-month 2010 tour throughout North America. Ticket for the 8 p.m. shows start from $49.95, call 702-365-7075.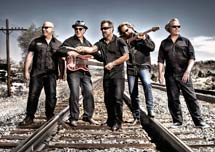 Joining Cook and Clifford as part of Rock and Roll Hall of Famers Creedence Clearwater Revisited are powerhouse lead singer and rhythm guitar player John Tristao, lead guitarist Tal Morris and multi-instrumentalist and vocalist Steve Gunner. "Revisited" has released two live albums including the 1998 two disc "Recollection" and the 2006 "The Best of Creedence Clearwater Revisited."
LAKE LAS VEGAS HAS FREE FRIDAY NIGHT CONCERT SERIES
The Village lakeside lawn at Lake Las Vegas offers a free "Friday Night Live" concert series with varying music genres from 7 to 10 p.m. The month will end with Reggae Maestros, serving up an edgy reggae sound on Aug. 27. The September lineup is TBA.
Column Continues Below Advertisement
CONTINUE ON TO...:
>THIS WEEK'S LAUGHLIN NEWS
>LAST WEEK'S LAS VEGAS NEWS
>VEGAS VIEWS FULL NEWS ARCHIVES
>Return to "Heard Around Town"
>Return to Las Vegas Leisure Guide