CIRCUS CIRCUS WILL GET ANIMATED THIS OCTOBER
The legacy and creativity of Chuck Jones, one of animation's pioneering director-producers, will be brought to life with the opening in mid-October of The Chuck Jones Experience, an interactive exhibit at Circus Circus designed to "educate, inspire and entertain."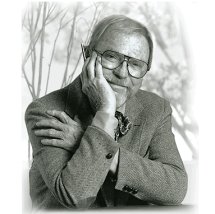 A four-time Academy Award-recipient, Jones created some of today's most beloved and enduring animated characters including Wile E. Coyote, Road Runner and Pepé le Pew among many others. The project is being developed by Jones' grandson, Craig Kausen, Jones' daughter, Linda Jones Clough, and a group of Jones fans who have believed in and have supported the experience for years.
The Chuck Jones Experience will be a nearly 10,000-square-foot destination that will include: a 1,000-square-foot, glass-enclosed class room; a theater simulating a 1930s-style movie theater where you meet Chuck Jones via a short film; a virtual street surrounded by many of Jones' most memorable characters and a timeline of his extraordinary life; a re-creation of Jones' studio; a "How Do You Measure Up?" room with 3-D characters on display; "Animation Alley," a multimedia wall where animation pieces are on display; and the Acme Workshop, where you can create your own sound effects and voiceovers.
Column Continues Below Advertisement
PAUL RODRIGUEZ AND MURRAY LANGSTON AT RIVIERA
Actor and comedian Paul Rodriguez, along with special guest, Murray Langston, The Unknown Comic, will bring laughter to the Riviera's Starlite Theatre, Aug. 31-Sept. 11. Tickets are $39.95 and $59.95.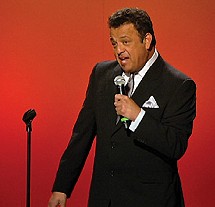 Revered as one of the first Latin Kings of Comedy, Rodriguez, who makes people laugh in English and Spanish, has had starring roles and featured appearances in more than 40 films and countless television shows and comedy specials. Among his writing, directing and producing accomplishments, he made the film "The Original Latin Kings of Comedy," in which he starred with Cheech Marin, George Lopez and Carlos Mencia. He also wrote, directed and starred in the comedy, "A Million to Juan" and six comedy specials for HBO.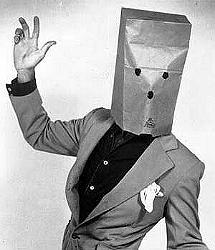 Langston is best known for his comic performances on "The Gong Show" usually appearing with a paper bag over his head. Langston's career began in 1970 when he appeared on "Rowan & Martin's Laugh-In" and proceeded with appearances on many more series. Additionally, Langston wrote material for Joan Rivers, Jim Carrey, Ruth Buzzi and many other comedians as well created comedic situations for "Candid Camera."
KENNY LOGGINS WILL BE 'FOOTLOOSE' AT THE CANNERY
Kenny Loggins has accomplished many things during his 40 years in the music industry: singer, songwriter, rocker, soundtrack superstar and one-half of a legendary country-rock duo. He'll perform at the Cannery in North Las Vegas on Sept.3. Tickets range from $24.95 to $99.95.
Loggins' success includes 14 albums earning Gold or Platinum. In the 1980s, Loggins became king of the movie soundtrack. His music captured the essence of such movies as "Caddyshack," "Caddyshack II," "Footloose," and "Top Gun."
'PHANTOM' OFFERS MASK APPLICATION
After five years, "Phantom – The Las Vegas Spectacular" at The Venetian is celebrating by offering the Phantom Mask Maker application, where fans can transform themselves into "The Phantom" for the Facebook community to see. The application allows fans to upload a photo and position the iconic Phantom mask in just the right spot.
The show is also celebrating with a special ticket offer. For performances through Sept. 4, guests can purchase two tickets for $99.
'BODY & SOUL' STARS RICK FAUGNO AT HILTON
"Body & Soul" starring Rick Faugno returned to the Shimmer Cabaret with performances every Monday. Tickets are $29-$39.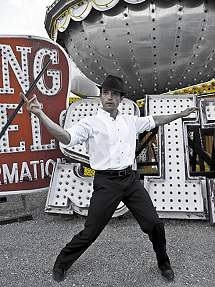 The new show by song and dance man, Faugno, the original Las Vegas Frankie Valli for "Jersey Boys," is a tour de force of pop, rock, soul, funk, blues, jazz, Latin and just about every musical genre imaginable. Faugno had success with his first one- man show "Songs My Idols Sang (And Danced)."
FREE END OF SUMMER BASH AT CANNERY
A "free" concert will send off summer on Sunday, Sept. 4 at 4 p.m. at the Cannery and highlight several popular acts from the 60s and 70s. The 9th Annual End of Summer Bash will bring together music, food, vendors and lots of classic cars. Members of The Mustang & Classic Ford Club of Las Vegas along with the Las Vegas Cruising Association will park several hundred of their classic and restored cars on Aerojet Way. The first 200 drivers who enter will receive a free t-shirt. The musical lineup includes The Cowsills, The Rip Chords, The Del Vikings and The Tokens. Tickets to the concert are free at the Cannery's front desk.
MARIACHI USA® FIESTA PLAYS NIKKI BEACH AT TROPICANA
MARIACHI USA® Fiesta, a 90-minute version of the iconic MARIACHI USA Festival, will play at the Tropicana on Sept. 17 in celebration of Mexican Independence weekend. This version created by Rodri J. Rodriguez exclusively for Tropicana will feature the MARIACHI USA All Starz, two of America's finest Mariachis, Campanas de America and Las Alteñas, plus the MARIACHI USA® Folklorico Ballet.
Rodriguez is converting the multi-level decks of Nikki Beach Club's pool into an outdoor stage for the review.
'GLEE' STAR JOINS KLUC END OF SUMMER BLOCK PARTY
For the second consecutive year, international phenomenon and "Glee" star Charice will be one of many performers appearing during 98.5 KLUC's End of Summer Block Party at the Henderson Pavilion on Tuesday, Aug. 23 at 6 p.m. Other featured artists will include will Cody Simpson, Iyaz, Hard Nox, Jackson Gutry, Lex Rox, Denisse Lara and DJ CO-1. Tickets are $19.85 and $35.85.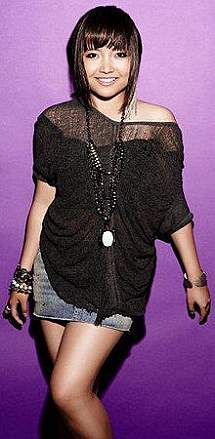 TOP OF NEXT COLUMN
CRYSTALS CELEBRATES 'FASHION's NIGHT OUT'
Crystals at CityCenter will celebrate "Fashion's Night Out" Sept. 8 from 6 to 11 p.m. Throughout the evening, Crystals will offer in-store experiences, entertainment including a performance by Los Angeles-based soul group Fitz and the Tantrums, and restaurant tastings.
This year the entire Las Vegas shopping destination will join the celebration through multiple partnerships with local charitable organizations. 'Fashion's Night Out' is a global initiative created in 2009 to put the fun back into fashion through exciting events and partnerships.
RIVIERA WILL LAUNCH SERIES OF BOXING EVENTS
The Riviera will host "Sterling Night of Fights," a 10-event professional boxing series, put on by legendary fight promoter Sterling Promotions and IPWerks.com to be televised on ESPN International. Some upcoming show dates include: Oct. 15, Dec. 17, Feb. 11, March 10, April 7 and May 26. Ticket prices will start from $25.
THE SCINTAS HEADLINE AT THE SUNCOAST
Renowned Las Vegas entertainment family The Scintas will return to the Suncoast Showroom, Sept. 24 and 25. Tickets start from $29.95.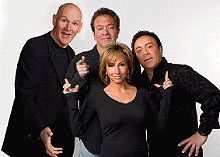 The Scintas -- brothers Joey and Frankie, sister Chrissi and "Irish Scinta" Peter O'Donnell – provide a show filled with music, comedy and impersonations.
Individually, each member has stood out. Frankie, recognized as a musical prodigy, appeared on "The Merv Griffin Show" at age 11. He plays the keyboard in the show and is also a master guitar, mandolin, banjo, drum and bass player. Joey developed and mastered his talent for comedy and impressions. The baby of the family, Chrissi, is known for her stunning voice and big ballads. Although not related, Peter O'Donnell has been a member since 1988 and has played gigs with more than 700 bands.
EARL TURNER RETURNS TO THE SUNCOAST
Multi-talented entertainer and showman Earl Turner will return to the Suncoast Showroom for Labor Day weekend, Sept. 3 and 4, each evening at 7:30 p.m. Tickets start at $15.95.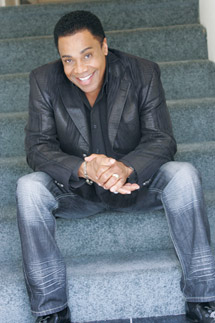 Turner began performing at age 13, and by age 19, he was traveling the United States as a frontman with various show bands. As a solo performer, Turner scored a Top 40 dance hit in Europe in the mid-1980s, "Love Caught You By Surprise." Turner has appeared at numerous resorts and showrooms on and off the Las Vegas Strip.
BURLESQUE LEGEND DIXIE EVANS CELEBRATES 85TH B-DAY
Frederic Apcar Productions is producing the "Dixie Evans Birthday Bash," a special revue celebrating burlesque legend Dixie Evans' 85th birthday at the newly-renovated Royal Resort on Saturday, Sept. 3 at 8 p.m. Tickets are $25 and $30 day of the show.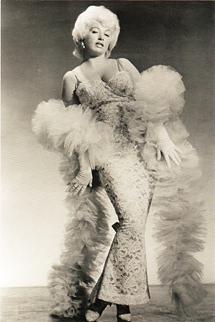 The show will feature such starlets of shimmy as Cabernet Dance, Jami Deadly, Kitten DeVille, Miss Karla Joy, Kalani Kokonuts, Renea' LeRoux, Angie Pontani, Absinthe's Melody Sweets, Rita Star, Cha Cha Velour and Vi Vacious, among others; along with legends Tiffany Carter, Shannon Doah, Kitten Natividad and "Queen of the Fire Tassels," Satan's Angel, who last graced the Royal's stage in 1975.
BRASS TRANSIT PAYS TRIBUTE TO CHICAGO AT SUNCOAST
Brass Transit, a tribute act to classic rock-jazz band Chicago, will transport audiences back to the freewheeling days of the '70s at the Suncoast Showroom, Sept. 10 and 11. Tickets start from $15.95.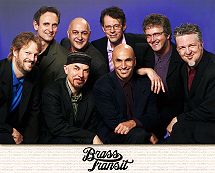 Based in Toronto, Brass Transit consist of eight members who have performed with the likes of legendary rock and soul groups and singers such as The Drifters, Sam and Dave, Aretha Franklin, Ben E. King, The Marvelettes, Frankie Vallie, Mary Wilson and The Mamas & the Papas.
QUICK CLIPS
Landry's Inc., whose Las Vegas properties include the Golden Nugget and the Rainforest Cafe, has taken over management of the Beso restaurant in CityCenter's Crystals mall as a prelude to buying it for $1 million. The adjacent Eve Nightclub is closed now.
Disney's "The Lion King" at Mandalay Bay is extending its 2-2-2 package from Aug. 31-Dec. 20. The offer starts at $200 for a two-night stay and two show tickets, call 877-632-7000 and use code "PDisney." After two-and-a-half years, the show will close on Dec. 30.
Show-goers can purchase tickets to "Fantasy" at the Luxor and catch an additional show at the Luxor or Excalibur for $75.

M life, the MGM's international loyalty program, has provided one member with the unprecedented opportunity to name the bottlenose dolphin calf that was born July 3 at Siegfried & Roy's Secret Garden and Dolphin Habitat at The Mirage. Mike and Cheryl Mendez from Scottsdale, Ariz., decided on the name, K2, in tribute to the charity organization, K2 Adventures Foundation.
Blush Boutique Nightclub inside Wynn will celebrate its fourth anniversary Labor Day weekend with a special DJ performance by Mix Master Mike of Beastie Boys fame on Saturday, Sept. 3, and an anniversary party hosted by Holly Madison on Sunday, Sept. 4.
Grammy Award winning singer and songwriter, Estelle, will host an evening at Chateau Nightclub & Gardens at Paris on Sunday, Sept. 4. Her new album, "All of Me," will be released in early 2012.
Cabo Wabo Cantina will provide action this football season every Saturday, Sunday and Monday with game time specials including $5 touchdown shots, $5 buffalo chicken nachos and buckets of fries, $10 buckets of wings and $20 buckets of beer.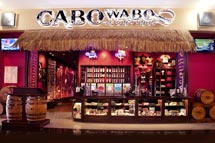 Miranda Cosgrove, star of Nickelodeon's "iCarly," will perform as scheduled at the Henderson Pavilion on Friday, Sept. 16, as part of her Dancing Crazy Summer Tour, the only stop in Southern Nevada. Tickets are $21 and $35.
The "Man Cave" inside McFadden's Restaurant and Saloon at the Rio is back for another year providing the ultimate jock retreat with a fully-stocked sanctuary.
In response to Abercrombie & Fitch, Hooters Casino Hotel sent emergency shirts and hats to "The Situation" and his cast mates because they felt "Delightfully Tacky, Yet Unrefined" clothing would be positive to their image.
A brand name liquidation sale will be held at the Golden Nugget downtown from Sept. 1 - 5 from 9 a.m.-9 p.m. each day in the Augusta Ballroom. Admission is free and the event is open to the public. Items will be priced to sell, up to 80 perscent off all seasonal styles.
Posh Boutique Nightclub will honor ladies with a "2 Pretty 2 Pay" party on Saturday, Sept. 3, sponsored by Belvedere vodka.
NEW YORK CITY FRESH FEST TO BE HELD IN HENDERSON
The New York City Fresh Fest, a partnership with the City of Henderson, Las Vegas' Soul Station POWER 88.1 FM, CTS and Taurus Productions, will make its debut at the Henderson Pavilion on Saturday, Sept. 3 at 5 p.m. The music festival will feature performances by an all-star roster of hip-hop pioneers from the '70s, '80s and '90s including Salt-N-Pepa, the first-ever female rap trio, the 80s rap group Whodini, Doug E. Fresh, the first human beat box in the rap world, Kool Moe Dee and the Sugarhill Gang. Tickets are $39 in advance and $49 day of show.
Column Continues Below Advertisement
CONTINUE ON TO...:

>THIS WEEK'S LAUGHLIN NEWS
>LAST WEEK'S LAS VEGAS NEWS
>VEGAS VIEWS FULL NEWS ARCHIVES
>Return to "Heard Around Town"
>Return to Las Vegas Leisure Guide