Harrah's afternoon comedy-magician headliner Mac King has been extended for five more years with his "The Mac King Comedy Magic Show," which has been delivering laughs at the resort since 2000. King takes the stage twice daily, Tuesday through Saturday, at 1 and 3 p.m. in the Clint Holmes Theatre.
King was named Magician of the Year by The Magic Castle, "Entertainer of the Year" by the Las Vegas Weekly 2004 "Readers Choice Awards," and became a Guinness World Records holder in 2004 for "The World's Longest Game of Telephone."

Column Continues Below Advertisement


HBO and AEG Live are teaming up once again for the second edition of The Comedy Festival (TFC), Nov. 14-18. With TBS returning as title sponsor, the event will expand to five days and feature dozens of performances and special events in a variety of venues within Caesars Palace, including The Colosseum and the outdoor Roman Plaza amphitheater.
True to its mission of presenting comedy's biggest stars and cutting-edge talent, the 2006 TCF will feature multi-artist performances, tributes, stand-up, sketch comedy and live televised special events. Reviving one of its most celebrated and revered franchises, HBO will air Comic Relief live from The Colosseum on Saturday, Nov. 18. Today's comedy superstars, including co-hosts Billy Crystal, Whoopi Goldberg and Robin Williams will come together to benefit Children of Katrina and other Katrina-related charities. For more information, visit www.thecomedyfestival.com.
Motown Records' critically acclaimed singer / songwriter KEM, who held the No. 1 spot on the Urban AC and R&B Adult Monitor charts in 2005, will headline at the Las Vegas Hilton on Sept. 12. Tickets are $60 and $100.
Detroit native Kem was frustrated with the glut of tired songs so he wrote, produced and financed his debut album, "Kemistry," by waiting tables and singing Top 40 covers in a wedding band. Motown later signed Kem in 2002 and re-released the "Kemistry" album, which went on to sell more than 500,000 copies nationally.
PRIDE Fighting Championships (FC), the worldwide leader in mixed martial arts, will hold "The Real Deal," the organization's first United States fight at the Thomas & Mack Center on Oct. 21. The event card will feature nine bouts. Tickets range from $50 to $700. PRIDE's first U.S. card will also be featured on pay-per-view for $39.95.
A legendary event in Japan, PRIDE FC matches the world's fiercest fighters in competitions of strength and honor, featuring an intense mix of combative sports such as wrestling, boxing, jiu-jitsu, karate, judo, kickboxing and others. Originating in 1997, PRIDE FC creates a fight experience that is a theatrical and cultural spectacle. PRIDE sets itself apart from other popular mixed martial arts events by allowing its fighters to face off in a ring rather than a cage.
Talented juggler / comedian Michael Holly is now appearing as the 10-minute variety act in the production show, "Folies Bergere," at the Tropicana through Jan. 2, 2007. Tickets are $59 and $69, call 702-739-2411.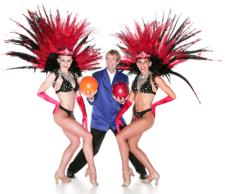 Holly has starred in numerous local production shows and opened for such headliners as Dana Carvey and David Spade. He recently completed a successful year performing his one-man show, "The Michael Holly Off the Wall Comedy Hour."
Earlier this month, "Forever Plaid - The Heavenly Musical Hit" celebrated its 500th performance at the Gold Coast where the show opened on Jan. 15, 2005. Susan Anton was on hand for the festivities and joined the cast as an audience participant on stage during their "heart and soul" routine. It was a great show biz moment.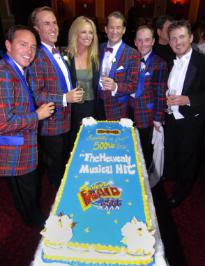 In addition to the past year of packed houses at the Gold Coast, the Las Vegas production had a successful six-year run at the Flamingo Las Vegas from 1995 to 2001.
The long-running off-Broadway revue has given more than 4,000 performances in Las Vegas. They are the first "Forever Plaid" production to reach this many performances. Another recent accomplishment was the Las Vegas "Forever Plaid" cast releasing a 15th anniversary cast album in September 2005.
When the show opened in New York on May 20, 1990, it received unanimous rave reviews and ran for over four years.
Show times for "Forever Plaid" are 7:30 p.m., Tuesdays through Sundays, and 3 p.m. on Sundays. Tickets are $39.95 and $44.95, call 702-251-3574.
The Cannery in North Las Vegas will present Ronnie Milsap on Saturday, Sept. 23 at 8 p.m. inside The Club. Tickets are $22.95 and $16.95, call 702-617-5585 or 866-287-4643.
Milsap has won six Grammys, six Billboard awards, three ACM and four Cashbox awards, had 40 No. 1 singles, and sold more than 23 million records. Milsap is a country music legend who has influenced the scene for more than 30 years.
Milsap had a handful of Top 10 hits in 1975 but in 1976, he became a genuine star with a string of six No. 1 hits in a row. In turn, that string of hits started a remarkable run where Milsap didn't leave the Top 10 for 15 straight years.
Renowned flamenco guitar master Esteban in support of his new album will return to the Sam's Town Live! stage inside Sam's Town on Boulder Highway for one night only, Sunday, Sept. 3 at 7:30 p.m. Tickets start from $20, call 800-225-2277.
Today, Esteban is gearing up to release his 16th studio album, "Best of Esteban," featuring 12 of his most popular songs and concert favorites, reworked and remixed. The album, set for release in October, marks the performer's first new album since 2003.
Additionally, Esteban has enjoyed numerous record-setting appearances on the Home Shopping Network by selling his unique, personal line of affordable, quality guitars.
Born the son of a steel mill worker in Pittsburgh, the guitar prodigy saw his first guitar in a shop window when he was 8 years old. Though Esteban became a self-taught master of the guitar, his goal was to study under legendary classical guitarist Andres Segovia. Esteban's dream became a reality in 1974, when the two musicians met and began a long mentorship. For four years, Esteban studied under Segovia's careful direction. In 1978, Segovia finally gave the student his endorsement and sent Esteban back to the United States to begin touring.
Cyndi Lauper will appear at the Outdoor Amphitheater at Sunset Station in Henderson on Sept. 22. Tickets are $22.50, $31.50, $38.50, and $47.50.
Lauper broke into the music scene selling more than 5 million albums of her debut album "She's So Unusual" in 1984. Lauper's anthem "Girls Just Want to Have Fun" made her a sweetheart with the MTV crowd and a style icon for teenage girls. She recorded the hit track "The Goonies 'R' Good Enough" for the cult classic movie "The Goonies" in 1985.
More recently in 2003, she recorded a collection of pop standards, and made "The Body Acoustic," a collection of stripped-down reinventions of previous hits, in 2005.
Toto will perform at The Railhead inside Boulder Station on Sept. 1. Tickets are$24.95, $37.50, $49.95 and $59.95.
Toto formed in 1978 and released a self-titled debut album that hit the top-10 charts and sold more than 2 million copies. The new century has brought reissues of classic records and new material with albums like "Through the Looking Glass" in 2002, "Falling in Between" in 2006, and "Bottom of Your Soul" released in July 2006.
Other headliners scheduled to appear at The Railhead include jazz artist and two-time Grammy winner, Paul Brown on Sept. 2; country singer and promising Warner Bros. newcomer Ray Scot on Sept. 8; country singer Josh Gracin who placed fourth in season two of "American Idol" on Sept. 9; hip hop group Arrested Development on Sept. 15; classic rock band Kansas on Sept. 23; and country veteran Don Williams, who came back from retirement in 1998 with the album "I Turn the Page," on Sept. 29 and 30.
Rock star Joe Cocker is lined up to appear at the new Red Rock resort in northwest Las Vegas in the Sand Bar on Sept. 2.
Cocker released the pop hit "You Are So Beautiful" in 1975 and the sensational duet with Jennifer Warnes "Up Where We Belong" from the 1982 film "An Officer and a Gentleman." He has unleashed a string of successful albums in the new century including his most recent release, Sweet Forgiveness," this month.
The hip hop group A Tribe Called Quest will follow Cocker on Sept. 8.
The Rippington's will bring their 20th Anniversary Tour and contemporary jazz sounds to the Chrome Showroom in the Santa Fe Station in North Las Vegas on Sept. 8. Big band sounds will follow the next night, Sept. 9, when Maynard Ferguson performs. There will be more jazz on Sept. 23 when soprano saxophonist Marion Meadows takes center stage. The showroom will go country on Sept. 30 when the stars of USA Network's hit show "Nashville Star" strut their stuff.
Across the street at Texas Station, Brian McKnight will headline in the Dallas Events Center on Sept. 15. He secured a publishing deal at 18, landed a record contract with Mercury Records shortly after, and released his self-titled debut album in 1993. The musician initially captured audiences' attention with "Love Is," a duet with Vanessa Williams for the television show "Beverly Hills 90210."
Actress, model, and now pop singer, Paris Hilton will celebrate the grand opening of Beacher's Rockhouse Bar at the Imperial Palace and the release of her new debut album "Paris" at PURE Nightclub inside Caesars Palace on Tuesday, Aug. 29.
Barry Manilow, who exclusively headlines at the Las Vegas Hilton through 2007, is scheduled to return on Nov. 8, after undergoing outpatient arthroscopic surgery on both of his hips.
The Rolling Stones will return for an encore performance of their "A Bigger Bang" tour on Saturday, Nov. 11 at the MGM's Grand Garden Arena. Tickets range from $125-$425.
Michelle Nunes, a blackjack dealer at Hooters Casino Hotel, won the title of Miss Hooters International 2006 this month. The dealer who works the Hooters Girl Party Pit every week will represent Hooters of America for the next year.
Satomi Hofmann, who plays the Soap Star in "Menopause The Musical&reg'," the hit show that opened at Las Vegas Hilton last February, is leaving for a seven-week engagement in New Haven, Conn. Carbonnell Awards (South Florida's Theater & Arts Honors) winner Patti Gardner will be fill in for Hofmann. The Hilton show is so successful that there are two rotating casts.
The Mexican restaurant at the Las Vegas Hilton has a new name... Hacienda Margarita. The chefs now are busy designing a new menu that will debut in a month.
Due to the overwhelming public response, BODIES...The Exhibition and Titanic: The Artifact Exhibition, both at the Tropicana, have extended exhibitions hours until 11 p.m. - with the last tickets sold at 10 p.m., through Labor Day, Monday, Sept. 4.
The interactive mystery dinner show company, A Touch of Mystery, will produce "All's Fair in Love & Music," a musical mystery dinner onboard Lake Mead Cruises on Aug. 25. Tickets are $84. A different show, "Death by Chocolate," will take place on Sept. 15 at the UNLV Stan Fulton Building. Tickets are $49.95, call 702-497-7936.
From Aug. 22 to Sept. 10, three favorite Star Wars characters, Chewbacca, Darth Vader and Wicket the Ewok, will visit 11 U.S. cities with a stop in Las Vegas on Sept. 9, when they will attend a wedding. They'll meet fans, see sights and celebrate the simultaneous Sept. 12 release of "Star Wars," "The Empire Strikes Back" and "Return of the Jedi" on DVD, and the LEGO Star Wars II: The Original Trilogy videogame. The DVDs will be available for a limited time through Dec. 31. A photo contest is also part of the promotion. Visit www.starwars.com to learn more.
Quiksilver, Inc., the world's leading outdoor sports lifestyle company, is now open inside The Shops in Desert Passage. Quiksilver's products are sold in over 90 countries in a wide range of distribution outlets.
Cirque du Soleil will be holding acrobatic, music and singing auditions in Las Vegas in October for its 13 current productions and upcoming creations. Cirque casting scouts continually search the globe for outstanding artists who are ready to embark on a new adventure.
Turnberry Towers is a dual 45-story condominium development going up next to the Las Vegas Hilton and kitty-corner to Turnberry Place. Completion is slated for mid-2007 for the East Tower and spring 2008 for the West Tower. Less than 150 of the 636 residences are still available.
CONTINUE ON TO...:
>THIS WEEK'S LAUGHLIN SEGMENT
>LAST WEEK'S LAS VEGAS SEGMENT
>VEGAS VIEWS FULL ARCHIVES
>Return to "Heard Around Town"
>Return to Las Vegas Leisure Guide