HARRAH's HEADLINES ONE-MAN SHOW 'DEFENDING THE CAVEMAN'!

The long-standing hit show "Defending The Caveman" is currently running at in Harrah's Fiesta Showroom through Sept. 2 and dark on Mondays. It's a tremendously funny, yet enlightening Broadway show about the differences between the sexes. Even though one man and in this case it is Paul Perroni talks about his feelings, his dialogue encompasses the wife and woman's take on life and usually the conflict between the sexes comes clearly into view and makes everyone laugh. As a species, human beings can be terribly funny.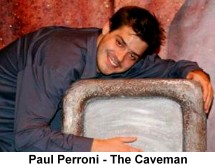 "Defending The Caveman" has established itself as the longest running solo show in Las Vegas history and on Broadway with more performances than "West Side Story" enjoyed at the Helen Hayes Theater. For one thing, it's a show that's easy to see again and again because you laugh every time. In fact, "Defending the Caveman" played Harrah's last year and has returned with a younger actor this time, Paul Perroni, who is 32.
Perroni is now a New Yorker, who originated from Arkansas and spend time working in Chicago theater. He's performed in theaters and comedy clubs all over the country and in a variety of commercials and films. He received his BA from the University of Arkansas at Fayetteville and studied the classics at the Victory Gardens Theatre.
KELLIE PICKLER PERFORMS AT THE EDGEWATER
"American Idol" singing star Kellie Pickler is booked at the Edgewater's E Center on Saturday, Sept. 1. She gained fame as a contestant on the fifth season of the Fox reality show and eventually finished in sixth place. This year, she was ranked as the 14th best "American Idol" alumna. Tickets for her 8 p.m. show range from $25 to $75.
Pickler is now a certifiable American country music artist and television personality. She was born in Albemarle, N.C., and graduated in 2004 from North Stanly High School where she was a cheerleader and beauty queen. After "American Idol," Pickler went to Nashville to pursue her dreams and signed a record deal in 2007.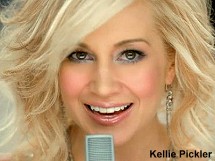 Pickler has written and sung many songs that have hit top charts, including "Red High Heels," "I Wonder." "Things that Never Cross a Man's Mind," "Don't You Know Your Beautiful," "You Didn't Know How Much I Loved You" and "The Best Days of Your Life."

EDGEWATER HOLDS 'ROCK THE INK FESTIVAL'

The "Rock The Ink Festival" will be held at the E Center at the Edgewater, Sept. 21-23, and feature up to 150 top tattoo artists, live outdoor concerts by The Iron Maidens, a female Iron Maiden tribute band, and Hollywood U2, a U2 tribute band, a variety of entertainment attractions, vendors, tattoo contests, body piercing, and the "Miss Rock the Ink" beauty pageant. Event hours are Friday 3-11 p.m., Saturday 11 a.m.-midnight, and Sunday 11 a.m.-8 p.m. Tickets are $10 on Friday, which incudes the Hollywood U2 concert, $20 on Saturday, which includes the Iron Maidens concert, and $10 on Sunday. And a three-day pass is $30; visit edgewater-casino.com.

LAUGHLIN PLANS AN INTERNATIONAL FILM FESTIVAL

"Laughlin International Film Festival" (LIFF) is planned for various venues and movie theaters from Oct. 11-14. The event will showcase films in the following categories: U.S. and International Narrative Feature Film; U.S. and International Documentary Films; U.S. and International Short Films; University Film Competition; Experimental Cinema; Music Videos; Animation; Youth Film; and  LIFF Picks Showcase. There will be various events and showings throughout the festival. Tickets prices will be announced later; visit http://laughlinfilmfestival.com/.

MICHAEL JACKSON TRIBUTE SHOW VISITS THE RIVERSIDE

"Moonwalker: Music of Michael Jackson" is playing at the Riverside in Don's Celebrity Theatre, Aug. 22-Sept. 2. The Show stars Michael Firestone who is a noted Jackson tribute artist along with his live band, singers and dancers. Firestone has been touring with this show performing many of Jackson's biggest hits and paying tribute to the mega-star. Tickets are $30.50.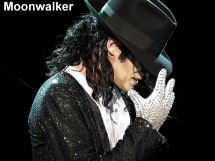 ANNUAL CHEFS FOOD FEST RAISED $15,000 FOR THE RIVER FUND
The community's annual 2012 Chefs Food Fest held on June 21 raised $15,000 for the River Fund, a local non-profit agency that provides direct emergency and crisis services for those in the community who need help. Since its inception in June 2010, the River Fund has helped more than 687 local families in crisis.
More than 500 attended the annual Laughlin Chamber tradition where chefs from Aquarius, Tropicana, River Palms, Harrah's, Riverside, Golden Nugget, Pioneer, AVI and Edgewater/Colorado Belle all participated. The Aquarius won the People's Choice Award for Best Booth design thanks to an eye catching 14 blocks of ice, which were carved and used as actual supports for the display booth. The effect took close to 18 hours in zero degrees to achieve.
TOP OF NEXT COLUMN
SUMMER PROMOTIONS AT THE TROPICANA
The Tropicana's August Beat the Heat promotion runs on Tuesdays from 6 p.m. to 11:59 p.m. and it's figured on a bonus point multiplier based on the temperature over 100 degrees. Talk about a sure summer bet. On Tuesday, Aug. 7, the temperature reached 113 degrees. That translated to a13X point bonus to guests. Plus you're playing in air conditioning.
Labor Day weekend at the Tropicana will have special promtions. You can earn 10X points on reel machines using your Trop Advantage Club Card on Friday, Aug. 31, from 7 a.m. to 6:59 p.m. and Monday, Sept. 3, from 7 a.m. to 3:59 p.m. On Sunday from 2-8 p.m., there's the $1,000 Weekly Blackjack Tournament with a $10 Buy-in. First place wins $500. On Monday, earning 500 base points with a Trop Advantage Card lets you play the Trop Drop, where you drop a lucky chip for a chance to score free play and other prizes.
LAUGHLIN NEWS TIPS
There will be a Labor Day Fireworks Show by Zambelli Intl. on Sunday, Sept. 2. The full blown fireworks presentation will start at dusk. Food and beverages will be on sale at the Avi Beach Overlook area.
The "Ring of Fire Dinner Show featuring the music of Johnny Cash and June Carter" starring Neil and Jamie Morrow will be held in the Avi Ballroom on Friday, Sept. 14, from6-9 p.m. Tickets are $15 for the sit-down dinner and show with beverages not included.
At the Aquarius from Aug. 20 – 26, ace | PLAY card members are receiving $25 in free slot play for every 5,000 base slot points earned during the promotional period. There is no cap on the amount of free slot play a player can earn.
Boogie Nights are continuing on Friday and Saturday nights at the Tropicana with DJ Disco spinning the tunes and the Disco Diamond Go-Go Dancers adding to the party from 9 p.m. to 2 a.m. on Fridays and 10 p.m. to 3 a.m. on Saturdays at the Boogie Nights Bar (Eclipse Bar).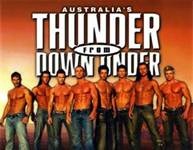 The male dance revue "Thunder From Down Under" will visit Don's Celerity Theatre at the Riverside, Sept. 6-9. Tickets are $25 for their 8 p.m. shows.
NEW COMEDIANS LINE UP WEEKLY AT THE EDGEWATER
The Edgewater has two stand-up comedians appearing every Friday through Sunday at 7 p.m. in the Inferno Nightclub/Edgewater Showroom. Tickets are $10 at the Edgewater Casino Cage or at the door.
The upcoming lineup includes: Aug 24-26 Pete George and Chey Bell; Aug. 31-Sept. 2-Kenny Bob Davis and Tim Haldeman; Sept 7-Kirk McHenry and Butch Escobar; Sept 8-9-Keith Barney and Nola J; Sept 14-16-Michael Worthington and Andrew Rivers; Sept 21-23-Al Lubel and Roxy Rich; Sept 28-Manny Maldonado and Cliff Yates; and Sept 29-30-Jimmy Della Valle and Laura Rosenberg.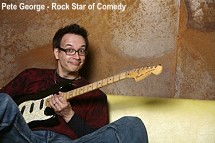 Pete George, known as the 'Rock Star of Comedy,' will take to the stage with Chey Ball, Aug. 24-26. George has been a stand-up comedian, actor and musician for more than 20 years. After several years of playing lead guitar in a Cleveland based rock band, he ventured into winning a series of comedy competitions. A U.S. comedy tour followed along with gigs at major comedy clubs. George's first acting job was on the seven-time Oscar nominated film, 'The Shawshank Redemption.' He's also enjoyed success as a commercial actor and has appeared in several TV shows including "Family Law" and "Strong Medicine."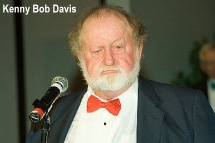 Longtime veteran comedian, actor, musician and singer, Kenny Bob Davis will headline with Tim Haldeman, Aug. 31 – Sept. 2. Davis has opened many top concerts and main room shows for such stars as George Burns, Willie Nelson, Ramsey Lewis, Kenny Rogers, Roy Clark, Vince Gill, and Larry Gatlin & The Brothers. Davis has headlined all over the United States as a solo stand-up comedian and is a regularly invited USO performer for our military men and women aboard several aircraft carriers at sea and for our U.S. Marines in the field. He has appeared on TV in "Gremlins," "ER," "Zach and Cody," "Sisters," and "Murder She Wrote" and more.
AQUARIUS EMPLOYEES COLLECT SCHOOL SUPPLIES
A record-breaking amount of school supplies collected by employees of the Aquarius Casino Resort will mean students and teachers at three local elementary schools will have the supplies that they need for the upcoming school year.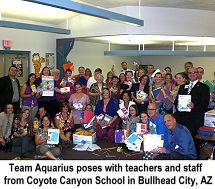 This year's donation of 13,148 pieces represents triple the amount donated to a school by Aquarius Casino team members last year. The Aquarius' annual Back To School Drive is a friendly competition between several departments within the resort.


CONTINUE ON TO...:
THIS WEEK'S >LAS VEGAS NEWS
LAST WEEK'S >LAUGHLIN NEWS
>VEGAS VIEW FULL ARCHIVES
Return to >"Heard Around Town"
Return to >Las Vegas Leisure Guide