FIRKIN PUB & GRILLE OPENS ON PARADISE!

A new English pub restaurant opened at Paradise and Harmon, the Firkin Pub & Grille. It is a game bar, beer tavern, and family-friendly pub. The décor incorporates windows, dark wood, red velour booths and a focal point, which is the long black oak wood bar where 42 tap handles pour an array of craft beer, with an additional 32 beer bottle choices available. The lasses are attired in red plaid skirts and black tops and there are two pool tables, an electronic dart board, shuffleboard table and a lounge area with leather couches and a popcorn machine. The four owners are related as husband and wife with her mother and brother.
Column Continues Below Advertisement



MARY J. BLIGE AND D'ANGELO PERFORM AT THE PALMS

Grammy award-winning songstress Mary J. Blige and highly-praised R&B singer D'Angelo are co-headlining "The Liberation Tour" with a stop at the Pearl inside the Palms on Sept. 7, at 8 p.m. The tour also features special guest Melanie Fiona. Tickets start at $99.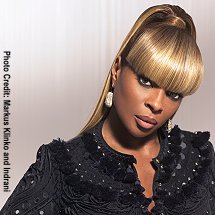 With worldwide sales of more than 50 million albums and a track record of eight multi-platinum albums, nine Grammy Awards plus a staggering 29 nominations, and four American Music Awards, Mary J. Blige is only getting started and has earned the nickname the "Queen of Hip-Hop Soul."
This tour marks D'Angelo's first U.S. tour in more than a decade. Recently having wowed audiences at the Essence Music Festival, Bonnaroo and the BET Awards, D'Angelo is back with passion and drive.
With the release of her debut "The Bridge," Melanie Fiona emerged as one of 2009's finest new breakout stars, boasting a Grammy-nominated hit single "It Kills Me."
'MYTHBUSTERs' DEBUTS AT THE PALAZZO
The all-new live show "MythBusters: Behind the Myths," starring Jamie Hyneman and Adam Savage, co-hosts of the Emmy-nominated Discovery series "MythBusters," debuted at The Palazzo with remaining performances Aug. 31 – Sept. 2. TV's "MythBusters" is now in its ninth season.
The stage show presents an evening of on-stage experiments, audience participation, video and behind-the-scenes stories. It brings you face-to-face with the curious world of Hyneman and Savage and matches wits with the duo, who have performed a 28-city, sold out national tour. Tickets range from $60 to $130.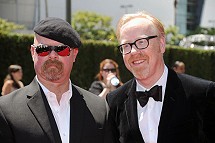 Hyneman and Savage have become spokespersons at large for applying science to real life – most recently as hosts of the Discovery Channel special "iGenius: How Steve Jobs Changed the World," and have appeared on numerous national network shows. The duo also serves as guest editors for "Popular Mechanics." Hyneman and Savage produced and starred in an H1N1 Public Service Announcement for the White House, and were chosen by the President to retest the Archimedes legend using 500 schoolchildren as surrogate soldiers.
Hyneman owns M5 Industries, an effects company specializing in problematic custom builds that also serves as headquarters for "MythBusters."
3rd ANNUAL 'VEGAS ROCKS! MAGAZINE AWARDs' WILL ROCK THE JOINT
The 3rd annual "Vegas Rocks! Magazine Awards 2012" will rock The Joint at Hard Rock on Sunday, Aug. 26. "Vegas Rocks! Magazine" is celebrating its 8th year anniversary in a big way with The Rock 'n' Roll Royal Red Carpet rolled out for some of the biggest stars in the music business. The entire event starting with the red carpet at 6 p.m. will be televised live nationwide for AXS TV LIVE!, which is Mark Cuban and Ryan Seacrest's new venture.
Many national artists will be honored including Sammy Hagar, David Coverdale (Whitesnake), Michael Schenker (UFO/The Scorpions), Geoff Tate (Queensryche) and many others.
CALIFORNIA PIZZA KITCHEN HAS NEW ADVENTURES MENU
The ever popular California Pizza Kitchen restaurants will launch their New Adventures menu nationwide on Monday, Aug. 27. Some local media enjoyed a tasting of the following items on the new menu and each item was incredible with the Fire-Roasted Chile Relleno being a stand out. The other new mouth-watering food presentations include: Cedar Plank Salmon + Corn Succotash; Grilled Chicken Chimichurri; Quinoa + Arugula Salad; and Shrimp Scampi Zucchini Fettuccine.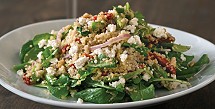 NEWS BITES
Las Vegas lost an Original Pancake House that opened in 1995 at 4833 W. Charleston to an early morning fire.
Madame Tussauds will welcome a wax figure of comedian George Lopez to the attraction at The Venetian in honor of National Hispanic Heritage Month from Aug. 23 through Oct. 14.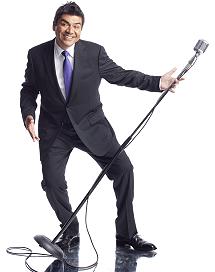 British actress and HBO "True Blood" star, Camilla Luddington, will spend an evening with fans at Chateau Nightclub & Gardens at Paris on Saturday, Aug. 25. This past spring, Luddington also joined the cast of Showtime's hit show "Californication," playing the role of Lizzie.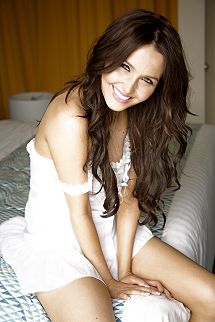 Actress Dania Ramirez will celebrate the premiere of her film, "Premium Rush," at Chateau Nightclub & Gardens at Paris on Friday, Aug. 24. Ramirez stars in the thriller alongside Joseph Gordon-Levitt, Michael Scott and Jamie Chung that is set to debut nationwide that same weekend.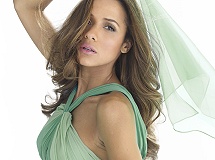 As part of The Venetian and The Palazzo's Carnevale "Cibo-Vino" month, James Beard Award Winning Celebrity Chef Alex Stratta will host a five-course dinner paired with the wines of Banfi to benefit the Lou Ruvo Center for Brain Health on Friday, Aug. 24. Tickets are $200, call 702-414-9000.
World-renowned chef and restaurant owner David Myers, along with Comme Ça Executive Chef Brian Howard, have debuted new lunch and dinner menus that expand upon the full spectrum of French influences at Comme Ça Las Vegas at The Cosmopolitan.
On Tuesday, Aug. 21, Pure Nightclub will welcome Big Boi, half of legendary hip hop duo Outkast, and on Sunday, Aug. 26, Wet Republic turns the tables over to Chromeo.
Trump will hold its 2nd Bridal Showcase on Sunday, Sept. 9 from 2-4 p.m. The outdoor afternoon event is free but an RSVP is required, call 702-476-7205.
HARVEST FESTIVAL AT CASHMAN CELEBRATES 35 YEARS IN VEGAS
Las Vegas' largest annual Art and Craft Show will be held at Cashman Center, Sept. 7-9, and be celebrating its 25 years in Las Vegas, and 40th year on tour in the western United States. Each of the 250 exhibitors is subject to a rigid jury process to be selected as a featured artisan to ensure high quality. The Harvest Festivals boasts more than 24,000 handmade arts and crafts made in the United States, including jewelry, blown glass, woodturnings, art and photography, antique treasures, children's accessories, specialty foods, clothing, décor and more. There's also free family entertainment, drawings and artist demonstrations.
The Royal Tea Society will present the Teddy Bear Tea Party on Saturday and Sunday for $5 per person with storytelling, table fun and an edible Teddy Bear Garden with all proceeds benefiting Operation Christmas Child.
Admission is $9, $7 for seniors, $4 for youths 13-17 and free for children. Tickets are valid for re-entry all weekend. For information and how to get a $2 discount, visit www.harvestfestival.com.
WINDER FARMS STARTS NEW FARMERS MARKET AT GALLERIA
Winder Farms, a premier home delivery grocery company, is launching a new farmers market in the south parking lot at Galleria at Sunset on Aug. 24. Winder Farms Farmers Market will be open on Fridays from 4 – 8 p.m. through Oct. 26.
TOP OF NEXT COLUMN
RONNIE MUND BLOCK PARTY DESCENDS ON THE HARD ROCK
The characters from the raucous "Howard Stern Show" bring their Ronnie Mund Block Party to Hard Rock Hotel & Casino for the Las Vegas leg of their wild comedy tour on Saturday, Aug. 25. To kick off the weekend, Mund and friends will host a fan welcome party Friday, Aug. 24, at 9 p.m. at the Center Bar. On Saturday afternoon, guests will also be able to join Mund and his crew at Paradise Pool to choose the "Hot Chick of the Week" before they hit the poker pit to play amongst friends. Saturday night, the cast is set to perform a comedy show at The Joint.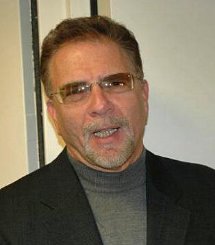 The Poker Tournament entry fee starts at $250 for 3,000 chips and comedy show tickets are $25 and $30.
HOMETOWN IMAGINE DRAGONS PERFORM AT HARD ROCK CAFÉ
Las Vegas hometown Imagine Dragons will return to the Hard Rock Cafe on the Strip Wednesday, Sept. 5. Imagine Dragons will be celebrating the upcoming Sept. 4 release of their debut album, "Night Visions," here in Las Vegas, where their meteoric rise began. The new album comes less than one year after their EP, "Continued Silence," rocked the indie world. The quartet performed that album's lead single, "It's Time," live on "The Tonight Show with Jay Leno." Tickets are $17 in advance and $20 day of show.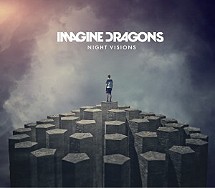 VIDEO GLIMPSE OF ELI ROTH's GORETORIUM AVAILABLE
A first-look at Eli Roth's GORETORIUM that will open in September is a 30-second video glimpse at Goretorium.com of what guests will be exposed to should they tour through Las Vegas first year-round haunt. Roth will soon unveil his first GORETORIUM when the mythical Hotel Delmont comes to terrifying life on the
Las Vegas Strip and offers self-guided tours. Advanced ticket sales for GORETORIUM are available at www.goretorium.com.
Eli Roth's GORETORIUM is the brainchild of Roth, best known as the creator of the "Hostel" and "Cabin Fever" franchises, and for his role in front of the camera as Donny "The Bear Jew" Donowitz in Quentin Tarantino's "Inglourious Basterds" for which he won SAG Best Ensemble and BFCA Critic's Choice Award for Best Acting Ensemble. His film label "Eli Roth Presents" produced the enormously successful horror hit "The Last Exorcism," and he currently is shooting the horror series "Hemlock Grove" for Netflix.
LAUNCH PARTY PLANNED FOR 'VEGAS KNOCKOUT' BY MOSS
A party is planned on Sept. 6 at the world-famous Double Down Saloon for the launch of longtime Las Vegan P Moss' second book "Vegas Knockout" by CityLife Books with Portland-based indie rock band Attack Ships On Fire performing songs from their third full-length album. Searching for the soul of the city, "Vegas Knockout" is a follow-up to his 2010 book "Blue Vegas."
As the owner of the Double Down Saloon in Las Vegas and New York City, and Frankie's Tiki Room in Las Vegas, and a musician and songwriter whose band Bloodcocks UK recently concluded two sold out tours in Japan, Moss has a front row seat to the pulse of the neon oasis and its unique people.
CROSSVEGAS RETURNS TO LAS VEGAS FOR SIXTH YEAR
CrossVegas, the biggest cyclocross race outside of Europe, will feature International racers displaying unbelievable athleticism in the pursuit of the top spot. Last year, more than 10,000 spectators watched and CrossVegas expects even more people since this event will mark the kickoff to Interbike 2012, North America's largest bicycle trade event and show. The race will take place Wednesday evening, Sept. 19 from 4 to 11 p.m. at Desert Breeze Soccer Complex, 8275 Spring Mountain Rd.
Cyclocross is a growing niche of competitive cycling combining the speed of road bike races with the terrain of mountain bike events. Riders in cyclocross jump on and off their specially made bicycles and carry them over barriers and obstacles, all while racing for the best time.
Tickets are $8, children under 12 are free. For more information, visit www.crossvegas.com.
EDDIE TRUNK HOLDS BOOK SIGNING AT HARD ROCK
American music historian, author and radio and TV personality Eddie Trunk will partake in a meet-and-greet and book signing of his latest achievement, his book entitled, "Eddie Trunk's Essential Hard Rock & Heavy Metal" on Sunday, Aug. 26, from 3:30 – 5 p.m. at the Hard Rock Hotel. The book will be on sale for $30.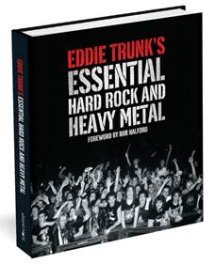 Known as a leading expert on all things hard rock and heavy metal, Trunk continues with his Sirius XM Radio show, "Eddie Trunk Live" and as the host of VH1 Classic's hit television program, "That Metal Show." He hosts two national radio shows a week, "Eddie Trunk Live Mondays" on SiriusXM 39, as well as the FM syndicated "Eddie Trunk Rocks."
MANY OUTLETS PARTICIPATING IN FASHION's NIGHT OUT
Fashion's Night Out is a collaboration between "Vogue," the council of Fashion Designers of America, NYC & Company and the city of New York. The event now in its fourth year, is a global celebration of fashion designed to restore consumer confidence, boost the fashion industry's economy and put the fun back in shopping.
Crystals at CityCenter, Fashion Show and Miracle Mile Shops at Planet Hollywood will celebrate Fashion's Night Out on Thursday, Sept. 6, with sales, gifts and in-store events.
Trump Hotel is partnering with the Fashion Show mall to create the ultimate shopping weekend, with a limited-time-only "Fashion's Night Out" Las Vegas hotel package, good Sept. 6-9.
The Bungalow specialty boutique at 7024 W. Charleston Boulevard and owned by stylist Meital Bronstein will hold a "Fashion's Day In" fundraiser on Sept. 6 from10 a.m. – 6 p.m. to support Dress for Success. There will be a storewide sale, light bite, makeup makeovers, gift bags and more. Donation tickets are $20.
NEW EXPERIENCE IS "SECRET AGENT 702"
Running through Dec. 30 is a one-of-a-kind new experience called "Secret Agent 702" that involves a very tight schedule. From racing sports cars to flying in a private helicopter, guests are whisked from one experience including a zip line experience to the next like a true spy and wined and dined in style.
These adventurous guests stay at HOTEL32 on the top floor of the Monte Carlo and receive disguises. Guests must book 60 days in advance at www.Papillon.com and the price tag is $6,800 for two agents.
CORNER STORE HAS OPENED ON MAIN STREET IN ARTS DISTRICT
Corner Store owners Steve Torgerson and Cima Mizrachi met at UNLV,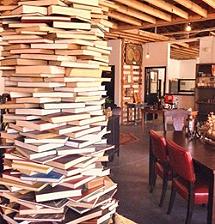 got married and last May opened their store at 1201 S. Main Street in a space across from Casa Don Juan restaurant in the Arts District. The store's focal point is a towering pillar made from swirling stacks of books. Items range from quirky folk art, jewelry and throw pillows to large pieces, including couches, tables and even a pipe organ. They also sell eco-friendly accessories and vintage reproductions. The walls feature work by local artists.
NOMINATIONS ARE OPEN FOR CRYSTAL BOOKMARK AWARDS
The public can nominate a Southern Nevada resident and organization for the 2012 Vegas Valley Book Festival Crystal Bookmark Awards recognizing each for advancing the cause of literature in the Las Vegas Valley, visit www.vegasvalleybookfestival.org/crystal-bookmark/.
Nominations are due by Sept. 21. The two awards will be presented at the Vegas Valley Book Festival at 3 p.m. Saturday, Nov. 3, at the Historic Fifth Street School downtown.
The largest literary event in Southern Nevada, the Vegas Valley Book Festival is scheduled Nov. 1-3. Most events will take place at the Historic Fifth Street School and the Clark County Library at 1401 E. Flamingo Road. For more information, visit www.vegasvalleybookfestival.org.
CHAPEL OF THE FLOWERS STARTS TWO NEW SPECIALS
Chapel of the Flowers has created two new specials. The first is the "Saturday Morning Special" that is available for ceremonies now through October. Couples booking their ceremony between 9 a.m. and noon will receive a complimentary Lifestyle Photographer addition with the purchase of any Photo Session.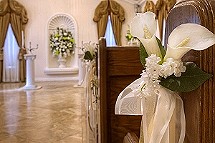 The second special is a "Winter Wedding Special" for ceremonies in December through February. Similar to the Saturday Morning Special, the couple will receive a complimentary Lifestyle Photographer addition with the booking of any Photo Session.
Column Continues Below Advertisement
CONTINUE ON TO...:

THIS WEEK'S >LAUGHLIN NEWS
LAST WEEK'S >LAS VEGAS NEWS
>VEGAS VIEW FULL NEWS ARCHIVES
Return to >"Heard Around Town"
Return to >Las Vegas Leisure Guide