COMEDY ABOUNDS AT RIVERSIDE WITH BACK-TO-BACK COMEDY FESTS!
Labor Day Comedy Fest
The Labor Day Comedy Fest leads the way Aug. 28-31 with 8 p.m. shows featuring Gabe Lopez, The Smash Brothers, DJ Cooch and Joey Medina. Tickets are $15.
Lopez no stranger to the spotlight began his career at age 10. His first gig was as a disc jockey for a small Spanish speaking radio station in Los Angeles. He began doing stand-up in 2002, when he performed on open mic night at the Improv Comedy Club. After a few shows, he was invited to Las Vegas to compete against hundreds of other stand-up comedians with only four months experience.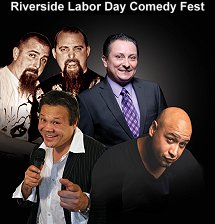 Cory and Chad aka The Smash Brothers are identical twins born and raised outside of Los Angeles with a not so perfect upbringing. The duo may look alike but they are quite different. Labeled the "Good Twin," Cory is laid back and calm, while Chad is labeled the "Evil Twin" who keeps Cory on his toes.
DJ Cooch is a comedian, actor and disc jockey. He is now headlining comedy clubs and colleges all around the country and was recently inducted into the Improv Wall of Fame.
Medina from the Bronx, New York, is a fresh comedian coming from professional boxing, where he made it to the State Championship. Medina has more than 50 television appearances under his belt, including his very own Showtime Comedy Special, "Joey Medina: Taking Off the Gloves."
Riverside Comedy Festival
The second comedy festival also features Gabe Lopez with different laugh makers Jon Stringer, Nick Guerra and Greg Wilson headlining Sept. 4-7 at 8 p.m. Tickets are $15.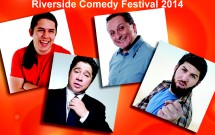 Hailing from Austin, Texas, Stringer is the youngest of four children, causing him to crave attention. Stringer in high school was labeled a jock but he wanted to be known best for his sense of humor and became the class clown. He produced sketch comedy videos in high school and reinforced his passion for comedy. He has received many awards for his stand-up including 2014 Funniest in South Texas and 2014 World Series of Comedy Satellite.
With just under a few years of stand-up, Guerra has won over crowds with his style that balances topics including current events, relationships, and personal opinions. He lets loose as soon as he gets a microphone taking crowds by surprise. Guerra was a writer, assistant director, and story producer for the mun2 second season reality show "Pitbull's La Esquina." He has also performed on Comedy Central's "Gabriel Iglesias Stand Up Revolution," Nuvo TV's "Stand Up & Deliver," and most recently this season's "Last Comic Standing."
Wilson combines more than 20 years of professional experience in all three major comedy disciplines: improve, sketch and stand-up. He is a popular headliner at comedy clubs, festivals and casinos across the country. His numerous television stand-up appearances include Showtime, ComedyTV, and "Comics Unleashed" with Byron Allen. He also became head writer on "Comics Unleashed" after three smash appearances on the show.
EDGEWATER'S LAUGH MAKERS ARE ROY HABER AND SPENCER JAMES
The Edgewater continues to highlight two different comedians every Friday through Sunday. Show tickets for 7 p.m. performances are $10 and with a $2 discount on Sunday for veterans.
Future comedians for "Comedy on the Edge" include: Sept 5-7-Ed Regine and Bobby Wayne Stauts; Sept 12-14-Andrew Norelli and Maria Herman; Sept 19-21-David Kious and Elliot Threatt; and Sept 25-28-Marty Laquidera and Sam Ridley III.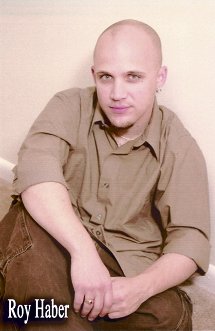 Roy Haber and Ryan DeNisco headline Aug. 22-24. Haber of all things was born in Israel but confused when his parents moved to Kentucky where he was raised. With this kaleidoscope of genealogy and eclecticism of personality traits, comedy seemed an appropriate path. Haber at 5'2" is prone to making fun of his height as well as tackling personal issues, putting an analytical magnifying glass on world events and society in general, and sharing stories from his travels. He is live, direct and brutally honest.
Haber has performed throughout the United States, for our troops abroad, and around Canada. He's appeared with Jim Breuer, Tommy Davidson, Don Rickles, Tim Wilson, Alex Reymundo and many more and received numerous awards. Fans appreciate his speaking his mind, sparing no karmic expense, and excluding no one in his satirical tirades. Not only will Haber make you laugh, he will also undoubtedly move you to thought and reason.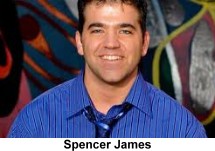 Spencer James will be appearing Aug. 29-31 with Tim Smallwood. James since he was 17 has been entertaining audiences with his blend of fresh stand-up mixed with his sometimes excruciating family life and everyday observations. James naming only a few has opened for "Last Comic Standing's" Tye Barnett, Comedy Central's Jimmy Dore, and Rocky Laporte. He participated at the World Talent Convention in 2002, was the MVP of Comedy Works Funny Final Four Contest in 2005, and was a featured performer of the Boulder Comedy Contest in 2009. James is the first person to ever own/rent a little person.
His film and acting credits stretch from NBC's "North Shore" to "Lost" to performing for the fishermen of Dutch Harbor, Alaska, made famous by the hit TV show "Deadliest Catch." His home club of "Comedy Works" is based out of Denver, Colo., but most the time he performs at comedy clubs, military bases, and colleges around the nation.
SPINNERS DINNER SHOW SET AT THE EDGEWATER
The Spinners Dinner Show will be held at the Edgewater Sept. 5-7, with dinner at 6 p.m. followed by a 7 p.m. show. Tickets with dinner and show included are $55, $65 and $85.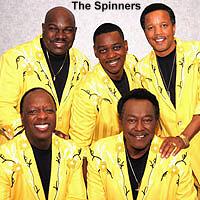 Six-time Grammy nominated quintet, The Spinners began their recording career in 1972 and have since acquired 12 gold records with hits at the top of both Pop and R&B charts. The Spinners have four lead singers and today the group includes original members Bobbie Smith, Henry Fambrough, and Pervis Jackson. They are joined by lead singer Charlton Washington, high tenor Harold "Spike" Bonhart, and a soul-infused five-piece band. Some of their songs include: "Mighty Love," "Then Came You," "I'll Be Around," "One Of A Kind (Love Affair)," "Games People Play," "Could It Be" and "Working My Way Back To You."
TOP OF NEXT COLUMN
DWIGHT YOAKAM VISITS EDGEWATER'S E CENTER
The Edgewater's E Center has Dwight Yoakam headlining Saturday, Aug. 23 at 8 p.m. Tickets start at $25.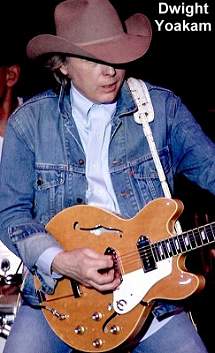 The Grammy award-winning country singer, songwriter and actor Yoakam has 12 gold albums and nine platinum or multi-platinum albums, including the triple-platinum "This Time." Yoakam has been nominated for Grammys 21 times and won twice. Five of his albums have topped Billboard's Country Albums chart. More than 30 singles have charted, with 22 going Top 20, including "Honky Tonk Man," "Please Please Baby," "Little Ways," "I Sang Dixie," "It Only Hurts When I Cry," "Fast As You" and "Thousand Miles From Nowhere."
Music is only part of his story. Over the past 20 years, Yoakam has been acting starting with a role as a truck driver in John Dahl's "Red Rock West" in 1992. He solidified his skill appearing as the malevolent Doyle Hargraves in the Academy Award-winning film "Sling Blade, " for which he and his co-stars were nominated for the Screen Actors Guild's award for outstanding performance by a cast. Other films and roles include: David Fincher's box office hit "Panic Room" Lee Jones' Cannes Film Festival award-winning "The Three Burials of Melquiades Estrada;" portraying Pastor Phil alongside Reese Witherspoon and Vince Vaughn in the broad comedy romp, "Four Christmases;" the infectiously eccentric Doc Miles in the Jason Stratham pictures "Crank" and "Crank 2: High Voltage," and Vince Vaughn/Owen Wilson picture "Wedding Crashers."
GARY ALLAN BRINGS COUNTRY SOUNDS TO RIVERSIDE AMPHITHEATER
Gary Allan will be performing at the outdoor Riverside Amphitheater Saturday, Sept. 6 at 8:30 p.m. Tickets range from $35 - $80.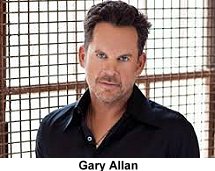 The Southern California-born Allan started his musical career while in high school playing at clubs. Influenced by The Highwaymen, he pursued music mining the dangerous side of life. After graduation, he developed a following. Allan is known for mixing honky-tonk bravado and grainy isolation while mining life's emotional turf that includes the joys of parenting, the heartache of personal loss, the testosterone of disagreement, and the unpredictability of love.
Allan has five No.1 hits including "Man To Man," "Tough Little Boys," "Nothing On But The Radio," "Watching Airplanes" and "Every Storm (Runs out of Rain)," in addition to trademark hits such as the lonely "Best I Ever Had" and the swaggering "Right Where I Need To Be."
Allan's "Set You Free" album embodies his own evolution toward personal, creative freedom. The album sequences with a storyline about a man breaking the restraints of a failed relationship and conquering the loneliness of its aftermath and gaining self-acceptance.
Allan is also good as new physically. "Set You Free" is the first album he recorded since the removal of a polyp on his vocal cords that had doggedly restricted his range. The issue was discovered almost by accident during a routine checkup with a Nashville voice doctor. But it explained why his concerts had ever so gradually become a test of his endurance. "Set You Free" also represents the restoration of his voice.
AVI HOLDS DINNER SHOW WITH PAPA DOO RUN RUN BAND
The Avi will have a dinner show featuring a Beach Boys-atmosphere with the Papa Doo Run Run band performing at 8 p.m. on Saturday, Sept. 6. Tickets are $25.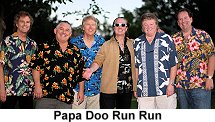 The California band, Papa Doo Run Run, was formed in 1965 and quickly discovered their forte was sounding like the legendary Beach Boys. Their sound enabled them to tour North America with the surf music icons Jan & Dean. In the 80s, the group toured and recorded with members of the Beach Boys for the next two decades.
The group also had an unprecedented 15-year run from 1975-90 at Disneyland as the "Celebrity House Band." In the mid 80s, Papa Doo Run Run also became the darlings of corporate entertainment, performing up to 150 corporate events a year with their immensely fun-packed show.
From 1965-71 the band actually had three name changes starting out as "the ZU," then "Goodie Two Shoes" and finally "Papa Du Run Da Run," which was later shortened to "Papa Doo Run Run." Their name was derived from the background line of Jan & Dean's "New Girl in School."
Papa's 1975 Top 40 hit "Be True To Your School" reached No. 1 in California. Their ground breaking CD "California Project" in1985 exploded onto the Billboard Hot 100 Chart at No. 17 and earned the band their second Gold Record and a Grammy Nomination. Additionally, Papa Doo Run Run appeared in, and recorded the soundtrack album for the CBS-TV movie "Deadman's Curve." The band currently has 10 CD releases and a full length DVD.
Today, Papa Doo Run Run still performs worldwide playing classic Rock hits of the 60s and 70s. Their best kept secret...Papa Doo Run Run is who the Beach Boys call when they need a fill in for their band.
KEYTOURS OFFERS LAUGHLIN DAY-TOURS FOR PRE-ORGANIZED GROUPS
Keytours has partnered with the Golden Nugget to offer a new motorcoach day-trip to Laughlin for pre-arranged groups and organizations. With a minimum of 35 passengers, Keytours will pick the group up from any community in Las Vegas. The cost is $5 per person, which is applied to a fuel surcharge. Everyone is given a coupon booklet with more than $30 in valuable offers and a free $5 dining coupon. Tours are available Monday-Friday, call 702-362-9355.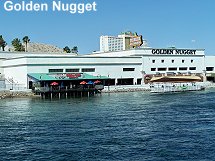 AQUARIUS WINS 'PEOPLE'S CHOICE' AGAIN AT FIESTA FUNDRAISER
The Aquarius is celebrating after winning the prestigious "People's Choice" award for the sixth year in a row at the margarita competition named, "Fiesta 2014," last month. Aquarius also took home the title for best blended margarita, called "Chadberry" after Chad Nance, the Aquarius bartender who created it. Nance was also dubbed "Best Bartender" by the Mohave Valley Daily Newspaper's Readers in 2014.
"Fiesta 2014" is a fundraiser and competition that benefits the Boys & Girls Clubs of the Colorado River. Since 1998, the Fiesta event has raised funds and been a means for local mixologists to showcase their talent. This year's event sold out two weeks in advance of the competition and raised nearly $23,000.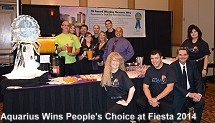 The Aquarius raised more than $750 from the money placed in the "ballot box" at the Aquarius booth. They also presented the area Boys & Girls Clubs with a check for $10,000.

Each year competitors can decorate their booths. The Aquarius' theme showcased their 15 "Best Of" awards from the Mohave Valley Daily News readers' poll this year. The traditional Aquarius ice sculpture resembled a blue ribbon for their wins. New this year, Aquarius provided two blackjack tables with dealers for patrons to play blackjack for prizes.

CONTINUE ON TO...:

THIS WEEK'S >LAS VEGAS NEWS
LAST WEEK'S >LAUGHLIN NEWS
>VEGAS VIEW FULL ARCHIVES
Return to >"Heard Around Town"
Return to >Las Vegas Leisure Guide