<!A-- Left Column -->

Winding down the summer entertainment at Harrah's in the Fiesta Showroom will be a Laughlin favorite, Earl Turner. He'll headline from Aug. 16 - 28. The popular Las Vegas performer is a consummate and dynamic entertainer delivering both self-penned works and the best hits of his contemporaries. Singing and dancing with disarming flair, Turner takes his guests through a broad range of music styles from classic Motown to a touch of country to a splash of contemporary pop and hip-hop hits.
Over the years, Turner has collected some fine accolades, including being named Las Vegas' "Best Male Vocal Performer" by the Las Vegas Review-Journal. In June 2007, Turner performed in fellow Las Vegas' headliner Clint Holmes' autobiographical musical, Just Another Man at the Judy Bayley Theater at University of Nevada-Las Vegas.
Tickets to Turner's 8 p.m. shows nightly except Friday and Sunday start at $17.95, call 702-298-8510.
On Saturday, Sept. 6, The Guess Who will headline at The American Heroes Pavilion at 8 p.m. Tickets are $35, $39 and $49, call 800-343-4533.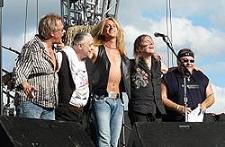 The Guess Who, the band that became Canada's first international rock music superstars, began in 1962 in Winnipeg. Their first turning point was in 1965 when the band sent a 45 record to the local radio stations that had Shakin' All Over on it. The group was experimenting with the sounds of freedom, psychedelic and garage rock that was filtering across the border from Minneapolis, and they eventually moved there to record. Their song His Girl gave the band a Top 20 hit in England. In 1968, The Guess Who's record release contained the Top 10 hits Laughing (the B-Side of These Eyes) and No Time as well as the Top 40 hit Undun. Ironically it was American Woman from March of 1970 that gave The Guess Who a No. 1 single in the United States; unseating The Beatles for three weeks straight. The Top 10 album, also entitled American Woman contained the hits No Sugar Tonight/New Mother Nature (the B-Side of American Woman).
The River Palms is keeping the laughter going at the River Palms Comedy Room this summer. Comedians Carlos Oscar and Mick Lazinski with host Gary Caouette will take center stage Aug. 26-30. Shows are presented Tuesdays through Saturdays at 9 p.m. Tickets are $17.95 for general seating and $22.95 for preferred seating, call 1-866-448-7849 or 702-474-4000.
Two Dixieland Jazz bands bring the heart and soul of New Orleans to the Colorado Belle each weekend with free live entertainment. The Dixie Boys entertain Thursday - Sunday from 4 to 7 p.m. and The Dixie River Band play old Dixieland tunes Thursday - Saturday from 9 p.m. to midnight.
Karaoke takes place in The Boiler Room at the Colorado Belle every Friday and Saturday from 9 p.m. to 1 a.m.
One of the most popular sites in the region and located along famous Route 66, Oatman is a historic gold mining town founded in 1906 as a tent camp for miners. Oatman is located 18 miles southeast of Bullhead City, Ariz., on Highway 95 and up boundary Cone Road into the Black Mountains. The charming town features quaint shops, restaurants and saloons with live entertainment. Town landmarks include the wild burros that roam the streets and the Oatman Gunfighters, who stage showdowns and shootouts on the town's main street- Route 66.

TOP OF NEXT COLUMN
Carlos Oscar, who was born in Manhattan, N.Y. on July 4, is a smart and perceptive storyteller, the only four-letter words you'll hear from him are "wife," "kids," "debt!" and "Help!" His observations about his Latino family are universal. Known for his charming, witty and energetic stage persona, Oscar fully acts out his jokes by telling stories everyone can identify with, and metamorphosing into various characters and voices. He jokes are most often about the humorous side of family, pop-culture and everyday mishaps.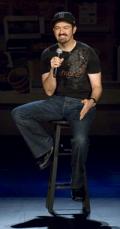 Mick Lazinski has appeared on many comedy televisions shows including The Ben Stiller Show on Fox, Showtime All-Stars VII on Showtime, and Evening at the Improv on A&E.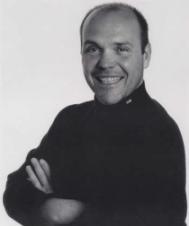 Gary Caouette, who is originally from New England, headlines all around the country. His material is original and very audience friendly. Within minutes of leaving his show you will see one of his unique observations and relive the laughter. Caouette won the Comedy Connections Funniest Professional contest, which is one of the biggest and most prestigious competitions around. He has appeared in the movie The Boonedock Saints, had a feature role on Nippon TV's Astonishing News, and has a DVD out called Gary Caouette, Live, One Take. that was filmed in its entirety at the Comedy Connection.
The Aquarius will welcome Little Joe Y La Familia on Sept. 13 at the Aquarius Outdoor Pavilion. Two-time Grammy award winner Little Joe got started as a conjunto musician when the style was still in its infancy. In fact, his mark helped make the genre what it is today: a celebration of the music of Mexico, along with blues, jazz and rock n' roll. His abiding influence has won Little Joe the title Godfather of Tejano Music. Tickets for his 8 p.m. show are $15 and$25. Room packages for two start at $142.99.
Visitors can enjoy the shopping experience seven days a week at the Preferred Outlets at Laughlin that's conveniently located across the street from the Aquarius on Casino Drive and near all the other main properties. Customers can visit more than 60 merchants plus the indoor food court and market. The fully enclosed two-story center features an Art Deco design throughout, while merchants offer prices 20-50 percent below retail average on a variety of top-name products.
There also gift shop outlets at each of the resort properties that feature logo items, apparel, gift items and sundries. The Golden Nugget Gift Emporium has Harley Davidson merchandise and Petroglyphs at the Edgewater features Southwestern items, Native American jewelry, desert souvenirs and NASCAR collectables. Crystal, porcelain dolls, figurines and collectables are at The Boutique at the Edgewater. For western wear and jewelry and one-of-a-kind items by local artisans, visit the Cowboy Store at the Pioneer. The Beach Shop at the River Palms has fresh flowers, gifts and apparel.
At the Riverside there is The Watch Man shop that sells watches and timepieces, including Elgins and Seikos worth $250, all under $20. There's no other store like it. Plus there's the Watch Man Watch-An-Hour Giveaway with drawings held every day beginning at 11 a.m. and continuing each hour on the hour until 10 p.m. Winner must be present.
Also at the Riverside, famous brand fragrances are sold at The Perfume Shoppe and you can shop for pre-owned jewelry at The Estate Jewelry Liquidation Center. Casual apparel, accessories and lingerie are sold at Hot Stuff and cigarettes are at the Smoke Shop.
CONTINUE ON TO...:
>THIS WEEK'S LAS VEGAS NEWS
>LAST WEEK'S LAUGHLIN NEWS
>VEGAS VIEW FULL ARCHIVES
>Return to "Heard Around Town"
>Return to Las Vegas Leisure Guide