ZOWIE BOWIE IS NEW STRIP HEADLINING ACT AT MONTE CARLO
The popular act Zowie Bowie featuring Chris Phillips and Marley Taylor is moving to the Las Vegas Strip. The duo will perform every Friday and Saturday night at 11 p.m. beginning Labor Day weekend at The Pub at Monte Carlo. Pub performances will highlight Zowie Bowie's blend of today's dance, hip-hop and Top 40 music. Admission is free.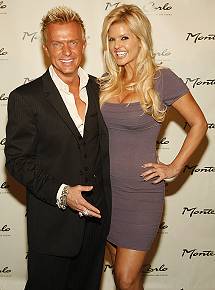 On Sept. 13, the hot twosome with a 15-piece orchestra will also bring back the classic days of Las Vegas every Sunday night in an exclusive three-month engagement of the "Zowie Bowie Vintage Vegas Show" at the Lance Burton Theatre. Tickets for the 7:30 p.m. show are $29.95, call 702-730-7160.

Column Continues Below Advertisement


RON WHITE BRINGS HIS COMEDY ROUTINE TO THE MIRAGE
Ron White, the cigar smoking, scotch drinking funnyman will perform his stand-up comedy inside the Terry Fator Theatre at The Mirage on Sept. 18 and 19 at 10 p.m. White, a Texas native, is best known for his performances with fellow Southern comedians Jeff Foxworthy, Bill Engvall and Larry The Cable Guy in the highly acclaimed "Blue Collar Comedy Tour." Tickets are $79, $69 and $59, call 800-627-6667 or 702-791-7111.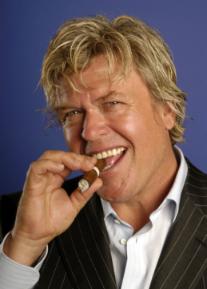 White's credits include two GRAMMY® nominations and multiple solo comedy albums and videos including "Drunk In Public," "They Call Me Tater Salad," and "You Can't Fix Stupid."
In June 2006, White released the book "Ron 'Tater Salad' White: I Had the Right to Remain Silent... But I Didn't Have the Ability," which perfectly summed up White's life and comedy. In April, Comedy Central aired White's third one-hour special "Behavioral Problems."
TROPICANA LAUNCHES NEW LOGO AND ANNOUNCES TRANSFORMATION
The Tropicana Las Vegas has launched a new logo to kick off the resort's re-branding that will give a South Beach, Miami feel. The almost free-form logo is replacing the previous diamond visual that has been used for more than two decades.
The hotel's last major renovation was in 1985. Recently acquired by the Onex Corporation and led by CEO Alex Yemenidjian, the Tropicana will undergo a $125 million renovation, which will include the redesign of every hotel room, the casino and pool area, etc. There will also be several new restaurants, bars, a new poker room and nightclub.
THE OSMONDS BRING 'OSMONDMANIA' TO THE ORLEANS
Celebrating 50 years in entertainment, The Osmonds - Wayne, Merrill, Jay and Jimmy - will perform in concert at The Orleans Showroom, Aug. 28 - 30. Tickets start at $34.95, call 702-365-7075.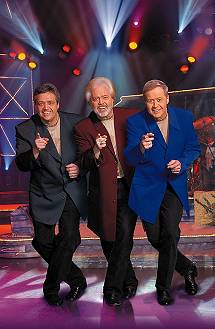 The legendary brothers have mastered a range of musical styles, including barbershop, pop, rock, country and jazz and 28 instruments. They have sold millions of albums and are known for such classic hits as "One Bad Apple," "Yo-Yo," and "Down By The Lazy River."
Five decades ago, the young Osmond boys appeared on "The Andy Williams Show," for what was meant to be a one-time shot. That single appearance led the Osmonds to seven seasons as regulars on the show. After almost 40 years of concert tours, the Osmonds purchased a theater in Branson, Mo., and began performing 12 shows a week at the Osmond Family Theater.
AIR SUPPLY 'LIVE ON THE ROAD 2009 TOUR' STOPS AT ORLEANS
Performing together for more than 30 years, Australian soft-rock group Air Supply will return to the Orleans Showroom Sept. 3 - 6. Tickets start at $39.95, call 702-365-7075.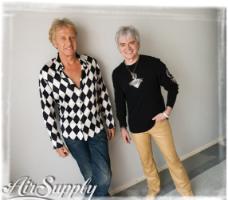 Englishman Graham Russell and Australian Russell Hitchcock met in 1975 while performing in the Australian production of "Jesus Christ Superstar." Later that year, the duo formed Air Supply and released their first smash hit album. After opening for Rod Stewart's tour in the United States in the late '70s, Air Supply signed a distribution deal with Artista Records in 1980. They have produced 30 albums and more than 15 hit singles.
TROPICANA IS NOW A HUB OF ENTERTAINMENT
The Tropicana is now offering a variety of entertainment options. Rich Natole has a 2 p.m. afternoon comedy show, Thursday through Sunday, entitled "Voices of a Generation." His act showcases a wide variety of parodies and more than 90 celebrity impressions. Tickets for his show in The Bobby Slayton Room are $29.95.
Following Natole at 4 p.m. is Penny Lane taking patrons on a trip back to Beatlemania. Tickets to see the tribute band are $44.95 and children ages 12 and under get in free.
South Beach offers a blend of Latin and Caribbean music and dancing in the Celebration Lounge Thursday through Saturday beginning at 8:15 p.m. South Beach is comprised of a seven-piece band and four interactive salsa dancers. There's no cover charge.
These shows join the following Tropicana mainstays: "The Soprano's Last Supper," "Hypnosis Unleashed," Bobby Slayton, and "Xtreme Magic Starring Dirk Arthur." For tickets and information, call 702-739-2411.
BINION'S TIES POKER PLAYING IN WITH PLAYBOY MANSION
Poker Television Network and Binion's are teaming up for the "Millionaire Experience" poker extravaganza. Tournament winners will fly in a private jet to party at the Playboy Mansion on Saturday, Sept. 12. Package winners will also receive free before and after accommodations at Binion's and luxury ground transportation.
Binion's is hosting a series of qualifying tournaments each Sunday and Wednesday leading up to a final tournament on Friday, Sept. 11. For every 50 players registered in the noon qualifying tournaments, one Playboy Mansion package will be awarded. Buy in is $240 for 8,000 starting chips with a $100 re-buy for 8,000 chips any time in the first hour.
The newly formed Poker Television Network, the first all-poker, all-the-time television network, will be on hand to film all of the action, from qualifying through the Playboy Mansion party.

TOP OF NEXT COLUMN
FORMER TEEN IDOL FRANKIE AVALON VISITS THE SUNCOAST
Frankie Avalon will headline at the Suncoast Showroom, Sept. 11 - 13. Tickets start from $29.95, call 702-636-7075.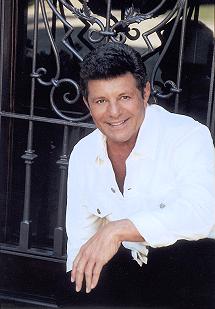 The one-time teenage idol of the 1950s and 1960s is considered one of the defining sounds of "pre-Beatles" rock 'n' roll. He was memorialized in his 1978 cameo appearance in the film "Grease," where he sang "Beauty School Dropout." Avalon's career has spanned three generations of music, television and some 30 motion pictures.
Avalon downplays the fact that he was a child prodigy and good enough to make guest appearances as a trumpet player on "The Perry Como Show" and "The Jackie Gleason Show." Avalon was inducted into The Rock and Roll Hall of Fame in 1995.
FRANK SINATRA JR. PERFORMS HIS DAD'S CLASSICS AT THE SUNCOAST
Frank Sinatra Jr. will pay homage - in song and style - to his father's music in "Sinatra Sings Sinatra" at the Suncoast Showroom, Sept. 5 and 6. Tickets start at $29.95, call 702-636-7075.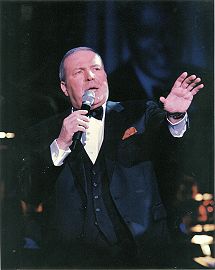 Sinatra Jr. has been a headliner in his own right and in the 1980s performed with 17 and 20-piece orchestras. He also joined his father's staff as musical director and conductor, which is the role he played for his father at New York City's Radio City Music Hall. His 1996 release of "As I Remember It," a tribute to his dad's talents and the composers and arrangers who defined the Sinatra legend, climbed the charts.
QUICK CLIPS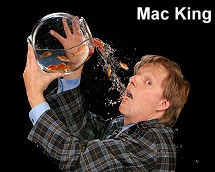 "The Mac King Comedy Magic Show" at Harrah's will celebrate its one-millionth guest this summer with a prize package giveaway that will be won by Aug. 29. The prize will include a two-night stay, dinner for two at The Range Steakhouse, a spa treatment, Mac King Magic in a Minute magic kit, a t-shirt and a meet and greet with King, who has performed at Harrah's since January 2000.
The inaugural "The Face-Time for Change" Cultural Summer Jam extravaganza will be held at 8 p.m. on Saturday, Aug. 29 at The Plaza downtown. The star-studded cast will include: five-octave range vocalist Indeya, Las Vegas headliner Michael Grimm, and 12-member band RNR. Following the show, there will be a ballroom after party from midnight to 2 a.m. For tickets, call 800-634-6575, ext. 12464.
Andrew Dice Clay with his hardcore brand of humor will headline at the Riviera Aug. 20-Sept. 6 with 10:30 p.m. shows. He's a comic, who earned a "lifetime ban" from MTV because of his "profane language and offensive jokes" at the Video Music Awards. Just recently, Dice made the industry take notice when he literally hijacked "The Pollstar Awards" and HBO's "Down & Dirty." Tickets are $49.95, $69.95 and $136.36, which includes a meet and greet with Dice, call 877-892-7469.
Beginning Aug. 22, the Eastside Cannery will feature "Classic Rock Saturdays" with the high-powered band Strange Brew. Music from 9 p.m. to 1 a.m. will happen inside the ONE SIX Sky Lounge, which has a spectacular city view, on the sixteenth floor. Admission will be free.
Bally's Race and Sports Book will reopen on Aug. 26 with an all-new roster of offerings including an added VIP Lounge that can accommodate up to 100 guests.
The Cannery will say goodbye to summer with the KKLZ End of Summer Bash featuring musical acts, food and drinks. The festival will take place Saturday, Sept. 5 at The Club. The musical line-up will include: Bowzer's Rock 'n' Roll Party, The Shadows of Knight, Bay City Rollers featuring Ian Mitchell, Count Five and Izon Eden. Tickets are free.
Las Vegas Motor Speedway (LVMS) is inviting race fans to enter a contest to design the cover of the Las Vegas 350 NASCAR Camping World Truck Race souvenir program. The contest is running through Sept. 1 and the winning entry will become the cover of the souvenir program for the Saturday, Sept. 26 event. The winner will also be a VIP guest, receive four suite and Neon Garage passes for the Las Vegas 350, and be photographed with the race winner in victory lane. Details at www.lvms.com.
The exhibit, Tusks! Ice Age Mammoths & Mastodons, is on display at the Las Vegas Natural History Museum through Aug. 30. Visitors can learn how scientists collect and study fossils, how research on ancient climates is done, and what is known about why these animals became extinct in North America 10,000 years ago.
AFAN (Aid for AIDS of Nevada) will host its 23rd Annual Black & White Party poolside at the Hard Rock on Aug. 22 from 9 p.m. to 1 a.m. Among the non-stop entertainment line-up will be: renowned DJs; celebrity impersonators; live performances by Charo as well as singer Pepper MaShay; flame throwers and fire dancers; appearances by headlining acts "Men of X," "X Burlesque," and longtime AFAN supporters Penn & Teller. Tickets are $35 per person, which includes complimentary drinks and cuisine tasting, visit www.afanlv.org.
VEGAS SHOW PERFORMERS SUPPORT LIBERACE MUSEUM FUNDRAISER
The nonprofit Liberace Foundation and Museum, with volunteer support from members of the Broadway-Las Vegas theatre community, are spearheading the expansion of live cabaret entertainment with the museum's renamed 86-seat The Cabaret Showroom, and a gala charity benefit concert set for Wednesday, Aug. 19 at 7:30 p.m. The event will be co-chaired by Philip Fortenberry and Keith Thompson, both conductors of "Jersey Boys" and Broadway musicians.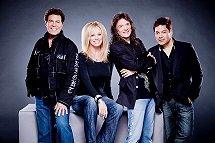 Entertainers scheduled to perform include: Fortenberry, Erich Bergen, Travis Cloer, Rick Faugno, Kristofer McNeeley and Carly Thomas Smith all from "Jersey Boys," Kristen Hertzenberg and Joan Sobel from "Phantom: The Las Vegas Spectacular," Tyler Williams from "Le Reve," "Vocal Soup" artists Domenick Allen, Clint Holmes, Susan Anton, and Martin Nievera, comedienne Vicki Van Tassel, singer-actress Ali Spuck, and pianist Christopher Joel Carter, who was the 2008 Liberace Piano Competition showmanship winner. Tax-deductible tickets are $125, call 702-798-5595, ext. 13 or e-mail info@liberace.org.
MMA'S RANDY COUTURE HOSTS CHARITY POKER TOURNAMENT
Mixed Martial Arts legend Randy "The Natural" Couture will host his second "Operation All In" poker tournament and charity auction benefiting the Xtreme Couture G.I. Foundation at the Golden Nugget in the Grand events center on Aug. 22 at 2 p.m. The event is open to the public and will also feature autographs sessions.
"Operation All In" will welcome professional celebrity poker players, and stars from the MMA world and Hollywood to play alongside the public, where the grand prize is a $10,000 seat in the Sports Legends Challenge poker tournament at Atlantis Paradise Island in the Bahamas. Buy in will be $330 with $100 re-buys. Reserve your spot, call at 800-777-4658, ext. 8164 or locally 702-386-8164.

Column Continues Below Advertisement


CONTINUE ON TO...:

>THIS WEEK'S LAUGHLIN SEGMENT
>LAST WEEK'S LAS VEGAS SEGMENT
>VEGAS VIEW FULL ARCHIVES
>Return to "Heard Around Town"
>Return to Las Vegas Leisure Guide