The PURE Management Group plans to open a Dick's Last Resort at the Excalibur in early 2007. The Las Vegas location will join the national line-up which includes Dallas, San Antonio, Myrtle Beach, Chicago, San Diego and Boston.
The quintessential vacation hangout, Dick's Last Resort provides a wacky-tacky décor, live music, sassy service, massive cocktails and finger foods by the bucket. Dick's is the opposite of a standard restaurant establishment encouraging patrons to participate and create a raucous environment. Dick's specializes in colossal portions of food and will serve lunch, dinner and late-night grub.

Column Continues Below Advertisement


The revival of Downtown Las Vegas continues with the opening at the end of August of the downtown - cocktail room located at 111 Las Vegas Blvd. So. near Fremont Street. The new 3,000-square-foot nightlife spot will have a bohemian-chic décor. The seating will include a mix of armed chairs, chaise lounges and booths. The hours will be 4 p.m. to 2 a.m. with live DJs five nights a week and happy hours on weekdays from 4 to 7 p.m.
I recently had the privilege of a private breakfast and tour of the Signature at MGM Grand, a luxury all-suite, non-gaming and non-smoking hotel. It's a spectacular place with a private gated entry and 24-hour, all-valet parking. Each suite is privately owned and can be used or lived in by the owner or put into the hotel pool. However, the suite's decor cannot be altered by the owner if they want to be able to rent it.
The Signature at MGM Grand is comprised of three 576-suite adjacent towers, each with luxurious junior, one-and two-bedroom suites ranging in size from 550 to 1,500 square feet and only 16 units per floor. Tower 1 made its debut this past June. Tower 2 will open in November and Tower 3 next May. The Signature is entirely private even though it is connected to the MGM Grand and all that the mega-resort has to offer.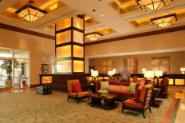 Each custom-furnished suite features a deluxe king-size bed with 300-thread count, Egyptian cotton Anichini sheets and a plush down comforter. Marble and granite bathrooms offer dual-sink vanities and Jacuzzi-brand whirlpool tubs. Top-of-the-line appliances are located in each kitchen or kitchenette. The state-of-the-art technology includes high-definition, flat-screen televisions; high-speed wireless Internet service; DVD/CD players; and iHome clock radios for iPods. Most suites have balconies.
Hotel amenities include private, heated outdoor pools and cabanas, Lobby Lounge, retail shopping, fitness centers, Starbucks' coffee shop and a delicatessen. There's a Business Center, Executive Board Rooms, and flexible meeting space for small groups.
The flawless guest service really sets the place apart and makes it upper class. There's 24-hour concierge service and in-suite dining.
The annual Pimp & Ho party is returning to the Orleans Arena on Saturday, Sept. 2. Vince Neil has been signed to perform and right after the show, Neil will fly out to join the rest of Motley on their co-headlining tour with Aerosmith. Other acts will include the "King of Miami," DJ George Acosta, "Jes" who just came off tour with top-ranked Tiesto, DJ Donald Glaude, rock mash up master, CB Shaw. and the Rubber Dolls dancers. The event will sell 10,000 tickets.
Michael Feinstein and Linda Eder will perform side-by-side on Friday, Sept. 8, at 8 p.m., for Lake Las Vegas Resort's 2006 Stars on the Lake concert series at MonteLago Village on the floating stage. Tickets are $69.95 (VIP seats) and $39.95 (general admission seats), call Ticketmaster at 702-474-4000.
A pop vocalist, composer, arranger and four-time Grammy® nominee, Feinstein has released 20 albums, sold out shows worldwide and played for three Presidents at the White House. Feinstein began his career as Ira Gershwin's assistant and has since recorded and performed many of Gershwin's unpublished songs. Feinstein had a hit one-man show on Broadway in 1988 called "Isn't It Romantic: Michael Feinstein in Concert."
Eder recorded seven Atlantic and Angel albums between 1994 and 2004, each a blend of standards, pop hits and originals. Among her many milestones, Eder's been profiled by the Bravo Network, had a solo concert run at Broadway's Gershwin Theater, performed in the Broadway production of "Jekyll & Hyde," and sang the track "Gold" to which Kristi Yamaguchi skated during the opening ceremony at the 2002 Winter Olympics.
The world's finest and most complete original Wurlitzer jukebox collection is for sale for $250,000 at The Auto Collections at the Imperial Palace. The 24 antique machines are housed in a variety of ornate wood cabinets, play either 45s or 78s or both and work on 110 volts. They range in vintage from a 1934 countertop model 51 with stand to a 1948 model 1100 Chapel.
The Wurlitzers include several extremely rare machines including a 1939 model 500A; a 1941 model 850 Peacock upon which only 1,530 records have been played; a 1941 model 850A Tulip; a 1946 model 1015 Ambassador; a 1946 model 1015 Bubbler, the most popular jukebox ever built; and a 1947 model 1080 Harpe.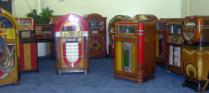 An additional 26 jukeboxes, including Seeburgs, Rock-Olas, Packards and AMIs, will be sold individually, with prices ranging between $10,000 and $20,000. Among these vintage pieces is a 1939 Mills Express previously owned by the late actor Steve McQueen.
The jukeboxes are nestled among the classic cars at The Auto Collections because they belong to an avid car collector in Switzerland who has spent the past 20 years gathering each piece for his set.
Las Vegas Hilton headliner and Emmy nominee Barry Manilow, who co-wrote the lyrics with Bruce Sussman and sang the words to the "American Bandstand" theme song, "Bandstand Boogie," will perform a special musical tribute to Dick Clark on this year's "58th Annual Primetime Emmy Awards." The show, hosted by Conan O'Brien, will air live Sunday, Aug. 27 on NBC-TV. Manilow's friendship with Clark spans several decades, beginning when he made his first national TV appearance singing "Mandy" on "American Bandstand."
After his Aug. 27 performance, Manilow will undergo hip surgery, which is going to cause him to cancel and reschedule about 20 appearances there.
Boca Raton Luxury Condominiums, a mid-rise development being built on the South Strip, recently celebrated a topping-off milestone - the last concrete pour for the first two buildings of phase one, which is scheduled for completion next January. Phase one will include a 10,000 square-foot clubhouse and the first 378 homes.
The Guess Who will return to the Cannery in North Las Vegas on Saturday, Sept. 16 at 8 p.m. inside The Club. Tickets are $25.95 and $19.95, calling 866-287-4643.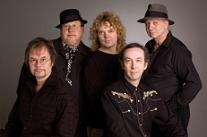 Still going strong 40 years after their formation, The Guess Who became superstars in their home country of Canada during the 1960s and early '70s. The group's first single and album was released in a plain white record jacket with only the question "Guess Who?" written on it. After selling two million copies, the band had its trademark name.
More than 15,000 "Star Trek" fans from around the world will beam into the Las Vegas Hilton Aug. 17-20, for the Fifth Annual Official Star Trek Convention that celebrates the 40th Anniversary of the franchise. The four-day event will feature more than 70 celebrities from all incarnations of "Star Trek."
Sunset Strip is a new super high-voltage, nine-member group performing in the resort's Shimmer Cabaret, Tuesday-Saturday, 10 p.m. to 1:30 a.m. It's a sexy rock group featuring two strong female vocalists, three lady dancers and four fabulous industry musicians with powerful credits.
"Showtime in Vegas" is a six-week competition that began Aug. 4 at 10:30 p.m. at the V Theater inside the Desert Passage Mall. At the end of each show a champion is selected by the audience and moves on to compete in the grand finale show for big prizes. Go-go dancers and the "Showtime Dimes" offer dance entertainment between acts.
The grand prize includes cash, a paid vacation and a Las Vegas show contract to perform in "V The Ultimate Variety Show." The winner of "Showtime in Vegas" will be announced on Sept. 8 in the grand finale show with all five weekly winners. Tickets are $24.70, call 702-932-1818.
The special landmark 6,000th show performance of "Mystére," Las Vegas' longest running Cirque du Soleil show in its 13th year at TI, was last Sunday before a packed house. Fireworks, confetti and balloons were released during the commemorative finale with the "behind the scenes" crew joining the cast on stage for the final bow.
Some fun facts about the show since it opened include 8,105,407 tickets being sold, 1,661,000 gallons of Liquid Nitrogen being used for fog, 12,000 cans of coke used to "mop" the stage, and 247 coats of paint or 1/2 inch of paint applied to the stage.
Herb Rawlings Jr., who played the part of James Thunder Early in the Broadway hit musical "Dreamgirls," is taking center stage on the Riviera's new open-air casino venue on Aug. 16, 18, 28 and 30. The free shows start at 12:30 p.m. and continue to 5 p.m.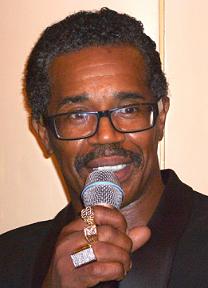 Rawlings made his performance debut at the age of two for Jackie Wilson and Berry Gordy and his first professional appearance was with Josephine Baker's last world tour. Rawlings has co-authored the award-winning musical "Do Wop Love" and also appeared in as the lead vocalist for The Platters.
Las Vegas audiences have seen Rawlings appear as James Brown at the Imperial Palace in their long-running "Legends In Concert." Most recently, Rawlings can be seen leading his own band at the Fremont Experience in downtown Las Vegas.
The annual BikeFest event downtown is schedule Sept. 14-17. This event attracts hundreds of motorcycle enthusiasts and vendors and becomes one big street party downtown with lots of entertainment and events. The '80s rock group Ratt will perform on Sept. 16 at the Fremont Street Experience.
The Hogs & Heifers bar will host many festivities over the four-day event. On Thursday, Sept. 14 Hogs will celebrate their official first year anniversary with a VIP party and performances throughout the night by The Moanin' Blacksnakes. The bar will then become a stop for the BikeFest Poker Walk on Friday, Sept. 15. Friday night will showcase a special performance by Southern Stue. Saturday will feature entertainment by Monk & the Po' Boys and for a finale on Sunday the staff of Hogs will put on a special installment of Blues, Brews and Bar BQs with the sounds of Cashed Out - a Johnny Cash tribute band - rockin' the block and barbeque with free food as long as you're drinkin'.
The Las Vegas Motor Speedway officials have announced the dates for the 2007 NASCAR weekend will be March 9-11. Tickets will go on sale Sept. 13.
"The Sopranos Last Supper" interactive dinner show at the Krave nightclub at Desert Passage and Bacardi of Southern Nevada have made a deal to promote a free "Big Apple Panic Attack Martini" to start out the evening in lieu of a glass of free wine or champagne. In addition, Bacardi has created a menu of $7 drink specials named after the show's characters.
The Las Vegas Convention and Visitors Authority has unveiled its 2007 NBA All-Star themed Monorail train as part of the ongoing promotion of February's big event. The newly wrapped train shows the 2007 NBA All-Star promotions are "on track."
The popular free photo booth on the Strip sidewalk in front of the Imperial Palace has closed to make room for Beacher's Rockhouse Bar that is opening this month.
The 2006 Nevada Gay Rodeo Association (NGRA) Big Horn Rodeo will be celebrating its 10th anniversary when it is held Oct. 5-8 at Horseman's Park. Organizers are estimating an attendance of more than 4,000 participants and attendees.
The Ferrari dealership inside Wynn Las Vegas sold more cars last year than any other Ferrari dealership in the world.
Wynn Resorts has named Jack Binion of Binion's Horseshoe fame downtown as the Chairman of Wynn International, overseeing the company's Asian operations, including Wynn Macau, which opens in just over a month.
Red Rock Resort has announced plans to add a 72-lane bowling center featuring a lounge, dining area and full-service pro shop to the new property.
In town for the recent Las Vegas Market furniture show, Joey Penn hit the almost $13 million Megabucks Jackpot at Wynn Las Vegas.
CONTINUE ON TO...:
>THIS WEEK'S LAUGHLIN SEGMENT
>LAST WEEK'S LAS VEGAS SEGMENT
>VEGAS VIEWS FULL ARCHIVES
>Return to "Heard Around Town"
>Return to Las Vegas Leisure Guide