TIM MCGRAW AND FAITH HILL TEAM UP AT THE VENETIAN!

Tim McGraw and Faith Hill with their "Soul2Soul" show will have a limited engagement at The Venetian opening on Dec. 7 and covering 10 weekends through April 2013. Tickets range from $95.50 to $295.50.

"Soul2Soul" will mark the first time in six years that McGraw and Hill have performed together in the United States. Their show will feature an all-new production with innovative lighting and set design technologies that were synonymous with the "Soul2Soul" concerts. The Venetian Theater will also be modified to accommodate this new production.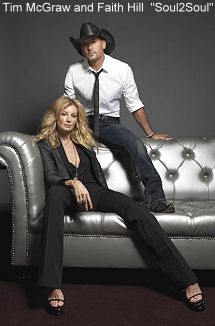 Collectively, they've sold 70 million albums, won eight Grammy Awards, 14 Country Music Association Awards, 14 American Music Awards, seven People's Choice Awards and 26 Academy of Country Music Awards.
McGraw and Hill began performing together in 2000 in their record-breaking "Soul2Soul" tour, which was that year's top grossing and most successful U.S. tour. In 2006, "Soul2Soul II" became the highest grossing country music tour of all time; the most attended of the year in any musical genre; and remains the highest grossing multi-year North American tour in country music history.
Column Continues Below Advertisement
THE HOTEL WILL BE REBRANDED DELANO LAS VEGAS
THEhotel, the 1,100-room all-suite resort attached to Mandalay Bay, will become the Delano Las Vegas under a partnership between MGM Resorts International and Morgans Hotel Group. THEhotel will be renovated and redesigned with completion expected in 2013. The resort's public space, including bars, lounges, spa and restaurants, will also be renovated. MGM Resorts will manage the renamed property under a licensing agreement. As part of the agreement, Morgans will introduce several new restaurants at Mandalay Bay that will be managed by The Light Group. One of the new restaurant concepts will replace Red Square.
'DANCING WITH THE STARS: LIVE' WILL RETURN TO TROPICANA
The inaugural run of "Dancing with the Stars: Live in Las Vegas" at the New Tropicana, which was extended a couple times, will return by popular demand in March 2013. Ticket sales will begin in a couple months for the 80-minute show emulating the hit TV show, "Dancing with the Stars: All Stars," which will premiere Monday, Sept. 24.
'SURF: THE MUSICAL' CLOSES AT PLANET HOLLYWOOD
Unfortunate news…despite a big-name director Kristin Hanggi and an impressive soundtrack featuring Beach Boys music, "Surf: The Musical" at Planet Hollywood is closing on Aug. 15 after a disappointing six-week run that began on June 29. In 2005, "Good Vibrations," another musical based around the Beach Boys music closed on Broadway after just 94 performances.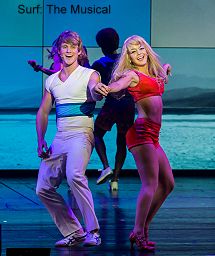 CHEF MASA TAKAYAMA OPENS TETSU AT ARIA
This month, Michelin-starred Chef Masa Takayama unveiled Tetsu, his first teppan concept at ARIA. Tetsu translates to "iron" in Japanese, which is why the reference to the Iron Chef in Japan is "Tetsu." Tetsu features highly skilled teppan chefs overseeing six grills – four blackjack-style tables and two communal teppan grill tables seating five and 10, respectively.
COMEDIAN CARLOS MENCIA RETURNS TO TREASURE ISLAND
On the road with his "C 4 URself" Tour, comedic superstar Carlos Mencia will perform at Treasure Island on Sept.14 at 9 p.m. Tickets are available starting at $49.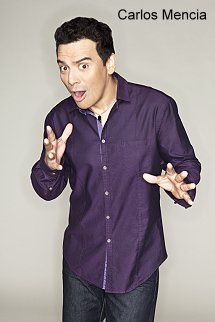 "Buscando Estrellas," the Latino version of "Star Search," named Mencia "International Comedy Grand Champion." In 2000, he released a comedy album called "Take a Joke, America" that showcased his brand of confrontational humor. In early 2005, "Mind of Mencia" debuted on Comedy Central and most recently he appeared on the Comedy Central special, "New Territory," which debuted in December 2011. Movies include starring opposite Ben Stiller and Michelle Monaghan in 2007's "The Heartbreak Kid," and in 2010 he starred in "Our Family Wedding" with Forrest Whittaker and America Ferrara.
SURVIVOR BRINGS 'EYE OF THE TIGER' TO FREMONT STREET
The Fremont Street Experience's "Rock of Vegas" summer concert series will feature a free concert by Survivor on Saturday, Aug. 18, at 9 p.m. on the 1st Street Stage. Chicago-formed Survivor had their big record break with "Eye of The Tiger" in 1982 and went on to other hits including "Burning Heart," the title track for "Rocky IV."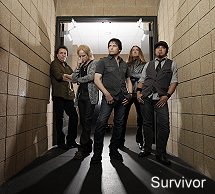 The last free summer concert will star Dee Snider– legendary singer of Twisted Sister on Sept. 1 at 9 p.m.
FASHION ICON PATRICIA FIELD HOSTS FASHION's NIGHT OUT
Emmy Award-winning fashion visionary Patricia Field will bring her designer prowess to Las Vegas' Crystals at Citycenter to celebrate Fashion's Night Out on Thursday, Sept. 6. The legendary stylist, renowned for her work with Sarah Jessica Parker in "Sex and the City" and Meryl Streep in "The Devil Wears Prada," will join top designers and local charities for one big fashion event.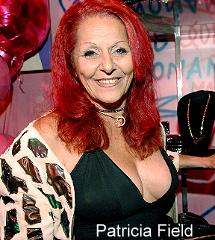 From 6 to 11 p.m., Crystals will offer in-store and destination-wide experiences, feature performances from Nevada Ballet Theatre and spotlight the hottest looks with models strolling the center. Crystals also will host celebrity stylist and designer Patricia Field's first fashion trends showcase in Las Vegas. Fashion's Night Out is a global initiative created in 2009. On Crystals second annual "Charity Crawl," participating retailers will donate a percentage of sales to their local charity partner. Admission to Fashion's Night Out is free and open to the public.
'COYOTE COUNTRY FEST' ADDS PHIL VASSAR AND MAGGIE ROSE
Two acts have been added to the Coyote Country Fest line-up taking place at the Orleans Arena on Saturday, Aug. 18. Phil Vassar and Maggie Rose will join headliner Ronnie Dunn, and "American Idol" finalists Lauren Alain and Bucky Covington. Tickets are $15, $50 and $65.
Vassar made his mark as a hit songwriter before such hits as "Just Another Day in Paradise," "In A Real Love" and "Last Day of My Life." At CountryFest, Vassar will perform a rare set on a baby grand piano.
Rose is an up and coming singer-songwriter, who has opened for stars like Jason Aldean and Lady Antebellum, and has hits such as "Maybe Tonight" and "I Ain't Your Mama."
GO-GO's BELINDA CARLISLE ANCHORS '80S CONCERT IN HENDERSON
The Go-Go's lead vocalist and multi-platinum artist Belinda Carlisle, along with special musical guests A Flock of Seagulls and Men Without Hats, will blast into the past, performing their greatest hits for a totally '80s concert at the Henderson Pavilion on Thursday, Sept. 6 at 7 p.m. Tickets are $20.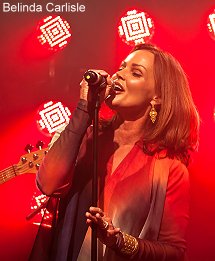 Carlisle saw early success during her days as the lead singer of the Go-Go's. As the first girl band to write their own songs and play their own instruments, the history makers gained instant international fame with the release of their debut album, 1981's multi-platinum "Beauty and the Beat."
Known for the wacky hairstyles, A Flock of Seagulls is one of the most notable one hit wonders of the '80s with "I Ran (So Far Away)."
Men Without Hats got everyone moving in 1982 with their biggest smash, "The Safety Dance."
SERENDIPITY 3 AT CAESARS PALACE HAS A STRIP GARDEN
Beneath its trademark ice cream sundae topiary, Serendipity 3 at Caesars Palace recently transformed its decorative floral and fauna into the Las Vegas Strip's first seasonal garden. The edible garden allows Executive Chef Michael Wolf to incorporate homegrown produce into menu dishes and even cocktails.
TOP OF NEXT COLUMN
ENTERTAINMENT CLIPS
By popular demand, Season 5 "American Idol" winner Taylor Hicks has added the following dates in The Indigo at Bally's: Aug. 21 and 23-25.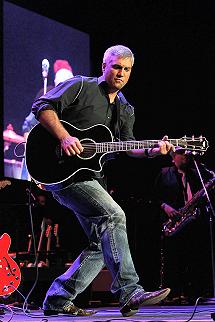 The Lon Bronson All-Star Band will make its last Thursday appearance at Green Valley Ranch on Aug. 23, and then move to Friday nights starting in September in the Ovation showroom.
The Broadway Theater at New York-New York is now offering two shows "Spirit of the Dance" and "Dancing Queen" for one $69 price through Sunday, Aug. 26.
The 98.5 FM KLUC's End of Summer Block Party at the Henderson Pavilion on Aug. 18, will feature performances by "X Factor" season one finalist Chris Rene, teen heartthrob Austin Mahone and singer/rapper Outasight of "Tonight Is the Night" fame. Tickets are $9.85.
On Aug. 18, Blues Storm will pull a double header performing from 11 a.m. to noon at the Music on the Mountain festival at Mt. Charleston and from 8 to 11 p.m. at the Boulder Dam Brewing Co. in Boulder City.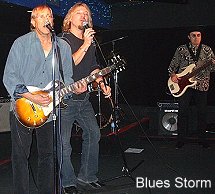 CANNERY CELEBRATES ELVIs' LIFE
Close friends and co-stars of Elvis Presley will join together for "A Celebration of the King's Life," honoring Elvis' music and legacy at the Cannery on Aug. 24 and 25 at 8 p.m. Tickets are $12.95 on Friday, $22.95 on Saturday, with $10 off if attending both shows.
The commemoration will feature performances by top Elvis tribute artists Johnny Fortuno on Friday, Ronnie McDowell on Saturday, The Stamps Quartet, Ray Walker of the Jordanaires, Millie Kirkham and Sammy Shore, who opened for Elvis from 1969 through 1972. In addition, special guests will include former co-stars of Elvis, Darlene Tompkins and Cynthia Pepper. Other guests will be Sonny West, Elvis' personal friend and bodyguard and Steve Christopher, DJ with "Elvis On Air."
The Cannery Row Buffet will also honor "The King" with a special section featuring all of Elvis' favorite foods.
DINING RELATED NEWS
Hash House A Go Go with four Las Vegas outlets and well-known for its enormous proportions was recently the only Las Vegas-based restaurant named one of the "Top 10 Cheap Eats in the United States" as well as one of the "Top 10 Cheap Eats in Vegas" by Gayot.com.
Reminder, as part of The Venetian and The Palazzo's Carnevale "Cibo-Vino" month, Emeril Lagasse's Delmonico Steakhouse will host a special food and wine dining extravaganza on Aug. 24 for $175.
The Wine & Spirits Weekend 2012 will be held at Mandalay Bay, Aug. 17-19. The all event ticket is $950 and individual event tickets are also available, call 877-305-3136. There are about nine events including special meals and wine tastings, etc.
The Range Steakhouse at Harrah's has started a new "$7 before 7 p.m." menu in the lounge offering cocktails and appetizers for $7 every night from 5:30 - 7 p.m.
The Caribbean-inspired RHUMBAR lounge at The Mirage will celebrate National Rum Day on Thursday, Aug. 16, by featuring drink specials and a Mirage Toro cigar for $20.
PBR Rock Bar & Grill inside Miracle Mile Shops at Planet Hollywood will offer a 10 percent dining discount and complimentary admission to the Rock Bar for those who attend the UFC 151: Jones vs. Henderson fight on Saturday, Sept. 1, and show their ticket stub before midnight.
Ranch House Kitchen at Town Square will celebrate National Potato Day with a 20% discount on select menu items on Sunday, Aug. 19.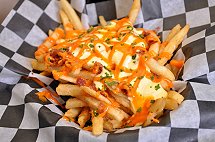 CHEF THOMAS KELLER HOSTS DINNER AT BOUCHON
Chef, restaurateur and cookbook author Thomas Keller will host an intimate dining experience for 25 guests on Wednesday, Aug. 29, at his award-winning Bouchon restaurant at The Venetian as part of the resort's Carnevale "Cibo-Vino" month celebration. The event is $195 and includes an autographed copy of the "Bouchon" cookbook.
FAST INTEREST ITEMS
The MGM Grand has a special limited-time offer that allows patrons to visit CSI: The Experience and Brad Garrett's Comedy Club for $45, which is a savings of more than $25. Offer is not valid on nights Brad Garrett performs.
Actor Parker Young, also known as Ryan Shay from ABC's hit show "Suburgatory," will celebrate his 24th birthday at Chateau Nightclub & Gardens at Paris on Friday, Aug. 17.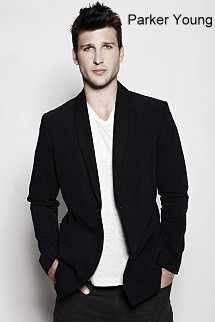 Miracle Mile Shops will construct a northbound facing escalator at the pedestrian bridge crossing The Strip at Harmon Avenue. The project estimated at more than $2 million will be fully funded and maintained by Miracle Mile Shops. Construction is expected to begin in September and be completed the first quarter of 2013. There is currently a southbound facing escalator off of the bridge.
Encore Beach Club and Surrender Nightclub at Encore will get into the Mexican Independence Day, which is Sept. 16, spirit with a muy caliente lineup of internationally renowned electronic dance music DJs – R3hab, Tiesto, Avicii, and Diplo - throughout the holiday weekend, Sept.13-16.
UFC ring girl and March "Playboy" magazine cover gal, Brittney Palmer, will jumpstart Labor Day and UFC 151 weekend as a special guest at Chateau Nightclub & Gardens at Paris on Friday, Aug. 31.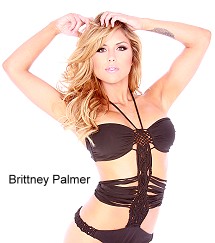 Binion's 25th floor rooftop pool, one of downtown's only hotel pools open to the public, hosts weekly free summer pool parties called "Kiss the Sky," on Friday nights at 9 p.m. with DJs, dancing, swimming, and drinks starting at $3.
Las Vegas Legends, one of the newest expansion teams in the Professional Arena Soccer League (PASL), is holding open tryouts on Aug. 20 and 21 at 9 p.m. and Aug. 25 at noon at Las Vegas Indoor Soccer. Practices will begin in October and the Legends' first preseason game happens Oct. 18.
Ranch House Kitchen will introduce its new, weekly "One Crazy Happy Hour" event hosted by local acoustic musician Hal Savar on Tuesday, Aug. 14. Every Tuesday at 8 p.m., patrons can take in the sights and sounds of Las Vegas' local art and music scene with some of the city's most talented local artists.
Tivoli Village is celebrating the art of dance by bringing back the successful Salsa Under the Stars event on Saturday, Aug. 25, from 8 to 11 p.m. The free event will feature Vol. 1 a salsa band, salsa dancers, an open dance floor, and cash bars.
In preparation for shooting 13 to 26 episodes for "Vegas Kids TV," a new, high-definition, local television show, Cool Blue Entertainment has a city-wide search for outgoing and/or talented kids ages 5 to 20. Next auditions are on Aug. 18 and 25 from 11 a.m. to 3 p.m.
The U.S. Fish and Wildlife Service is considering the Spring Mountains dark blue butterfly, which is two biologically distinct subspecies, for listing as "threatened" or "endangered" under the Endangered Species Act (ESA).
CVENT NAMES HENDERSON A TOP 50 U.S. MEETINGS DESTINATION
The City of Henderson has been ranked 39th on Cvent's list of the top 50 cities for meetings and events in the United States. The ranking is based on meeting and event booking activity in the Cvent Supplier Network. Cvent evaluated 1,000 cities and 220 major metropolitan areas. This is quite an accomplishment when you consider Henderson is located next door to Las Vegas, which was ranked No. 3.
AFAN HOSTS ANNUAL BLACK & WHITE PARTY AT HARD ROCK
The 26th Annual Black & White Party to benefit Aid for AIDS of Nevada (AFAN) will be held Saturdays, Aug. 25, from 9 p.m. to 1 a.m. at the Hard Rock Hotel's Nirvana Pool. What began around a backyard pool with canned food and good intentions has become one of Las Vegas' signature fundraising events. Tickets for $35 and $100 for VIP with access to a 7:30 – 9 p.m. reception.
CULTURAL DIVERISTY FOUNDATION HOSTS VISUAL ARTS RECEPTION
The Cultural Diversity Foundation is hosting "Our Stars of Visual Arts" in the "Grand" Lobby at Las Vegas City Hall, on Wednesday, Sept. 15 from 5:30 – 8 p.m. Artists will showcase their artwork, photography, and sculptures. There will be a body painting demonstration by Adolfo Gonzalez, wine, hors d'oeuvres, music, and free parking validation. Mayor Carolyn Goodman will be honored for her contribution to the arts. Tickets are $20 in Advance; $30 at the door, call 702-646-2615.
Column Continues Below Advertisement
CONTINUE ON TO...:

THIS WEEK'S >LAUGHLIN NEWS
LAST WEEK'S >LAS VEGAS NEWS
>VEGAS VIEW FULL NEWS ARCHIVES
Return to >"Heard Around Town"
Return to >Las Vegas Leisure Guide