<!A-- Left Column -->

The Aquarius will host a performance with the all-male burlesque dancers Men of X on Saturday, Aug. 30 at 9 p.m. in the Aquarius Pavilion. On Sunday, Aug. 31, the all-female revue X Girls will perform at 9 p.m. in the Aquarius Pavilion. The sexy burlesque performances will combine seductive choreography with erotic imagery so that guests eagerly anticipate what's next. Tickets for both performances are $15 each with an A.C.E. Rewards card and $20 without.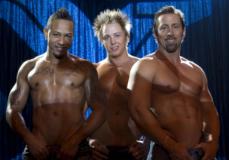 Special room rates are available for Friday, Aug. 29 through Sunday, Aug. 31 starting at $278.99 plus tax. The "XGUYS" room package includes a room and two tickets to X Girls. The "XGIRLS" room package includes a room and two tickets to Men of X. Rooms can be reserved now at www.theaquarius.com or by calling 800-662-5825.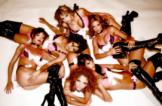 Thousands of pirates are expected to invade the Colorado River, Aug. 16, for a bi-state inner tube regatta. This is the second year for the river float, which is organized by the City of Bullhead City; and this year, Laughlin's casino resorts have hopped on board. Pirates of the Colorado is the theme of the River Regatta. Business groups and groups of friends are encouraged to put together pirate-themed, non-motorized 'floats' and join the party.
Murphy Broadcasting is a major sponsor and will be providing music, broadcast from pontoon boats along the float route.
The event will begin with a pre-party, the evening of Friday, Aug. 15, at Bullhead Community Park. Participants can get their inner tubes aired up, judge in the "Best Bartender in the Tri-State" contest and purchase pirate souvenirs. There will also be a scavenger hunt for children.
Saturday morning's events will start with a kayak race from Davis Camp. The inner tube float will follow. There will be three launching points to choose from: Laughlin's Fisherman's Access Park, the beach at Harrah's Laughlin and Bullhead City's Community Park. The kayak race and the more leisurely float will end at Rotary Park in Bullhead City. An awards ceremony will be held, lunch will be available and water games will be set up for the children.
The fee is $12 per person. Registration forms are available on line at wwwbullheadcity.com and room/float packages can be found at www.VisitLaughlin.com. Information is available from the City of Bullhead City at 928-763-9400.
In 2007, more than 900 floaters participated. This year, pre-registration numbers are indicating 2,500 or more floaters will participate in the floating party.

TOP OF NEXT COLUMN
The River Palms is keeping the laughter going at the River Palms Comedy Room, a site that started presenting comedy about a year ago and has been staging comics five nights a week ever since. Comedians Daniel Dugar, John Knight and a comic TBA will perform Aug. 19-23. Shows are presented Tuesdays through Saturdays at 9 p.m. Tickets are $17.95 for general seating and $22.95 for preferred seating, call 1-866-448-7849 or 702-474-4000.
Oakland comic Dugar rants about his wife's less-than-ladylike habits, Larry Reeb, or "Uncle Lar" as he's affectionately known, and other topics. Knight has been doing comedy for more than 20 years. He has been described as an every man storyteller with a deadpan cutting edge. Knight has also used his comedic wit to write for various television shows as well as being creator and writer of the Apocalyptic Al series for National Lampoon Magazine. In 2004, Knight became the host of one of the funniest radio shows that nobody ever heard. Saturday Morning Live.
Now through Aug. 17, the Riverside is running Hot August Nights celebrating the music of Neil Diamond and featuring Barrie Cunningham. Tickets are $25 for the 8 p.m. shows.
Singer, guitar player, producer and entertainer - Cunningham performs in nearly 600 shows per year. For more than 12 years, Cunningham has performed as Neil Diamond in various shows, including Legends in Concert, American Superstars and Stars in Concert.
Good Vibrations celebrating the music of the Beach Boys is scheduled at the Riverside from Aug. 27-31. This tribute show has had audiences across the country mesmerized with the iconic group's classic hits like California Girls, Surfin' USA, I Get Around, and Help Me Rhonda. Tickets are $20.
Sammy Kershaw will headline at the Riverside on Aug. 22 and 23 at 8 p.m. Since his debut on the music scene in the early 90s, Kershaw has remained one of the most consistent power hitters in country music - both with a chain of major hit records and sell-out performances. With the recording studio, Kershaw's plan for country music is re-claiming its roots and recapturing the spirit that made it great. His platinum albums were propelled into the record books by hits such as, She Don't Know She's Beautiful, Cadillac Style, Don't Go Near The Water, and many more! Tickets are $35.
Mickey Thomas, the owner of the soaring voice that propelled Starship through the decades of the 80s and 90s, and Starship will headline at the Tropicana Express on Aug. 23. Tickets for the 8 p.m. show are $29, $35 and $45.
In 1979, Thomas joined the Jefferson Starship as lead vocalist, after the departure of Grace Slick and Marty Balin. Backed by the power of Thomas' vocals, Jefferson Starship immediately scored a No. 1 hit with Jane. With this new sound and powerful new vocals, the group was renamed Starship and continued to record an amazing string of hits including No Way Out, We Built This City, Sara, and an Oscar Nomination for the No. 1 hit Nothing Gonna Stop Us Now from the movie Mannequin. Another top hit was It's Not Over Till It's Over, which became Major League Baseball's theme in 1987. Moreover, every Starship album released since 1979 has gone Gold, Platinum, or Multi-Platinum.
Don Laughlin's Riverside Resort is celebrating its 42nd Anniversary this month. Every Thursday in August, eight lucky winners are receiving $5,250 each- that's $168,000 total-as a thank you from the Riverside for 42 memorable years.
To participate, players receive one ticket for every 100 points earned at a single rate on reel, video poker and keno machines. There will be four drawings held each Thursday, with Aug. 14, 21 and 28 remaining. Players need to use their King of Clubs Players' Club card to participate. For more information, call 702-298-2535 or 928-763-7070.
CONTINUE ON TO...:
>THIS WEEK'S LAS VEGAS NEWS
>LAST WEEK'S LAUGHLIN NEWS
>VEGAS VIEW FULL ARCHIVES
>Return to "Heard Around Town"
>Return to Las Vegas Leisure Guide