SUPERSTAR MARIAH CAREY PAYS SPECIAL VISITS TO THE PALMS
With worldwide sales of more than 175 million albums, Mariah Carey - the most successful female recording artist in history - is set to perform intimate shows at The Pearl inside the Palms on Sept. 11 and 12, and Oct. 9 and 10 at 8 p.m. Tickets are $129, $179 & $254, call 800-745-3000.
These shows coincide with the highly anticipated Sept. 15 release of Carey's latest album, "Memoirs of an Imperfect Angel," which features the current hit single "Obsessed."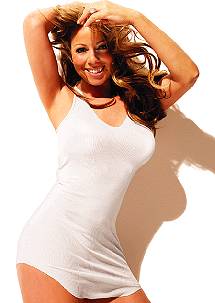 This will be her 12th studio album and it follows her RIAA platinum-selling album "E=MC2" that was released April 15, 2008, and her worldwide 10 million selling "The Emancipation Of Mimi" released on April 12, 2005.

Column Continues Below Advertisement



HARD ROCK HOTEL & CASINO OPENS PARADISE TOWER

The next phase of the Hard Rock Hotel & Casino's $750 million expansion is the 18-floor Paradise Tower with 490 lavish guest rooms and it was completed almost two months ahead of schedule. Designed by Mark Zeff, the rooms exude a chic playfulness.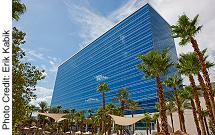 The tower includes a mega-size 3,500-square-foot Penthouse with floor-to-ceiling windows. The wow-factor interior includes deep mahogany woods, platinum tiles, oversize hot tub, interactive digital pool table and an entire video wall.
The tower's 10 pool suites each offer something entirely different and boast features such as two-level "duplexes," doors that open to direct access to a private cabana or to the pool deck, or a spacious glass balcony.
TREASURE ISLAND OPENS KHOTAN PAN-ASIAN RESTAURANT
Treasure Island will open Khotan™ on Aug. 10, featuring Pan-Asian cuisine, outdoor seating with views of the Strip and Sirens Cove, and ultra-chic indoor dining nooks for parties of two to 20.
Khotan, which means "City of Jade," will also contain the largest collection of jade and ivory antiquities in the United States. On loan from Treasure Island owner Phil Ruffin's private collection, the 20-plus pieces will include two five-foot hand-carved jade jars and a 35,000-year old ivory tusk adorned with an intricately designed Asian village.
PETULA CLARK SET TO PERFORM AT RAMPART CASINO
Two-time Grammy Award winner Petula Clark will perform at the JW Marriott's Grand Ballroom on Sunday, Aug. 30 at 4 p.m. Tickets that include the Rampart buffet, taxes and fees are $40 and can be purchased at the Rampart Casino cage.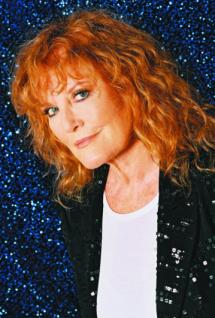 Clark has appeared in more than 30 British and American films, but she is best known for selling in excess of 68 million records. Her breakout hit "Downtown" launched her American career and earned her a Grammy Award in 1964. Internationally, she has charted 159 top 40 hits.
ROGER WILLIAMS PERFORMS AT SOUTH POINT
Prolific keyboard legend Roger Williams, who is now 84, will headline at the South Point for a three-night engagement, Aug. 14-16. Williams has outlasted most, if not all, of his piano playing peers, recorded 116 albums, and often been called the "pianist to the presidents."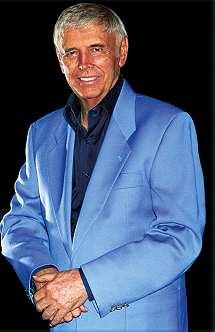 After more than 60 years at the Steinway, Williams is as enthusiastic as ever about performing. His world renowned annual birthday marathon, in which he plays 12 hours straight, is coming up in October. Williams says he can play as many as 10,000 songs from memory. Williams, the son of a Lutheran minister and former boxer, still practices every day up to six hours.
Williams was the first pianist to receive a star on the legendary Hollywood Walk of Fame and has also won Grammy® Awards. His "Autumn Leaves" is the world's best-selling piano recording of all time.
INAUGURAL COYOTE COUNTRYFEST TO BE HELD AT ORLEANS ARENA
Coyote Country and the Orleans Arena are teaming up to bring the inaugural Coyote CountryFest-featuring Tracy Lawrence, Tracy Byrd, Love and Theft, Bomshel and Chris Young-to the Orleans Arena, Aug. 29 at 6:30 p.m. Tickets are $10 and $35, call 702-284-7777.
Lawrence was named "Billboard's" Top New Male Vocalist in 1992, and claimed the coveted Academy of Country Music's Top New Male Vocalist spot a year later.
Since Byrd signed his first record deal in 1992, he has become one of country music's core artists. He's also known for poignant ballads such as his signature song "Keeper of the Stars," which netted the Academy of Country Music's Song of the Year accolade in 1996.
Love and Theft, a new band out of Nashville, consists of three talented singer/songwriters. Their debut single "Runway" is gaining popularity on radio stations across America. Bomshel, a musical duo with best friends Kelley Shepard and Kristy Osmonson, will release their debut album "Fight Like a Girl" later this year. Recently joining the lineup is Chris Young, whose self-titled debut album made him country music's best-selling new male artist of 2006.
CLINT HOLMES TAKES A ROMANTIC TURN AT THE SUNCOAST
Popular Clint Holmes will return to the Suncoast Showroom with "An Evening of Romance with Clint Holmes" musically directed by Bill Fayne, Aug. 28-30. Tickets start at $29.95, call 702-636-7075.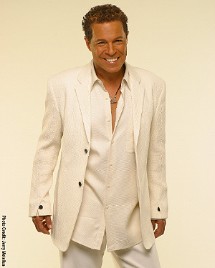 Holmes returns to the Suncoast on the heels of the June debut of Vocal Soup, in which he partnered with long-time friends Susan Anton, Domenick Allen and Martin Nievera for a showcase of solo performances, duets and group numbers. Holmes is known for his six-year run as a headliner at Harrah's.
PINK MARTINI TO PERFORM AT THE HENDERSON PAVILION
Pink Martini, a 12-piece "little orchestra" known internationally for its original mix of sultry Latin tunes, Cuban marches, French ballads and classical chamber music will perform on Sunday, Sept. 20, at 8 p.m. at the Henderson Pavilion. Ticket prices start at $30, call 702-267-4TIX (4849).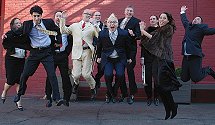 Dubbed "vintage-chic" by "The New York Times," Pink Martini's multi-lingual repertoire features lead singer China Forbes, who sings with charming authenticity in 14 different languages. Founded in 1994 by classically trained pianist Thomas Lauderdale, Pink Martini's albums have sold nearly two million copies worldwide. They have performed alongside numerous symphony orchestras and had their own television program air on PBS.
GARY SINISE AND THE LT. DAN BAND PERFORM AT THE CANNERY
Star and producer of the CBS hit series "CSI:NY," Gary Sinise will show off his hard rockin' musical side when he and his group, the Lt. Dan Band, perform Labor Day-weekend at The Club in the Cannery on Sept. 6 at 8 p.m. Tickets start at $19.95, call 702-507-5757 or 866-999-4899.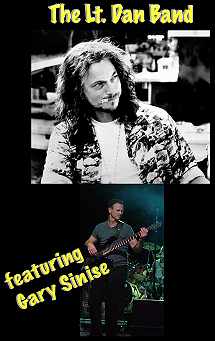 Sinise is a founding member of the famed Steppenwolf Theatre Company in Chicago. He has starred in movies such as "Apollo 13," "Of Mice and Men" and "Mission to Mars." The role of Lt. Dan in "Forrest Gump" garnered him an Oscar nomination for Best Supporting Actor. He also earned an Emmy nomination for his portrayal of Harry S. Truman in the TV movie "Truman," and won an Emmy for his starring role in the TV movie "George Wallace."
The Lt. Dan Band was formed as collaboration between Sinise and Chicago composer Kimo Williams who was impressed by Sinise's bass playing. The group's name comes from the character Sinise portrayed in "Forrest Gump."
HARMON THEATER PRESENTS NEW COMEDY NIGHT 'TICKLED PINK'
"Tickled Pink" is a new weekly comedy night taking place every Sunday at 8:30 p.m. and featuring nationally known headliner comics. Each week features a new mix of two comics and host comedienne Shayma Tash. Tickets are $10 and $15, call 702-836-0836.
Comedienne Shayma Tash has appeared in "The Amazing Johnathan" show at the Harmon Theater, the hidden camera show "Kamakaze Comedy," and is a regular on MTV's "Punk'd."
Judy Tenuta will be on the Aug. 16 lineup. She was named Best Female Comedian at the American Comedy Awards and has starred in her own specials on HBO, Showtime and Lifetime. She was nominated for a Grammy for "Attention Butt-Pirates and Lesbetarians" and "In Goddess We Trust." Tenuta is also the author of "The Power of Judyism" and the star and producer of "Desperation Blvd."
HARVEST FESTIVAL IS ART AND CRAFT SHOW AT CASHMAN CENTER
The annual Harvest Festival is a giant art and craft show that will once again transform Cashman Center downtown into a shopping paradise for original items and special, hand-crafted gifts. Many artist demonstrate the making of their crafts and sell such items as woodcarvings, jewelry, ceramics and pottery, hand-painted clothes, leather wear, fiber art, hand-blown glassware, wooden toys, original oil and watercolor paintings, metal stone and wood sculptures, seasonal wreaths, furniture, candles and more. There will also be food items to taste and purchase.
All the artisans are chosen through a strict process based on the quality and uniqueness of their work. You can get $2 off the general admission by bringing a can of food, baby food, or paper produces as a donation. Tickets are $9, $7 for seniors (62 and older), $4 for youths 13-17, and children under 12 are free. Dates are Aug. 28-30.
HARRY BASIL'S GOES 'LIVE AT THE MOVIES' AT THE COMEDY STOP
The Comedy Stop now at the Sahara in the Congo Room has a change in the Aug. 10-16 lineup with Scott Angrave canceling. In that three-comic roster will be Harry Basil, who is literally a human movie trailer.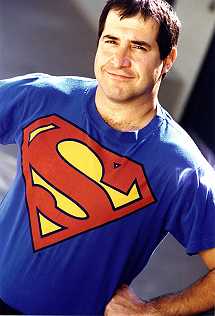 Basil physically and vocally spoofs actors and recreates memorable moments from classic hit movies. He was discovered by, Rodney Dangerfield, who picked him for the "9th Annual HBO Young Comedian's Special." Basil became Dangerfield's exclusive opening act. He also opened for such superstars as, Liza Minnelli, Gloria Estefan, Chuck Berry and Julio Iglesias.

LIBERACE MUSEUM HOLDS FUNDRAISER FOR ITS CABARET SHOWROOM

The nonprofit Liberace Foundation and Museum is holding a gala charity benefit concert on Wednesday, Aug. 19 at 7:30. The event will be co-chaired by Philip Fortenberry and Keith Thompson, both conductors for "Jersey Boys" and long-time Broadway musicians, with the goal of raising money to technically upgrade and maintain the 86-seat Cabaret Showroom at the museum.

Entertainers scheduled to perform include Fortenberry, Erich Bergen, Travis Cloer, Rick Faugno, Kristofer McNeeley and Carly Thomas Smith all from "Jersey Boys," Kristen Hertzenberg and Joan Sobel from "Phantom: The Las Vegas Spectacular," Tyler Williams from "Le Reve," former Liberace prot'g' Domenick Allen, Clint Holmes, Susan Anton, Martin Nievera, all "Vocal Soup" artists, comedienne Vicki Van Tassel, singer-actress Ali Spuck, and Christopher Joel Carter, a featured pianist at M Resort and showmanship winner of the 2008 Liberace Piano Competition. Tax-deductible tickets are $125, call 702-798-5595, ext. 13 or e-mail info@liberace.org.

QUICK CLIPS

The Hawaiian Tropic Zone inside the Miracle Mile Shops will remember Michael Jackson with an evening of festivities including a moonwalk contest and a performance by a tribute artist in honor of The King of Pop's birthday at 10 p.m. on Saturday, Aug. 29. A video tribute to the legend will run throughout the evening on the 36-foot-tall plasma screen wall. The first 100 ladies through the door will receive a complimentary, commemorative sequin glove and ladies will drink free from midnight to 2 a.m.

The Executive Lounge (TEL) has launched a new business and social networking event, "The Tomb," which is held every Tuesday night at the Stirling Club inside Turnberry Towers at 5:30 p.m. There will be a different guest host each week setting the tone for the industry being highlighted. Attendees can dine in the private dinning area, play pool, enjoy the cigar lounge or relax in the lounge while listening to live entertainment. "The Tomb" name is inspired by the many secret societies that have called their place of meeting a tomb.

The 320-acre man-made lake that is centerpiece for the recreational resort community known as Lake Las Vegas has undergone $3 million in construction upgrades, which included repairing two concrete conduit pipes that run nearly two miles below the lake's surface.

The next Rock 'n' Roll wine event will be held at the exclusive Foundation Room at the top of Mandalay Bay on Friday, Aug. 14 from 7 to 10 p.m. There will be 20 wines to taste, live music, and a $10 Rock 'n' Roll wine bucks voucher will be given out. Tickets are $35 in advance and $40 at the door, call 702-240-3066.

The Orleans Arena will host the Arena Football League 2's ArenaCup 10 championship game at 7 p.m. on Saturday, Aug. 22, along with two days of fan-oriented events. ArenaCup tickets range from $17.50 to $60, call 702-284-7777.

Column Continues Below Advertisement



CONTINUE ON TO...:

>THIS WEEK'S LAUGHLIN SEGMENT
>LAST WEEK'S LAS VEGAS SEGMENT
>VEGAS VIEW FULL ARCHIVES
>Return to "Heard Around Town"
>Return to Las Vegas Leisure Guide