VENTRILOQUIST KEVIN JOHNSON HEADLINES AT THE RIVERSIDE
Ventriloquist Kevin Johnson will be headlining at the Riverside in Don's Celebrity Theatre, Aug. 17-22. Throughout his show you'll see and experience different variations of ventriloquism. Tickets are $28.
Johnson started with ventriloquist when he was 9 years old and taught himself the art of ventriloquism over a four-year period. He developed his technique from a parrot. It intrigued him that parrots could speak so clearly without the use of lips. So it stands to reason his two closest friends on stage are birds, Clyde and Matilda.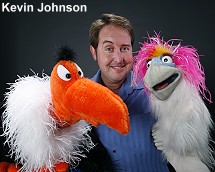 Johnson was introduced to the stage by his grandfather Harley Noles, who performed magic shows throughout Colorado. At age 13, he opened for his grandfather with a five-minute act. Johnson's new character that holds nothing back is a tribute to his grandfather, right down to his name, Harley.
Johnson is mostly recognized from his 2006 appearance on NBC's primetime show "America's Got Talent ," and in February 2007, he appeared on "The Late Show with David Letterman." Johnson recently finished a nine year run at San Diego's Legoland California Theme Park where he performed 8,824 shows. He is currently performing during the Summer Nights at Busch Gardens Tampa.
IT's REGATTA TIME ON THE COLORADO RIVER
The Bullhead City River Regatta, an annual float down the Colorado River with more than 5,000 participants and themed floats, will take place Aug. 13 and 14. This year the theme is "Rockin' the River" and there will be before and after parties at the Bullhead City site, kayak races on Friday, and a main tube float on Saturday with check-in at 7 a.m. and a launch from Davis Camp at 9 a.m. followed by a launch from Community Park in Bullhead City at 10 a.m. The entry fee is $15 before Aug. 10; $20 after that - visit bullheadregatta.com or call 928-763-0158.
If you want a chance at winning some serious cash—including a grand prize of $1,000—prizes will be awarded in three "team" categories only: Teams – two to 10 particpantes; Mega Teams – 11 to 20 participants; and Super teams – 21 or more participants. To be eligible, teams must register by Tuesday, Aug. 10 at 5 p.m. and pay the $15 entry fee. Participants can register online at www.bullheadregatta.com.
In each category, a $500 first prize with a trophy and a $250 second prize with a trophy will be presented to the team that the judges consider to best embrace the "Rockin' the River" theme.
In addition, a grand prize for Best Overall Decorated Float will win $1,000 and a trophy. There is also a traveling trophy awarded for Best Decorated Commercial Business Float.
There are also spectator prizes. Prizes will be awarded to the house (deck, patio or otherwise) facing the river that best shows the most enthusiasm and embraces the "Rockin' the River" theme during the float. The winners will be selected by judges boating on the river. The prizes are $500 for first place and $250 for second. Advice is to signify your participation in this spectator challenge by putting red, white and blue balloons on your railings or viewing area.
TROPICANA-RIVER PALMS CELEBRATE RIVER REGATTA WITH DRAWINGS
The Tropicana and River Palms will be celebrating the River Regatta by giving away Free Play and cash. Players may receive drawing tickets on Friday, Saturday, Aug. 13-14 for every 25 base points they earn on their Trop Advantage Cards. The winners of the drawings at each property from 4 p.m. to 10 p.m. will be awarded $100 in free play, while the winner of the 11 p.m. drawing will receive $500 cash.
AQUARIUS OFFERS RIVER REGATTA PACKAGE FOR PARTICIPANTS
The Aquarius is offering River Regatta participants special room rates call 800-662-5825 and use code RGTASLS. The two-night package includes two entries into River Regatta, two inner tubes and life jackets, two River Regatta t-shirts, lunch at the end of the float, transportation to drop off and pick up points, and with an ace | PLAY card…25 percent off the buffet and 10 percent off Starbucks.
WANDA MEADOWS WINS A MILLION AT COLORADO BELLE
Hopewell, Va., resident Wanda Meadows had just won $2,100 playing a Keno machine at the Colorado Belle when she decided it was time to play the Elvis progressive machine. Meadows an Elvis fan put in $20 and proceeded to play. She won $1,222,312.58 on the IGT progressive link machine, which is the only one in Laughlin.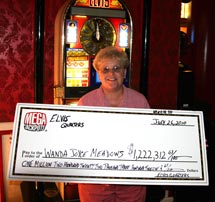 NEARBY OATMAN HOLDS GOLD PANNING CONTEST
The ghost town of Oatman in Arizona will hold a gold panning contest for the first time on Saturday, Sept. 4 at 2:30 p.m. Contestants will be invited to pan for gold for prizes under the tutelage of Prospector Bob. Cost to participate is $5.
Each contestant will start with a pan filled with a measured amount of sand and five replica gold nuggets. When the clock starts, the contestants use their own method to wash the sand without losing any of the nuggets. They pan until they are down to the last of the sand and all five nuggets are showing. Complete rules are available at Prospector Bob's Gold Rush Panning Concession in Oatman. For information, call Fast Fanny's Place at 928-768-7400; the Oatman Chamber of Commerce at 928-768-6222; or the Oatman Tourist Information at 928-768-1488.
TOP OF NEXT COLUMN
TODD LUXTON PERFORMS ELVIS TRIBUTE AT HARRAH's
Todd Luxton: "The Ultimate Elvis Tribute" will be performed Aug. 7-12 and 14-19 in the Fiesta Showroom at Harrah's at 8 p.m. Opening for Luxton is comedienne Liliya Stoli. Born in Moscow, Russia, Stoli moved to the United States after the collapse of the Soviet Union. Tickets start at $16.95, call 702-298-8510; or visit www.harrahslaughlin.com.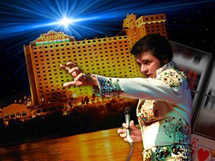 Luxton's tribute to Elvis Presley has taken him across the country for more than 20 years. Wearing the trademark Elvis jumpsuit, Luxton transforms himself into Elvis.
'AMERICAN IDOL' WINNER TAYLOR HICKS HEADLINES AT AQUARIUS
"American Idol" winner and platinum-selling artist Taylor Hicks will perform at the Aquarius Pavilion on Aug. 21 at 8 p.m. Winning over America with his southern charm and grainy blues voice, Hicks inspired a legion of fans dubbed the "Soul Patrol" to help make season five of "American Idol" the No. 1 most-watched television program in the past decade. Tickets are $24.95 and $34.95 plus tax.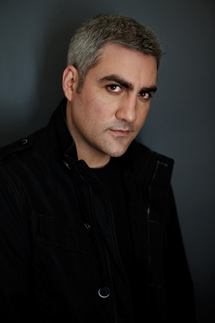 Aquarius is offering a special package for $179.99 that includes a two-night stay Aug. 20-21 , two concert tickets, 25 percent off the buffet and 10 percent off at Starbucks with an ace | PLAY card.
Hicks was also named People Magazine's "Hottest Bachelor of the Year" in 2006, and appeared on the cover. The same year, his self-titled album was released and debuted at No. 2 on the Billboard 200. A self-taught harmonica and guitar player, Hicks has toured with Willie Nelson, Widespread Panic, The Allman Brothers and Jackson Browne. He also published a memoir entitled "Heart Full of Soul: An Inspirational Memoir About Finding Your Voice and Finding Your Way" in 2007.
Currently, Hicks plays "Teen Angel" in a touring Broadway production of "Grease." He recently released a new album, "The Distance," and dropped two singles, "What's Right Is Right" and "Seven Mile Breakdown."
QUICK CLIPS
The Edgewater continues "Comedy on the Edge" every Friday-Sunday at 7 p.m. Tickets are $10. Appearing Aug. 13-15 will be Manny Maldonado and Laura Hayden. Maldonado, who was born in Modesto, Calif., wanted to play professional football but he was too short. In college he pursued sports broadcasting, but his in his speech debate class, his speeches were always funny so he dropped out to try stand-up comedy.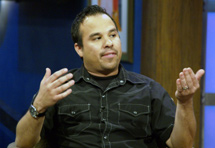 Los Lonely Boys, a rock band from Snyder, Texas, will headline the Pavilion Theater at the Tropicana on Thursday, Aug. 12, at 8 p.m. To date, Los Lonely Boys have released three studio albums and a live album on the Epic Records label. Tickets are $45 and $55, call 800-243-6846.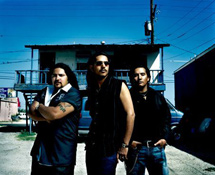 There will be a Pool Party at the Avi with music by Turn the Page, tribute to Bob Seger on Aug. 20 and 21. Gates will open at 6 p.m. and music wil be at 7-8:15 p.m. and 9:15 – 10:30 p.m. Admisison is free and food and drinks will be sold separately.
HARRAH's LAUNCHES 'SEE WORLD, SAVE WORLD' PROMOTION
Harrah's Laughlin has launched its new promotion "See the World, Save the World," which is part of the Harrah's Entertainment brand-wide promotion offering winners cash and a luxury "green" vacation.
Guests participating in the Harrah's Laughlin promotion may sign up for a new Total Rewards membership during the "See the World, Save the World" promotional period July 19 through Sept. 6, and receive one complimentary recycled t-shirt (while supplies last) and one free entry into the Cash Craze drawings held daily between 4 and 5 p.m.
One Harrah's Laughlin winner will be eligible for a trip to Harrah's Lake Tahoe Oct. 8 – 11, to participate in the grand prize drawing for a chance to win a luxury "green" vacation which includes coach air transportation, hotel accommodations and $500 spending cash.
Complete details are available at the Total Rewards Center. For more information, call 702-298-4600 or visit www.HarrahsLaughlin.com.





CONTINUE ON TO...:

>THIS WEEK'S LAS VEGAS NEWS
>LAST WEEK'S LAUGHLIN NEWS
>VEGAS VIEW FULL ARCHIVES
>Return to "Heard Around Town"
>Return to Las Vegas Leisure Guide