LAS VEGAS MOB EXPERIENCE OPENS PREVIEW CENTER AT TROPICANA
The Las Vegas Mob Experience has opened a new Preview Center, hours 10 a.m. – 10 p.m. daily, at the Tropicana to give visitors a glimpse of the new attraction opening in December. There's also a retail section with logoed merchandise and work by Marcus Suarez, who has been commissioned by the Las Vegas Mob Experience to create one-of-a-kind "mob-themed" paintings.
Column Continues Below Advertisement
Meyer Lansky II, grandson of crime figure Meyer Lansky, was on hand for the unveiling and revealed a new artifact for the Mob Experience, which was Lansky's Medal of Freedom given to him in appreciation for help against enemies in World War II. The highest civilian medal was presented to Lansky by President Harry S. Truman in 1945.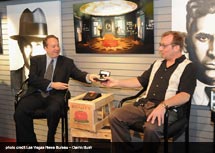 Jay Bloom, managing partner and co-founder, Eagle Group Holdings, LLC. explained that a goal of the Mob Experience will be to show the two different sides of famous mob characters: the notorious crime figure and the caring loving family member.
In addition, 2011 annual passes are available for a limited time: for locals $29.95, which is the price for a day's visit; and $49.95 for non-locals. The annual passes include unlimited admission along with retail, show, room, gaming discounts and offers, newsletters, and more.
FREMONT STREET EXPERIENCE PROMOTES ROCK 'n' ROLL SUMMER
The Fremont Street Experience's "Summer of the 70s" free concert lineup has Blue Oyster Cult performing on Saturday, Aug. 14. Other 70s-themed shows throughout the month include tribute performances: Escape (tribute to Journey) Aug. 17-21 and Satisfaction (tribute to the Rolling Stones) Aug. 24-28.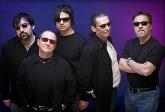 DOWNTOWN's THIRSTY THIRD THURSDAY PUB CRAWL

This month's Thirsty Third Thursday Pub Crawl kicks off at 7 p.m. at Hennessey's Tavern downtown on Aug. 19, and throughout the evening, makes the rounds to Gold Spike, Side Bar, Hogs & Heifers, Mickie Finnz and the Brass Lounge. The cost to visit six hip neighborhood bars is $20 and includes five drinks and half-priced food. Call 702-382-4421 to RSVP.

FRIGHT DOME PARTNERS WITH LIONSGATE® AND TWISTED PICTURES

Fright Dome will take over The Adventuredome at Circus Circus on Friday, Oct. 1 and for the second year will partner with Lionsgate® and Twisted Pictures. One of five haunted houses will be themed after the horror movie franchise "Saw." Additionally, Lionsgate's newly added popular horror flick "My Bloody Valentine" will be revealed in another haunted house. Interactive, hand

crafted replicas of the "games" set by Jigsaw in the popular "Saw" saga will be part of the action. The seventh installment of "Saw" is slated to be released this Halloween in 3-D.

This year, Fright Dome will add three notorious and macabre magicians Dixie Dooley, Kevin James and Dan Sperry in the all-new "Show of Magic & Horror." The chilling atmosphere is enhanced with roaming characters, high-powered strobes, multi-colored lasers and five acres of fright made up of all new extreme scare zones, rides, attractions and the five haunted houses.

Fright Dome will be open 7 p.m. to midnight, Oct. 1-31, on select nights. Tickets will be $34.95 and fast pass tickets $15 extra.

HOTEL AND ATTRACTION NEWS

Minus5, which opened America's first ice lounge at Mandalay Bay in September 2008, will debut a new location - Minus5 Ice Bar - this August at Monte Carlo.

The Siegel Group has opened boutique resort RUMOR located near Paradise Road and Harmon Avenue. Formerly the St. Tropez Hotel, the two-story resort features 150 suites, an intimate lobby and bar, a new restaurant called Addiction, and an outdoor courtyard with pool area, which transforms into a nightlife venue with live DJs and musicians. RUMOR also welcomes pets.

South Point has announced a two-phase expansion of its casino and restaurant offerings. The first phase includes a $20 million, 55,000-square-foot expansion of the casino, adding 600 slot machines, a new poker room, a new race and sports book and an entertainment area. The second phase includes the addition of a Steak 'n Shake restaurant brand and a future Japanese restaurant to open in the fall.

Primm Valley Casino Resorts will celebrate the official day of roller coasters, Monday, Aug. 16, with complimentary rides for Nevada residents on The Desperado.

CAESARS PALACE IS PROMOTING A 10/10/10 ENGAGEMENT OPPORTUNITY

On Oct. 10, 2010, at 10:10 a.m., 10 couples will meet in front of the Trevi Fountain in front of The Forum Shops at Caesars Palace and propose simultaneously to their significant others. It's all part of a contest created by FunJet Vacations and The Forum Shops in celebration of the auspicious date 10-10-10. Ten couples are being selected to win an all-expense paid Las Vegas trip through an essay and photo/video contest. Couples are signing up at www.101010at1010am.com; the deadline is Friday, Aug. 13.

PAULY SHORE HOSTS AUGUST PLAYBOY CLUB MODEL SEARCH

The last Sunday of every month at 10 p.m., Playboy Club at the Palms hosts the Miss Playboy Club model search and on Aug. 29 Pauly Shore will be the host. A winner, who receives $1,100 in cash, a night's stay at the Palms and more prizes, is chosen each month to be the face of Playboy Club in the following month's advertising campaign. Winners will also be featured in the Playboy Club 2011 calendar and have a once-in-a-lifetime chance to be included in Playboy magazine. Cover is $20 for men, all ladies are free.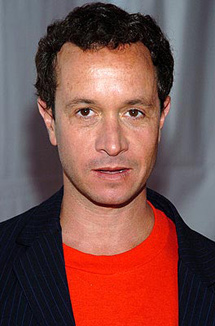 ROCK & RITA's HOLDS FLAIR BARTENDING EVENTS
Rock & Rita's at Circus Circus will host the Nations International Flair Bartending Challenge, Aug. 16 and 17. More than 50 competitors from nine countries will compete for $25,000 in cash and prizes. The grand finale event will begin at 9 p.m. and is open to the public.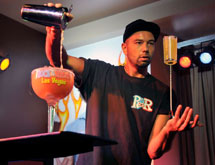 On Wednesday, Aug. 18, Rock & Rita's at Circus Circus and 12 of the world's highest ranked flair bartenders will participate in the "Flair for the Cure" fundraiser. The event will kick off with a red carpet at 7 p.m. and be open to the public. Admission is complimentary. The flair bartenders will flip, spin, juggle and balance to create special cocktail concoctions that will be auctioned off with prize packages.
TOP OF NEXT COLUMN
CSN PLANS INAUGURAL FALL FUN FEST FUNDRAISER
For the first time, the College of Southern Nevada Foundation will host a festival at the College of Southern Nevada (CSN) Charleston campus to raise funds for student scholarships and programs. The Fall Fun Fest will take place Oct. 29 - 31, kicking off with a Nevada Day celebration and providing families with a safe place for children to trick-or-treat and celebrate Halloween on Saturday and Sunday. The free public event will include a carnival, arts and crafts, rides, beer and wine tasting garden, concerts and other entertainment for the whole family.
LAS VEGAS SHAKEDOWN IS A ROCK 'n' ROLL WEEKEND
The Las Vegas Country Saloon, the Brass Lounge and Beauty Bar downtown are co-hosting the Las Vegas Shakedown Aug.13-15. The "rock 'n' roll weekend" features performances from The Nekromantix, The Zeros, The Mau Maus and many more, as well as burlesque performances and an art show by Leviathan. Music begins at 4 p.m. each day; visit www.lasvegasshakedown.com.
AUTOGRAPH SIGNING WITH 'AMERICA's NEXT TOP MODEL' KRISTA WHITE
Fashion retailer Parallel inside the Miracle Mile Shops will host an autograph signing session with ANTM - "America's Next Top Model" winner Krista White from 1 – 3 p.m. on Sunday, Aug. 15. White's in-store appearance will launch the retailer's model search for females, 16 – 24 years of age. For information, visit www.maxravestores.com.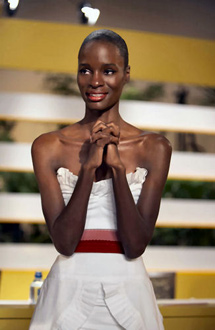 QUICK CLIPS
Former "Baywatch" star Angelica Bridges has bid farewell to her celebrity headlining role in "Fantasy" at the Luxor.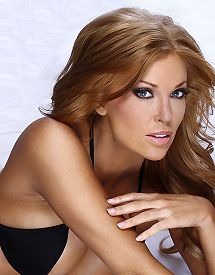 There's strong talk that the Bali Hai Golf Club on Las Vegas Boulevard, which is losing money, may have the 18-hole course replaced by a commercial complex.
The "Jersey Boys" Las Vegas cast are gracing the big screen in Sony Pictures' new action-comedy, "The Other Guys," starring Will Ferrell and Mark Wahlberg that opened Aug. 6. The movie includes a scene where the film's characters attend a performance of "Jersey Boys" in New York City. Though the film is set in The Big Apple, the scene was actually shot with the Las Vegas cast at The Palazzo.
The "So You Think You Can Dance" tour with the popular TV series cast members will stop at the Theatre For The Performing Arts at Planet Hollywood on Nov. 12. Tickets range from $35.71 to $52.38 and are available at Ticketmaster.
Docent tours at Bellagio Gallery of Fine Art (BGFA) now are offered daily, on a first-come, first-serve basis. Limited to the first 25 attendees, each tour begins promptly at 2 p.m. and lasts approximately 45 minutes. General docent tours are complimentary with the purchase of any BGFA admission. "Figuratively Speaking: A Survey of the Human Form" is the display running through Jan. 9, 2011.
After 22 years, the Pasta Shop on Tropicana and Eastern will close on Aug. 31 and move further out to Horizon Ridge Parkway and Eastern in Horizon Hills. David and Glen Alenik have maintained a "best kept secret" eatery that should meet with continued success.
Carlos Gu?a, celebrated chef of The Country Club at Wynn, is now running a Taste of New Orleans menu Wednesday through Saturday evenings from 5:30-7 p.m. The three-course meal is $48 and six-course is $95.
On Thursday, Aug. 26, at 7 p.m., Panevino Ristorante will bring the tastes of Puglia, the Mediterranean coastal region of Italy, into its dining room for the restaurant's monthly wine dinner series. Chef Andreoni's five-course, prix fixe, gourmet dinner will feature items such as Puglia's staple "orecchiette" or ear-shaped pasta. Dinner is $99, call 702-222-2400.
"Damn Yankees" is playing as part of the Super Summer Theatre at Spring Mountain Ranch State Park outside at night at 8 p.m., Wednesday through Saturday in August. Advance tickets are $12, call 702.594.PLAY (7529) for information.
'O' AT BELLAGIO CELEBRATED ITS 10 MILLIONTH GUEST
Cirque du Soleil's "O" now in its 11th year at Bellagio celebrated transporting its 10 millionth audience member into its aquatic world on what was the 5,626th performance on Aug. 4 at 7:30 p.m. Kathy Smogowicz from Connecticut was brought on stage before the opening curtain by the show's two clowns and awarded the prize, which includes airfare to Las Vegas, a two-night stay at Bellagio, a Cirque du Soleil show, dinner and photos.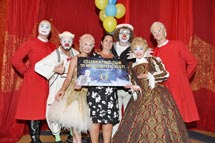 THE COLOSSUS BURGER CHALLENGE IS ON AT CLUB FORTUNE CASINO
Emily's Café at the local Club Fortune Casino in Henderson www.clubfortunecasino.com has started The Colossus Burger Challenge, which means eating the gigantic burger with 12 patties between 11 a.m. and 10 p.m. Cost is $19.99. Any guest that solely finishes the burger in 20 minutes or less will receive the meal and a t-shirt for free and have their photo placed on the café's wall. Guests that finish the burger after the allotted 20 minutes will still receive a t-shirt, which are also being sold for $11.98 plus tax.
MORE UPCOMING EVENTS
The 2010 Miss Universe® Pageant will air live on NBC and Telemundo, Monday, Aug. 23 (9 p.m. EST) from Mandalay Bay. Hosting duties will be handled by rocker Bret Michaels and TV correspondent Natalie Morales. Miss Universe 2009, Stefania Fernandez, will crown her successor from among contestants representing more than 80 countries at the conclusion of the two-hour telecast. Worldwide distribution of the competition has topped more 190 countries in past years.
The 4th Annual Las Vegas Restaurant Week will run Aug. 30-Sept. 5. More than 80 participating restaurants will offer sensationally priced pre-fixe menus. Portions of the proceeds will benefit local food bank, Three Square. For information, visit www.threesquare.org.
The Las Vegas Chapter of the American Advertising Federation is holding a Chinese Creative Cultural Exchange with an exhibition featuring 30 graphic design ambassadors on Saturday, Aug. 14 from 6-9 p.m. at Brett Wesley Gallery of Contemporary Art. 1112 S Casino Center Blvd. Cost is $10 by Aug. 13 and $20 at the door.
Column Continues Below Advertisement


CONTINUE ON TO...:
>THIS WEEK'S LAUGHLIN NEWS
>LAST WEEK'S LAS VEGAS NEWS
>VEGAS VIEWS FULL NEWS ARCHIVES
>Return to "Heard Around Town"
>Return to Las Vegas Leisure Guide