CAESARS ENTERTAINMENT PLANS RETAIL DEVELOPMENT
Caesars Entertainment is moving ahead with plans for an entertainment and dining corridor anchored by a giant Ferris wheel on the Las Vegas Strip. The observation wheel and 190,000 square feet of shops and restaurants will be built between the Imperial Palace and Flamingo casino resorts and will open in 2013.
PLAZA AND OSCAR GOODMAN UNITE
The former happiest mayor in the universe Oscar Goodman will still be overlooking downtown Las Vegas when he opens "Oscar's," a steakhouse inside the Plaza's famous glass dome that overlooks Fremont Street. The flamboyant former mob lawyer, three-term mayor and martini connoisseur will feature much of his personal past with memorabilia adorning the place and his signature gin martinis served in the lounge. All this is pretty funny when you consider he twice called for the Plaza to be imploded to make room for a "gateway" to Symphony Park. Now the man who was featured in the movie "Casino" describes the hotel as the "coolest place in Vegas."">
Column Continues Below Advertisement
RIVIERA OPENS ONLY BINGO ROOM ON THE STRIP
The Riviera will open the only bingo room on the Strip on Aug. 12 and offer logo t-shirts with a buy-in that day. It will be managed by Bobby Taylor, who spent a decade at the Plaza downtown.
The state-of-the-art, 6,000-square-foot bingo room will feature handheld and fixed-based units and offer six sessions daily. Every session will feature Progressive Double Action, Progressive Bonus Double Action and Progressive Cash Ball games.
The Riviera bingo room will also be holding a $200,000 bingo tournament with Superstar Bingo on Oct. 17 and 18. The game will feature a $25,000 coverall each day along with 28 games per day. Buy-in for both days is $150, call 800-637-5687.
NIGHT SCHOOL 4 GIRLS STARTS UP AT EXCALIBUR
Reality star and former Playboy Playmate, Laura Croft from E!'s "Holly's World" will introduce the art of seduction with the launch of Night School 4 Girls at the Excalibur in the Thunder From Down Under Showroom this month. The 70-minute classes will be offered every Thursday and Friday at 2 and 3:30 p.m. and also at 12:30 p.m. on Fridays, and at 11 a.m., 12:30, 2 and 3:30 p.m. on Saturdays and Sundays. Prices start at $39.95, call 702-597-7600.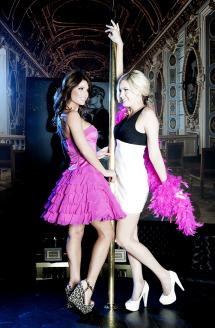 The ladies-only class will begin with a mix, mingle and cocktail with everyone being issued a sexy Vegas name. At the end of each class, ladies will be rewarded with an official Night School 4 Girls diploma, certifying that they have mastered skills that will take their nightlife experience to the next level.
RAILROAD PASS TURNS 80
Railroad-themed Railroad Pass in Henderson on the way to Boulder City has the distinction as the United States' longest continuously licensed operating casino. Celebrating the property's rich history, dignitaries gathered on Aug. 1 to celebrate its 80th anniversary. Curt Thompson, director of operations for the Railroad Pass led the proceedings and Mark Hall-Patton, historian and administrator for the Clark County Heritage Museum, gave many intriguing historical facts such as there not being a road until 1929 and that it wasnít paved until 1932. Also Railroad Pass has license No. 4. One and two were never issued and three didnít last.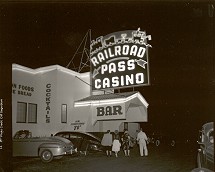 Festivities also included actors dressed in Old West costumes and a fabulous cake contest among local MGM resorts with Mandalay Bay's massive masterpiece complete with a revolving roulette wheel named the winner. The Bellagio's cake had a moving train.
Visitors can always experience some of the history by visiting the Heritage Room museum next to the north entrance where 80 vintage photographs and artifacts help tell the story. People can also see the vault constructed in the early 1930s next to the casino's security office, which held the payroll for mine workers building Hoover Dam.
Today, Railroad Pass is one of 15 properties owned by MGM Resorts International, with 120 hotel rooms, more than 300 slot machines, six table games and a race and sports book.
FORMER BEACH BOY AL JARDINE PERFORMS AT RIVIERA
Al Jardine's Endless Summer Beach Party is headlining the Starlite Theatre at the Riviera through Aug. 14 at 7:30 p.m. Jardine is a founding member of The Beach Boys and was a member of the band for more than 35 years as the band's rhythm guitarist and harmony vocalist and lead on many of their hits.
Having personally caught this show, it's for sure a total "winner" and "feel good" experience. The upbeat band goes through surfing tunes and "Help Me, Rhonda" acts as a transition with a video tribute to Carl Wilson and the band changing into red and white stripe signature shirts.
Jardine left The Beach Boys after the passing of Carl Wilson and has since toured with his Endless Summer Band, which features several members of the original Beach Boys touring band and two of Jardine's sons as singers. Jardine released his first full-length solo studio album, "A Postcard from California," in June 2010.
BATHROOM AT MAIN STEET STATION IS FINALIST
Leave it to a restroom in Las Vegas to get people talking. The bathroom at Boyd Gaming's Main Street Station downtown is among the 10 finalists for the 2011 America's Best Restroom Contest presented by Cintas Corporation. Voting is open to the public now through Sept. 19.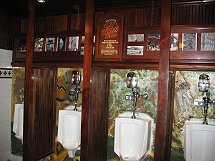 The nominated restroom is described as: a graffiti-covered segment of the oppressive wall that once separated East and West Berlin now serves an appropriate function in the gentlemen's restroom in the main casino area, as it holds the urinals.
LITTLE ANTHONY AND THE IMPERIALS RETURN TO HILTON
Little Anthony and The Imperials will perform their classic hits when they return to the Las Vegas Hilton on Aug. 20 at 8 p.m. Tickets range from $42.90 to $64.90, call 888-732-7117.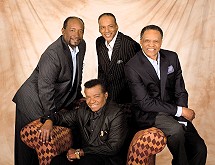 The group, which was inducted into the Rock 'n' Roll Hall of Fame in April 2009, is the only pop group emanating from the 50s era to have retained 75 percent or more of its original members. Little Anthony, who was born Anthony Gourdine, is a master of reinvention.
TOP OF NEXT COLUMN
NELLY AND AKON PERFORM AT CHATEAU NIGHTCLUB
Hit maker Nelly will perform Friday, Sept. 2, and Grammy nominated artist Akon will follow on Saturday, Sept. 3 at Chateau Nightclub & Gardens under the Eiffel Tower at Paris.
Nelly's current album "5.0" featured the artist's song "Just a Dream" and is Nelly's highest charting song since his 2005 single "Grillz." In 2009 Billboard Top 100 ranked Nelly the No. 3 Top Artist of the Decade and he was recently nominated for two 2011 Billboard Music Awards and took home the Top Streaming Song Billboard Award for "Just a Dream."
Akon took the music scene by storm in 2004 following the release of his debut album "Trouble." His second album, "Konvicted," earned him a Grammy Award nomination of the single "Smack That." He has since founded two record labels, Konvict Muzik and Kon Live Distribution and is the first solo artist to hold both the number one and two spots simultaneously on the Billboard Hot 100 charts twice.
VEGAS VALLEY BOOK FESTIVAL SET FOR NOV. 3-6
The 10th annual Vegas Valley Book Festival will take place Nov. 3-6, with most programs scheduled at the downtown Historic Fifth Street School. The largest literary event in Las Vegas brings together more than 100 authors for panel discussions, readings, book signings, workshops, poetry readings, spoken word performances, exhibitions and other special programs. Most events are free and open to the public. The four-day festival will offer the Children's Book Festival, Comic Book Festival, contests, awards, and the popular "Feasting on Words: The Literature and Food Fair" with Rick Moonen and other celebrated chefs.
This year's festival programs have special emphasis on Las Vegas and free writing workshops will cover topics such as poetry, memoir, science fiction/fantasy and travel writing.
Two acclaimed authors will serve as this year's keynote speakers. Max Brooks talk is on Nov. 3. He's the author of "World War Z," "The Zombie Survival Guide" and "The Zombie Survival Guide: Recorded Attacks" and he is the 39-year-old son of actor Mel Brooks and actress Anne Bancroft. Jane Smiley will speak on Nov. 5. She is the Pulitzer Prize-winning author of "A Thousand Acres," as well as many other novels and several non-fiction books.
CASTING CROWNS PERFORM AT HENDERSON PAVILION
Award-winning Christian music group, Casting Crowns, will appear for the first time at the Henderson Pavilion on Sunday, Sept. 25 at 7 p.m. and present music from their new album due to be released in October. As part of the 40-city "Come To The Well Tour," Casting Crowns will be joined by special guests Sanctus Real and spiritual rock band The Afters, as well as new artist, Lindsay McCaul whose new album will be out Aug. 23. Tickets are $21, $29 and $46, call 702-267-4TIX (4849).
Casting Crowns has sold more than five million records and produced two certified platinum albums. The band's new album features the hit single "Courageous," which will be showcased in the upcoming Sherwood Pictures film by the same title, in theaters on Friday, Sept. 30.
The "Come To The Well Tour" also serves as a humanitarian effort, raising money and awareness for World Vision, a Christian organization providing assistance to millions of poverty stricken people throughout the world.
QUICK CLIPS
R&B sensation, Kelly Rowland, will perform at Chateau Nightclub & Gardens at Paris on Saturday, Aug. 27.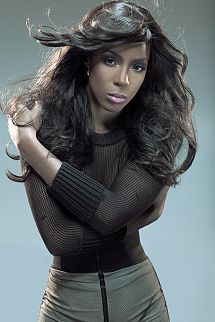 Carmen Electra will host a special "Stereo Loves Saturday" at Azure Luxury Pool at The Palazzo on Saturday, Aug. 13. The Blue Carpet will be at 2 p.m.
Sandy Hackett's "Rat Pack Show" is debuting in the Shimmer Cabaret at the Las Vegas Hilton through Aug. 9 with shows at 8:30 p.m. Beginning Aug. 16, shows will kick off a regular schedule with weekly Tuesday night performances at 6:45 and 8:30 p.m. Tickets start at $49.95.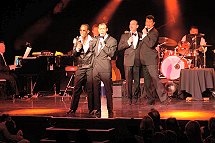 There's a new bar top happy hour from 3-6 p.m. and again from 9 p.m. until closing, Monday-Friday, at Max Brenner, Chocolate by the Bald Man inside The Forum Shops at Caesars. Some of the famed chocolatier's most popular dishes and desserts, wine and cocktails for $5, additionally select beers are available for only $4.
Superstar Jennifer Lopez isnít divorced yet and she has suitors from Chippendales at the Rio. They flocked around her wax figure at Madame Tussauds bearing gifts. J.Lo has always been one of attraction's most popular figures, but she's been getting even more attention since the news of her separation.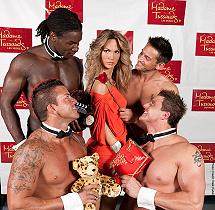 Three male Zebra Shark pups are the newest addition to the Shark Reef Aquarium Touch Pool at Mandalay Bay. The pups will remain on exhibit in the Touch Pool until they are ready for transfer this fall.
A male dolphin calf was born July 3 to Duchess, matriarch of the bottlenose dolphin family at Siegfried & Roy's Secret Garden and Dolphin Habitat at The Mirage. Plans for naming the calf will be announced at a later date.
R&B heartthrob and television star, Ray J, will take over the elevated DJ booth at Chateau Nightclub & Gardens at Paris on Saturday, Aug. 20.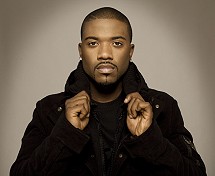 It is karaoke time with the band Venus Rising at McFadden's at the Rio. An open bar from 10 p.m. until 1 a.m. will be available at $20 for ladies and $30 for guys.
The 9th annual Hoodie Awards hosted by Steve Harvey will be held at the Mandalay Bay Events Center on Saturday, Aug. 13. This awards show, best described as the Oscars® with an urban beat, features a diverse and talented group of celebrities presenting non-traditional awards to the stars of the community for their contributions. Tickets are $155 to $195, call 702-632-7580.
Local Chef Les Kincaid will be holding a Stir-fry Made Easy class on Aug. 9 and a Thai Temptations class on Aug. 23. Both classes are $45 and will be held at Ferguson. E-mail les@leskincaid.comto sign up.
The Las Vegas Par-Am golf tournament open to amateur golfers will take place Saturday, Aug. 13 at Bali Hai Golf Club. For details, call 888-427-6678.
Column Continues Below Advertisement
CONTINUE ON TO...:


>THIS WEEK'S LAUGHLIN NEWS
>LAST WEEK'S LAS VEGAS NEWS
>VEGAS VIEWS FULL NEWS ARCHIVES
>Return to "Heard Around Town"
>Return to Las Vegas Leisure Guide