The Riverside is celebrating its 40th anniversary during the month of August. In honor of the resort's owner and founder, Don Laughlin's Riverside is offering a collectable Don Laughlin Bobble Head in two different versions. You can purchase a standard Bobble Head for $14.95 or the Talking Bobble Head for $24.95 that comes with four quotes from the hotel's owner Don Laughlin.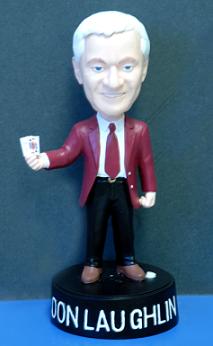 Also for purchase with a Bobble Head or by itself is the Don Laughlin story on DVD or VHS for $10.99-$14.99. This interesting film tells the story of how gaming pioneer Laughlin turned the Riverside into town's only family-owned and operated resort. Laughlin bought a Nevada bait shop on the Colorado River in 1966 and an eight-room motel located at the end of a dirt road. The rest is history.
Country music legend Willie Nelson will star at the Flamingo Outdoor Amphitheater on Thursday, Sept. 7 at 9 p.m. Tickets are $35 and $40, call 1-800-435-8469.
National icon Willie Nelson has evolved over the years from country music outlaw swimming against a whiskey river to a Zen-like figure of wisdom and contentment. In this autobiographical collection of life advice, "The Tao of Willie," covers what he's learned in 73 years on this planet. The popular singer, songwriter and movie actor was born on April 30, 1933, in Abbott, Texas.
Nelson's private life is as interesting as his musical career. He's been married four times and fathered seven children. His public image has been that of a marijuana smoking old hippie troubadour often wearing two braided ponytails partially concealed under a bandana. He has been featured in recent advertisements for a variety of products and companies including The Gap.
Staying musically current and relevant, Nelson performed a duet with Toby Keith on the song "Beer for my Horses" from Keith's "Unleashed" album released in 2002. This song was released as a single in 2003 and Nelson shot a video with Keith that year. It won an award for "Best Video" at the Academy of Country Music Awards in 2004.
In 2006, Julio Iglesias recorded Willie's hit "Always on my mind" for his upcoming "Romantic Classics" album, due out Sept. 19. This song was recorded 20 years after Iglesias and Nelson teamed up for the tune "To All The Girls I've Loved Before."
In 2002, Nelson signed a deal to become the official spokesperson for the Texas Roadhouse, a fast-growing U.S. chain of steakhouses. Meanwhile some Texas Roadhouses have installed "Willie's Corner" with his memorabilia.
The Highwaymen Tribute, a salute to Kris Kristopherson, Johnny Cash, Waylon Jennings and Willie Nelson will be featured in Don's Celebrity Theatre at the Riverside, Aug. 15-20. Tickets are $25, call 1-800-227-3849.
The Avi Resort will have a fireworks display by Zambelli over Labor Day Weekend on Sept. 3 at dusk. The show is free.
The Edgewater will highlight Highway 101, Aug. 11-13, and Lovin' Spoonful, Aug. 18-20. The 8 p.m. shows are $20, call 702-298-2453.

TOP OF NEXT COLUMN
The Colorado Belle's award-winning microbrewery, the Boiler Room Brew Pub, is now serving Bavarian Hefeweizen as the "Brewmaster's Choice" in addition to the four types of handcrafted beer brewed on a regular basis. The Hefeweizen is unfiltered wheat beer with characteristics of banana and cloves with an alcohol content of 5.5 percent. The next Brewmaster's Choice will be the Roggenbier, German rye beer, on tap in the fall.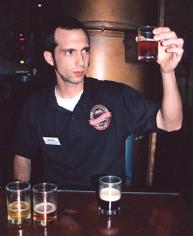 Each month 75 barrels of beer are brewed in the Boiler Room's huge copper kettles. The microbrewery's four staples include Golden Ale (delicately hopped, a very crisp ale); Amber Ale (well balanced beer, modestly hopped, with malty and caramel characteristics); Pale Ale (the "hoppiest" beer with smooth bitterness, and a lingering hop flavor and aroma); and the Stout (made with darker malts, it's dry, with a roasted malt character and chocolate and coffee flavors). Try them all-the 25-oz. sampler is just $4.95 and features 5-oz. glasses of each beer. The Boiler Room bar begins serving at 11 a.m. daily.
Performer Todd Luxton and The Cadillacs band are performing at the American Heroes Pavilion Theater at the Ramada Express through Aug. 9 at 9 p.m. Tickets are $19.95, call 1-800-243-6846. New Distinguished Players Club members who earn 50 points receive two free show tickets.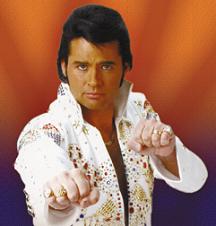 Luxton has been doing Elvis since he was five years old. On Halloween night in 1976, he went out trick-or-treating dressed as Elvis Presley. The idea for this costume came from his mother who was an Elvis fan. Little did anyone know that some 28 years later Luxton would still be wearing Elvis costumes. This time, the costumes are made by the very same man that made Presley's jumpsuits and cost in the range of $2,500 each.
Luxton has won every Elvis competition he has ever entered including a contest at Harrah's where he beat out more than 30 other contestants, and a contest at Apacheland Movie Ranch, the filming location for the Elvis movie "Charro," where he got the top spot in a field of 40.
You can now golf this summer in air-conditioned comfort at Laughlin Ranch Golf Club in Bullhead City, Ariz. The golf carts make sure both golfers are cool by having two cooling units made up of a stationary holding bin, where the cooling happens, and movable delivery tubes that are affixed to a holder behind each seat. The holders are directly behind the neck and shoulder area of the rider and are independently adjustable from side to side. The extra plus with these Coolwell units is that the delivery tubes can be popped off the holder and used to cool your face, or will even reach behind the cart by the bags. The units are immediately activated by body weight on the seat of the golf cart.
The Coolwell holding units will keep golfers cool up to 36 holes of play, at temperatures well over 100 degrees, and can be refilled with ice at a convenient ice station after that. When winter time rolls around, the units convert to golf cart heaters. For more information, call 928-754-1243 or 866-866-LRAZ.
CONTINUE ON TO...:
>THIS WEEK'S LAS VEGAS NEWS
>LAST WEEK'S LAUGHLIN NEWS
>VEGAS VIEWS FULL ARCHIVES
>Return to "Heard Around Town"
>Return to Las Vegas Leisure Guide