CAESARS PALACE OPENS BACCHANAL BUFFET IN SEPTEMBER!

The original Roman-themed, fine dining Bacchanal restaurant at Caesars palace closed in 2000. Next month, Bacchanal will make its return as the new $17 million Bacchanal Buffet serving an over-the-top feast with more than 500 items between all the meals.

With a modern and international design, the 25,000-square-foot dining experience seating up to 600 guests will have a grand view of the property's elegant Garden of the Gods pool complex. There will also be a private dining room, wedding and event space.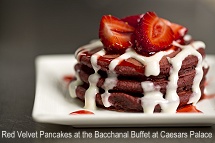 Bacchanal Buffet will showcase nine show kitchens and progressive presentations featuring individually-plated items, small plates, and a staggering dessert display. It will be open daily from 7 a.m. to 10 p.m. Breakfast is $19.99, lunch $24.99 and seafood featured dinner $39.99.
Column Continues Below Advertisement
STRATOSPHERE PLANS TO OPEN NEW RESTAURANT
The Stratosphere is hiring for its new steak and seafood restaurant, McCall's Heartland Grill, which they will open this fall just off the casino floor. It will feature a coastal yet Midwestern-inspired menu. The new dining experience is part of an ongoing re-imagination of the iconic property.
KRAVE NIGHTCLUB MOVES DOWNTOWN TO NEONOPOLIS
Las Vegas' gay nightclub Krave is moving downtown where it will be renamed Krave Massive. Krave will relocate to the third floor of the Neonopolis complex on Fremont Street, in a space formerly occupied by the 14-screen Galaxy Theatres. In addition to five dance rooms, Krave Massive will expand beyond the nightclub theme to include a comedy club, movie theater and outdoor pool. The nightclub is expected to open later this year.
EARL OF SANDWICH WILL OPEN AT THE PALMS
Earl of Sandwich, created by the direct descendent of John Montagu, the Earl who invented putting meat between bread in 1762, will open at The Eatery in the Palms this summer. Earl of Sandwich will feature the freshest meats and cheeses, signature artisan breads, desserts baked daily in-house, and some history.
CHOCOLAT BISTRO WILL OPEN AT PALMS
The Palms Casino Resort will open Chocolat Bistro, a stylishly chic fusion of traditional European gelateria, creperie and cremerie, featuring delectable crepes, handcrafted chocolates, fruity gelatos and desserts this fall. With roots in Milan, Italy, Chocolat Bistro opened its first United States location in the Gaslamp Quarter in San Diego in 2008.
FOUR SEASONS MAKES OVER ROOMS IN ART DECO STYLE
The Four Seasons will renovate its 424 guest rooms and suites located on floors 35 – 39 at Mandalay Bay by Dec. 17. The design project is inspired in part by the vibrant Art Deco period. Some highlights will include: a multi-media hub on all televisions; a desk an ergonomic chair; sofa with pull-out sleeper; signature Four Seasons bedding; backlit mirrors in the bathroom; plus much more.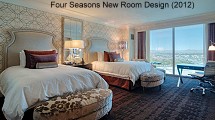 CRAIG FERGUSON BRINGS HIS COMEDY TO THE VENETIAN
The "Late, Late Show" host, Craig Ferguson, will return to the 742-seat Venetian Showroom with his in-your-face style of stand-up comedy with 9 p.m. shows, Sept. 13-15. Tickets are $65.50, $85.50 and $105.50.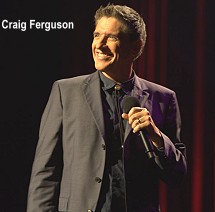 The Scottish-born comedian entered the world of late night comedy following a diverse and eclectic career that encompassed film, television and the stage. He has set viewer records since he took the helm on Jan. 3, 2005. Ferguson has made two widely acclaimed standup comedy specials, "A Wee Bit O' Revolution" and "Does This Need To Be Said."
KELLOGG's GYMNASTICS CHAMPIONS STOP AT THOMAS & MACK
Members of the 2012 U.S. Olympic Team will join 2008 Olympic all-around champion Nastia Liukin and her fellow 2008 Olympic team silver medalists Chellsie Memmel and Alicia Sacramone in headlining the all-star cast for the "Kellogg's® Tour of Gymnastics Champions," coming to the Thomas & Mack Center on Thursday, Sept. 20 at 7:30 p.m.
CENTRAL MICHEL RICHARD HONORS JULIA CHILD's 100TH BIRTHDAY
After moving from France, Michel Richard first encountered the legendary Julia Child in the 1970s when he had opened his first pastry shop in Los Angeles and she and her husband visited.
Today, the James Beard Award-winning chef is paying homage to his friend on what would have been her 100th birthday. During "JC100: Julia Child Restaurant Week" taking place Aug. 7-15 restaurants in more than 50 cities and 28 states will be honoring Child. Restaurants will be featuring dishes, menus and events inspired by 100 of Child's cherished recipes, handpicked by a jury from a list of 3,700.
At Central Michel Richard in both Las Vegas at Caesars Palace and Washington, D.C., a special menu will be available with Chicken "Julia" with an Echézeaux wine, which he served to her, priced at $24 plus the price of wine.
JERROD NIEMANN HEADLINES AT HENDERSON's SUPER RUN
Country music star and platinum-selling No. 1 "Lover, Lover" hit-maker Jerrod Niemann will visit Henderson for the first time when he performs a special free concert on Friday, Sept. 21, at 8 p.m. at the Henderson Events Plaza as part of this year's Super Run Classic Car. Niemann's appearance comes before the Oct. 2 release of his sophomore album, "Free The Music."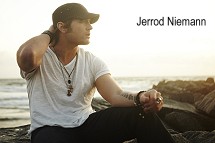 Super Run, Southern Nevada's largest car show, will celebrate its 13th anniversary, Sept. 20-23. The nostalgic extravaganza will have more than 1,000 vintage vehicles, hot rods and muscle cars on display. The automotive tribute will include a variety of high-powered challenges including the roaring engines contest and the burn-out competition. Admission for spectators is complimentary.
'VEGAS! THE SHOW' CELEBRATES TWO-YEAR ANNIVERSARY
"VEGAS! The Show" in the Saxe Theater in the Miracle Mile Shops at Planet Hollywood celebrated its second anniversary on Aug. 5. The Vegas-themed show was written and developed by David Saxe, who launched his first show on the Strip at age 17. Raised in a show biz family, his mother was a dancer in "Les Folies Bergere," his father a bandleader, and his sister Melinda a headlining magician
SAM's TOWN OFFERS 'ANOTHER EVENING OF POP AND DOO WOP'
Following last year's popular show, Sam's Town Hotel will present "Another Evening of Pop and Doo Wop" inside the 750-seat Sam's Town Live! venue on Saturday, Sept. 8. The evening of music will feature Sonny Turner, former lead singer of The Platters, The Contours, and Fifth Avenue. Tickets are $20 and $25.
Turner burst onto the national music scene in 1959, when he was chosen from among 100 prospects to replace The Platters' original lead singer Tony Williams. The Contours charted eight songs in the '60s, including Motown's first million-seller and its fastest rising hit of all time "Do You Love Me," which became an even bigger hit in 1988 when it was featured in the movie "Dirty Dancing." The quartet, Fifth Avenue has a sound and style all their own.
JAY AND THE AMERICANS BRING '60S HITS TO SUNCOAST
Performing the hits that put them on the charts in the '60s, Jay and the Americans with three original members will perform at the Suncoast Showroom Aug. 25 and 26. Tickets are available from $15.95.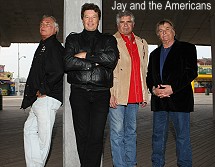 Jay and the Americans burst onto the music scene in 1962 with their first hit, "She Cried," and followed up with 12 Top 10 records by 1971. Their top-charting hit, "Come A Little Bit Closer," reached No. 3 on the "Billboard" charts in 1964. They were inducted into the Vocal Group Hall of Fame in 2002.
TOP OF NEXT COLUMN
SNIPPETS OF NEWS
Society of Seven with American Idol™ star Jasmine Trias will open at the Riviera in the Starlite Theatre on Thursday, Aug. 16 with 9 p.m. shows Thursday through Monday. Their show is a non-stop musical journey featuring show tunes and popular hits mixed with lots of comedy and dancing.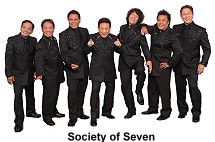 Grimaldi's Pizzeria inside The Shoppes at The Palazzo celebrated its grand opening on July 29 with CEO and president Joey Ciolli slicing into a ceremonial pizza with a golden pizza cutter and taking the "first bite." Other highlights included performances by award-winning pizza tossers.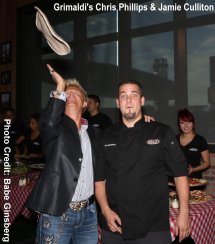 Multi-platinum Grammy winning Diana Krall will bring her "Summer Nights 2012 Tour" to Reynolds Hall at The Smith Center on Aug. 13.
"American Idol" season five winner and current Bally's headliner Taylor Hicks is the recent winner of The BiLLe Celeb Charity Challenge, an online fan-based contest, and he presented a $12,000 check to the Wounded Warrior Project during a recent show.
The advertising community's fundraising talent show for Safe Nest, "Laugh Your Acts Off," will be held at Ovation in Green Valley Ranch on Saturday, Aug. 11 at 6:30 p.m. Tickets are $20.
Atlas Theatre will showcase the Las Vegas premiere of Patrick Marber's "Closer" about the world of relationships at The Box Office located in the famed Arts District downtown on Aug. 31, Sept. 1, 6, 9, 10, 13, 14 and 15.
TENDER Steak & Seafood at the Luxor is introducing a small plates lounge menu in its lounge priced from $4 to $20 daily from 5 - 11 p.m. Created by Executive Chef K.C. Fazel, the dishes are designed to be individual tastings that allow guests to take a tour of the restaurant's regular menu.
The editors of "Robb Report" in their August issue named Las Vegas as "the best place on Earth to eat steak." The piece reported that every major Las Vegas resort "is upping the ante with at least one glamorous steak house."
Unusual invitation, Madame Tussauds is inviting everyone turning 40 in August to enjoy free admission to the attraction. The hook is Cameron Diaz and Ben Affleck are both turning 40 and have wax figures in the museum.
Foreverland formed in March of 2009 in San Francisco to honor Michael Jackson's musical genius will perform at the Silverton's Sway Pool on Aug. 18. The group has four lead vocalists, four horns, and a six-piece rhythm section. Tickets are $10 in advance and $15 day of event.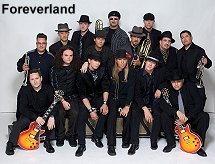 The 98.5 KLUC's End of Summer Block Party will be held at the Henderson Pavilion outdoor amphitheater on Saturday, Aug. 18, at 7 p.m. The all-ages music festival will star "X Factor" finalist Chris Rene, teen heartthrob Austin Mahone, Outasight of "Tonight is the Night" fame and more.
Reminder that as part of The Venetian and The Palazzo's Carnevale "Cibo-Vino" month, renowned winemaker Michael Mondavi, the founder of Folio Fine Wine Partners, will host a grand wine tasting on Friday, Aug. 17, from 6 to 8 p.m. in the Waterfall & Atrium Gardens. Tickets are $25.
The Erotic Heritage Museum (EHM) on Industrial will celebrate its fourth birthday and the grand opening of its Star Wars XXX Exhibit by Vivid on Saturday, Sept. 1, from 9 p.m. – 1 a.m. The EHM was created between a partnership of a preacher and a pornographer in 2008 to preserve erotic artifacts, fine art and film.
Crazy Horse III gentlemen's club will celebrate National Singles Week with $1 well drinks from 9 to 11 p.m. on Thursday, Sept. 20.
The National Atomic Testing Museum is hosting the final symposium for the MCCA Nuclear Weapons Testing Legacy: A Tale of Two Cultures program on Aug. 8 at 6:30 p.m. Participants will include a multi-generational multi-cultural group of Las Vegans and a similar group from the villages surround the Semipalatinsk Test Site in Kazakhstan. The event is free to the public.
BUFFALO BILL's AT PRIMM BOOKS STRONG HEADLINERS
Buffalo Bill's at Primm, Nev., just a 35 to 40-minute drive from Las Vegas, keeps a steady stream of impressive headliners on a weekly basis. Upcoming Saturday night acts include: Mexican pop group Los Yonics - Aug. 11; American country music duo Big & Rich – Aug. 18; Rock 'n' Roll legend Chubby Checker – Aug. 25; and Motown great Smokey Robinson – Sept. 1. Three Dog Night will follow Robinson on Sunday, Sept. 2 over the Labor Day weekend. Tickets range from $27.45 to $48.95
EASTSIDE CANNERY LINES UP RICK SPRINGFIELD
Grammy award-winning recording artist Rick Springfield will perform at the Eastside Cannery Event Center on Friday, Aug. 17, at 8:30 p.m. While recording his pop/rock album "Working Class Dog," which produced the No.1 hit "Jessie's Girl" in 1981, he was cast to play Dr. Noah Drake on "General Hospital." To date, Springfield has sold in excess of 20 million records and recorded 17 Top 40 hits. Tickets range from $14.95 to $39.95.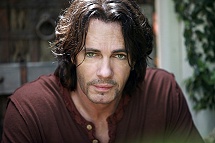 METAL KING AND MONSTERS OF ROCK RETURN TO RIVIERA
Two legendary genres of music, classic Elvis tunes and heavy metal favorites, will be presented by The Metal King and The Monsters of Rock at the Riviera in the Le Bistro Lounge on Aug. 17-18 and Aug. 31-Sept. 1. The band will perform at 9 and 11 p.m. both shows and offer a different playlist at early and late shows. The Aug. 17 performance will be a tribute Elvis Presley, who passed away 35 years ago. 16. Admission is free with a two drink minimum.
RIO SPA HOLDS ANNUAL LOCKS OF LOVE DRIVE
The 3rd annual cut-a-thon to benefit Locks of Love will return to the Rio Spa & Salon at the Rio on Wednesday, Aug. 8, from 10 a.m. to 5 p.m. Patrons that donate at least 10-inches of hair will receive a complimentary blunt cut and a 30-percent discount on any additional styling or coloring treatments.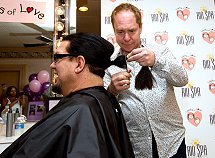 In addition, the "Catch of the Day" contest will award a gift basket valued at $250 to the longest hair donation of the day. Complimentary refreshments will be served.
KISS® BY MONSTER MINI GOLF® HOLDS ROCK STAR TRIVIA CONTEST
On Aug. 7, KISS® By Monster Mini Golf® is launching a weekly, two-hour "Are You Smarter Than a Rock Star" trivia contest. For eight weeks, participants compete against their peers for a chance to go head-to-head with a guest 'rock star' of the week. The finale on Tuesday, Sept. 25, will be held at Fremont Street Experience where competitors will battle it out for the ultimate grand prize; three days to jam at Rock 'n' Roll Fantasy Camp with Sebastian Bach and Gene Simmons. To participate, sign-up at www.monsterminigolf.com/kiss prior to the contest and space is limited
Every Tuesday, for eight weeks, contestants will compete in a rock trivia contest consisting of three, 30-minute rounds containing 30 rock related questions in each round. The first two rounds will be against a fellow fan while the third round will be against one of rocks very own. Points will be accumulated for weekly prize distribution. The eight-week contest starts at $9.95 per week.
COLLECTIVEZOO's POOL PARTY SAFARI VISITS HARD ROCK
CollectiveZOO (CZ) will hold the seventh stop in its SUMMER "Pool Party Safari" series with the L.E.D. Night Swim edition at the Breathe Pool Lounge at the Hard Rock Hotel on Saturday, Aug. 18. The nocturnal event has no cover charge and kicks off at 9 p.m. with dancing LED lights, light-up cabanas, cocktails, contests and a DJ line-up that includes sets from The Mayer, Zack The Ripper, Starmada and DJ Topsider. For information, visit www.collectivezoo.com.
GAY AND LESBIAN CENTER BREAKS GROUND ON NEW FACILITY
The Gay and Lesbian Community Center of Southern Nevada will break ground on Aug. 7 with major renovations on its new multi-million dollar facility, The Robert L. Forbuss Building located at 401 S. Maryland Pkwy, which is scheduled to open in December. Purchased in August 2011, the free-standing building is 16,000 square feet on 1.1 acres of land in downtown Las Vegas. When completed, the space will be a new home to the more than 30,000 people who walk through the center's doors every year.
Column Continues Below Advertisement
CONTINUE ON TO...:
THIS WEEK'S >LAUGHLIN NEWS
LAST WEEK'S >LAS VEGAS NEWS
>VEGAS VIEW FULL NEWS ARCHIVES
Return to >"Heard Around Town"
Return to >Las Vegas Leisure Guide