The Flamingo has announced that it will extend the "Toni Braxton: Revealed" show through Feb. 16, 2008. Six-time Grammy Award-winning artist and international headlining performer Toni Braxton opened her Las Vegas production in August 2006. Tickets are $69, $89 and $109, call 702-733-3333 or 800-221-7299. Showtime is 7:30 p.m., Tuesday-Saturday.
Revealed is a full-scale musical production that draws upon Braxton's experience as an accomplished musician, singer and Broadway performer, complete with her band, amazing costumes and dancers.
Pure Management's NOIR BAR will open at the Luxor over Labor Day weekend. It will be the first Las Vegas nightclub to offer privacy, subtlety and sheer elegance along with access to additional amenities like Pure's new 2,000 club capacity LAX nightclub next door that can be entered through a hidden private entrance, fine dining at PMG's new company American Bistro, or relaxing in a private luxe environment for a very select 200. NOIR is Vegas' first discreet lounge to feature its own 'outside' entrance negating having to enter the casino.

Column Continues Below Advertisement


NOIR will have a highly selective guest list of VIPs, movers and shakers in addition to celebrities. What happens at NOIR will definitely stay at NOIR. NOIR won't be flashy, but it will be a comfortable private lounge with a French flavor and an upscale modern-day speakeasy with tasteful chandeliers, black crocodile chairs, hand-picked tables and crimson covered walls.
The Comedy Festival (TCF) and Ziddio.com, the user-generated video sharing Web site launched by Comcast Interactive Media, have announced "The Lucky 21," a talent search to determine the 21 best stand-up comedians in the country. Forty-two comedy clubs are teaming up with the festival in one of the nation's most ambitious stand-up competitions, which began July 18 and will culminate mid-November at the third annual TCF at Caesars Palace being held Nov. 14-17.
In the first round of competition, 42 comedy clubs across the country will choose their top comedians to perform in front of a panel of judges. Two comedians from each club will be selected to advance to one of seven regional competitions. During the regionals, fans will have the opportunity to vote online at www.ziddio.com/thelucky21 for the top 20 comedians who will advance to Las Vegas. Comedians not advancing from a regional competition will be able to enter the "Wild Card" round by uploading a stand-up performance to www.ziddio.com. Fans will vote online to determine which of these comedians will head to TCF as the 21st comedian.
In Las Vegas, "The Lucky 21" will join a TCF lineup that already includes comedy legends Jerry Seinfeld and Chris Rock. Following The Comedy Festival, each participant's performance from Caesars Palace will be available on www.ziddio.com/thelucky21, where fans will have one more chance to support their favorite comedian by voting for "The Luckiest Comedian." The winner will receive a prize package that includes a television appearance, meetings with network and industry executives and $10,000 cash.
Madame Tussauds wax attraction at The Venetian is now providing wedding services inside the "In Your Dreams" room, which is the current location of the attraction's "Marry Clooney" experience. In addition to guests being able to slip on a wedding dress to marry Hollywood's most infamous bachelor, couples will now be able to reserve the chapel for actual wedding services.
Following the theme "With These Stars I Thee Wed," wedding parties may incorporate two Madame Tussauds wax celebrities into the wedding service as witnesses or celebrity guests from a pre-selected list. The wax celebrity couples that may be selected are Angelina Jolie and Brad Pitt, Elizabeth Taylor and Tony Bennett, or Elvis and Marilyn Monroe. For more information, call 800-292-1177.
Madame Tussauds is offering one lucky couple the opportunity to win a free wedding by registering online at www.MTvegas.com. The deadline for entries is Sunday, Aug. 12, with the winning couple being announced online Monday, Aug. 13. The free ceremony will include all items listed in the wedding package on the web site. The newlywed couple and guests will then be able to tour the attraction for additional wedding photos with the more than 100 wax celebrities from the worlds of film, television, sports and world affairs.
Kim Vo, considered the "King of the TV Makeovers," among an elite team of experts who worked on the television series "Extreme Makeover," and who also appears on E! Network's "The Daily 10," will bring his talents to Las Vegas with the December opening of his salon at The Mirage.
Under Vo's direction, the salon will offer the latest in hair trends and treatments as well as manicures, pedicures, hair extensions and personalized makeup services. A retail area will feature the newest collection of Kim Vo products, specialty apparel plus accessories and gifts. A barbershop will provide men's grooming products and traditional services. When Vo is not at the salon, he will utilize the latest in high-tech so he can interact with clients from his salon in West Hollywood. Vo, whose clients include Kate Hudson, Teri Hatcher, Kirsten Dunst, Pamela Anderson and Jenny McCarthy, will train all stylists and colorists.
Designed by Architropolis, the Kim Vo Salon will use a high contrast palette of black, charcoal, taupe, white and silver. Starting with an expansive new glass storefront, mirrored-tile walls, crystal lighting fixtures, burnished Venetian plaster and a restorative Birch Garden culminating in a calming water feature will welcome guests.
Chuck Negron, formerly of Three Dog Night, and Blood, Sweat and Tears (BS&T) will bring their classic, crowd pleasing anthems to the Club at the Cannery in North Las Vegas on Saturday, Aug. 25 at 8:00 p.m. Tickets are $29.95, $20.95 and $14.95, call 702-617-5585 or 866-287-4643.
Negron is a founding member of Three Dog Night, a band responsible for several top 20 hits such as "One (Is The Loneliest Number)," "Old Fashioned Love Song," "Black and White," "Pieces of April," "Easy To Be Hard" and "Shambala." Considered one of the greatest singers in rock 'n' roll, Negron's legendary vocals were showcased on the multi-million selling song, "Joy to the World," as he turned the simple lyric "Jeremiah was a Bullfrog" into one of the signature lines of pop music history.
The musical institution BS&T has left an indelible mark on the American music scene since 1968. One of the greatest horn bands in the history of popular music, BS&T's alumni roster reads like a who's who of the world's greatest jazz and rock musicians. BS&T earned multiple Grammys and gold records with hits like "Spinning Wheel," "You Made Me So Very Happy," "When I Die" and "Go Down Gamblin."
One hugely popular act from the '80s joins another as The Motels featuring Martha Davis will share the stage with Colin Hay of Men at Work at The Club at the Cannery in North Las Vegas on Saturday, Aug. 11. The Motels will be replacing The Fixx for the concert.
Harmik, who has been performing as Tom Jones since the 1970s, has opened his own show with a seven-piece backup band at the 600-seat Canyon Club at the Four Queens downtown.
Ron Keel is portraying country star Ronnie Dunn in the "Country Superstars Tribute" in the small showroom at Fitzgeralds downtown.
The third annual Vegoose music festival will be held on Oct. 27 and 28. Among the extensive list of acts lined up this year are Rage Against the Machine, Iggy & The Stooges and Daft Punk. Two-day tickets are $150.
Next time you're visiting Las Vegas, you'll see 20-foot tall letters spelling out TRUMP on the north and south sides of billionaire Donald Trump's new 64-story, $1.2 billion condominium hotel tower, which is the tallest residential building in Las Vegas. It is sold out and expected to open next year. The tower, which will eventually be joined by an identical second tower, is located behind and adjacent to the New Frontier's 37 acres that were sold to the Elad Group of New York. The New Frontier closed on July 16 and will be demolished sometime this fall to make room for a $5 billion version of the Plaza Hotel in New York.
The Liberace Foundation is running a piano contest that will hold a showcase at the Liberace Museum on East Tropicana on Sept. 9. The finals will be held on Sept. 16 at the Community Lutheran Church at 3720 E. Tropicana, which has seating for 750. Admission to the finals will be $10.
The action-packed K-1 "Battle at Bellagio" World Grand Prix will return Saturday, Aug. 11 in the Bellagio's Grand Ballroom when eight of the top martial arts fighting champions from around the world compete for the chance to advance to the championship event in front of 70,000 K-1 fans at Japan's Tokyo Dome later this year. Tickets range from $50 to $300, call box 888-488-7111.
The American Academy of Chefs (AAC), the honor society of the American Culinary Federation (ACF), recently honored Gustav Mauler, AAC, of Las Vegas with the AAC Western Region's Chef Good Taste Award. The AAC annually awards four academy fellows who have been actively involved in furthering the culinary industry and upholding the traditions of classical cuisine. Mauler operates Spiedini, Gustav's Cigar Bar and Gustav's Catering in the JW Marriott in Summerlin. He'll be holding a Spiedini Exclusive Wine Dinner on Aug. 28 at 6:30 p.m. Cost is $63, call 702-869-8500.
Terrible's on Paradise Road has introduced a Free Slot Tournament that's running through Sept. 30. The fully automated slot tournament allows players to compete and win around-the-clock each day. The tournament is open to Terrible's Players Club members who can play three two-minute rounds per day. Those who aren't a Terrible's Players Club member can join for free. Prizes include cash ranging from $50 to $500, gas cards and dinners are awarded on a daily and weekly basis.
Las Vegas is never without its Elvis sightings. The "Legends In Concert" show at the Imperial Palace has been ending its tribute show, now in its 25th year at the hotel, with an Elvis act.
Trent Carlini, who has headlined his own Elvis tribute show "The Musical History of the King" at the Sahara since January, recently won ABC's "The Next Best Thing" television competition and took home the $100,000 first place prize. He's won many Elvis competitions since he started imitating the king in 1989 and he performed in the "Legends in Concert" show in 1991.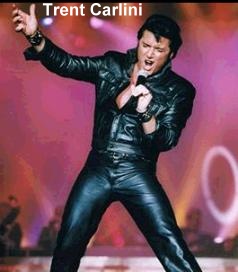 Everyone enjoys Peter "Big Elvis" Vallee's free shows at 3, 5 and 6:30 p.m. at Bill's Gamblin' Hall & Saloon on the Strip. He's been performing Elvis' hits for years and shares video and stories about the idol.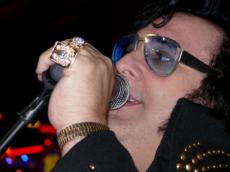 Tom Stevens will be doing a 30th anniversary Elvis show in Addison's Lounge at the Rampart at the JW Marriott in Summerlin on Aug. 16 at 8 p.m. Tickers are $20 with one drink included.
There's a statue of Elvis Presley at the Las Vegas Hilton that was originally dedicated in September 1978. Elvis played 837 consecutive sold-out shows at the hotel. The statue was removed from the hotel's lobby in 2005 while the lobby was being renovated and it was rededicated on June 22, 2006.
Starting this professional football season, the Cannery and Rampart Casinos will be introducing the Cannery Resorts Fantasy Football Contests with a guaranteed prize pool of $120,000.
Each entry will cost only $25 and enter the contestant for every week of the professional football regular season with a limit of three entries per person. Contestants who sign up before Aug. 31 can have the early bird special in which buying two entries will get a third entry free.
During each week of the regular season, 12 head-to-head fantasy match-ups will be set. Fantasy scores will be given to each player based on the traditional fantasy football scoring system such as rushing, receiving and passing yards and touchdowns. Each correct pick will be worth one point.
Every week, the contestant who picks the most winners wins $5,000. All weekly cash winners will be considered "fantasy royalty" and receive an entry into the fantasy playoffs with a shot at the $10,000 grand prize.
Contestants can still qualify for the playoffs without winning a weekly prize. Finishing the season in the top 50 point totals among players who did not win a weekly prize will earn a contestant a "wild-card" birth in the playoffs. While a contestant can win as many weekly prizes as possible, a contestant can only garner one entry into the playoffs.
At the conclusion of the playoffs, prize money will be awarded to the top ten finishers, with first place garnering $10,000.
CONTINUE ON TO...:
>THIS WEEK'S LAUGHLIN SEGMENT
>LAST WEEK'S LAS VEGAS SEGMENT
>VEGAS VIEW FULL ARCHIVES
>Return to "Heard Around Town"
>Return to Las Vegas Leisure Guide