<!A-- Left Column -->

Don Laughlin's Riverside will be celebrating its 42nd Anniversary this month. Every Thursday in August, eight lucky winners will receive $5,250 each - that's $168,000 total - as a "thank you" from the Riverside for 42 memorable years.
To participate, players will receive one ticket for every 100 points earned at a single rate on reel, video poker and keno machines. Four drawings will be held each Thursday on Aug. 7, 14, 21 and 28. You need to use a King of Clubs Players' Club card to participate and it's free to sign up. For more information, call 702-298-2535 / 928-763-7070.
The River Palms is home to the River Palms Comedy Room, a site that started presenting comedy about a year ago and has been staging comics five nights a week ever since.
The Comedy Room is produced by Daniel Celario, a former comedian who utilizes his contacts to book some of the top comics predominantly out of the Las Vegas and Los Angeles markets. Shows are presented Tuesdays through Saturdays at 9 p.m. Tickets are $17.95 for general seating and $22.95 for preferred seating, call 1-866-448-7849 or 702-474-4000.
Todd Sawyer and two comics to be announced will perform Aug. 12-16. Sawyer, age 42, is originally from a small town in Washington and began his stand-up comedy career in Seattle in 1989. He has performed all over the world, from the hippest clubs in England to the most famous stages in America (Caroline's, The Improv, Catch a Rising Star). Sawyer's act has been seen on cruise ships, college campuses, and USO tours entertaining the troops.
Sawyer has co-written and optioned three different screenplays. He released two comedy CDs, You Get What You Pay For and Welcome Home. He's written for PAX TV's Dirty Rotten Cheater, written and produced ComedyWorld Radio Network's Morning Sickness, segment produced Sony TriStar's Everybody's Talking. Sawyer also was the driving force behind the fund-raising tour, The Ha Brothers.
Sawyer lives in Los Angeles, is single, and as an avid sports fan spends his free time playing golf and basketball.
Sammy Kershaw will pay a visit to Don's Celebrity Theatre at the Riverside on Aug. 22 and 23. Tickets for his 8 p.m. shows are $35.
Since his debut on the music scene in the early 90s, Kershaw has remained a consistent power hitter in country music with a chain of major hit records and sell-out performances. Kershaw grew up in the Cajun country of Louisiana on a diet of crawfish and country music. The oldest of four children, the tragic loss of his father, matured him even faster than the clubs and honky-tonks he was performing in at 12 years old. He speaks openly today of years spent battling substance abuse and addictions in hopes of stopping kids from the same mistake.
In 2008, Kershaw is committed to proving that goals are made to be surpassed. His touring dates are true events in today's country music.
Harrah's is the second largest hotel-casino in Laughlin's gaming community with 1,505 rooms, including 171 suites. The resort is celebrating its 20th Anniversary all summer long through Aug. 29, with special promotions, events and entertainment featuring Todd Luxon's Elvis tribute and Earl Turner this month.
Through Aug. 29, guests may enter the $60,000 Royal Flush Promotion at Harrah's for a chance to win a share of $60,000 in cash and Reward Creditsr.

TOP OF NEXT COLUMN
In honor of its 20th Anniversary, Harrah's has designed a commemorative anniversary gaming chip that's available in $5, $25 and $100 denominations and on sale at the cashier cage. The chip design features a special 20th Anniversary logo and a black and white photo of the property as it opened on Aug. 29, 1988, with its first hotel tower.
Finally, making special appearances during the summer-long celebration is former resort mascot, Cisco, the lively and colorful parrot, who added his own sunny style to events and promotions in years past. For more information, call 702-298-4600.
The Aquarius will present superstar Kid Rock in his debut Laughlin performance on Saturday, Sept. 27 at 8 p.m. in the Aquarius Outdoor Amphitheater. Tickets are $61.50 with an A.C.E. Rewards card and $71.50 without.
Rock shot to success with his major label debut, Devil Without, which has gone seven times Platinum and was nominated for three Grammy Awards. The release of Picture, off his album, Cocky, a country-influenced duet with Sheryl Crow, became an instant hit. Released in 2007, Rock N Roll Jesus became Rock's first album to go No. 1.
Mickey Thomas, the owner of the soaring voice that propelled Starship through the decades of the 80s and 90s, and Starship will headline at the Tropicana Express on Aug. 23. Every Starship album released since 1979 has gone Gold, Platinum, or Multi-Platinum. Tickets for the 8 p.m. show are $29, $35 and $45.
It will be Hot August Nights - Celebrating the Music of Neil Diamond featuring Barrie Cunningham at the Riverside Resort, Aug. 5-10 and 12-17. Tickets are $25 for the 8 p.m. shows.
On Aug. 9 and Sept. 6, Tom & Sharon's Ballroom, Latin and Swing Dance Party will take place from 1:30 p.m. to 4:30 p.m. For details on the party or dance classes, call 928-7554-2097 or 702-298-2535, ext. 5708.
Fireworks will take place in the sky over the river at the Avi on Aug. 31 at dusk. The fireworks display will be produced by Zambelli International and viewing is free.
The Spinners, a Detroit, Michigan-based soul vocal group that was most popular during the 1970s, will headline at The Pavilion Showroom at the Tropicana Express on Saturday, Aug. 16. Today, the quintet is actively touring with three of its original members. In their recently released box set The Chrome Collection, The Spinners were lauded by David Bowie and Elvis Costello. The Spinners were inducted into The Vocal Group Hall of Fame in 1999. Tickets are $35, $39 and $49 for their 8 .m. show.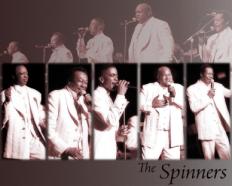 Todd Luxton - The Ultimate Elvis tribute show is being featured at the Fiesta Showroom at Harrah's, Aug. 2-7 and 9-14. His special tribute includes Elvis' favorite tunes, handing out scarves and kissing the ladies of all ages. Luxton has been impersonating Elvis since he was 5 years old and won every Elvis competition he has entered. Tickets for his 8 p.m. shows are $18.95, $23.95 and $28.95.
The second "Pirates of the Colorado River Regatta" will take place along the banks of the Colorado River on Aug. 15 and 16. This bi-state regatta welcomes fun-loving, outdoor enthusiasts to ride on adorned inner tubes; decked out kayaks and canoes; and decorative, non-motorized parade-type floats for a colorful race down the Colorado River. Launching takes place on Saturday morning from both sides of the river and culminates in a picnic and awards ceremony at Rotary Park. The entry fee is $12 for adults and $6 for children 8-18.
CONTINUE ON TO...:
>THIS WEEK'S LAS VEGAS NEWS
>LAST WEEK'S LAUGHLIN NEWS
>VEGAS VIEW FULL ARCHIVES
>Return to "Heard Around Town"
>Return to Las Vegas Leisure Guide