LOLITA's CANTINA & TEQUILA BAR IS OPEN AT TOWN SQUARE
Lolita's Cantina &Tequila Bar, the latest concept by The Medusa Group, is now open at Town Square. This new restaurant and nightclub concept fuses the style and energy of South Beach, the spirit of Baja and tradition of Mazatlan all under one roof. By day starting at 11:30 a.m., contemporary Mexican cuisine is served, and at night, the place transforms into a dance club at 10 p.m. Wednesday through Saturday until 3 a.m.
Column Continues Below Advertisement
Lolita's Cantina will offer more than 100 different tequilas including a wide selection of 100 percent agave tequilas. In addition, Lolita's is the first nightclub in the country to boast 3D custom life-size holographic entertainment that guests can enjoy while eating, drinking or dancing.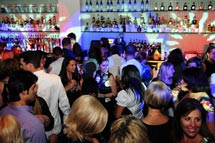 The Medusa Group is led by nightlife/hospitality veteran Eric DeBlasi, who has owned more than 35 restaurants, nightclubs and hotels across the United States over the past two decades.
SMASH MOUTH WILL HEADLINE HENDERSON PAVILION
Multi-platinum band, Smash Mouth, will headline the Henderson Pavilion on Saturday, Sept. 11 at 8 p.m. Tickets are $10 at www.HendersonLive.com or call 702-267-2171.
Smash Mouth, a garage band from San Jose, Calif., has collectively sold more than 10 million albums worldwide. They are also well-known for performing a dynamic and eclectic cover of The Monkees classic, "I'm a Believer," which was prominently featured on the "Shrek" movie soundtrack. Smash Mouth, led by lead vocalist, Steve Harwell, has also been featured on "Can't Hardly Wait" and "Made of Honor" movie soundtracks.
SUNCOAST HOSTS 'PAWN STARS - GOLD & SILVER ROAD SHOW'
History Channel's "Pawn Stars" - Rick Harrison, Corey Harrison and Chumlee will bring their "Gold & Silver Road Show" to the Suncoast's Grand Ballroom on Saturday, Aug. 7 from 10 a.m. to 4 p.m. Admission will be $7, call 702-636-7075.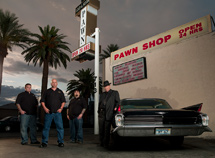 The Pawn Stars will give guests an opportunity to have their gold, silver, antiques and collectables reviewed, and possibly purchased, by the well-known operators and employees of the famed Gold & Silver Pawn Shop located in downtown Las Vegas.
DOS CAMINOS RECEIVES TEQUILA PROGRAM CERTIFICATION
Dos Caminos at The Palazzo has been named the recipient of the Award T, a Tequila Certification Program from the Tequila Regulatory Council (Consejo Regulador del Tequila or CRT) based in Guadalajara, Mexico, in association with Tequila CAZADORES®, the No. 1 premium tequila in the world.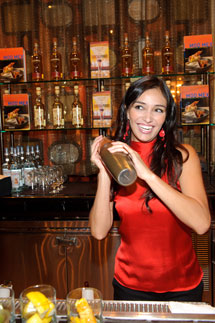 Two days of CRT training were held at Dos Caminos for the whole staff. The Award T program has been created to help restaurants and bars deepen their staff's knowledge of Tequila and help them identify and serve only blue agave Tequila. The businesses also has to prominently display the brands of Tequila available by grade, offer a list of cocktails prepared with Tequila on their menu and, lastly, offer one dish made with Tequila as an ingredient.
LAGASSE's STADIUM HOSTS UFC 117 AND 118 VIEWING PARTIES
Lagasse's Stadium at The Palazzo, which doubles as a sports book, will host UFC 117 on Aug. 7 and UFC 118 on Aug. 28 viewing parties from 7-10 p.m. Food and beverage minimums apply for all seated areas, call 702-607-2665. Lagasse's Stadium offers more than 100 HD TVs, plush stadium seating, and an outdoor patio decked with billiards and comfortable seating.
PAPILLON AIRWAYS ADDS HOOVER DAM GROUND TOUR TO AIR TOUR
Just weeks after launching a brand new Hoover Dam helicopter tour, Papillon Airways, Inc., has incorporated ground tours into the experience. Passengers also see the Colorado River Bridge, which is the central portion of the Hoover Dam Bypass project that began construction in January 2005 and is expected to be completed at the end of 2010. When completed, the 2,000-foot long bridge will span the Black Canyon, connecting Arizona and Nevada approach highways nearly 90 feet above the river.
BODIES…THE EXHIBITION CELEBRATES SECOND ANNIVERSARY
Two years ago, BODIES… The Exhibition moved from the Tropicana to the Luxor's Atrium Level. To celebrate, The Exhibition is offering two-for-one tickets Aug. 9-15 and will welcome Dr. Roy Glover, chief medical director, on Aug. 12 for the first time since opening at the Luxor and have a custom BODIES cake from Freed's bakery.
Taking the celebration nationwide, The Exhibition is searching the country for its 1.5 millionth guest, who will receive a trip to Las Vegas for two. Guests must visit any BODIES…The Exhibition venue around the country to learn how to enter. The winner will be announced on Sept. 17 via random drawing.
DONN ARDEN's 'JUBILEE!' MARKS 29 YEARS OF GLITZ AND GLAMOUR
To commemorate the 29TH anniversary of Donn Arden's "Jubilee!" at Bally's on July 30, they are offering a $29 ticket price to Nevada residents through Aug. 31. Ongoing, a limited-capacity backstage tour is offered on Mondays, Wednesdays and Saturdays.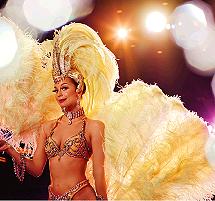 'THE LION KING' AT MANDALAY BAY HOLDS BONE MARROW DRIVE
Recently diagnosed with Acute Leukemia, 11-year-old Shannon Tavarez, who plays Young Nala in Broadway's "The Lion King," is fighting for her life and needs a bone marrow transplant. DKMS/GetSwabbed.org, together with "The Lion King" and Disney Theatrical Productions are organizing a local bone marrow drive for Tuesday, Aug. 3, from noon to 4 p.m. in the Mandalay Bay Theatre Lobby, home to Las Vegas' production of "The Lion King."
Every day, thousands of patients search the national registry in hope of a bone marrow donor match. Sadly, six out of 10 patients will never receive a transplant. Registering starts with a simple cheek swab and donors must be between 18 and 55, visit www.GetSwabbed.org for details.
TOP OF NEXT COLUMN
ALEX AT WYNN RECEIVES 'WINE SPECTATOR' MAGAZINE AWARD
ALEX, the namesake restaurant of chef Alessandro Stratta at Wynn Las Vegas, has received the coveted 2010 Grand Award from "Wine Spectator" magazine that will be awarded on Oct. 30 at the New World Wine Experience Grand Awards Banquet in Las Vegas. ALEX joins an elite group of 75 dining establishments around the world to receive the magazine's highest honor and will be profiled in the Aug. 31 issue. Since opening in 2005, ALEX has been a two-time recipient of two Michelin stars and has been repeatedly awarded five stars by Forbes Travel Guide.
QUICK CLIPS
The Las Vegas Mob Experience at the Tropicana will open its Preview Center on Aug. 2 and give a glimpse of the attraction that will open in December. Daily from 10 a.m. to 10 p.m., it will showcase the attraction's floor plan, artist renderings of the interior, as well as a representative selection of artifacts from its vast collection. Visitors to the Preview Center will be able to purchase a discounted 2011 Annual Pass.
Lani Misalucha and her show "Voices" and the topless "Sin City Bad Girls" revue have closed at the Las Vegas Hilton in the Shimmer Showroom. Opening in the room in September will be the singing sisters of "Nunsense." It's a 25-year-old off-Broadway musical that will have Cindy Williams, best known for "Laverne & Shirley," headlining the first six weeks of the show at 4 p.m.
Other Hilton plans call for Trent Carlini to move his Elvis tribute show from Mondays in the Hilton's main room to five nights a week in the Shimmer Showroom starting Aug. 4.
Miller's Ale House, which has 50 locations in six states, with little fanfare has opened at Town Square, joining two other new dining outlets Nu Sanctuary Lounge and Lolita's Cantina bringing the dining outlets to 17 in the outdoor village-like mall with 15 of them being new to Las Vegas.
"Sgt. Pepper Live" featuring Cheap Trick performing a live interpretation of the Beatles' entire album as well as select Cheap Trick hits at Paris has the following limited engagement dates: Aug. 3-4, 6-7, 10-11, 13-14, 17-18 and Sept. 9-11, 16-18.
The Star of the Desert Arena at Buffalo Bill's in Primm, just 30-mnutes from the Strip, has the following shows lined up this month: The O'Jays – Aug. 7; Ted Nugent – Aug. 14; Lonestar – Aug. 21; and WCK Full Rules Muay Thai – Aug. 28.
In a special promotion with Miller Genuine Draft, Palms Pool & Bungalows presents a live poolside performance by hip-hop Grammy award-winning superstar Ludacris will be held on Thursday, Aug. 5 at 9 p.m. This year his latest album, seventh studio release, is" Battle of the Sexes." Tickets are $30, call 702-942-6832.
On Aug. 7, Hooters we will be hosting the launch of "Suffer" Frank Mir's new clothing line at Tito Ortiz's Punishment MMA Store, where Mir will hold an autograph signing at from 3pm to 4pm. He also will be hosting the UFC 117 pay preview party at the property.
Husband and wife team, Melinda Jackson and Michael Kessler, M&M American Dance Theatre, will present their new show "Dance With Me - Love Songs & Dances and Back Stage Stories" at the South Point on Aug. 15 at 7:30 p.m. The show features music director Keith Thompson of "Jersey Boys" and his band, plus a company of 10 dancers, actors and singers. Tickets are $20, $25 and $30, call 702-797-8055.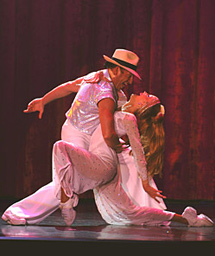 The 2011 Miss America Pageant is returning to Planet Hollywood on Jan. 15 when Miss America celebrates its 90th anniversary. Miss America has called Planet Hollywood home since 2006, and next year's pageant marks a return to primetime on ABC.
The weekend of Aug. 12-15, eight MGM Resorts properties will be hosting Fabulous Las Vegas, a special events four-day LGBT community celebration. Interested parties can visit www.MyFabulousVegas.com to select a hotel and then choose from four Fabulous packages ranging from $50 to $575.
The public is invited to hear Eunie Mae Gray speak on Aug. 7 at 6:30 p.m. at the Red Rock Country Club. The 92-year-old high school graduate born in Texas in 1918 will speak at the celebration gala of her life; call 702-806-6988. While working on receiving her high school degree, Gray published a book about her life entitled "Faye," which details her experiences during the Jim Crow era, the Great Depression, World War II and being raised in a sharecropper family. The book is available nationally at www.amazon.com and Borders and Barnes and Noble stores.
AIR SUPPLY WILL BRING THEIR HITS TO THE ORLEANS
Australian soft-rock group Air Supply, a music staple of the early '80s, have been performing together for more than 30 years. The duo that has produced 30 albums and more than 15 hit singles will return to The Orleans Showroom for three shows Labor Day weekend, Sept. 3, 4 and 5. Tickets start from $29.95, call 702-365-7075.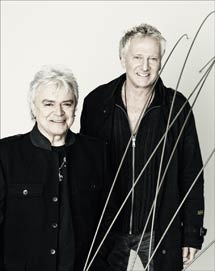 Englishman Graham Russell and Australian Russell Hitchcock met in 1975 while performing in the Australian production of "Jesus Christ Superstar." Later that year, the duo formed Air Supply and released their first smash hit and self-titled debut album, reaching gold in Australia. After opening for Rod Stewart's tour in the United States in the late '70s, Air Supply had an international breakthrough and signed a distribution deal with Artista Records in 1980.
5th ANNUAL WINE AMPLIFIED FESTIVAL PLANNED AT MANDALAY BAY
The 5th annual Wine Amplified Festival will take place Saturday, Sept. 25 from 7-11:30 p.m. at the 11-acre Mandalay Bay Beach and feature more than 50 wineries, two stages, and five live performances featuring multi-platinum rockers Third Eye Blind on the Land Rover Las Vegas Main Stage and additional acts Locksley, Jarrod Gorbel (The Honorary Title), Makepeace Brothers & DJ Rob Oleysyck. This year's festival has been expanded to include a Friday night Sept. 24 event, Bubbles & Chocolate from 8-11 p.m. with a live concert by UB40.
BABY AND HORSE EVENTS PLANNED AT SOUTH POINT
On Saturday, Aug. 7, KLUC's Baby Expo will be held at the South Point Events Center, Halls C and D. The 14th Baby Expo is about all things baby and kids from cribs to college, three Diaper Derby runnings for crawlers, prizes, etc.
The prestigious gathering of PRE (Pura Raza Espanola) horse breeders and enthusiasts will converge in Las Vegas at the South Point Equestrian Center for the Pure Spanish Horse Celebration. This National Competition will award the Top Breeder, Best of the Breed, Top Exhibitor and numerous other National Championship awards over the course of the four-day show, Sept. 1-4. Events, which include exhibits, clinics, seminars, photography workshop, art expo, etc., are free except for the "Theatre of the Spanish Horse" on Sept. 4, which is $17.50. For information, visit http://www.prehorsecelebration.com/
Column Continues Below Advertisement
CONTINUE ON TO...:
>THIS WEEK'S LAUGHLIN NEWS
>LAST WEEK'S LAS VEGAS NEWS
>VEGAS VIEWS FULL NEWS ARCHIVES
>Return to "Heard Around Town"
>Return to Las Vegas Leisure Guide