The most nominated duo in the history of country music, the Bellamy Brothers, will take the stage at Don Laughlin's Riverside, Sept. 5-10. Tickets for the 8 p.m. shows are $25, call 1-800-227-3849.
Howard and David Bellamy grew up surrounded by musical influences such as Merle Haggard, Elvis, Ricky Nelson and Buddy Holly, which resulted in their highly individualistic style and sound. Since beginning in 1968 with a gig in Florida, the Bellamy Brothers have released more than 28 albums and produced more than 13 No. 1 singles, 30 Top 10 hits and 52 chart singles.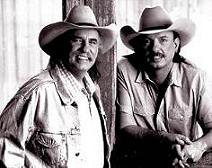 Internationally recognized as both country and pop, the Bellamy Brothers are among America's most successful touring artists. They average more than 250 worldwide dates a year and have entertained audiences ranging from 5,000 to 50,000.
A few of their well-known hits include "Redneck Girl," "Reggae Cowboy" and "If I said You Had a Beautiful Body (Would You Hold It Against Me)."
Laughlin Ranch Golf Club, located across the river and close to Laughlin in Bullhead City, Ariz., is now home to the Pinnacle Exceptional Drivers Championship, held in November each year. The Laughlin casinos are a major sponsor of this event that will be televised several times a year on ESPN to over 40 countries around the world. First prize is $50,000 and a new Honda S2000 Roadster.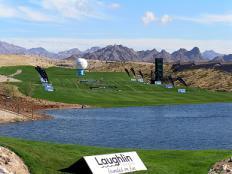 On Sept. 9, from 9 a.m. to 2 p.m., amateur golfers are invited to try out for the final competition being held Nov. 8-11. Laughlin Ranch Golf Club is one of 128 nationwide qualifying event locations. Each golfer wishing to qualify will pay $20 to hit five balls in two minutes. They will receive a Two-pack Sampler of Pinnacle Exception Balls and a Pinnacle Hat each time they try to qualify. Each participant's cumulative score determines their place in the final local standings. Golfers who hit all five balls in the grid will receive a bonus ball to try to improve his or her score. In the case of ties, a sudden-death playoff will take place. For information, call 928-754-1243 or 866-866-LRAZ.
Harrah's Fiesta Showroom entertainment, "Rhythm & Flair" and "Strip!" will be dark Sept. 3 - 18. The shows will return on Sept. 19. Tickets start at $19.95 plus tax a person and dinner and show packages start at $25.95 plus tax a person. For information, call 702-298-8510.
"Rhythm & Flair" features a cast of talented dancers, aerialists and gymnasts performing to music highlighted by today's hip sound, power percussions, drums and enthralling rhythms. The adult revue "Strip!" is a sensual theatrical presentation featuring elements such as aerial rings, modern dance and comedy. "Rhythm & Flair" and "Strip!" are produced by Fernando Quevedo, Q Productions Las Vegas Inc. Guests must be 18 years of age or older to view "Strip!" due to its mature theme.

TOP OF NEXT COLUMN
You could win a 3-day, 2-night stay in a suite at the Colorado Belle when you enter the "Cruisin' on the River" promotion on resort's Web site: www.coloradobelle.com. You can register in the "Captain's Log." Each month through December, five mini-vacations will be given away. Each mini-vacation may be used midweek or on the weekend (special event periods and holidays are excluded) and winners have until July 2007 to use their prizes.
By registering in the Captain's Log, you may also opt to receive special offers on rooms and information about entertainment, upcoming events and promotions.
"Superstars Live in Concert," currently playing at the River Palms, is a more traditional tribute show featuring a cast of entertainers presenting a wide-range of musical stars.
The show stars Barrie Cunningham, a long-time tribute artist and show producer who has pulled upon his experience with shows such as "Legends in Concert" and "American Superstars." As producer, he keeps the show interesting with cast changes and features a live band backing all the acts. This gives the show a big-room feel that helps with the suspension of disbelief necessary for audiences to buy-into tribute acts.
In addition to Cunningham as Neil Diamond, current artist tributes include: Mitch Adams as Elton John; Peter Phillips as Tim McGraw; Barbara Bogar as Marilyn Monroe; and Jilla Roberts as Gretchen Wilson. Cunningham says this is the first show to have Jilla Roberts' portrayal of Gretchen Wilson, one of country music's current biggest artists. She sings "Redneck Woman," "All Jacked Up" and "Here For the Party."
Band members include: Orlando Santos (musical director and drummer); Dave Wold (keyboards); Roger Bartlett (guitar)-former lead guitarist for Jimmy Buffett; Donnie Castleman (bass)-who also sang vocals on the Loggins and Messina song, 'Watching the River; and Barrie's brother Tom Cunningham (fiddle, mandolin and acoustic guitar).
"Superstars Live in Concert" is the first show to break in the new River Sands Theatre, located on the third-floor casino-entry level of the resort. Tickets are $24.95 and $19 with a Players Club card.
The Colorado Belle poker room is currently offering players chances at entering its largest ever, free-roll (no entry fee) poker tournament through mid-September. The $50,000 No Limit Texas Hold 'Em Tournament will take place at 2 p.m. on Sept. 17, and feature a championship format with each level of play running 40 minutes. First place will win $10,000 and the top 30 finishers will win prize money.
To become eligible for entry, a player must register at the poker podium. Entry is by a "most-pots-won" format. For each pot a player wins with $10 or more in the pot at regular poker play, he or she will receive a blue chip worth five points. The Top 50 point-earners will qualify for the tournament. Blue chips may be won from now until tournament day in all three poker games dealt at the Colorado Belle: Seven Card Stud, Omaha and Texas Hold 'Em.
Lake Mohave is second only to Lake Mead for Nevada, Arizona, and Southern California boaters, jet skiers, fisherman, and water sport enthusiasts. It is a skinny lake, not more than four miles across at its widest point, and 67 miles in length. It is confined for most of its length by the steep walls of the Pyramid, Painted, Eldorado and Black canyons. Lake Mohave is part of the Lake Mead National Recreation Area and is operated by the National Park Service.
Katherine Landing located on the Arizona side is not far from Laughlin and offers public campgrounds, boat and waverunner rentals, fuel, general store merchandise, a restaurant, dry storage, and slip rentals. For information, call 928-754-3245 or 800-752-9669.
CONTINUE ON TO...:
>THIS WEEK'S LAS VEGAS NEWS
>LAST WEEK'S LAUGHLIN NEWS
>VEGAS VIEWS FULL ARCHIVES
>Return to "Heard Around Town"
>Return to Las Vegas Leisure Guide