The show that changed the face of Las Vegas entertainment is about to celebrate a milestone of its own. "Mystére," Las Vegas' longest running Cirque du Soleil show, now in its 13th year at the Treasure Island, will celebrate its 6,000th performance during the 7:30 p.m. performance. In addition, Artistic Director Ria Martens will create a special ending with the "behind the scenes" crew joining the cast on stage for the final bow. Tickets for "Mystére" are $60 - $95, call 800-392-1999 or 702-796-9999.
Award-winning mentalist Gerry McCambridge after performing at the Stardust for a couple months has a new evening performance schedule at the hotel. He moved from afternoon performances in the 250-seat Hypnotic Lounge to the 850-seat Stardust Theater. His new show time is 9 p.m. nightly except Sunday. General admission tickets are $27.95, VIP seats are $32.95, call 702-732-6325.

Column Continues Below Advertisement


The Mentalist's show is a mixture of comedy, mind reading, intuition and unusual predictions. The show is full of audience participation. McCambridge has a standing offer of $25,000 payable to anyone who can prove he uses stooges, audience plants, confederates, or collects any secret information prior to the show.
Master magician and illusionist David Copperfield will continue his 2006 tour at the MGM Grand's intimate 740-seat Hollywood Theatre with scheduled performances Nov. 9 - 29 and Dec. 21 - Jan. 3. Tickets are $97, call 800-929-1111. Copperfield will ring-in 2007 with a special midnight balloon drop following his 10:30 p.m. performance on Dec. 31.
The School of Rock All-Stars will present their classic rock style and displays of technical mastery and showmanship Friday, Aug. 11 at 7 p.m. poolside at the Wild Wild West Gambling Hall & Hotel on Tropicana near I-15. Tickets are $10, call 702-547-5300.
The Paul Green School of Rock- the apparent inspiration for the 2003 Jack Black full-length hit comedy, "School of Rock," is the original performance-based rock music school. Giving students the "gift of rock" since it was founded in Philadelphia in 1998, the Paul Green School of Rock has been expanding rapidly across the nation.
The School of Rock All-Stars have played over 150 shows coast to coast, been featured on national TV and radio shows, and been joined on stage by such legends as Alice Cooper, Jon Anderson and Eddie Vedder.
The Art of Peter Max Gallery, one of two galleries in the world exclusively selling Peter Max paintings, has announced a first-ever Virtual Exhibition, Saturday, Sept. 2 at 1 p.m. Live via high-speed Internet connection, artist Peter Max will communicate virtually through plasma screens at the gallery, taking guests in Las Vegas on a personal tour of his renowned studio in New York. Max will interact with guests present in the Las Vegas gallery, sharing his world with collectors and fans. Additionally, Max will draw an original dedication virtually for any guest who purchases a painting during the week of the event. For information, call 702-644-7070.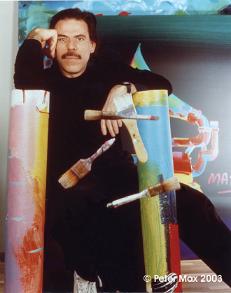 Another Max offer is "Invite Peter Max Into Your Home." During the month of August, gallery art consultants will bring any Peter Max painting(s) directly from the gallery to the local collector's home for a private viewing, which will include hanging the painting with proper lighting. The client has no obligation to buy the art; however, any painting purchased will be sold at wholesale pricing as if the client is the interior designer.
Billy Idol has been added to the Mandalay Beach concert lineup. He will return on Friday, Aug. 11 at 9 p.m. to rock the night away with fresh sounds and Idol favorites. Tickets are $45 in advance and $50 the day of the show, call 702-632-7580.
You can't miss that Toni Braxton will be opening at the Flamingo on Aug. 3. A vinyl wrap of her image is covering 40,000 square feet of the front of the property. She'll be appearing five nights a week at the hotel until March 2007.
Morris Day and the Time will be playing at the Henderson Pavilion on Aug. 12. Tickets range from $15 to $35, call 267-4TIX (4849).
After Harrah's headliner Clint Holmes closes his show on Sept. 30, he will be spending the next two years concentrating on his London play.
Meanwhile, the date for the Las Vegas broadcast of Clint Holmes' PBS special, which was recorded in March at Harrah's, will be Aug. 7. PBS taped three Las Vegas headliners for its "Great Performances" series. The other two featured singers were Barry Manilow at the Las Vegas Hilton and Andrea Bocelli at Lake Las Vegas.
Upcoming second Sunday events at the Liberace Museum include a visit with Liberace's fur designer Anna Nateece on Aug. 13 and the unveiling of a new exhibit at the museum on Sept. 10. For information, call 702-798-5595 or visit www.liberace.org.
"Champions on Ice" will feature figure skaters Michelle Kwan, Sasha Cohen, Irina Slutskaya, Evgeni Plushenko, Stephane Lambiel and dancing team Tanith Belbin and Ben Agosto on Wednesday, Aug. 16 at the Orleans Arena. Tickets start at $47, call 702-284-7777.
Hooters Casino Hotel is offering an outstanding travel package this summer through August. The package includes accommodations for three days/two nights, breakfast for two at The DAM Restaurant or a $40 dining credit at Dan Marino's Fine Food & Spirits. Additionally, package holders receive "Casino Perks" - valuable offers throughout the property ranging from discounts on Hooters merchandise or spa and salon services, to drink coupons, and more. Package costs are $139 plus tax Sunday through Thursday, and $199 plus tax Friday and Saturday, call 1.866.LVHOOTS.
The "World Famous" Lipizzaner Stallions will be at the Orleans Arena, Sept. 8-10, with five performances.
David Saxe, producer and operator of the V Theater, will be debuting "Showtime in Vegas" on Aug. 4 in the Desert Passage theater. The Fridays-only production will combine paid variety acts with amateur contestants.
Blue Man Group and ToyQuest, a LA-based toy company, have collaborated on a new line of state-of-the-art musical instrument toys. These Blue Man Group-inspired instruments are available exclusively at FAO Schwarz at The Forum Shops at Caesars through mid August, and will then be available at major retail outlets everywhere.
The Blue Man Group toy line for children ages eight and older includes two instruments--the Keyboard Experience and Percussion Tubes, both of which feature proximity sensor technology, pre-programmed songs, interchangeable instrument sounds, and iPod or MP3 player compatibility. Prices range from $69.99 to $99.99.
"CSI" will kick off its sixth CBS season this fall with a two-part episode centered on a crime committed at Cirque du Soleil's "Ka" at the MGM Grand.
Crews will be filming, Aug. 6-9, at the Bellagio for Warner Bros. "Ocean's 13" film.
Caesars Palace will mark its 40th anniversary with a toga party at the Roman Plaza amphitheater on Aug. 2. Anyone over 21 who arrives in a toga gets in free to the party, which will feature Otis Day and the Knights, the band that was in "Animal House." Toga-wearers will ago be granted free admission to Pure nightclub after the outdoor concert.
The Spa at the Imperial Palace is the first in Las Vegas to introduce the shell massage.
The two-in-one treatment incorporates a therapeutic Swedish massage while seashells are applied to the body for an invigorating deep skin exfoliation. Through Aug. 29, The Spa is offering shell massage introductory prices of $125 and $155 for 50-minute and 80-minute treatments respectively and a 10-percent discount in The Spa boutique, call 702.794.3242.
Jeff Beacher, producer of "Beacher's Madhouse" at the Hard Rock and "Beacher's Rockhouse Bar" that will be opening Strip-side at the Imperial Palace on Aug. 10, has a publicized dispute going on with Fremantle Productions, producer of the summer TV hit "America's Got Talent." The conflict is over Leonid the Magnificent and his "Silver Man" costume because he has an exclusivity contract with Beacher.
Marvin Lashever, president of G.E.M. Group, Inc., has entered into a contract with "The Platters." He is trying to unite members from all the years into one solid group and end the confusion with so many unlicensed groups that are out in the marketplace.
The 3,000 rooms and suites at the Las Vegas Hilton are undergoing a transformation starting with 923 that will feature luxurious beds, flat-screen monitors, Internet access, and high-end amenities. The first two floors are now ready to come on the market.
Class of the 70s featuring Ambrosia, John Ford Coley, Stephen Bishop and Gary Wright will headline a performance at The Club inside the Cannery in North Las Vegas on Saturday, Aug. 5 at 8 p.m. Tickets are $15.95 and $21.95, call 617-5585 or 866-287-4643.
Ambrosia was formed in 1970 and is one of America's most loved pop bands having earned five Grammy nominations and multi-platinum status.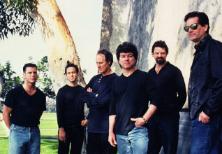 Singer / songwriter Gary Wright moved to London in 1967, co-founded the group Spooky Tooth and spent much of the early '70s producing records and collaborating with George Harrison. In 1975, Wright wrote and produced the first all keyboard and synthesizer album "The Dreamweaver," which quickly went to No. 1.
John Ford Coley is famous for his years as half of the Grammy-nominated duo, England Dan and John Ford Coley. They produced gold and platinum albums reaching a worldwide audience.
Stephen Bishop moved to L.A. and played his songs for various producers in Hollywood for many years before Art Garfunkel recorded two of his songs. That eventually landed Bishop a contract with ABC Records, with his first two albums going gold.
The 2006 Las Vegas Greek Food Festival will be held on the grounds of St. John The Baptist Greek Orthodox Church at 5300 S. El Camino Road, Sept. 21 - 24. The four-day food event with continuous live music by Greek bands was started in 1972. The festival will include shopping for Greek gifts, art, clothing and jewelry, a children's entertainment area, raffle prizes, church tours and lectures. Festival hours are Thursday 5 p.m. to 11 p.m.; Friday 3 p.m. to 11 p.m.; and Saturday and Sunday noon to 11 p.m. For information, call 702-248-3896.
Hank's Fine Steaks & Martinis, which opened in October 2005 inside Green Valley Ranch Resort & Spa in Henderson, has been given the coveted Four Diamond award for 2007 by AAA, widely regarded as the authority in travel lodging and restaurant reviews. Hank's, named after Las Vegas icon Hank Greenspun, is currently one of only two fine steakhouses in Las Vegas selected by AAA, which inspects more than 56,000 restaurants and lodgings every year, to receive the Four Diamond distinction.
Nambé, a lifestyle company and creators of elegant, modern, award-winning home décor, giftware and accessories, received an Award for Design Excellence (ADEX) Platinum Award for the Twist Cocktail Shaker and its timeless modern design that can be seen on their Web site. The Nambé store in Las Vegas is located at the Forum Shops at Caesars Palace.
CONTINUE ON TO...:
>THIS WEEK'S LAUGHLIN SEGMENT
>LAST WEEK'S LAS VEGAS SEGMENT
>VEGAS VIEWS FULL ARCHIVES
>Return to "Heard Around Town"
>Return to Las Vegas Leisure Guide