FIRST FRIDAY PRESENTS 'ANTARTICA' INSTALLATION!

First Friday Las Vegas, the ever-evolving community event now in its 10th year on the streets of downtown, is shaking up the format and cooling down loyal attendees with "antARTica" on Aug. 2 from 5 – 11 p.m.

First Friday will create an artistic, once-in-a-lifetime, artic experience complete with glaciers, penguins and interactive fun on Casino Center between Charleston and Colorado, while 75 vendors and 20 food trucks push out into the surrounding neighborhood of 18b. Animal Planet's hit TV show "Tanked" will join the festival this month with a custom-built aquarium photo booth on Casino Center near Charleston. For more information on First Friday Las Vegas and about parking and shuttle service, visit www.firstfridaylasvegas.com.


Column Continues Below Advertisement



KOOL AND THE GANG VISIT THE CANNERY

Kool and the Gang will bring more than 40 years of jazz, R&B, disco, soul and funk hits to The Club at The Cannery on Saturday, Aug. 10. Tickets range from $25.95 to $45.95

Kool and The Gang began to dominate the music scene in the 1970s and to date the group has released 26 albums, which have included chart-topping hit singles spanning the course of four decades with tunes such as "Jungle Boogie," "Celebration," "Get Down On It," and "Joanna." For the big screen, the group produced hits such as "Summer Madness" from the Grammy-winning movie soundtrack "Rocky," "Open Sesame" from "Saturday Night Fever," the top-selling movie soundtrack of all time, and "Jungle Boogie" the title track to the cult classic film "Pulp Fiction." Most recently, the group returned to the Billboard charts with the 2007 album "Still Kool."

COUNTRY STAR DARIUS RUCKER WILL PERFORM AT RED ROCK

Darius Rucker, country star and former lead singer of the hit band Hootie & the Blowfish, is returning to Las Vegas with a performance at the Sandbar outdoor poolside venue at Red Rock Resort on Friday, Oct. 11 at 8 p.m. Tickets are $49.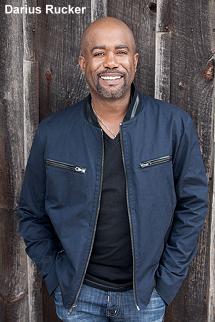 Since re-introducing himself to the world as a country artist, Rucker has had a truly remarkable few years. In 2008, he released platinum-certified "Learn to Live" and the album's first single, "Don't Think I Don't Think About It" made him the first African American with a No. 1country song since Charley Pride in 1983. It was followed by two more singles that topped the chart, including "It Won't Be Like This For Long" and "Alright." The album earned him the "New Artist" award from the Country Music Association.
GREEN VALLEY RANCH FEATURES THE MONKEES
"A Midsummer's Night With The Monkees" will bring back their classic hits at the Grand Events center at Green Valley Ranch on Saturday, Aug. 10. Tickets range from $35 to $79.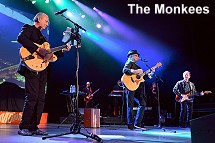 The trio made five platinum albums and had an Emmy®-award winning television series. Their show will encompass a full multi-media evening of music, rare films and one-of-a-kind photographs culled from the archives. They will be backed by the same stellar crew of musicians from their 2012 run.
TROPICANA EXPANDS MEETING AND CONVENTION SPACE
The new Tropicana plans to expand its meeting and convention facilities by adding 40,000 square feet to the existing 60,000 square feet. The hotel will begin its expansion by constructing five 650-square-foot breakout rooms each with men and women's restrooms on the Club Tower's second floor adding to the three existing ballrooms, which comprise 19 breakout rooms in the conference center. In addition, the resort will expand the Tropicana Pavilion, which is a wing of the hotel's conference center.
ROCKERS FORGOTTEN DOOR START GIG AT CLARION
This weekend, the Las Vegas-based rock band Forgotten Door known for their signature "New Classic Rock" sound are celebrating the upcoming release of "Unlocked" and the start of an unprecedented six-month weekend residency at the Clarion. Their show is open for public previews: July 26-28, Aug 2-4, and 9-11 with an official opening night Friday, Aug.16. Tickets are $47.97 and $57.97.
DRIVERS TALK RADIO MOVES TO THE AUTO COLLECTIONS
Drivers Talk Radio, hosted by automotive expert Rick Titus, has started recording his show weekly on Tuesdays and Wednesdays from inside the showroom floor of The Auto Collections at The Quad. Driver's Talk Radio reviews the newest vehicles in the automotive marketplace, discusses the most thought-provoking automotive topics and conducts live interviews with the industry's movers and shakers. In addition to Stitcher, Drivers Talk Radio is available on iTunes and can be heard from California to Australia and beyond. On www.driverstalkradio.com, consumers can find behind-the-scenes content and road tests, along with a blog and schedule of station podcasts.
General admission for The Auto Collections is $12.95; children under 12 and seniors over 65 are $8.95.
TWO DOWNTOWN MUSEUM ATTRACTIONS PARTNER
The Mob Museum, the National Museum of Organized Crime and Law Enforcement, and The Neon Museum are partnering to offer guests one ticket to both museums on the same day for $30, averaging a savings of 30 percent. Both attractions are located downtown approximately 10 minutes apart from one another.
Currently, The Neon Museum offers day-time guided tours seven days a week at 9 a.m., 9:30 a.m. and 10 a.m. The Mob Museum is also open daily, 10 a.m. to 7 p.m. Sunday through Thursday and 10 a.m. to 8 p.m. Friday and Saturday. To purchase tickets, visit www.TheMobMuseum.org or call 702-229-2734.
SOUTH POINT BOOKS LEGENDARY GROUPS
Legendary performer Peter Noone will return to the South Point Showroom Aug. 2 – 4. The former member of Herman's Hermits is one of rock 'n' roll's most versatile entertainers. Noone will showcase hits including "Listen People," "Wonderful World" and "I'm Into Something Good." Tickets start at $40.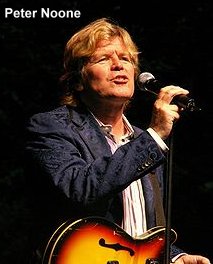 The Kingston Trio with George Grove, Bill Zorn and Rick Dougherty will follow Aug. 9 – 11. This group brings traditional American folk music to stage. Tickets start at $20.
MENTALIST FREDERIC DA SILVA PERFORMS DAILY AT BALLY'S
International mentalist Frederic Da Silva voted "Best Mentalist in Europe" has his show at Bally's for a limited engagement with daily appearances at 2 and 4:30 p.m. Audiences experience an afternoon of mystery, magic, and mind reading. During his live Vegas show, the international mentalist can tell you what's in your pocket, name the person you're thinking about and even stop a clock to the exact time you imagined. Tickets are $29.95.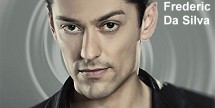 8TH WINE AMPLIFIED WEEKEND SET AT MANDALAY BAY BEACH
The 8th Annual Wine Amplified Weekend will take place at Mandalay Bay Beach Sept. 6 and 7. The two-day festival will kick off Friday with Bubbles & Chocolate presented by Moet & Chandon featuring a concert on the beach from hitmakers Collective Soul. On Saturday night, the signature Wine Amplified Festival will take over the11-acre beach area and feature more than 150 wines and five acts performing on two stages culminating with Gavin DeGraw. Tickets range from $55 on Friday to $65 up to $119.50 on Saturday. For information and tickets, visit www.wineamplified.com.
BREATHE CAROLINA TO PERFORM AT THE ACT NIGHTCLUB
Electronic rock music band, Breathe Carolina, will perform at The ACT Nightclub in The Grand Canal Shopped at The Venetian | The Palazzo on Saturday, Aug. 3. Best known for their hit single, "Blackout," the duo has recently released their first mixtape "Bangers" and they are working on their fourth studio album "Savages."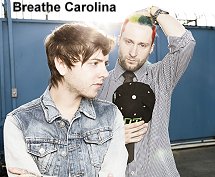 'A DAY TO REMEMBER'S HOUSE PARTY TOUR' VISITS HENDERSON
"Smash Magazine" will facilitate "Rockstar Energy Presents - A Day To Remember's House Party Tour" with supporting acts Pierce The Veil and All Time Low on Monday, Sept. 23 at 5 p.m. at the Henderson Pavilion. Tickets start at $29.50, visit www.ticketfly.com.
Since their formation in 2003, A Day To Remember from Ocala, Fla., has grown from a small band into a worldwide phenomenon. Over the course of four albums, the band has sold out entire continental tours, landed two Top 25 Billboard debuts and topped the Billboard Indie Albums Chart. The band's last album "What Separates Me From You" was a major breakthrough debuting at No. 11 on the Billboard Top 200 Albums. Earlier this year, the band posted a brand new track "Violence (Enough Is Enough)" on their website.
TOP OF NEXT COLUMN
'FANTASY' LADIES LAUNCHED MONTHLY FRIDAY EVENT AT LAX
The ladies of the Luxor's show "Fantasy" will bring a taste of their adult revue to LAX Nightclub at the Luxor every month with "Fantasy Fridays" that kicked off on July 26. The sexy showgirls host the ultimate Friday night party once a month at the mega-club. Guests who present their "Fantasy" ticket stub at the door receive complimentary VIP entry into LAX Nightclub.
WHISKEY PETE'S OPENS TRUCK STOP WITH DRIVERS LOUNGE
The Flying J Truck Stop at Whiskey Pete's Stateline Stop is now open, adding a professional drivers' lounge with flat screen televisions as well as seven private showers and commercial laundry facility to the new Primm Valley travel center.
The venue offers 10 commercial diesel pumps in addition to the current 24 Chevron gasoline pumps, separate RV fueling point and electric car charging station to serve the more than 37,000 daily visitors crossing the California/Nevada state border on I-15.
The 13,000-square-foot, multifunctional rest stop features a variety of quick service restaurants, 40 slot machines in the gaming parlor and free Wi-Fi inside the modern travel center.
HAKKASAN AND WYNN RELEASE LABOR DAY WEEKEND LINEUP
Hakkasan Las Vegas at MGM Grand has announced its Labor Day Weekend lineup featuring five days of non-stop entertainment with turntable sensations (in alphabetical order) Steve Aoki, Hardwell, Calvin Harris, Tiësto and more Aug. 29-Sept. 2.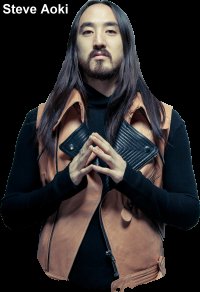 Wynn Las Vegas daylife and nightlife venues will present a powerhouse DJ lineup, including: Nero, Porter Robinson, Knife Party, and Above and Beyond at Surrender; Manufactured Superstars, Jermaine Dupri, and Lil Jon at Tryst; Fedde Le Grand, Steve Angello, Afrojack, and David Guetta at Encore Beach Club; and Dirty South, Steve Angello, David Guetta and Afrojack at XS.
BODIES - THE EXHIBITION ENCOURAGES SUMMER SAFETY
Beginning July 25 at BODIES - The Exhibition at the Luxor, facts will be displayed throughout the exhibition, encouraging guests to make smart decisions like staying hydrated during the summer while temperatures in Las Vegas soar into triple-digits. To further educate, the exhibit will host a Sun Safety seminar on Saturday, Aug. 17 at 1 p.m. with guest speaker, Dr. Paul Michael, medical oncologist and melanoma expert at Comprehensive Cancer Centers of Nevada. The event is free with the price of admission into the exhibit.
ATOMIC TESTING MUSEUM HOSTS FAMILY FUN DAY
The National Atomic Testing Museum (NATM) is hosting a Family Fun Day on Saturday, Aug. 10 from 10 a.m. - 3 p.m. with a focus on science themed exploration. Admission into the event will include entrance into the main museum, half-off discount for the Area 51 exhibit, and participation in interactive science experiments. Tickets on event day cost $15 per family of five ($6 per additional person ages 7 and up) and $3 for Area 51 exhibit with family admission purchase.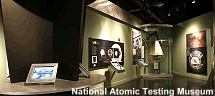 EASTER SEALS HOLDS WOMEN'S TEA AT FOUR SEASONS
On Wednesday, Aug. 21, Easter Seals Nevada, the nonprofit that serves more than 8,000 Nevadans with disabilities every year, will host its first Women's Tea fundraising event at Four Seasons to honor five outstanding community support women. This year's honorees include: Neyda Becker, past chairman of the board, Easter Seals Nevada; Dawn Gibbons, senior vice president communication and government relations, KSNV TV-3; Darlene Krenitz, controller, SHFL entertainment; Jerrie Merritt, senior vice president community development, Bank of Nevada; and Kate Whiteley, vice president of public relations, Kirvin Doak Communications. Tickets are $46, visit Give.EasterSealsNevada.org. Attendees are invited to wear their favorite fascinators.
SILVERTON'S ONE DRUNK PUPPY WINE TASTING EVENT COMING UP
The Annual One Drunk Puppy Wine Tasting Event will be held at the Silverton in the Veil Pavilion from 6-9 p.m. on Saturday, Aug. 17 and benefit five animal rescues in Southern Nevada. Party-goers will enjoy appetizers, entertainment, a wide selection of international wines and silent auction. Admission Cost: $35 in advance and $45 day of event.
QUICK ITEMS
Sisters Tia and Tamera Mowry were in town recently filming their Style Network reality show, "Tia & Tamera." This weekend, they aired an all-new episode featuring The Quad's Frank Marino and "Divas Las Vegas."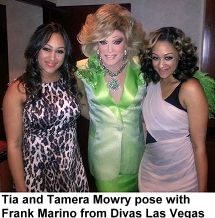 Every Tuesday at Rockhouse at the Grand Canal Shoppes at The Venetian | The Palazzo are Taco Tuesdays with pricing starting at $1.50.
Rock and Roll Hall of Fame Group Little Anthony and The Imperials will headline at the Eastside Cannery on Aug. 3. They are celebrating 55 years in the spotlight since their first single, "Tears on my Pillow," was released in 1958. Tickets range from $12.95 to $27.95.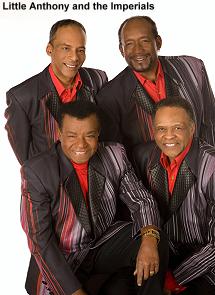 Hacienda del Rey serving Mexican food opened in the old spot where the Elephant Bar used to be on Maryland Parkway near Sahara.
This month, New York Giants cornerback Prince Amukamara proposed to girlfriend Pilar Davis during the Jabbawockeez show "PRiSM" at the Luxor. A Jabbawockeez fan and dance lover, Amukamara popped the question by joining the dance crew onstage for a performance in costume. Davis was pulled onstage as part of the act, and after the routine Amukamara dropped to one knee and took off his mask to reveal himself to Davis for his heartwarming proposal.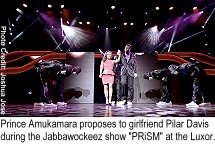 The 2013 Women's Leadership Conference will be held at the MGM Grand Aug. 8–9 and it's open to all women everywhere. According to the U.S. Department of Labor, in 2010, women comprised 46.8 percent of the total U.S. labor force. Early registration is $250.
After less than three months of live play, Ultimate Poker is set to deal its 10-millionth hand of real money online poker at UltimatePoker.com. To celebrate the achievement, Ultimate Poker is currently awarding players cash prizes across 21 milestone hands leading up to the 10-millionth.
The upcoming Summer 2013 Las Vegas Market taking place July 29 - Aug.2 at the World Market Center downtown will showcase special ribbon cutting ceremonies in honor of its tenant and exhibitor showroom launches and expansions. Nearly 70 ribbon cuttings will take place throughout the five-million square-foot campus.
RECYCLED PERCUSSION GETS AROUND TOWN
Last week, The Quad's headliners, Recycled Percussion, performed in front of Bally's to welcome Dartmouth College's Big Green Bus. The converted biodiesel Greyhound bus operated by 13 students is traveling across 24 states covering 12,000 miles as they educate individuals on environmentally friendly practices.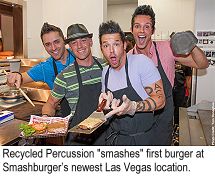 The Strip headliners were also the "celebrity smashers" for the grand opening of Smashburger's newest Las Vegas location on Warm Springs Blvd. and Las Vegas Blvd. Recycled Percussion's band leader Justin Spencer "smashed" the first hamburger while the band drummed on the grill.
NITE TOURS INTERNATIONAL RANKS HIGH WITH TRAVELZOO
Nite Tours International came up on top among the most loved places of Travelzoo subscribers in Las Vegas. Travelzoo recently completed a survey among all Travelzoo users who purchased Local Deals in the last two years.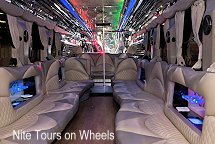 Nite Tours International creates exclusive multi-venue nightlife tour experiences at a great value that would be too difficult for participants to create on their own at the same price, with the same VIP treatment, and with the ease of transportation and club entry and exit. As Las Vegas' largest nightlife tour company, Nite Tours hosts more than 100,000 guests per year in Las Vegas alone during its public and private tours
Column Continues Below Advertisement
CONTINUE ON TO...:

THIS WEEK'S >LAUGHLIN NEWS
LAST WEEK'S >LAS VEGAS NEWS
>VEGAS VIEW FULL NEWS ARCHIVES
Return to >"Heard Around Town"
Return to >Las Vegas Leisure Guide