<!A-- Left Column -->

The Aquarius will present superstar Kid Rock in his debut Laughlin performance on Saturday, Sept. 27 at 8 p.m. in the Aquarius Outdoor Amphitheater. Rock has sold millions of albums worldwide with his signature mix of blues, country ballads, Southern rock and hip-hop. Tickets are $61.50 with an A.C.E. Rewards card and $71.50 without.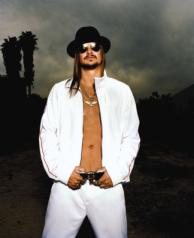 Rock shot to success with his major label debut, Devil Without A Cause, which introduced the hit singles, Bawitdaba and Cowboy. The Southern rock ballad Only God Knows Why became a top 20 hit on Billboard's Hot 100 Charts and a Top 10 on the Top 40 Charts. Devil Without A Cause has gone seven times Platinum and was nominated for three Grammy Awards. The release of Picture, off his album, Cocky, a country-influenced duet with Sheryl Crow, became an instant hit. Released in 2007, Rock N Roll Jesus became Rock's first album to go No. 1, with smash hits So Hott and the nostalgic All Summer Long. Rock N Roll Jesus won the award for "Most Outstanding National Album" at the 2008 Detroit Music Awards.
Comedy is alive and well in Laughlin. The River Palms is home to the River Palms Comedy Room, a site that started presenting comedy about a year ago and has been staging comics five nights a week ever since.
The Comedy Room is produced by Daniel Celario, a former comedian who utilizes his contacts to book some of the top comics predominantly out of the Las Vegas and Los Angeles markets. Shows are presented Tuesdays through Saturdays at 9 p.m. Tickets are $17.95 for general seating and $22.95 for preferred seating, call 1-866-448-7849 or 702-474-4000.
Comedians Kevin Jordan, Scott Henry and Jim Summers will perform Aug. 5-9
Kevin Jordan is a five-foot-four baby-faced African American with a charming smile. He looks like anything but the typical L.A. cop. But for five years that is exactly what he was. He was one of a crop of shorter-than-average officers allowed on the force when the department lowered its height standard to recruit more women and minorities. Jordan had trouble reaching the gas pedal of his patrol car. Once when he drove without a partner, a citizen called the police station to report that a little kid had stolen a police car.
Jordan's version of "life with father" has his audience holding their sides laughing. Jordan's interesting view of the world grew from his designated seat in the family station wagon -- facing backwards.
Scott Henry was raised in the Midwest. His father was a machinist, carpenter, electrician and dictator. He worked at the same company for 44 years and his mother worked at Sears for 25 years. She got a 25 percent discount, so everything he ever owned came from Sears. Henry followed in my father's footsteps and in 1988 began working as a machinist in a tool and die shop. One day, his boss suggested he try the open mic night at a nearby comedy club. Henry was hooked and left Milwaukee a year later.
Since then, he's become a headliner in nationwide major comedy clubs and at more than 200 colleges. Henry has traveled to 32 different countries, done several shows for Comedy Central, VH-1, NBC, and hosted a show for FX. He's starred in independent films and opened for major stars. Over the past three years, he's been creating a show that is eerily similar his own life story.

TOP OF NEXT COLUMN
Mickey Thomas, the owner of the soaring voice that propelled Starship through the decades of the 80s and 90s, and Starship will headline at the Tropicana Express on Aug. 23. Tickets for the 8 p.m. show are $29, $35 and $45.
With his soulful and compelling vocals, Thomas has established himself as one of rock music's most recognizable stars. Thomas made his mark in 1976 as lead vocalist on the mega-hit Fooled Around and Fell in Love with The Elvin Bishop Band. In 1979, Thomas joined the Jefferson Starship as lead vocalist, after the departure of Grace Slick and Marty Balin.
Backed by the power of Thomas' vocals, Jefferson Starship immediately scored a No. 1 hit with Jane. With this new sound and powerful new vocals, the group was renamed Starship and continued to record an amazing string of hits including No Way Out, We Built This City, Sara, and an Oscar Nomination for the No. 1 hit Nothing Gonna Stop Us Now from the movie Mannequin. Another top hit was It's Not Over Till It's Over, which became Major League Baseball's theme in 1987. Moreover, every Starship album released since 1979 has gone Gold, Platinum, or Multi-Platinum.
It will be Hot August Nights - Celebrating the Music of Neil Diamond featuring Barrie Cunningham at the Riverside Resort, Aug. 5-10 and 12-17. Tickets are $25 for the 8 p.m. shows.
On Aug. 9 and Sept. 6, Tom & Sharon's Ballroom, Latin and Swing Dance Party will take place from 1:30 p.m. to 4:30 p.m. For details on the party or dance classes, call 928-7554-2097 or 702-298-2535, ext. 5708.
Fireworks will take place in the sky over the river at the Avi on Aug. 31 at dusk. The fireworks display will be produced by Zambelli International and viewing is free.
Todd Luxton - The Ultimate Elvis tribute show will be featured at the Fiesta Showroom at Harrah's, Aug. 2-7 and 9-14. His special tribute includes Elvis' favorite tunes, handing out scarves and kissing the ladies of all ages. Luxton has been impersonating Elvis since he was 5 years old. He has won every Elvis competition he has entered including a contest at Harrah's where he beat out more than 30 other contestants, and a contest at Apacheland Movie Ranch, the filming location for the Elvis movie Charro, where he got the top spot in a field of 40. Tickets for his 8 p.m. shows are $18.95, $23.95 and $28.95.
The Spinners, a Detroit, Michigan-based soul vocal group that was most popular during the 1970s, will headline at The Pavilion Showroom at the Tropicana Express on Saturday, Aug. 16. Today, the quintet is actively touring with three of its original members. In their recently released box set The Chrome Collection, The Spinners were lauded by David Bowie and Elvis Costello. The Spinners were inducted into The Vocal Group Hall of Fame in 1999. Tickets are $35, $39 and $49 for their 8 .m. show.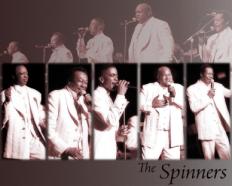 The second "Pirates of the Colorado River Regatta" will take place along the banks of the Colorado River on Aug. 15 and 16. This bi-state regatta welcomes fun-loving, outdoor enthusiasts to ride on adorned inner tubes; decked out kayaks and canoes; and decorative, non-motorized parade-type floats for a colorful race down the Colorado River. Launching takes place on Saturday morning from both sides of the river and culminates in a picnic and awards ceremony at Rotary Park. The entry fee is $12 for adults and $6 for children 8-18.
CONTINUE ON TO...:
>THIS WEEK'S LAS VEGAS NEWS
>LAST WEEK'S LAUGHLIN NEWS
>VEGAS VIEW FULL ARCHIVES
>Return to "Heard Around Town"
>Return to Las Vegas Leisure Guide