TROPICANA EXPRESS BOOKS LOS LONELY BOYS
Los Lonely Boys is a Grammy Award-winning rock band from San Angelo, Texas. They play a style of music which they dub as Texican Rock n' Roll, combining elements of rock 'n' roll, blues, soul, country, and Tejano. Tickets for their 8 p.m. show are $35, $45 and $55.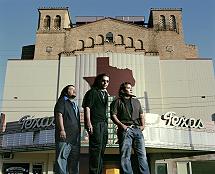 The band consists of three brothers, Henry (guitar, vocals), Jojo (bass guitar, vocals), and Ringo (drums, vocals). They follow the tradition of their father, Ringo Garza Sr., who formed a band with his brothers called The Falcones. The Falcones played conjunto music in southern Texas during the 70s and 80s. To date, Los Lonely Boys has released three studio albums and a live album, all on the Epic Records label. Their debut single, "Heaven," was a No. 1 hit on the "Billboard" adult contemporary chart.
RIVERSIDE PROMOTES TRIBUTE BANDS ALL SUMMER
Audiences are seeing double all summer long at the Riverside as tribute acts take over Don's Celebrity Theatre.
The remaining lineup is July 28-Aug. 2: Desperado - A Tribute to the Eagles; Aug. 5-9: "Good Vibrations - A Tribute to The Beach Boys;" Aug. 11-16: Trent Carlini - "The Dream King", Elvis tribute show; and Aug. 18-23: Skynnyn Lynnyrd - tribute to Lynyrd Skynyrd.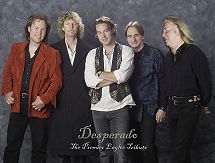 The quest for a tribute band is to accurately represent and replicate the original group. That's the accomplishment Desperado enjoys every time they pay tribute to the Eagles. The five talented members of Desperado have set out to resurrect this once prominent blueprint back into the fiber of today's Southern California music scene and to musically demonstrate the fact that imitation is the highest form of flattery.
Show tickets range from $20 to $28 and $32.50 for "Hot August Nights - Celebrating the Music of Neil Diamond" starring Barrie Cunningham, Aug. 25-30. For tickets, call 1-800-227-3849, ext 616.
HARRAH'S LINES UP COMEDIANS
Comedians are booked into the Fiesta Showroom at Harrah's in July with "LAUGHlin Out Loud ("LOL") Comedy." Stand up comics, Pete George and Marc Yafee, are booked July 25-29. Shows are at 8 p.m., Saturday-Wednesday. Tickets start at $15.95 (must be 17 years or older; ages 7-16 must be accompanied by an adult), call 800-447-8700 or 702-298-8510.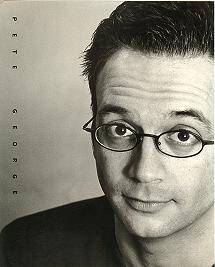 George's act has worked for him for more than 20 years and he has even taken his act in the air, as an in-flight comedian for Continental Airlines. He's also an actor and has appeared in several TV shows including "Family Law" and "Strong Medicine" as well as a string of television commercials. George has a CD out called "Comedy You Can Dance To."

TOP OF NEXT COLUMN
RIVER PALMS GOES THE COMEDY ROUTE
Sammy's Comedy by the Shore is ongoing at the River Palms with accomplished comedians rotating weekly and performing Wednesday-Sunday at 8 p.m. Tickets are $15 and $25, call 800-835-7904. Look for Mick Lazinski and Carl Degregario, July 29-Aug. 2.
Lazinski has headlined comedy clubs all over the country and opened for such acts as Joan Rivers, Craig Ferguson and the legendary George Carlin. His television appearances include "The Ben Stiller Show" on Fox, "Showtime All-Stars VII" on Showtime, and "Evening at the Improv" on A&E.
EDGEWATER GOES WITH COMEDY ALL SUMMER
Two stand-up comedians are performing in Kokopelli's Showroom at the Edgewater every Friday, Saturday and Sunday at 7 p.m. through Aug. 9. The remaining summer lineup of comedians is: July 31-Aug. 2-Barry Neal and Debbie Praver, and Aug. 7-9-Dante and Ken Pringle. Tickets for "Comedy at the Edgewater" are $10, call 702-298-2453.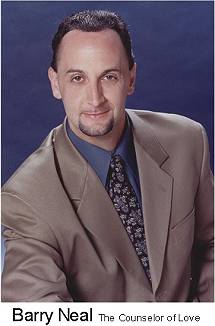 Neal style is easy going and clean and his audiences range from 18-80. He grew up in a suburb of Chicago as the youngest of four siblings. He excelled at many sports but hockey rose up to become his first love. In his teens, Neal was the goaltender for the Midwest Champion Evanston Wildkits Hockey Team and traveled to Europe representing the United States.
Later he attended Northwestern University where he became part of the famous Mee-Ow show Improv troupe. Their director, Dan Patterson, executive producer of "Who's Line Is It Anyway?" took the troupe to Scotland to perform in the Edinburgh Festival where they had a successful month-long run and critical acclaim.
After college, Neal moved to Los Angeles where he began his standup career. After two years, he became a regular at The Improv. He soon began being seen on numerous TV shows including "The Tonight Show," "Evening At The Improv," MTV's "Half-Hour Comedy Hour," and "Comedy Central."
NEXT CITYWIDE EVENT IS THE 'YA GOTTA REGATTA'
The "Ya Gotta Regatta" will be held Aug. 28 and 29. For information, call The Laughlin Chamber of Commerce, 702-298-2214 or 800-227-5245; or visit www.laughlinchamber.com. For regatta information, visit bullheadregatta.com.
The annual 11-mile "float" on the Colorado River will launch from sites at Fisherman's Access at the Riverside Resort and Bullhead Community Park and go to the ending site, which is Rotary Park in Bullhead City. This event on Aug. 29 starts at 8:30 a.m. and kayaks will launch from Davis Camp at 8 a.m.
This year's theme is "Birthday Bash" in celebration of Bullhead City's 25th birthday. Thousands of entrants participate in this group float. There will be a "Best Bartender on the River" contest sponsored by the Soroptimist International Inc. of Bullhead City/Laughlin that will kick things off at Bullhead Community Park on Aug 28 from 5 to 10 p.m. A Gorilla Flotilla Monster Bash with food, vendors, game booths and regatta awards ceremony will take place at the float end site at Rotary Park on Aug 29 from 10 a.m. to 4 p.m.

CONTINUE ON TO...:

>THIS WEEK'S LAS VEGAS NEWS
>LAST WEEK'S LAUGHLIN NEWS
>VEGAS VIEW FULL ARCHIVES
>Return to "Heard Around Town"
>Return to Las Vegas Leisure Guide