THE BEACH BOYS VISIT THE E CENTER

Legendary Rock & Roll Hall of Fame Surf Rockers, The Beach Boys, will appear at the Edgewater's 2,600-seat E Center on Sept. 4. The band that changed the musical landscape of American rock 50 years ago is enjoying resurgence in popularity through their latest world-rocking Capitol Records release, "The Very Best Of The Beach Boys: Sounds Of Summer." Tickets start at $25.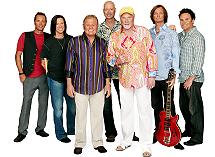 E CENTER EPICUREAN AMERICANA EVENT WILL AID RIVER FUND
A special new culinary event, Epicurean Americana, is slated for Aug. 6 in the Edgewater's E Center, a new 27,000-square-foot climate controlled entertainment, exhibition and event center. The event will feature dining experiences from 11 different American culinary centers as well as nine different beverage booths.
Tickets are $25 at www.edgewater-casino.com or from the Edgewater Casino Cage. For every ticket sold, $2 will be donated to the River Fund, a non-profit dedicated to assisting community residents.
COLORADO BELLE's PINTs' WILD CARD BREW WON BRONZE
Laughlin's only brewery, Pints Brewery & Sports Bar at the Colorado Belle had its Pints' Wild Card Honey Wheat Beer awarded the Bronze medal in a category for flavored beers at the prestigious North American Brewers Association 17th Annual Mountain Brewers' Fest held in Idaho Falls, Idaho. The beer was one of 1,200 entries from 33 states and eight countries submitted for judging. A unique event sanctioned by the Brewers Association, the competition provides an opportunity for small independent breweries to be judged with major national breweries. Judging was by certified judges, brew masters from major breweries, beer experts and beer journalists in single blind sampling by panels of judges.
Currently on tap at Pints are: Pints Premium Golden Ale; Rehab Red; What the Puck Pale Ale; Jackass Stout; Bodacious Blueberry Ale; and Wild Card Brew.
AQUARIUS GIVES TO BOYS & GIRLS CLUBS
The Aquarius donated $10,000 to the Boys and Girls Clubs of the Colorado River on July 8 to help area youth reach their full potential. During the check presentation, Aquarius general manager Sean Hammond challenged organizations, businesses and individuals to match the Aquarius' donation.
TROPICANA OFFERS NEW DIXIELAND BRUNCH
The Tropicana has introduced a weekly Sunday Dixieland Brunch in the Roundhouse Buffet from 7 a.m. to 2 p.m., featuring dining and a live Dixieland Jazz Band. The meal is $12.99 with a Trop Advantage Card.
EDGEWATER AND BELLE MARGARITAS WIN AWARDS
The Edgewater and Colorado Belle team members brought home a first and third place for a pair of spins on the classic margarita at the 2011 Fiesta Margarita Contest, an annual event which supports the area Boys & Girls Club of the Colorado River. Both beverages were inspired by the Edgewater's nightclub, the Inferno. The Devil's Blush, an enhanced strawberry margarita, which is available for purchase at the River Bar and the O'Aces Bar at the Edgewater, won Best Blended Margarita on the River. The Hell's Fire margarita, spiced up with ginger, among other ingredients, won third place for on-the-rocks margaritas. Team members were especially pleased to win second place in the People's Choice Category. Their booth collected cash donations for the Boys & Girls Club in lieu of tips.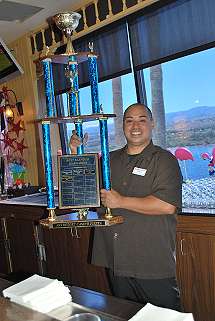 HUEY LEWIS & THE NEWS PERFORM AT THE E CENTER
Grammy Award winners Huey Lewis & The News will perform at the 2,600-seat E Center on Aug. 20 at 8 p.m. on their "Soulsville Tour." Tickets start at $25.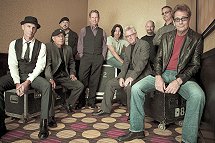 Their live performances feature a horn section and a capella renditions of classics such as "Sixty Minute Man," "Under The Boardwalk" and "It's Alright." Huey Lewis & The News have outlasted countless trends, selling more than 20 million albums worldwide, and writing and performing classic Top 10 Hits. The group wrote and performed "The Power of Love" and "Back in Time" for the hit film "Back To The Future." "The Power of Love," which was nominated for an Academy Award, went all the way to No. 1 on Billboard's singles chart.
TOP OF NEXT COLUMN
THREE RESORTS OFFER TRIBUTE ACTS
If you can't see the Real McCoy, tribute acts offer a great option.
Tribute shows lined up this summer at the River Palms include: July 30 - Z Band tribute to ZZ Top; Aug. 6 Bonfire tribute to AC/DC; and Aug. 13 Faux Collins tribute to Phil Collins and Genesis. The Z Band pays close attention to the true recorded sounds of ZZ Top's music and has traveled worldwide together. Shows are in the 2700 Club at 9 p.m. and tickets are $10.
The Riverside is hosting tribute acts in Don's Celebrity Theatre. Upcoming tribute shows include Good Vibrations - a tribute to the Beach Boys July 28-31 and Lights: A Tribute to Journey Aug. 4-7.
The Tropicana has lined up tribute acts to perform in The Pavilion Theater on Saturday nights at 8 p.m. Tickets are $10. Tribute acts lined up include: Alice in Cooperland - tribute to Alice Cooper on Aug. 6; The Joshua Tree - tribute to U2 on Aug. 13; Don't Look Back - tribute to Boston on Aug. 27; With A Bible & A Gun - tribute to Johnny Cash on Sept. 3; and Malo and Tierra Sept. 30-Oct. 1.
HARRAH's HAS 'COMEDY A GO-GO' ON WEEKENDS
Harrah's has lined up "Comedy A Go-Go" every Friday, Saturday and Sunday night in the Fiesta Showroom through Aug. 21 at 8 p.m. The show hosted by Zach Risan features sexy burlesque dancers and a lineup of headlining rotating comedians. Tickets are $14.99 and $19.95.
Upcoming comedians include: The Stagebenders - July 29-31; Derek Hughes – Aug. 5-7; Carl Labove – Aug. 12-14; and Tom McTigue -Aug. 19-21.
EDGEWATER REALLY CRACKS US UP
The Edgewater sticks with "Comedy on the Edge" in the showroom every Friday, Saturday and Sunday at 7 p.m. Each show features two stand-up comedians. Upcoming acts are: July 29-31 Barry Neal and Roxy Rich; Aug. 5-7 Del Van Dyke and Debbie Praver; Aug. 12-14 Mick Lazinski and Dana Eagle; Aug. 19 Mike Muratore and Matt Walker; Aug. 20-21 Allan Stephan and Frazer Smith; Aug. 26 Bob Kubota and Keith Ellis; and Aug. 27-28 Vince Valenzuela and Travis Howze. Tickets are $10 at the Edgewater Casino Cage or the door.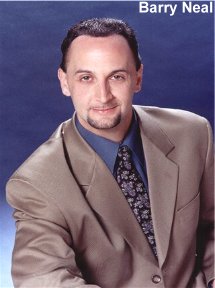 Barry Neal attended Northwestern University where he became part of the famous Mee-Ow show Improv troupe. Their director, Dan Patterson, executive producer of "Who's Line Is It Anyway?" took the troupe to Scotland to perform in the Edinburgh Festival where they had a successful month-long run and critical acclaim. After college, Barry moved to Los Angeles where he became a regular at The Improv and soon began being seen on numerous TV shows. Along the way, Neal married and has been successful in the relationship. Now he's dubbed "The Counselor Of Love" and preaches the benefits of love and marriage.
QUICK CLIPS
Tom & Sharon's Ballroom, Dance Party at the Riverside is scheduled on Saturdays Aug. 6 and 27 from 1:30 – 4 p.m. Admission is free. For more information about parties or dance classes, call 928-754-2097.
There will be a themed outdoor event at the Avi on Aug. 6 called "JamaicanMe Krazy." The party will be at the Avi Beach Overlook with Caribbean music by Carnival Factory, plus a Jamaican feast dinner on Study from 7 -10 p.m. Cost is $15 for food.
The Bullhead City River Regatta is an eight-mile float event on the Colorado River, Aug. 11-13. Inner tubes, rafts and floats will compete in various divisions with a kayak race division included on Friday over a longer course and a "Wake the Plank" - Wake Board and Wake Skate competition with multiple divisions on Thursday and Friday. The event theme is "Pirates of the Colorado" and participants are urged to dress the part and decorate their "floats" accordingly. More activities include: a float poker run; "Ya Gotta Party" with a variety of events and music at Bullhead Community Park on Friday 5-10 p.m.; and a "Hafta Afta Party" at Rotary Park in Bullhead City. For complete information and registration, visit bullheadregatta.com.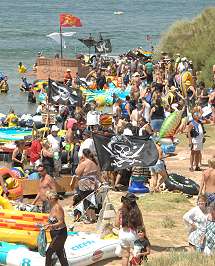 On Aug. 20, The Avi will hold an "Asphalt Cowboys" party at the Avi Beach Overlook with music by Asphalt Cowboys plus a BBQ dinner on Saturday from 7-10 p.m. Cost is $12 for food with beverages sold separately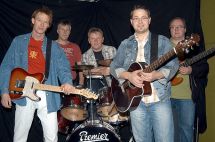 A Battle of the Bands will be held at Harrah's Beach on Aug. 27. There will be a variety of bands in a showdown for prizes on Saturday from 6-10 p.m. Admission will be free and drinks will be sold separately.

CONTINUE ON TO...:

>THIS WEEK'S LAS VEGAS NEWS
>LAST WEEK'S LAUGHLIN NEWS
>VEGAS VIEW FULL ARCHIVES
>Return to "Heard Around Town"
>Return to Las Vegas Leisure Guide