The Aquarius will host a special concert featuring Heart on Aug. 4 at 9 p.m. in the air-conditioned, 1,958-seat Aquarius Indoor Pavilion. This will be one stop on their first tour promoting "Jupiters Darling," their first new album in more than a decade. Tickets are $44.95 and $54.95, call 800-435-8469.
Over their illustrious career, Nancy and Ann Wilson have always produced compelling music by following their creative impulses. The Wilson's chemistry has to date yielded sales of well more than 30 million albums, with more than 20 Top 40 hits.
With 29 plus years and more than 5,000 performances under their collective cowboy belt, Riders In The Sky will make a stop at the Riverside Resort, Aug. 9-12. Tickets for their 8 p.m. shows are $27, call 1-800-227-3849 ext. 616.
The multi-Grammy Award winning western music group, whose music is firmly grounded in the rich American music traditions of such legendary cowboys singers as Gene Autry, Roy Rogers, and the Songs of the Pioneers, are themselves legends. Their fun-filled performances have enchanted audiences of all ages.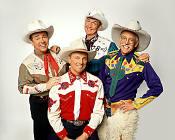 The Riders-Ranger Doug (Idol of American Youth), Woody Paul (king of the Cowboy Fiddlers), Too Slim ("a Righteous Tater") and Joey (the CowPolka King), have single handedly revived and revitalized and entire music genre since they formed in 1977. The Riders recently were added to the prestigious Walk of Western Stars in Newhall, Calif.
Foremost on their list of achievements are their Grammy albums "Woody's Roundup featuring Rider in the Sky" was a "companion album" for the soundtrack of the 1999 Walt Disney/ Pixar animated classic "Toy Story 2," which contained their delightful version of "Woody's Roundup." The album won the Grammy for Best Musical Album for Children in 2001, an honor the Riders received again two years later for their Walt Disney Records release "Monster's Inc.- Scream Factory Favorites," another animated film classic musical tie-in.
As real-life characters, the Riders continue to record seasonal episodes of Riders Radio Theatre, a radio program that's been broadcast by over 170 public and commercial stations since 1989. Riders have also served as spokesmen for the National Parks Service, Opryland, and such varied products as Levis, Taco Bell, Coke, and Cheer.
The former River Sands Theatre at the River Palms is featuring The Comedy Shop through Sept. 15 with a rotating lineup of stand-up comedian. Shows are nightly except Sunday at 9 p.m. Tickets are $14.95 for general seating and $19.95 for preferred seating; Players Club members receive two-for-one tickets. For tickets, call 1-866-448-7849.
All of the comics Laughlin audiences will see have made appearances on national TV whether it is HBO specials, Comedy Central, Premium Blend, "The Tonight Show," "The Late Show" or others. Future comics include names like J.J. Walker, Nancy Ryan, Billy Garan and Kathleen Dunbar.
There's a Tea Dance every Sunday at The Dance Club at the Riverside from 2 to 5 p.m.

TOP OF NEXT COLUMN
Dennis Blair will be appearing with Carlos Oscar and host Anthony Marino this week, July 23-28. Blair has been a Vegas comic who has opened for George Carlin for years. He's been in the underdog position as the opening act to a big name for more than 20 years. Blair has extra talent going for him, music. His act incorporates huge doses of song parodies.
Blair is a true Renaissance man. He is also an accomplished screenwriter, award-winning songwriter, and comedic actor. He also has performed on "The Tonight Show," and HBO, has co-hosted the Stephanie Miller Radio Show with friend Elayne Boosler. He has entertained everywhere from Carnegie Hall in New York to the Universal Amphitheater in Los Angeles and even at the Kennedy Center in Washington, D.C.
He also won an Emmy Award for both writing and voice-overs for the animated film "Confessions of a Standup." Blair has released two stand-up comedy CDs, "Live Performance Anxiety," and "Words, Music and Drunks," as well as a CD of original songs entitled "I Sleep Naked In The Rain."
"Todd Luxton: The Ultimate Elvis Tribute Show" will be headlining at the Fiesta Showroom at Harrah's from Aug. 11-23; however, there will be no shows on Aug. 14, 17 and 21. Tickets start at $17.95, call 800-447-8700.
Luxton, born Dec. 28, 1970 in Michigan, donned an Elvis costume on Halloween night in 1976. Little did anyone know that some 27 years later, Luxton would still be wearing Elvis costumes, although not from K-Mart or Target this time, but designed by the very same man that made Elvis Presley's jumpsuits and costing in the range of $2,500 each.
His first paid Elvis appearance was at the age of 15, performing at a Bat Mitzvah for the nominal sum of $75. In high school, he won a talent show impersonating Elvis and also won the supporting lead role of Kenickie in "Grease." He graduated from Western Michigan University in 1994 with a degree in Political Science and Business Management.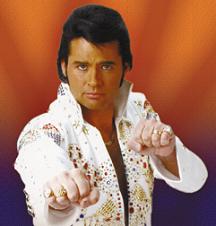 He moved to Arizona and gained experience fine tuning his performance. He has won every Elvis contest he has entered, including one in Michigan and three in Arizona. Luxton has been performing Elvis for more than 17 years.
It will be a Parrothead Weekend at the Avi over Aug. 3 and 4. Various Jimmy Buffet-style bands will play in both the ArrowWeed Lounge on Friday, Aug. 3, and the Convention Center on Saturday, Aug. 4. For information, call 702-298-535-5423.
"Follies Magnifique" is a topless revue playing at the Ramada Express in the American Heroes Pavilion through Sept. 17. Tickets are $19.95, call 800-243-6846. The Ramada Express will be changing its name to Tropicana Express.
The North Reach project will be the first part of the sprawling, gigantic Colorado River Greenways Heritage Trail, a system which will extend from Davis Dam to the Veterans Memorial Bridge over the river at the Avi. Laughlin has received approximately $32 million to go towards the regional park, with about a year needed to do the initial building that should begin next year. In all, the North Reach will include about 2,300 acres.
CONTINUE ON TO...:
>THIS WEEK'S LAS VEGAS NEWS
>LAST WEEK'S LAUGHLIN NEWS
>VEGAS VIEW FULL ARCHIVES
>Return to "Heard Around Town"
>Return to Las Vegas Leisure Guide