The Luxor, named for a historic Egyptian city, will keep its name as it precedes with de-theming the 4,500-room property. The Isis and Sacred Sea restaurants have been closed and Egyptian hieroglyphics and other symbols are being eliminated. The MGM Mirage and its joint venture partners in Luxor are investing approximately $300 million to remodel 80 percent of the resort's public areas and add trendy lounges, restaurants and an ultra-hip nightclub to accomplish this goal.
Earlier this year, the Aurora Lounge near the hotel lobby opened to replace Nefertiti's Bar. The 26,000-square-foot LAX Nightclub, an offshoot of the trendy Los Angeles nightspot of the same name, is slated to open around Labor Day in the space formerly known as RA.
A trio of venues will encompass 45,000 square feet and be connected to one another. LAX will anchor the complex and nightclub action while the 10,000-square-foot Company American Bistro will satisfy palates. It will have a boutique rustic feel featuring a fireside lounge surrounded by aspen trees and hurricane lamp candles.

Column Continues Below Advertisement


Rounding out the trio will be Noir Bar, an ultra-chic speakeasy accessible through a private entrance. The exclusive nightspot will be intimate, sexy, and layered in rich leathers and gleaming crystals.
Another venue opening this fall will be the CatHouse, a restaurant and European-style lounge, located in the upstairs area above the casino. It will replace Isis and Sacred Sea. Celebrity chef Kerry Simon, who operates Simon Kitchen and Bar at the Hard Rock, will serve as executive chef. The waitresses will be wearing very provocative bikini based outfits.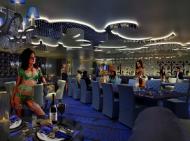 Earlier next year, the Luxor Steakhouse is scheduled for remodeling and the pool will also receive a makeover. In addition, the 2,500 hotel rooms in the Luxor pyramid will be remodeled.
Last week, comedy-magician Tim Gabrielson opened his afternoon show for an extended indefinite run at the House of Blues at Mandalay Bay. Performances of "Keep It Funny starring Tim Gabrielson" run six days a week, Saturday through Thursday, with show times daily at 3 p.m. Shows are suitable for all ages. Tickets are $19.95, call 702-632-7600.
Gabrielson has performed at such Las Vegas venues as Harrah's, Monte Carlo, Circus Circus, Rio and others. He is currently performing more than 200 dates a year with corporate clients including Pepsi, 3M, IBM, General Mills and many others.
Fresh off of the success of their latest single "Tarantula" from this month's anticipated album "Zeitgeist," underground rockers Smashing Pumpkins have announced their North American tour dates, which include a stop at the Pearl Concert Theater at the Palms. The show will take place Thursday, Sept. 13 at 8 p.m. just days after the MTV Video Music Awards take the stage at the same venue. Tickets are $60.50, call 702-474-4000.
The Smashing Pumpkins formed when Billy Corgan returned to his home town of Chicago in the late '80s and met guitarist James Iha. The two began working together - performing and recording with the help of a drum machine. At one of their performances, Corgan met D'Arcy Wretzky, who eventually became the group's bassist and later Jimmy Chamberlin joined as the drummer.
In 1993, the Smashing Pumpkins became a familiar name to underground and alternative rock fans with the release of "Siamese Dream." In 1995, "Mellon Collie and the Infinite Sadness" was released with hit singles that placed it at the top of every rock chart and eventually pushed the album to sell more than four million copies in the United States alone. The album was eventually certified platinum more than eight times - a feat not many rock bands of their stature have accomplished.
Following line up changes and a farewell tour in 2000, the Smashing Pumpkins have reunited.
"Hello Dere!" starring Marty Allen and Karon Kate closed at the Gold Coast last month.
The former VooDoo Café on the 50th floor of the Rio's Masquerade Village is now the VooDoo Steak restaurant with a new menu that's French Creole-influenced and a new room chef, who was formerly at Prince's now defunct 3121 Jazz Cuisine. The 240-seat restaurant also has new table settings and new staff uniforms.
The chain restaurant Trader Vic's will be opening at the Planet Hollywood at the end of this summer.
The Light Group will be opening a Mexican concept restaurant, Diablo's Cantina, at the Monte Carlo in September.
There will be a Hip Hop Cultural Festival at the Sammy Dais Jr. Festival Plaza in Lorenzi Park on Sept. 8 from 6 to 10 p.m. Tickets are $10, call 702-229-1087.
A Wichita couple, David and Amy Feather, chose to make their 7-7-07 wedding experience truly memorable by performing their ceremony atop The Stratosphere Tower Observation Deck, approximately 1,000 feet above the Strip at exactly midnight. The couple completed their experience by riding on the Big Shot, the world's highest thrill ride.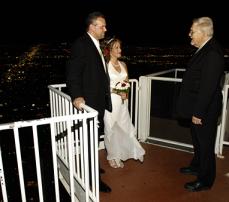 Steve Schirripa, who starred in the mob drama the "Sopranos," has returned to Las Vegas to work on Spike TV's "Casino Cinema." Based at the Hard Rock, the show will feature "an insider look" at Las Vegas with Schirripa interviewing industry workers. Before the "Sopranos," he was the Riviera's entertainment director. Ladies from the "Crazy Girls" show at the Riviera will be in vignettes that will be part of the episode to air on Monday, Sept. 10.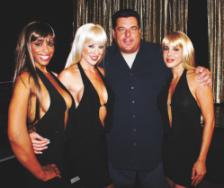 It's been almost eight years since a major exhibition of Picasso's unique ceramics have been on display. Now more than 30 of Picasso's rare ceramic creations, donated directly from the artist's grandson's personal collection, are on display at the Bellagio Gallery of Fine Art.
The exhibit opened almost one month ago and will be toured by its benefactor, Bernard Ruiz-Picasso on Friday, July 27.
Pinnacle Las Vegas will be bulldozing an existing building to make way for construction of a new condominium resort-hotel that will be close to The Orleans off Tropicana and Cameron Avenue. The Falcon Group has owned the 12-acre Pinnacle Las Vegas site for the past 20 years and carefully planned their development over the past two years.
Pinnacle will be a self-contained resort high-rise community with shops, restaurants, offices and a total of 1,095 custom residences. It will have two 35-story towers when it opens in 2009. Studios will start in the mid $300s, one bedrooms in the low $500s, two bedrooms in the low $600s, and 3 bedrooms in the mid $900s. Two-story penthouse and sky-high bridge suites will also be available at a later date as well as 31 detached town homes surrounding The Wet Deck.
The heart of Pinnacle will be the expansive pool and social deck, called The Wet Deck, which will have more than three acres of amenities on the sixth floor. There will be a quarter-mile track, two pools - one with its own island, the Bite Bar, putting green and private cabanas. Energie will be a fully-equipped fitness center and Touch will be the full-service spa, strategically located in the sixth floor bridge with views of the poolside action. The Dive-in Theater will have first run films shown at night as residents float in the hibiscus-shaped pool.
Comedian Billy Gardell along with Carl Rimi and Warren Durso will headline the Riviera Comedy Club the week of Aug. 6 at 8:30 and 10:30 p.m. Tickets are $19.95, call 702-794-9433.
Coming from a broken home, Gardell struggled through his awkward teens as an overweight misfit. He learned at an early age that a strong sense of humor is not only a convenient weapon, but an absolute must for dealing with life in an unstable environment.
Living in Central Florida, he took part-time jobs to help his mother support his younger brother and sister, while simultaneously writing, directing and starring in a high school production titled, "Winter Park Live. He portrayed a "show-stopping Ralph Kramden."
Eventually Gardell discovered comedy clubs and Florida audiences declared him an instant hit with his bold honesty and overwhelming stage persona. By 1989 and still not old enough to legally drink alcohol, Gardell was the most requested act amongst the regular patrons at Bonkers Comedy Club in Orlando. Gardell has appeared on MTV, A&E and mainstream television with appearances on CBS' "King of Queens," ABC's "It's Like, You Know_," NBC's short-lived "Battery Park" and HBO's "Best of the Fest."
SpeedTV's PINKS All Out Las Vegas will invade The Strip at Las Vegas Motor Speedway (LVMS) Saturday, Sept. 8. This open-competition event will feature the fastest cars in a heads-up (first car to the finish line wins), $10,000-to-win shootout (with a total purse of $18,000).
The event, which is not a typical PINKS "race-for-titles" competition, is open to any full-bodied "door car" (no dragsters, Altereds, roadsters, etc.). Cars must run 12.99 sec. or quicker in order to be able to register. All cars must pass a safety inspection and all participants must sign a release waiver.
All participants will receive two qualifying runs on Saturday, Sept. 8. Following qualifying, PINKS host Rich Christensen and his crew will select 16 racers to compete in the $10,000-to-win, heads-up shootout.
Spectator tickets will go on sale Monday, July 23, for more information, call 702-632-8213.
CONTINUE ON TO...:
>THIS WEEK'S LAUGHLIN SEGMENT
>LAST WEEK'S LAS VEGAS SEGMENT
>VEGAS VIEW FULL ARCHIVES
>Return to "Heard Around Town"
>Return to Las Vegas Leisure Guide