RIVERSIDE FEATURES MUSIC OF BROOKS AND DUNN!

"Neon Circus-The Music of Brooks and Dunn" will be performed in Don's Celebrity Theatre at the Riverside, July 20-Aug. 4. Tickets are $30 for the 8 p.m. show.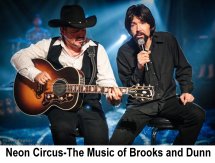 Neon Circus is a live accurate tribute to country music's legendary duo Brooks & Dunn whose 20-year career includes selling more than 30 million albums. Neon Circus features authentic performances of Brooks and Dunn's No. 1 hits such as "My Maria," "Only in America," "Neon Moon," "You're Gonna Miss Me when I'm Gone" and many more. With a true passion and love for their music, the show's producer Drew Baloh has incorporated every small detail of the original Brooks & Dunn live performances.
THE SPINNERS PERFORM THEIR HITS AT THE EDGEWATER
The Spinners, who have been active for more than 50 years, will be headlining at the E Center at the Edgewater on Saturday, Aug. 3 at 8 p.m. Tickets are $15.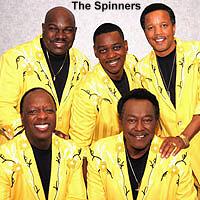 The six-time Grammy-nominated R&B singers with 12 gold records and hits on both R&B & pop charts have sold more than 60 million records, performed for presidents and received a star on the Hollywood Walk of Fame. They are one of the few groups who can boast of four lead singers. Original members Bobbie Smith, Henry Fambrough, and Pervis Jackson are joined onstage by lead singer Charlton Washington, high tenor Harold "Spike" Bonhart and a soul-infused five-piece band.
In 1972, The Spinners signed with Atlantic Records and teamed up with producer Thom Bell, setting into motion an amazing recording career. A partial list of their hit singles on Atlantic include "Mighty Love," "Then Came You," "I'll Be Around," "One Of A Kind (Love Affair)," "Games People Play," and "Could It Be." Other past releases include songs on the motion picture soundtracks of "Twins" and "Spaceballs," and a single on Arista Records, a duet with Dionne Warwick entitled "Then Came You."
CALIFORNIA'S MORGAN LEIGH WON TALENT CONTEST AT RIVERSIDE
Morgan Leigh from Southern California won the 32nd Annual Texaco Country Showdown local competition held in the Starview Room at Don Laughlin's Riverside Resort on July 11. This was the 13th time Highway Country (KIXW/KIXF) hosted the local contest as part of the largest country music talent search and radio promotion in the nation.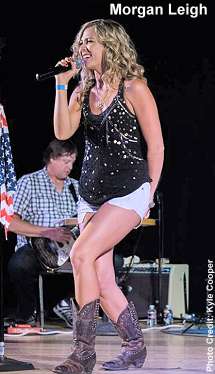 Morgan Leigh will go on to compete in a state final being held on Saturday, Sept. 28 at Tim's Toyota Center in Prescott Valley, Ariz. State winners vie for a $1,000 cash prize and the opportunity to advance to a regional competition in the fall. The five regional winners will be awarded an all-expense paid trip to the National Final where they will compete for the $100,000 Grand Prize and the National Title.
Over the years, Leigh has been awarded titles such as: Top Ten Best Female Vocalist (IPOP); Best Female Singer (Star Rep.); "Artist to Watch 2013" Jag Idol; and 3rd Runner Up Teen Star of the Year (Las Vegas). In spring 2011, she released her first four-song EP, "Sugar," co-written with Grammy nominated superstar, Jamie O'Neal, and produced by Nashville engineer, Rodney Good. Leigh is a former Hollywood golden ticket finalist on "American Idol" finishing her Idol journey as one of the top 50 girls on the final day of Hollywood week.
In 2011, Leigh began songwriting with fellow singer-songwriter Paul Coughlin and they recently began working on her their upcoming full-studio album due out this year. With new opportunities approaching, Leigh and Coughlin assembled other talented musicians to round out the Morgan Leigh Band.
EDGEWATER LINES UP COMEDIANS
Every weekend, two different comedians headline at the Edgewater Showroom Friday-Sunday at 7 p.m. Admittance is $10 and veterans with a military ID and ACCESS Club card receive a $2 discount.
Future bookings include: Aug. 9-11 Beny Mena and Cooley B; Aug. 16-18 Joey Medina and Mel Kohl; Aug. 23-25 Pete George and Jason Zelt; Aug. 30-Sept. 1 Kenny Bob Davis and Tim Haldeman; Sept. 6-8 Dennis Blair and Cliff Yates; Sept. 13-15 Dave Burleigh and Bobby Wayne Stauts; Sept. 200-22 Michael Goudeau and Tom Myers; and Sept. 27-29 Andy Beningo and Nate Armbruster.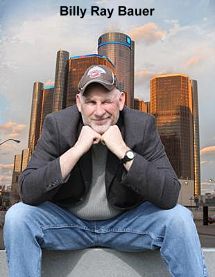 Billy Ray Bauer is teamed with Rich Slaton July 26-28. Bauer has been performing stand-up comedy across America for the last 18 years. He combines off-the-wall impressions and dialects with material ranging from skewed descriptions of growing up in Detroit in the sixties to the gory details of raising four boys in the new millennium. He adds to his routine mixing some unusual vocal acrobatics including impressions and dialects. Bauer has appeared with Drew Carey, Tim Allen, The Smothers Brothers, Lewis Black and Doug Stanhope.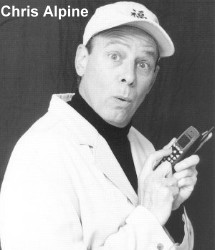 Chris Alpine and John Crist will co-headline Aug. 2-4. Versatile comedian-actor-writer-producer Alpine walks the line between goofy and genius. His good natured observations, quick wit and versatility have earned him recognition on HBO, Showtime, Comedy Central and A&E. He has worked with "Comics On Duty" for the last 15 years entertaining our troops all over the world. He's made a dozen trips to Iraq and Afghanistan bringing a taste of home and a Humvee full of laughs to America's men and women defending our freedom.
TOP OF NEXT COLUMN
AVI HOLDS 'LATIN LEGENDS LIVE' CONCERT
As part of the River Concert Series, "Latin Legends Live" featuring Tierra, Malo and Thee Midniters will take place in the Avi Grand Ballroom on Saturday, Aug. 10 at 8 p.m. Tickets range from $20 to $40.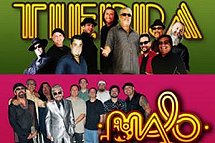 Tierra is the band named "Best R&B Vocal Group" by four leading magazines including "Billboard." They started their career in East Los Angeles with a blend of rock, pop, jazz, R&B and salsa. The result was a Latin R&B rhythm, which produced classics like "Together," "Gonna Find Her," "Memories" and "Zoot Suit Boogie." Tierra was the first Latino band to have four songs on the national chart and two simultaneously in the Top 100. Tierra is widely known to have played a role in opening doors for other Latino and non-Latino superstars of today, including comedian Paul Rodriguez, Arsenio Hall, Sheila E., Gloria Estefan, Los Lobos, Latino comic of the year, Rudy Moreno, and more. Tierra has a new CD, "Welcome to Cafe East L.A.," a bilingual album "Two Worlds/Dos Mundos," and a recently released Greatest Hits album.
In 1971, Arcelio Garcia, co-founder and lead vocalist of Malo, brought together a group of 10 fellow teenagers using the framework of his earlier bands. He had come to San Francisco at the age of three and, not knowing how to speak English well, he developed his own style of writing music in English and Spanish. Little did he know that this special combination of talents would produce the monster hit, "Suavecito." Only one year later, their first album was the No.2 album for November 1972 and Malo was also Top 20 for the year. Founder Garcia is known as an influencing force in the Bay Area music scene. It was vocalist Garcia that invited Jorge Santana to be a member of Malo long before anyone had heard of his brother Carlos. Malo still with10 pieces has kept the same energy after 25 years together.
The Midniters were an American group amongst the first Chicano rock bands to have a major hit in the US. Also they were one of the best known acts to come out of East L.A. in the 1960s, with a cover version of "Land of a Thousand Dances" and the instrumental track, "Whittier Boulevard" in 1965.
RIVERSIDE HONORS FRANKIE VALLI AND THE FOUR SEASONS
"Oh What A Night" tribute show to Frankie Valli and the Four Seasons is set at the Riverside, Aug. 6-11. Tickets are $30 for the 8 p.m. shows.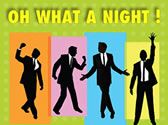 "Oh what a Night" is a musical revue written by Motown producer and creative consultant George Solomon, directed by award winning producer/director Michael Chapman with choreography by Paul Holmquist. "Big Girls Don't Cry," "Walk Like A Man," "Can't Take My Eyes Off of You," are just some of the many hits you'll enjoy from the dynamic songbook of those boys from Jersey, Frankie Valli and the Four Seasons. In 1990 Frankie Valli and The Four Seasons were inducted into the Rock And Roll Hall Of Fame and to this day their irresistible music continues to thrill all ages.
QUICK ITEMS
At the Aquarius, Monday, Aug. 19 through Sunday, Aug. 25, 2013, ace | PLAY card members will receive $10 in free slot play for every 2,000 base slot points earned. There is no cap on the amount of free slot play a player can earn. To take part in the promotion, guests must swipe their ace |PLAY card at anace |PLAY kiosk to activate the promotion after midnight on Monday, Aug. 19.
Jeff Bridges & The Abiders will visit the Edgewater's E Center on Saturday, July 27 at 8 p.m. with tickets ranging from $27.50 to $77.50. Bridges has had a life-long interest in music. He is one of Hollywood's most successful actors and a six-time Academy Award® nominee with an Oscar® for his winning role as Bad Blake, the down-on-his-luck, alcoholic country music singer in the iconic film "Crazy Heart."
The Avi will hold a "Jamaican Me Crazy" outdoor dinner party at the Beach Overlook with music by the reggae band Carnival Factory on Saturday, Aug. 3 from 7-10 p.m. Entertainment is free and food is sold separately; buffet only is $23.
BULLHEAD CITY RIVER REGATTA COMING UP
The Bullhead City River Regatta is the annual eight-mile float down the Colorado River by inner tube or on a non-motorized themed float. It will be held on Saturday, Aug. 10 and the theme for this year's float event is Mardi Gratta. More than 40,000 people are expected to participate.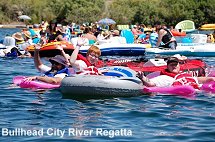 The city-wide event will include trophies for best theme rafts, regatta party, and events at various casinos. For additional information including registration and rules, visit www.bullheadregatta.com.
LAUGHLIN OFFERS ROUNDTRIP TOUR TO LAKE HAVASU
London Jet Boat Tours is a long-time operating local company specializing in round-trip jet boat tours on a boat with a cruising speed of over 40 mph. The tour boat is open with shade canopies. Tours are offered seven days a week and go from docks at the Pioneer, Edgewater and Harrah's Laughlin to Lake Havasu and the London Bridge's English Village. The six-hour, round-trip tour goes through the scenic Topock Gorge and includes a two-hour layover at the London Bridge to enjoy the restaurants and shopping. Reservations are recommended, call 702-298-5498 or 888-505-3545; or visit www.laughlinboattours.com.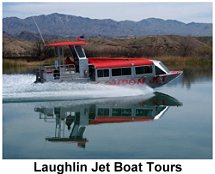 LAKE MOHAVE OFFERS MORE WATER FUN
While the Colorado River is Laughlin's main focus, Lake Mohave with 237 miles of shoreline is close by and a jewel area stretching miles behind Davis Dam just north of the Laughlin Bridge. It offers coves to explore, fishing, camping on its banks and wave riding. If you don't have your own boat or WaveRunner, Seven Crown Resorts at Lake Mohave's Katherine Landing offers small boat rentals and personal watercraft rentals including everything from aluminum fishing boats, to ski boats that seat six people and even patio boats for 10 people. The resort also rents Yamaha personal watercraft.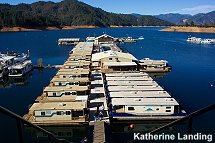 Full-day, half day, weekend and seven-day rentals are available as well as two-hour and four-hour rentals. Boat rental location is adjacent to the convenience store at Katherine Landing. For more information, call 928-754-3245 or 1-800-752-9669.

Katherine Landing is a complete lakeside resort area with a marina, boat slips, boat rentals, launch ramp, sandy beach with barbecues and picnic area, campgrounds with and without RV hookups, motel boat storage yard, boat repair shop, store, restaurant and lounge. Nature hike and ranger interpretive programs are held fall through spring. For details, call the Katherine Landing Ranger Station at 928-754-3272.


CONTINUE ON TO...:
THIS WEEK'S >LAS VEGAS NEWS
LAST WEEK'S >LAUGHLIN NEWS
>VEGAS VIEW FULL ARCHIVES
Return to >"Heard Around Town"
Return to >Las Vegas Leisure Guide