Versatile Emmy award-winning comedian Wayne Brady is becoming a permanent fixture on the Las Vegas Strip. After an overwhelming response to his initial limited engagement, Brady has inked a year-long deal to keep "Making It Up" at the Venetian through mid-2008 and to perform a minimum of 130 performances over the next year,
Brady's hit live show features improvised antics, his musical talents and limitless impersonation skills as showcased on the hit show "Whose Line is it Anyway?" and the syndicated talk show "The Wayne Brady Show." As of this past week, Brady can also be seen as host of the new game show "Don't Forget The Lyrics!" on FOX.
Comedian Kevin Burke tackles the battle of the sexes in the Rob Becker-scripted one-man show at the Golden Nugget. The broad appeal to "Defending the Caveman" is surely the reason for the show's success on Broadway. Burke has been starring in the Broadway tour of this production that seems perfectly suited to him with his unassuming character that is similar to Kevin James role as Doug in "King of Queens."

Column Continues Below Advertisement


The show's premise is based on the theory that the male's early role as "hunter" and the female's role as "gatherer" is how we arrived at the perpetual dual of the sexes. It is a subject that never runs dry and allows Burke to weave a show together that's half standup and half acting. It's the perfect theater piece for couples to enjoy together and for a ladies night out.
The meager set pieces are reminiscent of the Flintstone's television home with a stone television, stone couch, stone TV and two cave paintings, etc. Like the likable John Goodman, robust Burke delivers insightful commentary on why men can't help themselves. Proof that he's spoofing everyone is the fact he's been married 13 years and has two children.
Burke's background is quite impressive. He hails from a show biz family. His great grandmother was a vaudeville performer, his grandfather was a standup comedian who toured, and his mother was a singer. Burke began his performing career as a drummer in a band. He earned two college degrees, was a graduate of the Player's Workshop of The Second City and studied physical comedy with the Ringling Bros. and Barnum & Bailey Clown College. He has appeared in many plays, on numerous television shows, and won the grand prize on ABC-TV's "Americas' Funniest People."
You can check out the infamous Grammy Award nominated Kid Rock and his distinctive mix of thrashing and rapping at The Pearl at The Palms on Friday, Aug. 31 at 8 p.m. Tickets are $75, $125 and $175; call Ticketmaster at 702-474-4000.
The Detroit rap-rocker immersed himself in rap music, learned how to break dance and began performing in talent shows in the Detroit area. He exploded into superstardom with his fourth album, "Devil Without A Cause" in 1998, a year after shopping a demo. When rap-metal became popular he perfected his excessive white-trash persona to what it is today.
"The History Of Rock" album released in 2000 hit No. 2 on the Billboard Album Chart and "Cocky," quickly released one year later, included a top ten hit song Rock sang with Sheryl Crow entitled, "Picture" - showing a softer, country-influenced side of Rock. The album went platinum four times.
In 2003, Rock released a self-titled album and since has released a tribute album to Bob Seger entitled "Live Tucker" (2006) and another album "Pickin' On Kid Rock: A Badass Bluegrass Tribute" (2007) to show his down-home bluegrass side with guitars, banjos, mandolins and harmonica sounds.
The newest location of Station Casinos' Cabo Mexican Restaurant has opened inside Palace Station off the casino floor and replaced the Guadalajara Bar and Grille. Already serving up fresh, authentic Mexican dishes at sister properties Red Rock Resort and Santa Fe Station, the Palace Station location features seating for nearly 200 guests with a separate bar and lounge area. The restaurant is comfortable with brightly colored walls and intriguing mesh-wire-like ceiling and lighting fixtures. Food portions are big, building your own margarita is one of the highlights, and the chips are fresh. This worthwhile and affordable eatery is open nightly for dinner at 5 p.m. and the bar at Cabo is open from 9 a.m. to 1 a.m.
Displaying the talents of some of the world's best Spanish-style dancers and musicians, Lake Las Vegas Resort will present a set of cultural Flamenco shows called "Spanish Nights on the Lake" on Sept. 14 and 15, at 8 p.m. on the signature floating stage. Born out of Spanish and Gypsy traditions, Flamenco is a high-energy form of entertainment featuring sensual movement and fiery passionate music. Tickets are $10 for lawn seating, $25 for reserved seats and $35 for VIP seats.
Featuring two separate 90-minute performances on Sept. 14 and 15, "Spanish Nights on the Lake" will illustrate rich Spanish culture among the backdrop of the European-inspired resort. Each show will include performances by 16 world-renowned Flamenco singers, dancers, and musicians - and special featured guest artists per evening.
Two of the most popular acts of the '80s, Colin Hay of Men at Work and The Fixx, will perform at The Club at the Cannery in North Las Vegas on Saturday, Aug. 11. Tickets are $27.95, $17.95 and $12.95 call 617-5585 or 866-287-4643.
Hay is best known as the lead singer and songwriter of the Australian pop sensation Men at Work. The group was also one of the first pop icons of the video era. Hay continues to write and perform, including a narrative television special and a one-man stage show entitled "Colin Hay: Man at Work."
A leader of the British New Wave movement, The Fixx was first introduced to a mass audience in 1982, with their debut album, "Shuttered Room." In 1983, their next album, "Reach the Beach," immediately took off in the United States, led by the hit singles "Saved by Zero" and, the band's most popular song, "One Thing Leads to Another."
Modern rock band Godsmack is set to perform at The Pearl at The Palms on Friday, Aug. 3. Certified Gold in 1999, Godsmack received an invitation to play Ozzfest in 1999 and 2000, and went on to receive a few Grammy nominations. Tickets are $49.50; call Ticketmaster at 702-474-4000.
Godsmack was created in Boston. In 2000, the hit song "Vampires" from their CD, "Awake," earned the band's first Grammy nomination. After being asked to contribute to the movie soundtrack "The Scorpion King," Godsmack wrote the song "I Stand Alone," which became the most played rock song in 2002, received two Grammy nominations and toured with Metallica. The band's third CD "Faceless" in 2003 became the No. 1 album sold in America the week of its release. Their latest studio album "Godsmack IV" was released earlier this year.
LaPour Cos. is proposing four hotels totaling 800 to 1,000 rooms at the northeast corner of Paradise and Flamingo roads. The $200 million project called Paradise Place will have limited gaming. The first phase, slated to begin construction by the end of this year and open the second quarter of 2009, will be a newly branded Starwood Hotels and Resorts boutique hotel called Aloft. The 14-story hotel will feature 223 rooms, 3,000 square feet of meeting space, and a rooftop pool.
The second hotel, which will start construction in 2008, will also be a new Starwood brand called Element and an all-suite product.
In celebration of The Signature at MGM Grand recently opening its third and final 576-suite tower, guests booking now through Sept. 9, at prevailing room rates can enjoy the Summer Splash Package. The package, available through Sept. 30, includes two complimentary cocktails at The Signature's Lobby Lounge, a 15-percent discount on spa services at MGM Grand's renowned Grand Spa and a $25 entertainment card that can be used within MGM Grand's numerous nightlife venues. Rates begin at $200 for a junior suite; $300 for a one-bedroom suite; and $510 for a two-bedroom suite.
Every Wednesday through Sunday from 9 p.m. to 1 a.m. Porch Dogs, inside Hooters Casino Hotel, offers free live music and dancing. Soulful tenor Mike Soli is a solo acoustic act performing on Wednesday and Thursday nights. Friday through Sunday, Scotty Alexander, an artist who began his career at the young age of 6 with his first album, "Here I Come World," and subsequently landed a gig as the opening act for Bob Hope and Mel Tillis takes the stage. At age13, Alexander added guitar, fiddle, mandolin, five-string banjo, bass, drums and piano to his live show and competed on Ed McMahon's "Star Search." He's been on tour with five international USO Shows and his music can be heard on the "Who's Your Daddy" soundtrack and commercial tracks for Old Navy, Honda, Nissan, Wrangler Jeans and Ford Motor Co
Lure, the ultra lounge at Wynn Las Vegas, has closed and will be turned into a new nightclub.
South Point has opened a new nightclub called Fever Showclub.
This week, Jimmy Emerson began hosting "La Cage" at the Riviera as Roseanne Barr and will continue the role through July 31. He will still be doing his comedic characters of Madonna's Bigger Sister and Tammy Spraynette.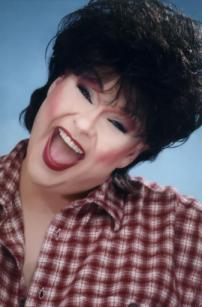 Hogs & Heifers located downtown celebrated its second anniversary earlier this month.
Prolific Oscar, Grammy and Golden Globe winning songwriter Paul Williams will headline at South Point, July 27-29.
The owner of the Four Queens downtown is planning to buy Binion's, which is another Fremont Street property, for $32 million.
More downtown activity has included recently installing the really tall neon Lucky Lady sign at the Fremont East District, which is currently being developed as a bar and live music scene. Two more large signs are planned and along with a large entrance to span Fremont Street at Las Vegas Boulevard.
It's nice to see activity at the north end of the Strip as the $2.9 billion Fontainebleau mega-resort project has begun construction. The new resort will be situated on 25 acres along the Las Vegas Boulevard at the site of the former El Rancho. The project calls for a 63-story glass tower with 3,889 hotel rooms and 1,000 condo-hotel units. It will feature a 100,000-square-foot casino, a 60,000-square-foot spa and a 3,200-seat theater. There will also be retail shops, restaurants, meeting space and an immense rooftop pool club.
Radio station 100.5 Jack FM will present ZZ Top, Stray Cats and the Pretenders performing a concert at The Orleans Arena on Saturday, Aug. 11. Tickets are $90, $70 and $50. The First Funk Fest featuring George Clinton and Parliament/Funkadelic, Zapp, Lakeside, Mary Jane Girls, Morris Day and The Time will take place on Friday, Aug. 17. Tickets are $60, $47.50 and$35, call 702-284-7777.
The group Yellow Brick Road will repeat their "RockShow!" at the Las Vegas Hilton on Aug. 31. Tickets range from $19.95 to $39.95, call 800-222-5361.
"Stripper 101" at the V Theater in the Miracle Mile Mall recently celebrated its first anniversary of instructing the art of pole dancing. Producer David Saxe started "Stripper 101" with four classes a week and due to its success, they now hold 20 sessions weekly and the number of instructors, who are all former strippers, has increased from one to four.
The outside work on the historic post office and courthouse downtown has been unveiled and now work will begin on restoring the interior of the former federal building, which was dedicated on Armistice Day in1933. The renovations are expected to cost upward of $30 million and turn the building into a museum.
The action-packed K-1 "Battle at Bellagio" World Grand Prix will return on Saturday, Aug. 11 when top martial arts fighting champions from around the world battle it out for the chance to compete for the championship title in front of 70,000 K-1 fans at Japan's Tokyo Dome. K-1 is a martial arts fighting sport that derives its name from its inclusion of a wide array of combat disciplines, including Karate, Kung-Fu and Kickboxing ("K"), with an intent to determine one champion in one ring ("1"). Tickets range from $50 to $300, call 888-488-7111.
For the second year in a row, ESPN Radio 920 AM will host "The Longest Radio Show Ever" to benefit The Caring Place beginning at 10 a.m. on July 27 and conclude at 10 a.m. on July 28. Celebrity hosts will include recent boxing champion Floyd Mayweather, Jr., ESPN radio host Colin Cowherd, HBO boxing analyst Emanuel Steward, CBS football analyst Spencer Tillman and Showtime boxing analyst and former ESPN Radio 920 host Al Bernstein, among others.
CONTINUE ON TO...:
>THIS WEEK'S LAUGHLIN SEGMENT
>LAST WEEK'S LAS VEGAS SEGMENT
>VEGAS VIEW FULL ARCHIVES
>Return to "Heard Around Town"
>Return to Las Vegas Leisure Guide