'ROCKTELLZ & COCKTAILS' WILL DEBUT IN SEPTEMBER!

SPI Entertainment has announced that "RockTellz & CockTails" will debut on the Las Vegas Strip in September. Held in an intimate, interactive setting TBA, "RockTellz & CockTails" will offer a once-in-a-lifetime, stripped-down deconstruction of the lives and careers of some of the world's most acclaimed musicians, including live performances of the songs that made them famous. The debut headliner will be announced shortly.

A live documentary in the style of "VH1 Storytellers" meets "Inside the Actor's Studio," will take audiences on an interactive journey through the stories, momentous turning points, the highs and the lows of rock 'n roll's most celebrated and fascinating stars. Featuring live performances, captivating Q&A sessions, archived film, recordings, photos and backstage footage, "RockTellz & CockTails" will bring back the intimate, artist-centric shows of yesteryear that helped put the Las Vegas Strip on the map.


Column Continues Below Advertisement



'PEEPSHOW' WILL END FOUR-YEAR RUN AT PLANET HOLLYWOOD

After more than four years on the Strip, "Peepshow" at Planet Hollywood, which has featured celebrity headliners including Mel B., Holly Madison and current star "Ice Loves Coco" reality siren Coco Austin, the final performance is set for Sept. 1. At final curtain, Las Vegas' only striptease spectacular will have performed more than 1,500 shows.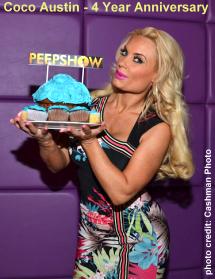 Created and directed by Tony Award®-winner Jerry Mitchell, "Peepshow" debuted in March 2009 as a modern burlesque show. Other celebrities who appeared in the show included: Aubrey O'Day, soap starlet Kelly Monaco and Broadway actress Shoshana Bean. Blonde bombshell Holly Madison held the leading role of "Bo Peep" for more than three years until late last year.
Future plans for programming in the showroom will be announced shortly.
WORLD'S LARGEST BACHELORETTE PARTY WEEKEND IS JULY 19-21
Gretchen Christine Rossi, the newly engaged star of "The Real Housewives of Orange County," and former Playboy playmate turned star of reality show "Kendra on Top," Kendra Wilkinson-Baskett, will host the second World's Largest Bachelorette Party (WLBP) July 19-21, as TAO Nightclub and TAO Beach in The Venetian and LAVO Nightclub in The Palazzo throw the ultimate pre-wedding bash for all brides-to-be and their girlfriends.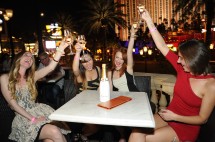 This year The Knot will be on hand to bring the extensive resources of their top wedding website to life throughout the weekend. Each day will offer experiences. For information, visit: http://taolasvegas.com/wlbp2013/.
KKLZ PRESENTS CANNERYSTOCK ROCK N BLUES FEST
KKLZ will present Cannerystock Rock N Blues Fest at The Club in the Cannery on Saturday, July 27 at 6 p.m. Scheduled to perform are well-known artists such as Ten Years After, Edgar Winter Band, Canned Heat, Rick Derringer and Pat Travers, most of whom appeared at the original Woodstock Art and Music Festival in New York in 1969. Opening the show will be local artist, Kelly Sheehan with her incredible Janis Joplin-like sound. Tickets range in price from $14.95 to $24.95.
LVH HAS OPENED A NEW POKER PIT
The LVH -- Las Vegas Hotel & Casino opened of a new Poker Pit on July 12 in the main casino near the Tempo lounge offering an array of games: Hold `Em, Stud, Stud 8 or Better, Omaha 8 or Better and other games upon request.
An interesting menu of tournaments will also be offered including Survivor Tournaments, Ladies Tournaments, No Limit Tournaments and HORSE Tournaments.
Tom McEvoy, World Series of Poker Champion and the most published author on poker, is the LVH's celebrity poker host. Players will be able to sit next to him on most days in the Poker Pit.
MARTIN LAWRENCE GALLERIES HOSTS THE ART OF THE PARTY II
The world's largest privately-owned art gallery, the flagship 26,000-square-foot Martin Lawrence Galleries at The Forum Shops at Caesars will host the second Art of The Party II – An Evening of Art and Fashion on Saturday, July 20 from 7–11 p.m. Celebrating its second anniversary in Las Vegas, Martin Lawrence is again partnering with UMC's Trauma and Burn Care Center and will donate 100 percent of the $25 ticket price to support the life-saving work of UMC's Trauma and Burn Care Center, Nevada's only Level 1 trauma facility. For tickets, visit www.theartoftheparty2.eventbrite.com.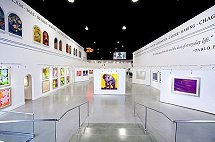 Highlights of the event being produced by Mikey Koffman, producer of LA Fashion Week, include live and experiential fashion presentations featuring one-of-a-kind, pop-art inspired fashions created by celebrated stylist and costume designer Anthony Franco as well as artful music, a DJ, entertainment, food and drinks including The Art of Chocolate by Max Brenner sampling and showcasing edible creations and sweet treats and The Art of Beauty presented by Sephora.
'MATT GOSS LIVE' ADDS MORE SHOWS AT CAESARS PALACE
On the heels of news that his Las Vegas-inspired album, "Life You Imagine," will be released in the United Kingdom on Oct. 7, Matt Goss has announced that he will continue to delight audiences in The Gossy Room at Caesars Palace with six new weekend show dates each month in July, August and September. Goss is backed by a nine-piece band and sexy female dancers known as "The Dirty Virgins." Shows are at 9:30 p.m. and general admission ranges from $50 to $70.
AVENUE 24 BAR & GRILL AT MGM GRAND DISPLAYS MITCHUM IMAGES
In celebration of Jeff Mitchum's MGM Grand gallery opening on July 4, the world-renowned photographer has teamed up with Avenue 24 Bar & Grill at MGM Grand on the casino level to display more than 25 of his stunning landscape images. The collection offers MGM Grand guests a chance to experience, among others, the famed $1.2-million masterpiece, "Third Day" and one of his newest images, "Castaway."

6TH ANNUAL LAS VEGAS FILM FESTIVAL TAKES PLACE AT LVH
The four-day 6th Annual Las Vegas Film Festival (LVFF) will kick off at the LVH on July 17. The Indie Icon Awards will go to two young actors, Zoë Bell and Rory J. Saper for their respective performances in "Raze" and "Rufus" with red carpet appearances and presentations on Saturday, July 20.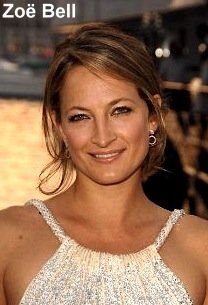 Bell is one of the most sought after and celebrated stunt actors in the industry. "Raze" will be screened at 6 p.m. Saper is rapidly emerging as one of the UK's brightest talents and his movie "Rufus" will be viewed at 8:15 p.m.
LVFF has created an inspired list of new works in cinema to showcase including feature films, compelling documentaries and creative shorts. A full schedule is available at www.lvfilmfest.com. In addition to screenings, LVFF hosts multiple premiere parties, cocktail mixers, dinners, red carpets, VIP parties, interactive and specialty panels, a screenplay competition and a closing night award reception over the course of the event. Tickets for individual screenings start at $10, a Film Festival Pass is $75 and the All-Access VIP Pass is $200.
BLUE MARTINI HOSTS FIFTH LITTLE BLACK DRESS PARTY
Blue Martini in Town Square will host its popular Little Black Dress Party on Saturday, July 20 from 7 to 11 p.m., as well as a week-long "Christmas in July" registration event July 15 to 19 to benefit Opportunity Village's largest annual fundraiser, The Las Vegas Great Santa Run, which will take place Saturday, Dec. 7 at the Fremont Street Experience.
Open to the public, the Little Black Dress Party will feature complimentary admission, live entertainment, luxury raffle items and other designer giveaways and drink specials for ladies in black dresses.
The registration event for the Great Santa Run is between 4 and 7 p.m., July 15-19. Guests who sign up at Blue Martini during this time will receive $5 off registration and entry into the VIP section at the Little Black Dress Party from 7 to 8 p.m. On Wednesday, July 17, the Chippendale dancers will be at Blue Martini from 5 to 7 p.m. dressed in holiday apparel to take photos with registrants and offer 2-for-1 tickets to the show.
'RAIDING THE ROCK VAULT' CELEBRATES BOXER LEON SPINKS
"Raiding The Rock Vault" will salute Olympic Gold Medalist and World Champion Leon Spinks with a very special "Night of the Champion" performance at the LVH on Saturday, Aug. 17 in honor of his 60th birthday, which was July 11. Formerly Las Vegas Hilton, the historic location is where Spinks defeated Muhammad Ali in 1978. Evening's proceeds will go to The Richard Steele Foundation & Boxing Club and New Vista.
TOP OF NEXT COLUMN
44TH ANNUAL WORLD SERIES OF POKER® SET RECORDS
The 44th annual World Series of Poker (WSOP) at the Rio established a host of new records as poker enthusiasts from 107 nations traveled to Las Vegas to compete. The WSOP remained the industry standard-bearer in 2013, with 79,471 entries in 62 events and awarding the second largest prize pool in WSOP history: $197,041,468. For the ninth consecutive year, the WSOP generated a total prize pool well in excess of $100 million. In the 44-year history of the WSOP, the prestigious tournament has now awarded more than $1.8 billion in prize money.
The youngest player this year was 21 years and 8 days old, the oldest was 92 years old and the average age was 37.60. The most entries by country came from: United States 57,040; Canada 4,118; United Kingdom 2,678; Russia 1,110; and France 1,010.
Legions of amateur players competed alongside legendary poker pros, Hollywood A-listers and international sports figures. Notable non-poker playing names competing included: actors Jason Alexander, Robert Iler and James Woods; actor-comedians Kevin Pollak and Ray Romano; actor-comedian Mixed-Martial Arts champion Georges St. Pierre; actress Jennifer Tilly; Norwegian snowboard champion Torstein Horgmo; NHL goaltender Roberto Luongo; Olympic skier Petter Northug; Olympic swimmer Michael Phelps; NBA star Paul Pierce; and cricket star Shane Warne.
FEDERAL AGENT-AUTHOR JAY DOBYNS TO SPEAK AT MOB MUSEUM
"New York Times" bestselling author and famed undercover agent Jay Dobyns will deliver a presentation and sign books at The Mob Museum downtown on Tuesday, Sept. 17 at 7 p.m. with the book signing scheduled to follow from 8 to 8:30 p.m. Tickets are $15 for members and $20 for non-members. For reservations, call 702-229-2734.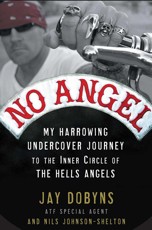 For more than 25 years, Dobyns successfully infiltrated and brought down scores of the deadliest criminals and illegal enterprises in existence. He operated among vicious street and prison gangs, gun-running groups, drug-trafficking organizations, bomb makers and home invasion crews. He routinely played the role of a shrewdly calculating professional hit man during federal murder-for-hire investigations. Dobyns is perhaps best known for his landmark infiltration of the notorious Hells Angels biker gang.
NEWS IN THE FAST LANE
Opportunity Village hosted a grand opening of its first campus in North Las Vegas. The celebration included performances by the Roaring Thunder Percussion Team and the OV Elvi Dance Troupe.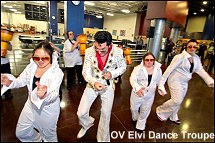 "Priscilla Queen of the Desert The Musical" will conclude a five-week run at The Venetian July 21. The show is a lot of fun!
"Defending the Caveman" has a new headliner Chris Allen who hails from Chicago and recently finished a stint with The Second City. With new artist Allen, the one-man play has been restaged with new props, updated lighting and video.
Jewels of Titanic will end its journey at Titanic: The Artifact Exhibition at the Luxor on July 21. Featuring diamonds, sapphires, pearls and gold, the 15 priceless artifacts recovered from the Titanic wreck site will likely never be seen again as a complete collection. The jewels will be removed from the temporary gallery in Las Vegas and redistributed among various Titanic: The Artifact Exhibition displays in museums and exhibits around the world.
Reality stars, Heidi Montag and Spencer Pratt, will celebrate Pratt's 30th birthday at Crazy Horse III gentlemen's club on Saturday, Aug. 31. Montag and Pratt were runners-up in the British version of "Celebrity Big Brother." The multi-talented blonde bombshell last appeared at the venue's third anniversary in October.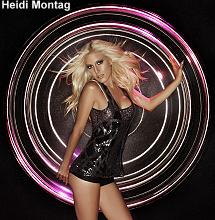 RESTAURANT AND BAR NEWS
The Ghostbar at the top-of-the-Palms venue, which opened with the property in November 2001, closed July 7 to undergo a complete facelift. The makeover is part of the Palms' $50 million, property-wide renovation, which began in July 2012.
Rí Rá Las Vegas will celebrate International Beer Day, which was founded in 2007, with a tweet up from 6 to 8 p.m. on Friday, Aug. 2. Attendees will enjoy a free pint of Guinness® and complimentary appetizers. Additionally, the first 15 guests to arrive will receive a free beer flight. Raffle prizes will include a $50 pub gift card. RSVP required by visiting twtvite.com/RiRaBeerDay.
In celebration of Columbia Pictures/Sony Pictures "The Smurfs™ 2," cast members Neil Patrick Harris, Jayma Mays, Hank Azaria, director Raja Gosnell, producer Jordan Kerner, Papa Smurf, Smurfette and Clumsy Smurf visited the Eiffel Tower Experience at Paris last Friday.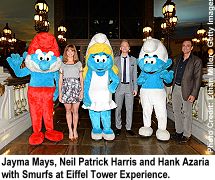 To celebrate the recent opening of the Luxor's all-new show, "PRiSM," by Jabbawockeez, Rice & Company and TENDER Steak & Seafood are now offering new prix-fixe dinner and show packages.
Every Monday through Friday, the rebel child from Fox Restaurant Concepts Culinary Dropout inside Hard Rock Hotel & Casino will now offer happy hour specials including $3 mug beers and $4 well cocktails from 3 to 6 p.m.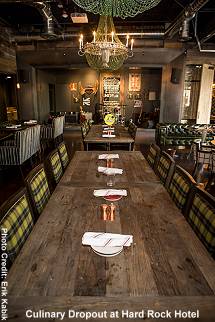 In honor of National Filet Mignon Day, Tuesday, Aug.13, South Point's Silverado Steakhouse will celebrate all variations of the favorite cut of beef with a $49 three-course menu available Aug. 11–15. First course will feature Lobster Bisque with Cognac or a Wedge Salad. The main course will offer six filet mignon meal options.
RHUMBAR at The Mirage will double the fun on National Tequila Day with two-for-one tequila libations Wednesday, July 24. Priced at $12 each, guests will have their choice of two cocktails: Spicy Lover or the Pineapple Chipotle Margarita.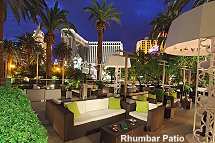 Cabo Wabo Cantina inside Miracle Mile Shops at Planet Hollywood will celebrate National Tequila Day with a week of half-priced tequila specials and buy-one-get-one margaritas, July 22-26.
NEW ACTS JOIN 'LIVE MUSIC THURSDAYS' AT HYDE BELLAGIO
Beginning last week, the sounds of The Paul Charles Band (P.C.B.) and The Peter Love Band are alternating performance weeks with resident entertainer Hawaiian singer and guitarist Mahi Crabbe at Hyde Bellagio during the venue's weekly lounge night "Live Music Thursdays" at 9 p.m.
The Paul Charles Band has shared the stage with national performers including Third Eye Blind, Paul Gilbert and LMFAO. P.C.B.'s song selection reflects a Top 40 influence with a focus on covering hits from bands such as Train, Maroon 5 and Gavin DeGraw.
The Peter Love Band has frontman Peter Love who is also known for his various daytime soap opera roles including stints on "Ryan's Hope" and "Santa Barbara." The band's sound reflects Love's appreciation for different genres and generations of rock.
THREE CAESARS ENTERTAINMENT VENUES GAIN RECOGNITION
Three Caesars Entertainment Las Vegas resorts' dining venues have earned recognitions in the 2013 Las Vegas Weekly Awards. Bacchanal Buffet at Caesars Palace was named Best Buffet in Las Vegas, the all-new Nobu Hotel Caesars Palace earned Best Room Service, and the sticky toffee pudding at Gordon Ramsay Steak in Paris was named Best Reason to Save Room for Dessert. This reporter will attest to how good the sticky toffee pudding is and put it in the "to die for" category!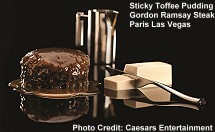 VEGAS MUSIC SUMMIT OFFERS MUSIC INDUSTRY WORKSHOPS
Industry leaders from all areas of the music trade will come together to offer workshops for musicians and those looking to further their involvement in the music industry at the Vegas Music Summit taking place, Aug. 1-3, at downtown venues in the Fremont East Entertainment District. The panels are designed to educate and further the spread of the music industry in Las Vegas. Registration is $99, visit www.VegasMusicSummit.com. Public tickets for showcases will be available to participants 21 and older via www.ticketfly.com and are $10 in advance, $15 at the door.
Column Continues Below Advertisement
CONTINUE ON TO...:

THIS WEEK'S >LAUGHLIN NEWS
LAST WEEK'S >LAS VEGAS NEWS
>VEGAS VIEW FULL NEWS ARCHIVES
Return to >"Heard Around Town"
Return to >Las Vegas Leisure Guide