LANCE BURTON SIGNS FOR SIX MORE YEARS AT MONTE CARLO


Master magician Lance Burton after a 13-year run will stay at the Monte Carlo for another six years through 2015. Burton has headlined in his own theatre named in his honor at Monte Carlo since the day the resort opened on June 21, 1996.

Burton, who excels at magic from sleight-of-hand to grand illusions, broke his foot during a performance on May 7 and returned to headlining on July 7 with a new five-night instead of seven-show performance schedule at 7 p.m. Tuesday through Saturday.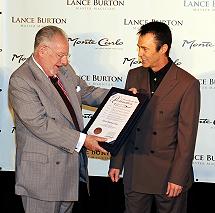 Burton, who at age 49, has been performing magic in Las Vegas for 27-consecutive years; first as a special act in the Tropicana's "Folies Bergere" and then as a headliner at the old Hacienda. Burton has a newly revamped Web site www.lanceburton.com.
Burton has numerous TV specials airing this month. He was on WGN - America with 80 million subscribers on July 6 with "Lance Burton Master Magician: Top Secret." On July 13, look for "Lance Burton Master Magician: On The Road," followed on July 20 by "Lance Burton's Young Magician's Showcase," and then on July 27 with "Hocus Pocus It's Fielding West." Show times are 9 p.m. ET and 6 p.m. PT.

Column Continues Below Advertisement


LIMP BIZKIT KICKS OFF FIRST U.S. SHOW IN LAS VEGAS AT THE PALMS
Hard-hitting, hell-raising heroes Limp Bizkit will return to wreak havoc in the United States with their first stateside show in eight years. The band will perform a free concert at the Pearl Concert Theater at the Palms on July 18. It will be first-come, first-served with Limp Bizkit fans getting in gear.
Limp Bizkit are in the middle off their 2009 "Unicorns N Rainbows" tour. The group is preparing to record their first new studio album with the original line-up since their 2000 worldwide 12x-platinum "Chocolate Starfish and the Hot Dog Flavored Water."
INTERNATIONAL POP SENSATION MATT GOSS WILL PERFORM AT PALMS
The Palms has added London-based international singing sensation Matt Goss to its entertainment roster. Known to his fans as "The Voice," a new production will be created exclusively for his limited-time residency beginning Sept. 4.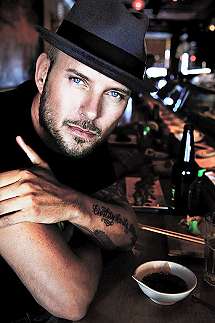 Auditions will be held on July 15, and Robin Antin, creator of the Pussycat Dolls, will be casting as well as choreographing the production. Goss' show will be backed by a seven-piece band and sexy female dancers. Tickets are $25.
Goss has sold more than 17 million albums worldwide and reached his success as the lead singer of the '80s pop group Bros. He currently lives in Los Angeles where he is recording his next studio album and is awaiting the September release of his children's book "Bear Crimbo," the first of a three-book deal.
DEMI LOVATO'S TOUR WITH DAVID ARCHULETA STOPS AT THE ORLEANS
Hollywood recording artist and Disney Channel star Demi Lovato will be kicking off her North American tour this summer and making a stop at the Orleans Arena on July 18 with "American Idol" finalist, David Archuleta. Tickets for the 7 p.m. show are $39.50 and $49.50, call 702-284-7777.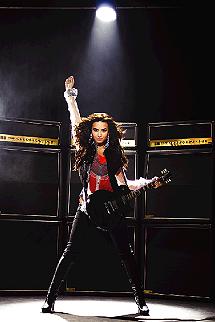 The past year has been a whirlwind for Lovato, starting in June with the debut of her first Disney Channel original movie, "Camp Rock," followed by the No. 2 debut of her first CD, "Don't Forget," a national tour, and her starring role in the hit Disney Channel series, "Sonny with a Chance." Lovato also costars with Selena Gomez in the upcoming Disney Channel film, "Princess Protection Program."
David Archuleta was the runner-up on the 7th season of "American Idol." His eponymous debut has been certified gold with more than 500,000 albums sold since its November 2008 release.
DUBAC'S 'THE MALE INTELLECT: AN OXYMORON?' AT THE SUNCOAST
During a limited engagement at the Suncoast, July 31-Aug. 2, actor and writer Robert Dubac will ransack his brain to answer the age-old question, "What do women want?" in his one-man show "The Male Intellect: An Oxymoron?" Tickets for the 8 p.m. shows are $19.95, call 702-636-7075.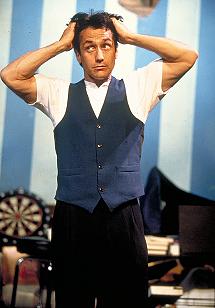 As seen on "Late Show with David Letterman," Dubac combines theater and stand-up comedy to pinpoint the differences between the sexes. His 90-minute show is a multi-character comedy with Dubac playing all the roles. He has toured the country for 10 years with this show.
By age 14, Dubac had a magic act that took him from his home city of Atlanta to gigs up and down the East Coast. He studied drama while his act evolved into a stand-up comedy routine and toured with such greats as Kenny Loggins, Linda Ronstadt and Jimmy Buffett. Dubac worked in films, sitcoms and daytime television before creating his hit show. In 2006, he launched the show's sequel, "Robert Dubac's Male Intellect: The 2nd Coming!"
ZERO GRAVITY EXPERIENCE WILL LIFT OFF FROM LAS VEGAS
Zero Gravity Corporation (ZERO-Gr), the first and only FAA-approved provider of commercial weightless flights, will host its exclusive ZERO-G Weightless Experience once again in Las Vegas on Saturday, July 18 and again on Septamber 19. This is the only commercial opportunity on earth for individuals to experience true "weightlessness" without going into space. This is the identical weightless flight experience used by NASA to train its astronauts and by Ron Howard and Tom Hanks to film "Apollo-13." The flight will depart from The Signature Terminal at McCarran International Airport. To book a seat or see pictures, visit www.gozerog.com.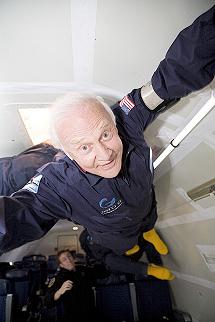 Flights last approximately two hours and deliver 15 separate weightless experiences, each lasting about 30 seconds. Price is $4,950 per seat plus tax.
CARROT TOP SIGNS SIX YEAR EXTENSION AT THE LUXOR
An appreciation party was recently held for Carrot Top with guests seeing his show. Afterwards at a reception at Cathouse, the big announcement was made that Carrot Top, who has headlined at the Luxor since 2005, will be center stage for another six years.
While the red-headed mop top comedian is known for his inventive props and visual physical humor, he also injects a lot of observational jokes to complement his antics. Big trunks line his stage and he runs between them grabbing items and giving rapid fire demonstrations. For example, he'll ask, "What's a woman's favorite cookbook?" Then he'll whip out the yellow pages. His nuttiness is entertaining. Carrot Top was born Scott Thompson in 1967 and started performing stand-up comedy in 1988.
QUICK CLIPS
The Las Vegas Hilton, which opened as the International on July 2, 1969, celebrated its 40th anniversary by saluting the 19 employees who have been working at the hotel since day one. Two special $5 commemorative gaming chips, one bearing the likeness of Elvis and the other of Barbra Streisand are for sale at the casino cage. The International was designed to be the world's largest casino hotel at that time. Streisand opened the 1,568-room property and Elvis debuted there on July 31, 1969.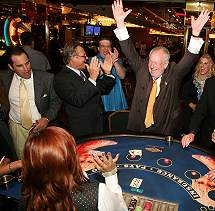 Mayor Oscar Goodman and the Tropicana recently welcomed "The Boys" of the "Soprano's Last Supper" back to the Strip.
The Back Alley Bar at the Stratosphere, which was formerly the Crazy Armadillo, is extending live music to Monday nights. The schedule is now Thursday through Monday from 10 p.m. to 3 a.m. Along with the live music, the "Back Alley Girls," which are Daisy Duke-clad beverage servers, dance on the bar.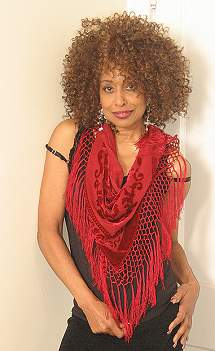 "A Tribute to Sarann Preddy," who was "The First Lady of Gaming," will take place at the South Point on Saturday, Aug. 1 at 2 p.m. The stage will be shared by Loretta Holloway, Phil Flowers, Melanie Moore and Chicago act Mr. Lee. Each will perform for about 22 minutes. Las Vegas goes way back with dynamic singer Holloway, who worked the showrooms here and in Atlantic City. She opened for major names such as Bill Cosby, Jay Leno, Whoopi Goldberg, Don Rickles, Rich Little, Gary Shandling and Jerry Lewis. Tickets for this tribute event are $50 and $60, call 702-797-8055.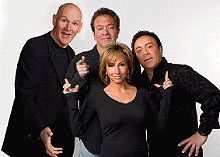 The Scintas will return to Las Vegas from a national tour for a three-night stand at the Suncoast, July 17-19. Tickets start at $29.95.
Arc Angels, the Austin, Texas-based all-star group formed in the wake of Stevie Ray Vaughn's death on Aug. 27, 1990, in a helicopter crash, will be headlining at the Las Vegas Hilton July 22 at 8 p.m. Vaughan's Double Trouble Rhythm Section -- drummer Chris Layton and bassist Tommy Shannon -- joined forces with Bramhall and Charlie Sexton at the Austin Rehearsal Center (ARC), which gave the group its name.
Wet Grooves, known for its annual marathon parties at Winter Music Conference in South Beach Miami, is making its summer residency in Las Vegas at the Daydream Pool Club at M Resort. The popular party brand reigns as America's No. 1 Touring Pool Party with its one-of-a-kind production that will take place every Friday from 11 a.m. to 7 p.m. through the summer pool season.
Rahn Ramey will headline the Riviera Comedy Club, July 27-Aug. 2, with Tyler Boeh and Bob Gautreau. Ramey has appeared in the films "Planes, Trans and Automobiles" and "Escape From New York" and opened for B.B. King, Al Jarreau and Randy Travis.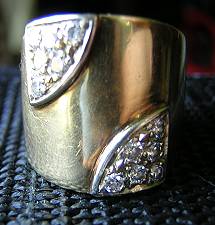 Pete "Big Elvis" Vallee, who has his own weekday shows at Bill's Gamblin' Hall & Saloon on the Strip, has purchased a heavy gold and diamond encrusted ring, which he will ultimately use as his own wedding band in 2010. The ring was originally designed by Elvis, and made by Memphis jeweler Harry Levitch, who gained fame by designing Priscilla Presley's wedding ring.

The Flamingo has opened a new restaurant called the Burger Joint. Located where Voga used to be, the stylish dining and bar areas feature flat screen televisions, lively music and sleek d'cor. Patrons may order pre-crafted gourmet burgers or create their own served on fresh made buns
The Spiedini restaurant located inside the J.W. Marriott Resort will hold a wine dinner featuring Luna Vineyards on Tuesday, July 28, at 6 p.m. Price is $68, call 702-869-8500.
ENVY The Steakhouse located at the Renaissance is offering a new mid-day Power Lunch promotion designed with working professionals in mind. The Power Lunch is a 50-minute, two-course meal for $20.09. The lunch includes a choice from three salads and three entrees.
This summer, Mandalay Bay and Disney's "The Lion King" are offering vacation packages through Sept. 7 that start at $229. Packages include a two-night stay, two show tickets, a $100 cabana credit, and a complimentary child admission to Shark Reef Aquarium for each paid adult. To book the package, visit www.mandalaybay.com/tlkfam or call 877-632-7000. Mention code: PDISNY9.
Town Square's Movies in the Square program is back for a second season. Movie-goers can watch their favorite flicks for free in the Town Square Park on the first and third Thursday of each month through Sept. 20. Films will all be rated G or PG and be shown on a 25-foot by 35-foot screen starting at sundown. Call 702-269-5005 for information.
Muaythai Boxing will return to the Las Vegas Hilton on July 25. Fighters from the USA throw down WuLinFeng style against China's best Wushu fighters.
The Palomino Club in North Las Vegas has had a rather interesting past and now Playboy TV plans to carry a 12-party reality show, called "King of Clubs," about the strip club in September. The club's new owner Adam Gentile, who has spent $2 million refurbishing the place, will star in the show. The Palomino's grandfathered license to serve alcohol and feature nude dancers will expire in 2019.
From July 20 through July 31, ENVY The Steakhouse at the Renaissance, will present its monthly Epicurean Wine Dinner and feature premier ros' wines. Prices start at $25 for a wine tasting, $55 for a four-course dinner and $75 for the dinner and wine pairing, call 702-784-5716.
The Village at Lake Las Vegas and the Muscular Dystrophy Association of Southern Nevada (MDA) will host the monthly Vino di Lago wine tasting event on Saturday, July 18 from 7 to 10 p.m. At the same time "Jazz on the Lake" will feature local jazz artist, Boy Kantindig. Overlapping this event will be the Auld Dubliner restaurant hosting a Leprechaun Luau from 5 p.m. to 1 a.m. with live entertainment by the JV All-Starz, a pineapple eating contest, hula hoop contest and more.
Dr. William U. Pearson's park sculpture "Reach" will be dedicated on Friday, July 17, at 9 a.m. at 1625 West Carey Street in Las Vegas. The design with two flame-like shapes is fabricated from steel and extends 16 feet high from its concrete base. For more information, call 702-455-8200 or visit www.accessclarkcounty.com/parks.

Column Continues Below Advertisement




CONTINUE ON TO...:


>THIS WEEK'S LAUGHLIN SEGMENT
>LAST WEEK'S LAS VEGAS SEGMENT
>VEGAS VIEW FULL ARCHIVES
>Return to "Heard Around Town"
>Return to Las Vegas Leisure Guide