HUEY LEWIS & THE NEWS PERFORM AT THE E CENTER
Grammy Award winners Huey Lewis & The News will perform at the 2,600-seat E Center on Aug. 20 at 8 p.m. on their "Soulsville Tour." Tickets start at $25.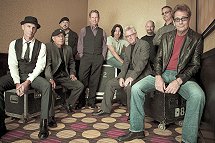 Their live performances feature a horn section and a capella renditions of classics such as "Sixty Minute Man," "Under The Boardwalk" and "It's Alright." Huey Lewis & The News have outlasted countless trends, selling more than 20 million albums worldwide, and writing and performing classic Top 10 Hits. The group wrote and performed "The Power of Love" and "Back in Time" for the hit film "Back To The Future." "The Power of Love," which was nominated for an Academy Award, went all the way to No. 1 on Billboard's singles chart.
AQUARIUS CHOSEN AS 'BEST OF 2011'
Readers of the "Mohave Valley Daily News" have selected the Aquarius as "Best of 2011" in eight separate categories, while readers of "Nevada Magazine" chose the resort as "Best of Nevada 2011 – rural" in five categories, including best casino and best hotel.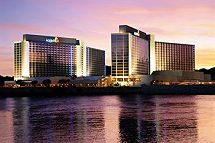 Both publications give nods to the Wedding Chapel and The Vineyard Ristorante, the only high-end Italian restaurant in Laughlin.
For the "Mohave Valley Daily News" the categories were: Slot Host-Michelle Cunningham, who has worked at the Aquarius since January 2002; Accommodations; Video Poker; Gift Shop; Wedding Chapel; Fine Dining- The Vineyard Ristorante; Food Server- James Seifer, The Vineyard Ristorante; and Chef Robert Doyle, The Vineyard Ristorante.
EDGEWATER CONTINUES TO MAKE US LAUGH
The Edgewater sticks with "Comedy on the Edge" in the showroom every Friday, Saturday and Sunday at 7 p.m. Each show features two stand-up comedians. Upcoming acts are: July 15-17—Tim O'Rourke and Todd Link; July 22-24—Kris Shaw and Nola J; July 29-31 Barry Neal and Roxy Rich; Aug. 5-7 Del Van Dyke and Debbie Praver; Aug. 12-14 Mick Lazinski and Dana Eagle; Aug. 19 Mike Muratore and Matt Walker; Aug. 20-21 Allan Stephan and Frazer Smith; Aug. 26 Bob Kubota and Keith Ellis; and Aug. 27-28 Vince Valenzuela and Travis Howze. Tickets are $10 at the Edgewater Casino Cage or the door.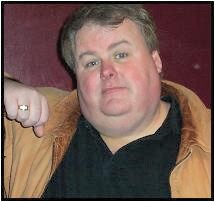 Veteran comic Tim O'Rourke headlines The Punchline in Atlanta. He's known for playing Tim the Bartender on "The Drew Carey Show," and is also a voice actor on "Family Guy." O'Rourke writes for Nickelodeon's "SpongeBob SquarePants," and "Fairly OddParents," and has opened for entertainers ranging from Robin Williams to Tom Jones.
COMEDIAN JOHN PINETTE PERFORMS AT AQUARIUS
John Pinette's "I'm Starvin'! Comedy Tour" will stop at the Aquarius Pavilion on Saturday, July 23 at 8 p.m. His gig bringing his love of all things food and hefty appetite for funny will be less than a week before his new Comedy Central special "Still Hungry" premieres worldwide. Pinette's current comedy special, "I'm Starvin'," is a follow up to his successful comedy CD, "Show Me the Buffet." "I'm Starvin'" illustrates the humor in America's obsession with food and being fat. Tickets start at $20.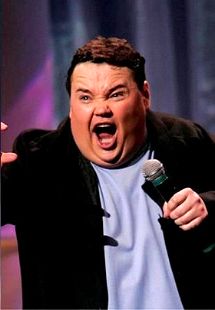 An accountant turned comedian, Pinette has appeared in movies, television, on Broadway and on comedy stages. He got his break touring with Frank Sinatra and has been a guest on "The Tonight Show with Jay Leno" and "The View." "Seinfeld" fans may recognize Pinette as the carjacking victim on the final episode of the hit television show. He also did a stint on Broadway performing as Edna Turnblad in the musical "Hairspray." Pinette's stand-up comedy DVDs include, "I'm Starvin'" and "I Say Nay Nay." His new Comedy Central special will premiere on July 29.
BLUES TRAVELER PERFORMS AT EDGEWATER's E CENTER
The Grammy award-winning band Blues Traveler will perform in the Edgewater's E Center Saturday, July 23 at 8 p.m.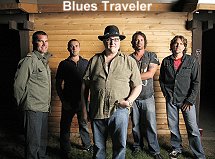 Led by singer and harmonica virtuoso John Popper, the band is well known for phenomenal live performances. Their best-known single, "Run-Around," won a Grammy and was the longest-charting radio single in
"Billboard" magazine's history. A unique blend of blues rock, folk rock, southern rock, psychedelic rock and soul, the band has produced a variety of great tunes including Top 40 singles "But Anyway," "Run-Around" and "Hook." Their album "Straight On Till Morning" achieved platinum status. Tickets start at $15.
TOP OF NEXT COLUMN
RIVER PALMS FEATURES TRIBUTE SHOWS
If you can't see the Real McCoy, tribute acts offer a great option at the 2700 Club at the River Palms. Shows are at 9 p.m. and tickets are $10.
Tribute shows lined up this summer include: July 16 - Pyromania tribute to Def Leppard; July 23 - Sixtiesmania tribute to music of the '60s; July 30 - Z Band tribute to ZZ Top; Aug. 6 Bonfire tribute to AC/DC; and Aug. 13 Faux Collins tribute to Phil Collins and Genesis.
RIVERSIDE FEATURES TRIBUTE ACTS IN JULY
The Riverside is hosting tribute acts in July in Don's Celebrity Theatre. Upcoming tribute shows include Desperado - a tribute to the Eagles July 19-24 (tickets $32), and Good Vibrations - a tribute to the Beach Boys July 28-31 (tickets $25).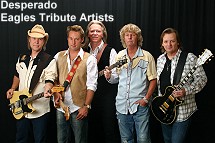 The Eagles tribute band Desperado was formed in 1971 by Glenn Frey, Don Henley, Bernie Leadon and Randy Meisner.
TROPICIANA LINES UP TRIBUTE ACTS
The Tropicana has lined up tribute acts to perform in The Pavilion Theater on Saturday nights at 8 p.m. Tickets are $10.
Tribute acts lined up include: Damage Inc. - tribute to Metallica on July 16; Alice in Cooperland - tribute to Alice Cooper on Aug. 6; The Joshua Tree - tribute to U2 on Aug. 13; and Malo and Tierra Sept. 30-Oct. 1.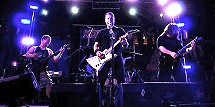 Damage Inc is an early Metallica tribute band from California that formed in 2002. The band members have extensive experience with some of rock's best including, Black Sabbath, Twisted Sister, The Atomic Punks and more. Damage Inc has toured and performed at large concert venues, sold-out clubs, casinos and fairgrounds.
HARRAH's HAS 'COMEDY A GO-GO' ON WEEKENDS
Harrah's has lined up "Comedy A Go-Go" every Friday, Saturday and Sunday night in the Fiesta Showroom through Aug. 21 at 8 p.m. The show hosted by Zach Risan features sexy burlesque dancers and a lineup of headlining rotating comedians. Tickets are $14.99 and $19.95.
Upcoming comedians include: Peter Berman - July 15-17; Willie Farrell - July 22-24; The Stagebenders - July 29-31; Derek Hughes – Aug. 5-7; Carl Labove – Aug. 12-14; and Tom McTigue -Aug. 19-21.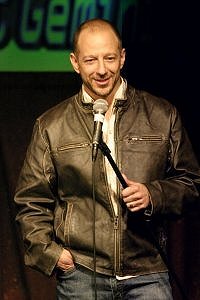 Comedian Peter Berman's big break came when counter-culture guru Dr. Timothy Leary caught the fledgling comic's act and invited him to perform a gig in Hollywood. Berman quickly became a regular on the LA stand-up comedy scene. Since then, Berman's TV appearances have included "The Late, Late show with Craig Kilborn," NBC's "Friday Night" and his own half-hour Comedy Central special. Berman was also the host and head writer of his own nationally syndicated morning radio show, "Morning Sickness."

QUICK CLIPS

It will be something for the ladies on July 13 and 14 at the Riverside when "American Storm" that was named "Best Male Strip Show 2008" by the "Las Vegas Review Journal" takes to the stage in Don's Celebrity Theatre at 8 p.m. This is a fully costumed and choreographed production show with hard bodied performers living out every woman's fantasy from the lonely cowboy to the proud men in uniform. Tickets are $25.

Tom & Sharon's Ballroom, Dance Party at the Riverside is scheduled on Saturdays July 23 and Aug. 6, 27 from 1:30 – 4 p.m. Admission is free. For more information about parties or dance classes, call 928-754-2097.

There will be a themed outdoor event at the Avi on Aug. 6 called "JamaicanMe Krazy." The party will be at the Avi Beach Overlook with Caribbean music by Carnival Factory, plus a Jamaican feast dinner on Study from 7 -10 p.m. Cost is $15 for food.

The Bullhead City River Regatta is an eight-mile float event on the Colorado River, Aug. 11-13. Inner tubes, rafts and floats will compete in various divisions with a kayak race division included on Friday over a longer course and a "Wake the Plank" - Wake Board and Wake Skate competition with multiple divisions on Thursday and Friday. The event theme is "Pirates of the Colorado" and participants are urged to dress the part and decorate their "floats" accordingly. More activities include: a float poker run; "Ya Gotta Party" with a variety of events and music at Bullhead Community Park on Friday 5-10 p.m.; and a "Hafta Afta Party" at Rotary Park in Bullhead City. For complete information and registration, visit bullheadregatta.com.

On Aug. 20, The Avi will hold an "Asphalt Cowboys" party at the Avi Beach Overlook with music by Asphalt Cowboys plus a BBQ dinner on Saturday from 7-10 p.m. Cost is $12 for food with beverages sold separately

A Battle of the Bands will be held at Harrah's Beach on Aug. 27. There will be a variety of bands in a showdown for prizes on Saturday from 6-10 p.m. Admission will be free and drinks will be sold separately.

CONTINUE ON TO...:

>THIS WEEK'S LAS VEGAS NEWS
>LAST WEEK'S LAUGHLIN NEWS
>VEGAS VIEW FULL ARCHIVES
>Return to "Heard Around Town"
>Return to Las Vegas Leisure Guide