"Love" is a little different from all the other Cirque shows in town in a couple ways. The Beatles theme lends itself to the famous foursome's fan base and music and the show has a faster pace. However, there is no question it is a Cirque du Soleil creation from start to finish including the ushers and ticket takers dressed as English Bobbies and it is a true spectacle of mammoth proportions.
For starters, the theatre was specially built for the show and it is one-of-a-kind. It's sort of in the round, but actually it's more like in quadrants. The costumes, dance and stunts are ala Cirque; however, this show features the clever use of giant scrims as projection screens that cut off the quadrants.

Column Continues Below Advertisement


Whether or not you catch the symbolism constantly scattered throughout the show won't matter in helping you enjoy it. The psychedelic era is mastered on stage and you witness things like an exploding Volkswagen (the band breaking up) and characters introduced on a rooftop set suggestive of the "Let It Be" concert, which collapse into debris to the sounds of World War II bombing with the end being the beginning.
The whoopla that surrounded the show's opening included a gala red carpet performance with Paul McCartney, Ringo Starr and his wife, Yoko Ono and Olivia Harrison in attendance along with more than 4,000 invited guests. The show is sure to be a hit.
A few weeks ago the media and VIPs were treated to master magician Lance Burton's ten-year anniversary show and after party. Whenever you see Burton's show, you're reminded how talented he is. Having watched him perform a silent nine-minute dove act for nine years in the "Folies Bergere" at the Tropicana and then headlining his own show for five years at the Hacienda, he's earned all the accolades that are bestowed upon him.
While Las Vegas is not promoted as a family destination, Burton's show is truly one for the family and especially kids. He always gets children on stage during his show. And at the anniversary show, he got singer Robert Goulet up and used him as a prop, which was very funny.
Burton knew he wanted to be a magician since he was five years old and has always performed in the traditional classical-style donning a tuxedo that becomes his sleek figure. His career took off in a big way when he appeared on "The Tonight Show" with Johnny Carson and was asked back to his whole act.
Burton, now 46, has celebrated his anniversary at the Monte Carlo in an exquisite theater built especially to his specifications by adding a new lighting system, a new opening tracing the history of magic, and some new routines and illusions. In one bit, he turns one of his six female dancers into a "Solid Gold Lady."
Mentalist Gerry McCambridge has made his debut at the Stardust in the Hypnotic Lounge, which is a converted restaurant so acts have the challenge of working with a couple pillars slicing up the space midway between the audience and the stage. With McCambrige's unique act, the pillars aren't bothersome because it's a casual setting and you're into what the mentalist is doing.
He doesn't put anyone in an embarrassing spot like some of the hypnotists do. He starts out with some simple tricks for want of a better word and uses adlib humor at all times to keep his show fun. There's plenty of audience involvement especially when he has everyone write down some thoughts on cards that he has his assistants collect. That's when things get really interesting as he randomly calls upon people and tells them their thoughts so it's best to go to the show with a clean mind.
The show is fun and McCambridge has outstanding credentials. He's been performing on stage for more than 20 years and recently performed in the ABC studios for Reuters News Service while his entire act was simulcast on the Times Square jumbo-tron. In 2004, he had his own NBC one-hour prime time special titled "The Mentalist" catching an audience of more than 6.5 million viewers nationwide which also later aired internationally. Among the many mental stunts McCambridge performed during the special; he is most remembered for driving blindfolded down Broadway in mid-day traffic
Shows times are Monday and Tuesday at 8 p.m. and Wednesday through Sunday at 5 p.m. Tickets to his Stardust show are $27.95, call 702-360-5419.
On June 30, Bally's launched a new 2:30 p.m. Friday afternoon show, "The Price is Right - Live," in the Jubilee! Theater and a four-week promotion featuring the Plinko board outside on the southeast corner of Las Vegas Blvd. and Flamingo with two models from the show. Fans and passers by are invited to "Come on down!" and join the fun, where they get a chance to see the show's game prop in person, play the game and receive show discounts or win free tickets.
"The Price is Right - Live" stage show schedule now is Tuesday through Saturday at 2:30 p.m., and 8 p.m. on Friday. Tickets are $39.95, call 702-967-4567 or 1-877-374-7469.
The Forum Shops at Caesars will host the free daylong Simon Super Chefs Live! Tour, a food extravaganza that will visit Las Vegas on Saturday, Aug. 12 from 11:30 a.m. to 5 p.m.
Chefs from restaurants throughout Caesars Palace and The Forum Shops will be competing in a series of preliminary cook-offs throughout the day, leading up to a culminating cook-off between the final two chefs at the end of the day. Chefs that are confirmed to compete include those from BOA Prime Grill, Wolfgang Puck's Chinois, Joe's Prime Steak, Seafood & Stone Crab, The Palm and Sushi Roku.
Simon Super Chefs Live! is a unique, in-mall celebration of food, wine and cooking that is open to the public. The show includes live cooking demonstrations, wine seminars, food and beverage sampling, sponsor pavilions, autograph and book signings, opportunities to meet celebrity chefs, and culinary activities.
The Rampart Casino will present The Lettermen on Friday, July 14 in the Grand Ballroom at 8 p.m. Tickets are $22 at the Casino Cage.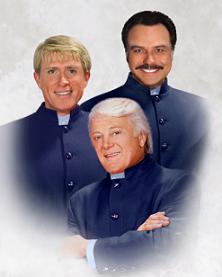 The vision for The Lettermen was of three very strong soloists with the ability and showmanship to perform and entertain an audience, but who also had the discipline needed to be group singers. In 1962, The Lettermen's debut album, "A Song for Young Love," hit the Top 10, and was their first of 32 straight Top 40 albums. Over the next 15 years, The Lettermen scored more than 25 chart hit singles.
The Stardust has stopped accepting hotel reservations past Nov. 1 in preparation for closing and demolishing the building next year to make room for the new Echelon Place.
Last year, I wrote the text for a coffee table book and Larry Hanna did the photographs for "Fabulous Las Vegas" published by Beautiful America Publishing Company. The book, which comes in hardcover and softbound copies, was released a few weeks ago. It's in major bookstores and gift shops in the city and Larry and I will be doing a book signing on Saturday, July 15th from 2 to 3:30 p.m. at The Reading Room at Mandalay Place.
Joe Esposito, a host at Wynn Las Vegas, was a right-hand man to Elvis. He has a book out now called "Remember Elvis," and it's a compilation of 200 interviews from people ranging from the Hilton doormen to other entertainers, casino moguls and ex-girlfriends, who knew The King,
Getting ahead of the game, the Riviera has booked Sha Na Na and The Tokens to entertain on New Year's Eve, Dec. 31.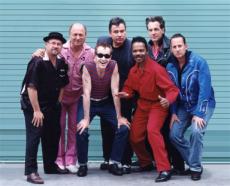 The Karaoke Club at the Imperial Palace is back by popular demand - but in a new home on the third floor next to the Sports Bar. Crooners, divas and American Idol wannabes can once again choose from 15,000 songs nightly as Tequila Joe's former DJ Rusty Varney has returned as host.
"Hot Country Night Under the Neon Lights" will be a special free mid-summer concert starring country crooner Tracy Lawrence performing under the Viva Vision canopy downtown on Wednesday, July 26. The show is timed to coincide with the World Market Center convention.
The next night, Thursday, July 27, will feature the SCORE Desert Racing Pit Crew Challenge. The SCORE desert racers will roar into downtown Las Vegas for a pre-race party and the $10,000 Terrible's Pit Crew Challenge with pit crews racing to beat the clock and take home the cash. There will also be plenty of trucks on display and drivers signing autographs.
Madame Tussauds at The Venetian has introduced a wax figure of movie star Johnny Depp as Capt. Jack Sparrow from Disney's "Pirates of the Caribbean: Dead Man's Chest." to coincide with the international release of the new motion picture premiering this month.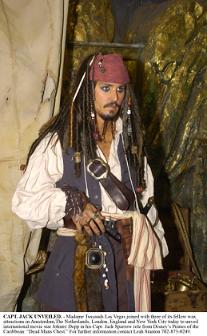 The Palms has opened a new pool area costing more than $40 million.
Fitzgeralds has brought back the tic-tac-toe-playing chicken until August. It's a promotion that has gone around the casinos off and on for many years. The highly trained chickens always go first, and are able to follow the strategy that makes it almost impossible for them to lose. The chickens are playing their game daily between noon and 8 p.m.
David Brenner is filling in for Louie Anderson at the Excalibur through July 13.
Local entertainer Roberts Allen will be starting The Vegas Mob Tour on July 15. It will be a 2 1/2 hour bus journey of Sin City landmarks. Guides will be dressed in pinstriped suits and fedoras. For reservations, call 702-737-5540.
In the Census Bureau's latest list of fastest-growing cities, North Las Vegas ranked No. 2. The city averaged about 1,500 new residents a month from July 2004 to July 2005, raising the population from 158,540 to 176,635.
The Paiza Club is a very exclusive Las Vegas Sands Corp. brand currently operating at The Venetian and it will be featured at The Palazzo when it opens. The club's Chef Simon To and director Ken Wong were recently inducted into Les Amis d'Escoffier Society of China, a fraternity of dedicated gastronomes.
The Food & Beverage Directors Association of Las Vegas will host its 15th Annual Black Tie Gala Dinner in the Grand ballroom at South Coast Las Vegas on Saturday, July 22 with a theme of "A Summer's Night Dream." The fundraiser begins at 6 p.m. with the silent auction and cocktail reception, followed by dinner and dancing. Tickets are $275 per person and tax deductible, call 702-794-9602.
Two upcoming wine tasting dinners are at Sazio at The Orleans on July 11 featuring Geyser Peak Wines for $39, call 702-948-9500, and Spiedini at the J.W. Marriott Resort on July 25 featuring wines of Germany for $63, call 702-869-8500.
The casual, Mexican concept, Pink Taco, at the Hard Rock initially opened with city council members protesting the name. Now the second outlet has opened in Scottsdale, Ariz., and a third restaurant is planned for Los Angeles.
Nike's face of modern yoga, Kimberly Fowler, will make a special appearance and provide a demonstration at NIKETOWN located inside of the Caesar's Palace Forum Shops on Saturday, July 29 from 1 p.m. to 1:45 p.m. Fowler, the anti-guru of yoga, has been practicing yoga for more than 20 years as a form of mental and physical conditioning. The first 50 people to attend will receive a free copy of her DVD, Yoga for Athletesr.
As a tri-athlete working two jobs to support herself through law school at Boston University in 1982, Fowler had the first of several life challenges when she was hit by a car during a bike race. Crippled, Fowler was introduced to yoga as a form of therapy and was completely healed. Just one year later, she was diagnosed with an inoperable brain tumor. Challenged once again several years ago after a fall while rock climbing left her with broken ribs, a punctured lung and kidney damage, Fowler again turned to yoga.
As owner of the YAS Studio in Venice, Calif., for five years, Fowler teaches yoga. Last month, she swept into designer mode and expanded her YAS Yoga and Sportswear line with a new, limited edition, cutting edge skull & cross bone collection of clothing and accessories that reflects the tough, do-it-yourself attitude of yoga. Look for Fowler's book "Yoga is a Sport" to debut in spring 2007.
Stand-up comedy actor Johnny Dark will bring his subtle, calm humor to the Riviera Comedy Club beginning Monday, July 24, for seven nights. Show times are 8:30 and 10:30 p.m. nightly. Tickets are $19.95, call 702-794-9433.
Dark's credits include years on the comedy club circuit, opening for top name entertainers, dramatic roles on television, appearances on syndicated talk shows including "Late Night with David Letterman," where he has scored 22 guest visits, most recently appearing as "CBS's Oldest Living Television Usher."
Appearing with Dark will be Pete Gray and Andrew Solmssen. From Detroit, Gray was the lead in the independent film, "Early Bird Special" and seen in "Twilight," starring Paul Newman. Solmssen is a computer geek turned comic. He also produces books and MC's "Midnight Comedy Hour" at Lulu's Beehive in Los Angeles.
CONTINUE ON TO...:
>THIS WEEK'S LAUGHLIN SEGMENT
>LAST WEEK'S LAS VEGAS SEGMENT
>VEGAS VIEWS FULL ARCHIVES
>Return to "Heard Around Town"
>Return to Las Vegas Leisure Guide