BEER PONG TOURNAMENT PLANNED AT COLORADO BELLE

The "Fun in the Sun Beer Pong Tournament" presented by Ocean Grown Pong of Corona, Calif., on Saturday, July 28 will also serve as a fundraiser for the Chanel Johnson Charity with 50/50 raffles and prizes awarded by the Colorado Belle.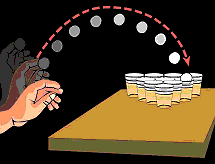 The tournament will be held in the former Gallery restaurant on the resort's "D" Deck. The tournament cost is $40 per team in advance and $50 per team at the door, call 951-258-2719 or email: oceangrownpong@gmail.com. Sign-ups begin at 2:30 p.m. with the games starting at 4:30 p.m. The tables will be open to practice during the sign ups. First place winner will receive a four-night hotel stay in Las Vegas and a shot at $65,000 in World Series of Beer Pong.
PAUL RODRIGUEZ WILL FILL AQUARIUS WITH LAUGHTER
Latino comedian Paul Rodriguez will headline at the Aquarius on Saturday, July 21. For decades, Rodriguez has been entertaining audiences with his inside perspective about his Latino heritage and views on the American dream. This laugh maker is a popular TV personality and also part owner of the world-famous Laugh Factory. Tickets for his 8 p.m. show are $25 and $35.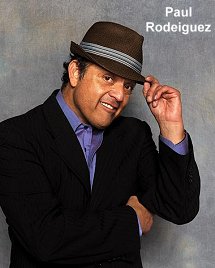 Rodriguez's weekly television series "a.k.a. Pablo" that was developed by Norman Lear was the first television show about a Mexican American family on mainstream American television. In total, Rodriguez has appeared in more than 45 films including "Without Men" with Eva Longoria and Christian Slater, "Cats & Dogs: The Revenge of Kitty Galore," and "Beverly Hills Chihuahua." He also honed his skills as a writer, director and producer establishing projects such as "The Original Latin Kings of Comedy" starring him with Cheech Marin, George Lopez and Carlos Mencia, "A Million to Juan," and six comedy HBO specials.
HARRAH's HIGHLIGHTS JOE COCKER AND HUEY LEWIS & THE NEWS
Together Joe Cocker and Huey Lewis & The News will take the Rio Vista Outdoor Amphitheater by storm on Saturday, July 14. Tickets for their 9 p.m. show start at $40.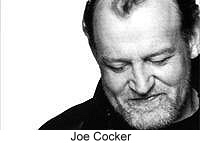 English rock and blues singer Cocker, well known for his gritty voice and idiosyncratic arm movements while performing, became popular in the 1960s. He is the recipient of several awards, including his Grammy Award in 1983 for his No. 1 hit "Up Where We Belong," a duet he did with Jennifer Warnes.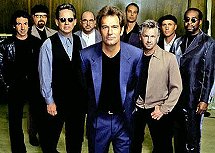 American rock band Huey Lewis and the News is based in San Francisco. They had many hit singles during the 1980s and early 1990s, and eventually scored 19 Top Ten singles across the Billboard Hot 100, Adult Contemporary and Mainstream Rock charts. Their greatest success in the 1980s was with their No. 1 album, "Sports," coupled with a series of highly successful MTV videos. Worldwide fame came for this group when their song "The Power of Love" was featured in the film "Back to the Future," and became a No. 1 hit and nominated for an Academy Award.
EDGEWATER FEATURES PAT BENATAR AND NEIL GIRALDO
Female rock star Pat Benatar and Neil "Spyder" James Giraldo will appear at the E Center at the Edgewater on Friday, July 13. Tickets for their 8 p.m. show range from $25 to $65.
Benatar is a bonafide living legend with more than three decades in rock 'n' roll. She has always been a rule-breaker and trail-blazer. Her songs like "Love is a Battlefield," "Hit Me with Your Best Shot," "Heartbreaker," "Promises In The Dark" and "We Belong" make her totally unforgettable.
Giraldo has been a producer, professional musician, arranger and songwriter for more than four decades. Along with his wife and partner, Pat Benatar, they changed pop charts throughout the '80s with their collaboration. More than just a dynamic steel-bending guitar player, Giraldo's innovative vision helped him create the signature Benatar sound. His catalog includes more than 100 songs written, produced, arranged and recorded for Benatar, as well as many hits he helped create for other singers like John Waite, Rick Springfield, Kenny Loggins, Steve Forbert, The Del Lords, Beth Hart and countless others.
BRENTON WOOD STARS AT THE TROPICANA
Brenton Wood, American singer and songwriter, will sing his trademark songs at the Tropicana in The Pavilion Theater on Friday, Aug. 10. He is best known for two 1967 hit singles "The Oogum Boogum Song," a real nonsense novelty record, and "Gimme Little Sign." Wood reached the charts again in 1977 with a with Shirley Goodman called " Come Softly to Me." Following its release, Wood became part of the oldies soul circuit and in 2001 returned with an album of new material, "This Love Is for Real." Tickets are $25 for his 8 p.m. show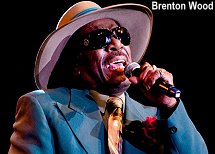 IT's A MAGICAL TIME AT HARRAH's
"Masters of Illusion – Live!" will appear in the Fiesta Showroom at Harrah's, July 17-20 and 22. This extravaganza brings the hit television show "Masters of Illusion: Impossible Magic" to the live stage complete with animals, dancers, escapologists, comedy magicians, spell binding illusionists and more, including audience participation. Tickets are $25 and $35.
RIVER PALMS HOLDS TWO-DAY SALSA DANCE EVENT
"Salsa Sizzles" is a brand new dance event being held at the River Palms on Friday, July 13 and Saturday, July 14 in the 2700 Club. This two-day event will feature daily group dance lessons by Alfredo and Alma Delgado from 1 – 3:45 p.m. and 8-9 p.m. and hosted dance parties featuring music by Magaly's Addiction and DJ Control from 9 p.m. – 2 a.m. There will be a Salsa Dance Competition at 11 p.m. with semi-finals on Friday and Finals on Saturday to win $250 cash and other prizes and a Best Dressed Contest for $100 cash each night. Cost is $15 per night to attend the parties, to compete and to have a midnight buffet.
TOP OF NEXT COLUMN
COMEDIANS APPEAR WEEKLY AT THE EDGEWATER
Every week the "Comedy on the Edge" show at the Edgewater features different comedians. Performances are Friday through Sunday in the Inferno Nightclub/Edgewater Showroom at 7 p.m. Admission tickets are $10 at the Edgewater Casino Cage or at the door.
The upcoming lineup of comedians include: July 13 Mike Pace and Justin Rivera; July 14-15 Ed Regene and Mel Kohl; July 20-22 Richie Cantor and Frazer Smith; July 27 Drake Witham and P.J. Stansbury; and July 28-29 Steve Smith and Byron Bowers; Aug 10-Andrew Sleighter and Jay Bloc; Aug 11-12-John Roy and Ryan Wingfield; Aug 17-Anthony Padilla and Jeremy Wieand; Aug 18-19-Scot Nery and Cory Michaelis; Aug 24-26-Pete George and Chey Bell. There won't be any shows Aug. 3-5.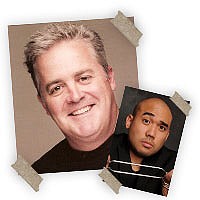 Mike Pace will perform with Justin Riviera on July 13. Pace is surrounded by comedy in his house with a long-haired 16 year old in a hard-rock band, a 14 year old daughter facing the pressures of tattoos and body-piercing, and a 5 year old surprise baby. Rivera is a comedian with a twist because he's a comedy magician.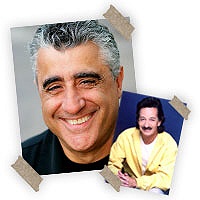 Ed Regine will pair up with Mel Kohl on July 14 and 15. Regine is described as a "non-stop joke machine." Regine's energy, material and rapid fire delivery have earned him appearances on "The Tonight Show" with Jay Leno, "MADtv," "Jimmy Kimmel Live" and "Last Comic Standing" and landed him film credits including "Charlie Wilson's War" and "Celtic Pride."
Drake Witham along with P.J. Stansbury will perform on July 27. Wilson's act features his deadpan delivery and razor-sharp wit. He won the Seattle Comedy Competition and has performed on Comedy Central's "Live at Gotham" and the "Late Late Show with Craig Ferguson" and made two comedy tours in Iraq for U.S. troops.
SENIORS WILL PARTICIPATE IN AMATEUR KARAOKE CONTEST
Seniors, ages 50 plus, will have their time in the limelight with the Karaoke Seniors USA Contest, Aug. 26-29, in the Starview Room at the Riverside. The amateur competition will offer a $1,000 first place prize for female and male winners in the following categories: Oldies/Rock and Country/Blues. This event will be a karaoke contest and variety show. For more information and registration, visit http://www.karaokeseniorsusacontest.com/ or call 702-535-4985.
BRIANA PAYNE WON COUNTRY CONTEST AT THE RIVERSIDE
Briana Payne from Kingman, Ariz., won the 31st Annual Texaco Country Showdown held in the Starview Room at Don Laughlin's Riverside Resort in Laughlin, Nev., in June. It was the 12th time Highway Country (KIXW/KIXF) hosted the local contest as part of the largest country music talent search and radio promotion in the nation.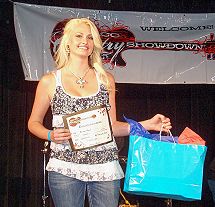 Payne will go on to compete in a state final being held Saturday, Oct. 6, 2012, in Chandler, Ariz. at the Wildhorse Pass Hotel & Casino. State winners vie for a $1,000 cash prize and the opportunity to advance to a regional competition in the fall. The five regional winners will be awarded an all-expense paid trip to the National Final where they will compete for the $100,000 Grand Prize and the National Title.
ESPN 'FRIDAY NIGHT FIGHTs' DEBUT AT E CENTER
ESPN2's "Friday Night Fights" will debut in the Edgewater's E Center on July 20 with the live boxing event being televised. The main event will be a 10-round Super Featherweight bout for the WBO Latino Junior Lightweight Championship with former world title challenger Juan Carlos Burgos (29-1-0, 19 KOs) vs. Cesar Vaszquez (25-0-0, 16 KOs). The event's co-feature will be an eight-round welterweight bout between Aaron Martinez (17-1-1, 4 KO's) of Los Angeles, Calif., and Prenice Brewer (16-2-1, 6 KO's) of Cleveland, Ohio. Tickets start at $25 and you must be 16 to attend.
HAPPENING EVENTS
"Desperado - The Music of The Eagles" will play nightly, July 12-15 and 17-20 in Don's Celebrity Theatre at the Riverside at 8 p.m. Tickets are $25. "Face to Face: Billy Joel and Elton John" tribute will follow July 25-28 with tickets priced at $30.
"Smooth" tribute to Santana will take place on Saturday, July 21 at the Avi's Beach Overlook from 7-10 p.m. Dinner is $15 with beverages not included and it's free to listen to the music.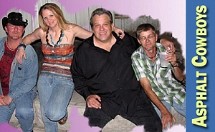 The ArrowWeed Lounge at the Avi will feature the Asphalt Cowboys for a return engagement July 17 - 22. This band plays lots of country and rock and roll with a little R & B and oldies to round out an evening of entertainment. Matt Reeves & The All Americans will follow July 24-29. They are a throwback to the glory days of Country Rhythm and Blues of yesteryear. There's no cover charge in the lounge and there's a dance floor.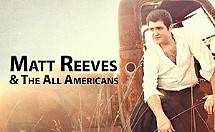 The "Bullhead City River Regatta" attracts thousands to float on the Colorado Rivers Aug. 10 and 11. This river event takes place at Rotary Park in Bullhead City, Ariz., and feature themed floats, a party on Friday and many activities including a beer pong tourney, karaoke contest, mud volleyball tourney, etc. "The Cannonball" pre-parties are planned for Thursday and Friday. A kayak, canoe and standup paddleboard race/float will take place during the day on Friday. For information, visit http://bullheadregatta.com/.

Stand-up comic Murray Langston's engagement at the Avi on Aug. 24 has been postponed until next year some time.

The North Parking Lot at the Tropicana will be the site of the "Viva Tropicana Car Show" Sept. 28 and 29. Car enthusiasts will convene at this outdoor event to partake in a Show 'n' Shine that will have trophy awards for "Classic Car," "Classic Low Rider," "Classic Muscle Car," and "American Made Motorcycle." Cost is $25 to enter a car, call 800-243-6847, and viewing is free. Musical entertainment will be provided by DJ Cholo.

The Riverside is home to Tom & Sharon's Dance Party, which has added more dates. The upcoming schedule is July 14, 28, Aug 11, 25, Sept. 15, 29, and Oct. 13, 27. This event takes place from 1:30 - 4 p.m. and dances are varied. Call 928-754-2097 for admission fee and information.

"Jamaican Me Crazy" featuring live reggae band is scheduled for Saturday, Aug. 18 from 7-10 p.m. at the Avi's Beach Overlook. Dinner is $15 with beverages not included and it's free to listen to the music.


CONTINUE ON TO...:

THIS WEEK'S >LAS VEGAS NEWS
LAST WEEK'S >LAUGHLIN NEWS
>VEGAS VIEW FULL ARCHIVES
Return to >"Heard Around Town"
Return to >Las Vegas Leisure Guide