Harrah's continues its limited-engagement entertainment in the Fiesta Showroom with the upcoming 8 p.m. and 10 p.m. performances of Paul Revere and the Raiders, July 14-15. Equal parts music and humor, the group's show is about having a good time. Tickets start at $22.95 plus tax, call 702-298-8510.
Revere's first band, The Downbeats, Idaho's only rock 'n' roll band, evolved into Paul Revere and the Raiders. The band promptly began a wave of success producing 20 consecutive hit singles, gold records and classic albums. Their music also covered the issues of the sixties generation and became anthems for the times.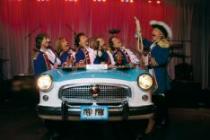 Revere and The Raiders' one-of-a-kind stage show blends music with sidesplitting humor, hilarious repartee and audience interaction. Revere, known as the "the last madman of rock and roll," pokes fun at his band members and himself with humorous one-liners and involves the audience in comedic mayhem.
Magical entertainer Aaron Radatz will headline at Don Laughlin's Riverside, Aug. 2-5, at 8 p.m. Tickets are$25, call 1-800-227-3849.
At the young age of 6, Radatz received a magic set as a gift from his grandmother and soon turned it into a full-time hobby. At age 14, he began performing for various schools, organizations and private parties.
At age 18, Radatz's knowledge and dedication to his craft provided him with a global audience_ a center stage performance with DaimlerChrysler Corporation entertaining at their New Car Announcement show in San Francisco, Calif. Two years later, Radatz earned the title of being the youngest magician to headline a casino production at Casino Magic in Biloxi, Miss.
He has studied with many of the masters of magic including Harry Blackstone Jr. He was chosen to represent the United States at the World Magic Seminar in Las Vegas, and recently received the Outstanding Young Alumni award from his alma mater, Central Michigan University, where he attained a degree in business. To date, Radatz and his cast have toured 37 U.S. states, 27 countries and six continents. He is also the only magician who has been commissioned by the U.S. Pentagon for a command performance for the U.S. military.
The CBS TV series pilot 'Viva Laughlin" starring Hugh Jackman of "X-Men" fame has clearance for airing this fall beginning on Sunday, Sept. 30. It will be a musical drama, which is something new. The show's premise involves entrepreneur Ripley Holden, portrayed by Lloyd Owen, who has a dream of opening a small casino in Laughlin. He has a frustrated wife, rebellious teenage daughter and a son Jack. Jackman plays Ripley's ruthless casino competitor. The show was adapted from an acclaimed British mini-series, "Viva Blackpool."

TOP OF NEXT COLUMN
John Kay and Steppenwolf will headline at the Aquarius Pavilion on Saturday, July 28 at 7 p.m. The group has emerged as one of rock's most enduring and respected bands, delivering personally-charged music for more than three decades. At last count, the band's worldwide record sales exceed 25 million units. Its songs remain fixtures on classic-rock radio, and have been licensed for use in approximately 50 motion pictures and an even greater number of television programs.
The "Parrothead Weekend" highlighting various Jimmy Buffet-style bands will play in both the ArrowWeed Lounge on Friday, Aug 3, and the Convention Center on Saturday, Aug. 4, at the Avi Resort.
The husband and and wife team, Gino & Melody, aka Gino Gagliardi and Melody Lane, have been entertaining in the area for the past several years. They came to town from Las Vegas as part of a show that played at the Flamingo Laughlin. When the show folded, they decided to stay in the area. They currently have landed at O'Leary's Irish Pub across the river in Bullhead City where they perform on Friday nights and will have just started Sunday early afternoon/evening jam sessions. The music the couple plays is varied with an emphasis on the pop side.
Gagliardi was a successful keyboardist with big names on the Las Vegas Strip and he was the musical director for Redd Foxx for years.
Lane appeared in numerous shows as a featured singer and impersonator paying tribute to Patsy Cline and Wynonna Judd.
The Ramada Express is featuring "Follies Magnifique" through Sept. 17. The topless revue for folks 21 and older is performed nightly except Tuesday and Wednesday at 8 p.m. Tickets are $19.95 and new Distinguished Players Club members who earn 50 points receive two free tickets. For inquiries, call 1-800-243-6846.
On July 12, the "Great American Race," the 25th anniversary of the national auto cross-country race, will make a stop at the Colorado Belle. Vintage cars will be on display and other events are planned in the Center Circle Event Area in front of the casino. For information, call 1-877-460-0777.
A more unusual bus excursion is the Haunted Laughlin Tours that visit haunted sites throughout the area. Tours depart at 7 p.m., Friday through Wednesday, from the Preferred Outlets mall. For information, call 866-218-4935.
"How Suite It Is," the newest promotion at 33 participating Harrah's-owned casinos, will award customers eight ultimate, one-of-a-kind suite life prizes. The promotion launches at Harrah's Laughlin on July 9, and concludes on Sept. 9, when customers from around the nation join together via video simulcast for a culminating event at the Rio in Las Vegas that features a random drawing for eight "How Suite It Is" ultimate suite life prizes.
The eight different "How Suite It Is" finalist prizes range from the ultimate baseball and basketball suite experiences to the ultimate spa and dining adventures in all different cities.
All ultimate experience prize packages include $25,000 in spending money, coach airfare for eight and 3 days/2 nights of accommodations in four hotel suites.
In addition, on Sept. 9 one guaranteed Harrah's Laughlin winner will win $10,000 in a separate second chance final drawing and one winner will receive $1,000 in the Cash Craze final drawing.
CONTINUE ON TO...:
>THIS WEEK'S LAS VEGAS NEWS
>LAST WEEK'S LAUGHLIN NEWS
>VEGAS VIEW FULL ARCHIVES
>Return to "Heard Around Town"
>Return to Las Vegas Leisure Guide