AMPLIFY!! is a four-day music conference and industry showcase that will return Downtown for the third year, Aug. 7-10. The conference will include daily industry panels featuring industry pros, VIP Parties and networking events. Each evening bands from across the nation will perform and venues to date include the Beauty Bar, Brass, Canyon Club and Jillian's. Up to 100 bands will be chosen to showcase for the music industry and compete for more than $25,000 in cash and prizes including studio time at The Studio at the Palms.
In 2006, more than 50 representatives from major record labels, talent agencies and publishing houses, etc. attended. AMPLIFY!! is open to the general public with conference passes and showcase tickets available for purchase. For more information, log onto www.AmplifyMusicCompFest.com or call 702-631-2888.

Following two successfully sold-out shows earlier this year, Latino stand-up comedian Carlos Mencia will return to The Pearl at the Palms to perform on Oct. 20 at 7 and 10:30 p.m. He'll bring his insightful observation to subjects including ethnic stereotypes, racism, politics, religion and society in a blunt and politically incorrect manner. Tickets are $50 and $75, call 702-474-4000.
Column Continues Below Advertisement


Mencia performed two half-hour specials on HBO which led him to win a CableACE Award for the Best Stand-Up Comedy Special. In 2002 with the help of Warner Brothers, he released his album "Take a Joke America." After numerous television guest appearances, his hit show "Mind of Mencia" on Comedy Central ensured him being a household name. Mencia is currently slated to star opposite Ben Stiller in the latest Farrelly brothers' comedy.
The "American Superstars" show at the Stratosphere, which has played there since April 1996, will add Jason Tenner as Prince to its line-up of celebrity tributes for a limited engagement beginning July 9. Tenner will perform a three-song set of some of Prince's biggest hits including "Let's Go Crazy," "Kiss," and "1999." Tickets are $41.75, call 702- 380-7711 or 800-99-TOWER.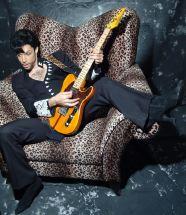 Tenner began performing as Prince in 1997 as the front man of a Las Vegas-based Prince tribute band called Purple Reign that has shared billings with acts such as Destiny's Child and The Bar-kays. Tenner will temporarily step away from the band to join the "American Superstars" cast featuring Darren Lee as Elvis, Kristie Fisher as Britney Spears, Chad Givens as Tim McGraw, Lorena Peril as Christina Aguilera and Damian Brantley as Michael Jackson. The band and dancers back the cast.
Frederick's of Hollywood has just celebrated its grand opening. The new boutique offers an ultra modern and uber sexy experience filled with Hollywood glamour. The new store features Frederick's signature red, black and leopard styling.
In mid-September, Trader Vic's restaurant will open and highlight Polynesian-fusion, food and fun. The eatery will promote Trader Vic's world-famous appetizers, choice entrees, wok dishes and Chinese wood-fired oven specialties.
The first H&M in Las Vegas is planning to open in October. The layout of the store will follow specific presentation guidelines carefully crafted by H&M to provide customers with guidance and inspiration. Touting fashion and quality at the best price, H&M has approximately 100 designers working with a team of 60 pattern designers, 100 buyers and a number of budget controllers to create trendy clothing collections for women, men, children and teenagers.
In early November, look for True Religion. The Los Angeles based premium denim company established in December 2002 has become known for its intense attention to detail and distinguished itself as a leader in the high-end denim market for men, women and kids. The line also includes a myriad of colored corduroy pants, skirts, shirts, shorts, jackets, blazers, hoodies, T-shirts and everything in between.
Also in November, the Hawaiian Tropic Zone will be unveiling its second venture into creating a dining and nightlife destination with cuisine from celebrated chef David Burke. The outlet will boast a sexy modern d'cor, a three-tier dining room, a cat-walk stage for nightly entertainment, a full bar and a two-story waterfall. Exotic and friendly Hawaiian Tropic models will serve as "table concierges" to assist with dining needs and participate in a nightly beauty pageant.
Little Anthony & The Imperials will bring their stage show and unforgettable hits to The Club at the Cannery in North Las Vegas on Saturday, Aug. 4 at 8 p.m. Tickets are $25.95, $15.95 and $9.95, call 702-617-5585 or 866-287-4643.
Fronted by falsetto-voiced Anthony Gourdine, Little Anthony & The Imperials are one of the most unforgettable pop and R&B acts of the '50s and '60s. Originally known as The Chesters, the group changed their name to The Imperials and signed with End Records in 1958. The group's very first record made music history. It was a rare double-sided smash with the side "A" track, "Tears on My Pillow," eventually becoming one of music's most enduring love ballads. The flip side hit, "Two People In The World," was also a phenomenal hit and made this one of the most popular double-sided ballad records in vocal group history.
Social House located inside TI and above the Tangerine Lounge & Nightclub has introduced a special treat for Las Vegas show goers with a fixed priced, four-course Pre-Theater Menu. It is offered nightly from 5 p.m. until 7 p.m. for $60 per person, call 702-894-7223.
"Spider-Man" Toby Maguire finished 66th out of a field of 728 in the World Series of Poker's $5,000 buy-in No Limit Hold 'em event at the Rio.
The Spice Girls have announced their reunion tour and a stop in Las Vegas on Dec. 8. The girls last Las Vegas performance was in August 1998, when they attracted more than 12,000 fans to a sold-out show at the Thomas & Mack Center.
The New Frontier on the Strip will be closing on July 15 and once again another piece of Las Vegas history will bit the dust.
Due to an initial overwhelming response, the Rampart Casino, located in North Las Vegas, and 105.7 FM The Oasis are bringing back the Smooth Jazz Series showcasing some of Las Vegas' finest jazz artists. The four-week series will begin July 11 and take place in Addison's Lounge from 6 p.m. to 8 p.m. and admission is free. The lineup of performers is: Tommy Thompson Project July 11; The Julius Show July 18; Ghallib Ghallab July 25; and David Van Such Aug. 1.
In addition to the music, Addison's Lounge will continue to serve $4 martini specials with jazz-inspired names: The Bellinitini; The Ella Fitzgerald; The Dirty Classic; The Jazz Berry; and The Purple Haze.
The south end of the Strip is now rowdier since Dick's Last Resort opened at the Excalibur on June 28. The new hangout is very casual with a wacky-tacky décor and inside and outside dining components where massive cocktails, finger foods by the bucket and colossal portions of food are served. Dick's encourages patron participation and unruliness to create a raucous environment. Dick's serves lunch, dinner and late-night grub. As the night wears on, Dick's is transformed into a nightlife outpost.
Each night Dick's features live entertainment as some of Las Vegas' musical acts invite guests to rock out as they perform yesterday's classics and today's favorites. Dueling pianos duke it out Monday - Wednesday, Disco Inferno gets into the groove Thursday - Saturday and on Sundays the band Panama pumps up the energy with '80s rock and popular Top 40 hits.
The Las Vegas location of Dick's Last Resort adds to a stellar national line-up, which includes Dallas, San Antonio, Myrtle Beach, Chicago, San Diego and Boston. Dick's Last Resort is owned and operated by nightlife and dining pacesetter Pure Management Group.
A farewell wine dinner set for Tuesday, July 10, 2 at Sazio's will celebrate the end of an era for Gustav at his 240-seat eatery in The Orleans. The family style Italian restaurant that opened in May 2001, boasted a family friendly atmosphere with a lunch and dinner menu by the Certified Master Chef. In mid-July, The Orleans' management will take over the space and operate the restaurant. Meanwhile, the images on Sazio's Wall of Fame will be sold for a minimum $100 donation to benefit Catholic Charities. The four-course, farewell wine dinner, will feature wines from Chateau Ste Michelle for $39 per person, call 948-9500.
Las Vegas is fortunate to have fabulous restaurants in the hotels and resorts; however, that number is quite possibly matched by separate off-Strip dining experiences. Another new one to enter the fold is the Mediterranean inspired Aroma Garden Café serving continental cuisine located at 5875 S. Rainbow off I-215. There are some French, Italian, Greek and Middle Eastern dishes on the menu created by Chef Clemente Escobedo Diaz, formerly with Drai's on the Strip.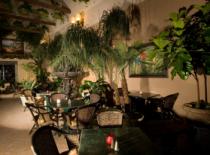 The Aroma Garden Cafe seats 120 people and features a main dining room with booths, couches and dinner table seating, and the Small Talk Garden, a separate air-conditioned room with a 15-foot-high water fountain, skylight, real plants and music. In addition, there's a full espresso bar and in-house bakery. The restaurant is open daily from 10 a.m. to 10 p.m., call 702-221-4893.
This summer the 20 millionth patron will experience a Cirque du Soleil production in Las Vegas. To celebrate, Cirque du Soleil is exclusively aligning with Ticketmaster to offer specially priced tickets and a chance to win a trip around the world to see other Cirque du Soleil shows.
Now through Sept. 30, a limited number of specially priced tickets will be available thru Ticketmaster for select Cirque du Soleil shows in Las Vegas. During this time, all ticket buyers who purchase Cirque du Soleil tickets may enter a Summer of Cirque du Soleil Sweepstakes.
One lucky ticket buyer will be randomly selected to receive the Grand Prize package including: airfare for two to see a Cirque du Soleil touring production anywhere in the world, a five-night hotel stay in that city, VIP Tapis Rouge Experience and Cirque du Soleil gift bag, an invitation for two to the Luxor/Criss Angel 2008 Las Vegas Gala including airfare for two from the winner's resident city anywhere in the United States and a two-night hotel stay.
Steve Schirripa, former cast member of "The Sopranos" will be taping an entire season of "Casino Cinema" at the Hard Rock beginning July 10-12 and running into September. The show will feature some Las Vegas personalities and the co-host will be Howard Stern's girlfriend, Beth Ostrovsky.
Rotund 240-pound comedian Monty Hoffman, who describes himself also as an actor and sex god, will headline the Riviera Comedy Club with Shayma Tash and Christian Linder, July 23-29. Along with many television and film credits including national commercials for Hershey's Almond Kisses, Buick and Capri, he's also a well-known improvisational comedian, who has performed on stage with Robin Williams and other stars including Bobcat Goldthwait and Dana Carvey. Show times are 8:30 and 10:30 p.m. nightly. Tickets are$19.95, call 702-794-9433.
Emmy nominated actress and singer Parris Lane will perform at the Bootlegger Bistro, located at 7700 Las Vegas Blvd South for Kelly Clinton's Celebrity Showcase on Sunday, July 15, at 8 p.m. Lane will be singing a combination of '40s jazz standards. Reservations are suggested; call 702-736-4939.
Two of the dancer-performers from the "Crazy Girls," the Russian model Valentina Smirnova and California beauty Summer Ferguson, will be the first ladies on the auction block on Thursday, July 12 for a double date at the 4th Annual Adam and Eve Charity Love Fling Bachelor / Bachelorette Auction at The Empire Ballroom to benefit the New Vista Community. General admission is $20.
A one-of-a-kind experience is indoor skydiving. Flyaway Indoor Skydiving located a block off the Strip is now open daily from 10 a.m. to 10 p.m. On top of the new hours, Flyaway recently made an upgrade to their wind tunnel's air conditioning system, making flights cooler and it offers coaching packages and the Frequent Flyer Club, call 702-731-4768.
CONTINUE ON TO...:
>THIS WEEK'S LAUGHLIN SEGMENT
>LAST WEEK'S LAS VEGAS SEGMENT
>VEGAS VIEW FULL ARCHIVES
>Return to "Heard Around Town"
>Return to Las Vegas Leisure Guide