DANA CARVEY VISITS THE ORLEANS


From July 24-26, Dana Carvey will bring his incomparable act to the Orleans Showroom for a three-night 8 p.m. show engagement. Tickets start from $74.95, call 702-365-7075.

Since bursting onto the national scene on "Saturday Night Live" in 1986 and '87, Carvey has entertained with uncanny impersonations of political leaders, entertainers and celebrities especially the "Church Lady," "Hanz" (of "Hanz & Franz"), "Grumpy Old Man," and Garth Algar, the faithful sidekick of Wayne Campbell on "Wayne's World."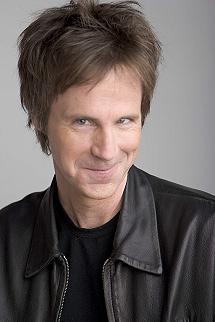 In 1992, Carvey teamed up with "SNL" colleague Mike Myers on "Wayne's World," the movie adaptation of their popular skit. The film was a smash success, grossing more than $160 million, and led to the 1993 sequel, "Wayne's World 2." Carvey went on to appear in several additional movies, including "The Road to Wellville" and "Clean Slate."
Carvey was awarded an Emmy in 1993 for Outstanding Individual Performance in a Variety or Music Program, and received five other Emmy nominations throughout his career. He was also named Television's Funniest Supporting Male for 1990-91, and was recognized by Comedy Central as one of the top 100 stand-up acts of all time.

Column Continues Below Advertisement


LARRY HART'S CONCERT OF 'PRAISE' RETURNS TO SOUTH POINT
Larry Hart's Concert of "Praise" - An Irreverently Reverent GOSPEL Experience will return to the Showroom at South Point on Sunday, July 12 at 2 p.m. The show stars Larry Hart, special guest Darcus Speed, six sensational female singers in designer costumes and an appearance by Toni Hart. The rest of the over-the-top experienced singing cast includes: former Shirelle Diane Spann, ex-Rockette Marque, country dynamo Jennifer Weatherly, commercial and casino lounge singer Jeneane Marie, jazz vocalist Paris Red and Korean-American songstress Jenevi. Tickets with tax included are $25, $30, and $35; call the South Point box office at 702-797-8055 or 1-866-796-7111.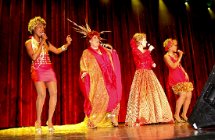 This original 90-minute, fully orchestrated non-secular musical was written and conceived by Hart, who is a multi-platinum and Grammy winning recording artist. "Praise" is a condensed version of a future Broadway show.
Hart's second production was "Sisterella," which received 12 NAACP Theater Award nominations and won eight awards including Best Play and Best Director. Highly successful in Europe, "Sisterella" was voted "Show of the Decade" by European theater fans. Hart directed and starred in all productions of "Sisterella," which was produced by Michael Jackson, Robert De Niro and Miramax Films. Interesting fact... Hart is the only composer and "SIsterella" the only project that wasn't a Jackson creation that the superstar ever backed with his name. Jackson was Hart's business partner and dear friend.
HIT BLUES ARTIST GUY DAVIS PERFORMS AT LAKE LAS VEGAS
As part of The Village at Lake Las Vegas' free concert series "Jazz on the Lake," award-winning bluesman Guy Davis will perform on Saturday, July 25 from 7 to 10 p.m. This is a stop on Davis's tour promoting his new hit release "Sweetheart Like You."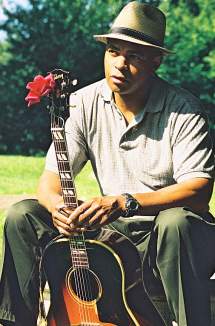 Davis, an accomplished musician, composer, actor, director and performer is the son of actors Ruby Dee and the late Ossie Davis. Raised in New York City, Davis taught himself to play the guitar. In 1995, he released his first album with Red House Records called "Stomp Down Rider." Davis' newest album, "Sweetheart Like You," was released in February 2009.
BEARDO JOINS BLAZED AND CONFUSED TOUR KICKOFF AT PRIMM
Beardo is joining co-headliners Slightly Stoopid and Snoop Dogg, along with Stephen Marley and Mickey Avalon, on the summer's "Blazerd and Confused" tour kicking off at Buffalo Bill's in the Star of the Desert Arena 6:30 p.m. on Friday, July 10. These acts are joined for the first time to create the summer soundtrack of 2009. Tickets are $99.95, $74.95 and $49.95, call 1-800-FUN-STOP.
Based out of California, Beardo will offer his hip musical compositions in genres from rap to rock. His most popular song is "John Lennon" and he currently has three songs available on iTunes, called "Girls Girls Girls and Pills," "Losers" and "On the Run."
NEW AERIAL GALLERY OF BANNERS DISPLAYED IN DOWNTOWN CORRIDOR
A series of 24 hand-painted images featuring flowering desert plants by Dennis Angel, entitled "Desert Transplants," is now being displayed in the city of Las Vegas Aerial Gallery downtown on Las Vegas Boulevard. The project features a mile-long banner display on six poles along the median of Las Vegas Boulevard from Charleston Boulevard north to Stewart Avenue. Streetlights on the poles illuminate the three-foot-by-eight-foot banners at night. The current banners are scheduled to remain on display through January 2010.
Angel moved to Southern Nevada in 1991, and currently is a professor at the College of Southern Nevada. His works have been featured in more than 200 exhibitions and acquired for private, public and corporate collections throughout the United States.
CITY OF HENDERSON WILL HOST 'THE DOLLS OF JAPAN'
The City of Henderson, Japan America Society of Nevada and the Consulate General of Japan in San Francisco have collaborated on an international cultural exchange to present a free traveling exhibit, "The Dolls of Japan," from Sept. 8-Oct. 10 at the Henderson Convention Center, 200 S. Water Street.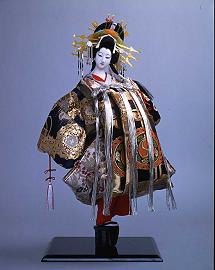 "The Dolls of Japan" exhibit contains 70 unique pieces on loan from the Japan Foundation in Tokyo that celebrate the diversity of the arts, traditions and culture in the "Land of the Rising Sun." The free exhibit will be open Monday-Friday, 10 a.m. to 5 p.m., and Saturday, 1 p.m. to 5 p.m. For information, call 702-267-2171.
HARRAH'S HEADLINER MAC KING WILL PERFORM IN BEIJING, CHINA
Comedy magician Mac King, who has his own afternoon show at Harrah's, will travel to Beijing, China to participate in the 24th Annual World FISM (Fédération Internationale des Sociétés Magiques or International Federation of Magic Societies) Championships July 26-31.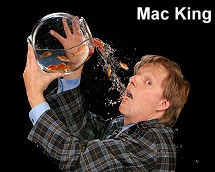 The International Federation of Magic Societies (FISM™) was created in 1948 and today consists of 82 international clubs including more than 50,000 magicians from 44 different countries. The event will host more than 2,000 magicians competing from around the world.
BULLFIGHTING WILL BARREL DOWN THE STRIP THIS SEPTEMBER
Don Bull Productions will bring bloodless bullfighting to Las Vegas and the South Point Sept. 14-15 for Mexican Independence Day and Sept. 27-30. Using specially designed adhesive Velcro pads instead of traditional banderillas, rejones and steel harpoons, competitors are able to preserve the existence of the toros while keeping the excitement and skill of traditional bullfighting alive.
Tickets to Fiesta Patrias start at $60 and can be purchased by calling 702-797-8055. VIP tables and seating prices range from $375 to $550.
QUICK CLIPS
The new M Resort is featuring headlining entertainment from July through October. The lineup is: July 11 - Regeneration Tour featuring ABC, Wang Chung, Missing Persons and Cutting Crew; Aug. 8 - Alan Jackson; Sept. 26 - Crosby, Stills and Nash; and Oct. 23 - Tim McGraw.
The 10th Annual Latin Grammy Awards will take center stage at the Mandalay Bay Events Center on Thursday, Nov. 5. This marks the second time Las Vegas will host the international showcase of Latin music that will air live on the Univision Television Network on Nov. 5, at 8 p.m. Eastern/7 p.m. Central. Additionally, the telecast will be seen globally in more than 110 countries.
Lisa Williams, internationally acclaimed medium and clairvoyant who was discovered by Merv Griffin and has her own hit show "Lisa Williams, Life Among the Dead," will appear at the Las Vegas Hilton Theater Sunday, Aug. 2 at 7 p.m. For tickets, call 702-732-5755 or 800-222-5361. Williams is writing her first book to be published by Simon and Schuster.
Comedian and celebrity roaster Vinnie Favorito, who stars in his own show at the Flamingo in Bugsy's Cabaret, will play poker and compete in this year's World Series of Pokerr Main Event at the Rio. He will be one of more than 6,000 other expected poker players on Monday, July 6. This will mark Favorito's third time participating in the Las Vegas tournament.
The Fab, a well established Beatles tribute band, will perform one of the Beatles' finest albums, "Abbey Road," in its entirety at the Cannery in North Las Vegas on Friday, July 31 at 8 p.m. Admission is $10 at the door.
"Tickled Pink" is the new comedy show at the Harmon Theater that started on June 28. The show features nationally known headliner comics every Sunday at 8:30 p.m. Each week features a new mix of two comics and host, comedienne Shayma Tash, who has appeared in "The Amazing Johnathan" show at the Harmon Theater, been on the hidden camera show "Kamakaze Comedy," and is a regular on MTV's "Punk'd."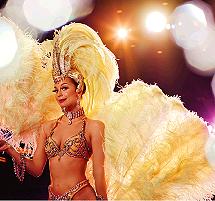 As one of the longest-running shows on the world-famous Las Vegas Strip, the retro-glam showgirl extravaganza "Jubilee!" at Bally's has entertained more than 11 million guests and on July 31 will celebrate 28 years in existence. To commemorate the anniversary, Bally's is offering a special hotel package. A limited-capacity backstage tour is offered on Mondays, Wednesdays and Saturdays.
"Phantom - The Las Vegas Spectacular" at the Venetian celebrated its third anniversary on June 24 after three thriving years and 1,353 performances.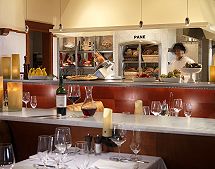 The new wine bar at the Terra Verde Italian restaurant at Green Valley Ranch features a wine by the ounce program from its new enomatic wine system. With a choice of 32 different wine options, guests can also have bites from the new "Small Plates Menu." Tasting portions feature prices ranging from $5 to $7.
"Naked Boys Singing" currently playing at the Onyx Theatre, located inside The Rack clothing store in Commercial Center, is so popular that it has been extended through July 11. Tickets are $30; call the Onyx at 702-732-7225.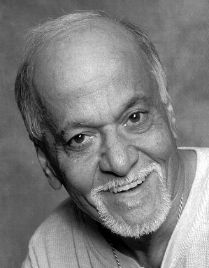 Comedian Gerry Bednob will share the Riviera Comedy Club stage with Sheila Kay and Sam Kwasman, July 20-29. Bednob has guest-starred in several television shows including NBC's "Seinfeld" and ABC's "The George Lopez Show." He has also appeared in numerous films such as "The 40 Year Old Virgin," "Death Becomes Her," "Encino Man," "Doing Time On Planet Earth" and "Behind The Smiles."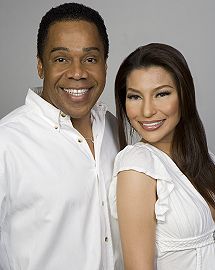 The producers of "Voices" at the Las Vegas Hilton starring Earl Turner and Lani Misalucha have introduced an offer where anyone who has purchased a ticket previously to "Voices" or to another Las Vegas show can bring in the ticket stub and receive one complimentary ticket when purchasing a full-price ticket to "Voices."
Sonoma Cellar located inside Sunset Station is offering a complimentary bottle of wine on Monday and Tuesday evenings with the purchase of two or more entrees.
International motorsports supermodel Jessica Barton will appear at the annual Las Vegas Drift Nationals July 10-11 at The Strip at Las Vegas Motor Speedway.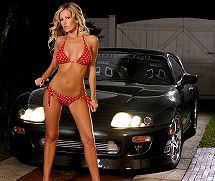 She will sign exclusive, LVMS-edition autograph cards available only at the Formula Drift event. Barton, who is one of the most photographed personalities in the automotive industry, will serve as the official spokes model for The Strip at LVMS at selected special events during the 2009 season.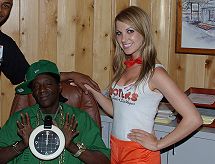 Popular rapper and television star, Flava Fav, who is known for outlandish outfits, was recently spotted at Hooters. He was wearing over-sized clocks around his neck.
MOB-THEMED CAPO'S RESTAURANT OPENS SECOND LOCATION
With business going great guns at the original Capo's on Tropicana Avenue, restaurateur Nico Santucci recently opened his second location of the famed mobster-chic restaurant, Capo's Italian Steakhouse, at 5675 W. Sahara Avenue, in the location of the former Hooters restaurant.
Larger than its sister venue (110 seats) but with similar speakeasy décor including a hidden entrance at which you ring a buzzer and the maitre d' slides open a little panel, the new venue boasts plush red banquettes, crystal chandeliers, a bar, a private "roulette room" that seats 10 hidden behind a huge picture of Al Capone as well as a private theater/dining room that seats 20 and an outdoor smoking/cigar lounge.
"The new restaurant is 'Goodfellas' while the first one is 'The Godfather,'" relates Santucci. Additionally, like the first Capo's, the new place has entertainment. Kevin DeCosta plays piano and croons six nights a week, presenting old Vegas-style songs. Call 702-364-2276 for dinner reservations and information.

Column Continues Below Advertisement




CONTINUE ON TO...:


>THIS WEEK'S LAUGHLIN SEGMENT
>LAST WEEK'S LAS VEGAS SEGMENT
>VEGAS VIEW FULL ARCHIVES
>Return to "Heard Around Town"
>Return to Las Vegas Leisure Guide