Following his Broadway run, Tony Danza has been signed to reprise his role as the down-on-his-luck theatrical producer Max Bialystock in the Las Vegas production of Mel Brooks' musical comedy "The Producers" at Paris. He'll begin his gig on Aug. 13. For tickets, call 877-374-7469.
Perhaps best known for his sitcom personas, Danza starred on some of television's long-running series from "Taxi" to "Who's the Boss." He's also established himself as a stage and screen star, as well as a respected entertainer. For his theatrical debut in "Wrong Turn at Lungfish," he earned an Outer Critic's Circle Award nomination. Danza received critical acclaim for his portrayal of Rocky the bartender in the Broadway revival of Eugene O'Neill's "The Iceman Cometh" playing opposite Kevin Spacey.

"The Producers" opened on Broadway on April 19, 2001 to unanimous rave reviews and is the recipient of the most Tony Awards in Broadway History; 12, including Best Musical.
Column Continues Below Advertisement


Loews at Lake Las Vegas, which was formerly the Hyatt Regency where "American Sweethearts" was filmed with Julia Roberts and Catherine Zeta Jones, is the first Loews in Nevada. It's a comfortable 493-room, high-end, Moroccan-themed property on par with a Four Seasons and family and pet friendly too.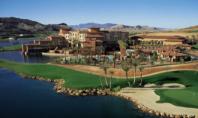 This reporter had the experience for the first time taking two dogs to a hotel. Learning a lot, you need to bring paperwork showing your pet has had its shots and pay an extra $25 fee. Upon check in, you receive a "Pet Welcome Bag" with two bowls, a mat, a bone and a two-sided sign with the messages "Heads, You're In" and "Tails, You're Out." The 25-acre lakefront desert resort offers plenty of outdoor space to roam and a couple pet walking areas.
Relaxation opportunities abound at Loews especially with the sanctuary of Spa Moulay with 11 treatment rooms, a full-service beauty salon, and 24-hour fitness center. My 50-minute massage was the ultimate in indulgence.
Dining at Marssa (pronounced Mär sah), which was formerly Japengo, is a fine dining offering with a lakeside view. The elegant but casual atmosphere features a presentation kitchen, a full sushi bar, and extensive sake and wine lists. First hand, we can recommend the Lobster Cakes, Spinach & Lola Rosa Salad, Mahi Mahi and Shoyu Chicken.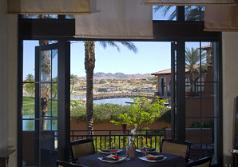 The fine details at Loews make it an exquisite getaway. Subtleties such as twice-daily housekeeping service, plush bathrobes, deluxe bedding and even the new curved shower rod that offers more shower space make staying at Loews a treat.
Attention to detail is also available for the business traveler, there's meeting space, golf, Internet access, business center, etc. and for kids, Loews signature program offers a fully supervised Kids Camp for children ages 3 to 12. There are two heated year-round swimming pools, a sandy beach, private cabanas, eight-hole putting greens, tennis courts, bicycle and jogging paths, and other recreation activities including boating.
Loews is headquartered in New York City and owns and/or operates 18 properties in the United States and Canada. Loews isn't well established in the West, but the Lake Las Vegas resort will soon change that perception.
From acting on television and the big screen, to performing sold-out shows across the world, Hilary Duff is no stranger to the spotlight. She will bring her mix of pop, rock and dance from her latest studio album to The Pearl at the Palms on Aug. 18. Tickets are $65, $85 and $100, call 702-474-4000.
Duff was first recognized from her role in "Casper Meets Wendy" before finding success as Lizzie McGuire on the Disney Channel. While continuing her acting career, Duff skyrocketed her fame by branching out into the music and fashion industries. In 2003, her album "Metamorphosis" hit No. 1 on the Billboard 200 and sold more than two million copies. This year, her latest release "Dignity" showcases a more adult, dance groove feel.
Smash Mouth, the pop rock band that jumped from its San Jose base to world-wide renown, will headline at the Hilton Theater on July 6 and 7. Tickets are $35-$40, call 702-732-5755 or 1-800-222-5361.
After 12 years together as a band and nearly 10 years after emerging on the national scene with their first No. 1 hit, "Walkin' on the Sun," all three co-founding members - Steve Harwell, Greg Camp, and Paul DeLisle - are as tight today as they were the day they first jammed together in their hometown of San Jose.
In addition to performing with the band, Harwell was a cast member for the sixth installment of VH1's popular reality show, "The Surreal Life."
Multi-talented Debbie Reynolds will make a special engagement appearance at the Rampart Casino on July 29 in the Grand Ballroom at the adjoining JW Marriott starting at 4 p.m. Tickets are $40. As a special bonus, all purchased tickets will also include a complimentary meal voucher that can be used at the Rampart Buffet anytime before Aug. 31.
Affectionately dubbed "America's Sweetheart," Reynolds' live shows are filled with song and dance numbers as well as sidesplitting tales from her colorful journey through Hollywood stardom. The versatile Oscar-nominated actress, began her career during the golden age of film starring in such memorable films as "Singin' in the Rain," "The Unsinkable Molly Brown" and "Tammy and the Bachelor." Most recently, she's appeared on the hit TV show "Will and Grace."
At last, something is going to be done about making the famous Welcome to Las Vegas sign that is situated on a highway median more appealing and safer for taking pictures. Twelve parking spaces are going to be built and palm trees will be added to the background.
"Phantom - The Las Vegas Spectacular" recently celebrated its first anniversary on the Las Vegas Strip. VIP guests and media were treated to seeing the show again, which refreshed everyone's memory on just how superb this show is. It is a "must see" experience.
Magician Rick Thomas has closed his afternoon show at The Orleans.
The Goo Goo Dolls have been added to the Andre Agassi's Grand Slam For Children fundraiser lineup set for Oct. 6 at the MGM Grand Garden Arena. Other committed performers include: Jerry Seinfeld, Matchbox Twenty, Carlos Santana and comedian George Wallace.
"Aga-Boom" is a new Russian physical comedy clown show that's opened at the Steve Wyrick Theater located in the Miracle Mile Shopping Mall inside.
With the kids out of school, magician Nathan Burton is planning to double his summer schedule to two shows a day.
"Ooh La La" is a new topless five-woman show opening in the Paris Las Vegas. What's different is the sexy girlie revue will be an early 7 p.m. topless show in a 300-seat venue.
Illusionist Criss Angel has signed a 10-year contract to team up with Cirque du Soleil and open a show at the Luxor next summer.
The catchphrase "What happens in Vegas, stays in Vegas" may be joined by another slogan that tourism officials hope to make famous, "Your Vegas is showing." You may hear and see the new saying as early as this fall.
A number of impersonators from Las Vegas have been advancing on ABC's "The Next Best Thing." Elvis tribute artist Trent Carlini starring in his own show at the Sahara is one and Sharon Owens and Sebastian Anzaldo, who performs a tribute show as Barbra Streisand and Frank Sinatra at the Riviera, is another act with current shows on the Strip.
Leonid the Magnificent, the 6-foot-7-inch Russian who was a regular attraction last summer on "American's Got Talent," has made up with Jeff Beacher and will rejoin "Beacher's Madhouse" on June 30 at the Hard Rock.
Hypnotist and controversial infomercial hawker Marshall Sylver is looking to appear on the Strip again. This time, he's planning on opening this month at Harrah's.
Gerry McCambridge - "The Mentalist" has opened his one-man show at the Night Owl Showroom in Hooters. While you're waiting for his show to begin, videos of his myriad of appearances on national network shows including "The Today Show" and "The Late Show with David Letterman" is playing and immediately adds tremendous credibility to his act. He does perform mind-blowing routines.
It's amazing what you can do in Las Vegas if you know about it. The MGM Grand's Cristophe Salon offers an After-Hours Pamper Party for five or more. The bachelorette package offers a two-hour evening experience that includes hair styling, makeup application, mini-manicures and pedicures, champagne, decadent desserts and a group photo.
Wise guy Vic DiBitetto will headline the Riviera Comedy Club, July 9-15, along with comedians Kathleen Dunbar and John Pate. With more than 20 years experience in stand-up all over the country, DiBitetto brings an edgy approach to everyday observations on life in our desert oasis. He's recognized in commercials for BlockBuster, Southwest Airlines and Pontiac.
Judy Craymer, the producer of the world-renowned "MAMMA MIA!" show at Mandalay Bay, was recognized by Queen Elizabeth II for her exceptional contributions to the theatrical community. Craymer was awarded Member of the British Empire, MBE, at the annual Queen's Birthday Honours ceremony along with other prominent figures in the entertainment industry.
The Seminole Indian Tribe that owns the Hard Rock Café is planning an expansion onto the Strip with a 47,000-square-foot facility that will house two concert venues and an expanded restaurant near the MGM Grand. There's no word yet on what this will mean for the long-standing Hard Rock Café on the corner of Harmon and Paradise.
Sammy's Woodfired Pizza, well known for its gourmet pizza, salads and tapas has opened its third Las Vegas valley restaurant in Centennial Hills. The 3,500-square-foot upscale eatery seats 170. Sammy's recently concluded a company-wide renovation, which included a full-menu revision and addition of more than 20 new tapas. There are nine Sammy's locations in Southern California.
Le Burger Brasserie Sports Grille at Paris, which is a French take on the American Sports Grille, will toast couples married at Las Vegas wedding chapels on July 7, 2007 with celebratory champagne and mini burger sliders. Seven of the luckiest couples will be given a certificate to commemorate their one-year anniversary with a one-night stay at Paris and a complete dining experience featuring Le Burger Brasserie's famous $777 Kobe beef and Maine lobster burger accompanied with Dom Perignon champagne.
In Las Vegas, the Saturday date is expected to triple, even quadruple, the number of wedding ceremonies performed at local chapels. Beginning at 7:07 a.m. on Saturday, July 7, uniformed servers from Le Burger Brasserie will visit high-profile wedding chapels on the Las Vegas Strip congratulating newly married couples on their nuptials and feting them with sliders and champagne. Each couple will receive an entry form for the anniversary prize. The first seven couples returning the form as specified, and a copy of their marriage certificate confirming the July 7 date will receive the "777" dinner and a stay.
AJ's Steakhouse at the Hard Rock Hotel has rolled out its new menu with more signature items and the addition of traditional favorites.
Master Chef Wolfgang Puck has redefined the menu at his Italian restaurant, Trattoria del Lupo at the Mandalay Bay, offering guests new tastes of authentic Italy. Now at the helm of the restaurant is Chef Eduardo Perez, a 21-year veteran of the Wolfgang Puck Fine Dining Group and former chef de cuisine of Spago, Las Vegas.
The Rainbow Bar & Grill, known as a late-night hot spot, has reopened. The owners have added lunch Wednesday through Friday.
The City of Henderson is hosting free performances each Thursday at 8 p.m. at the Henderson Events Plaza, 200 South Water Street. The July entertainment line-up features a multitude of genres from opera to rock. For information, call 702-267-2171.
The Poker Dome venue located at the Neonopolis mall downtown will close by the end of the summer and stop its nationally televised high-stakes poker matches.
The Human Rights Campaign (HRC) will hold its Second Annual Gala Dinner on Sept. 8 at the Caesars Palace Convention Center. The black tie event is an effort to stop discrimination against gay, lesbian, bisexual and transgender Americans. Entertainment will entail performances by Cirque du Soleil and comedian Louie Anderson. Tickets are $250, call 800-494-8497.
Hooters Casino Hotel has a "Build-A-Bash" program for adult party events from the typical divorced and newly single celebrations to golf and high roller packages for 10 or more. Their newest one is a bachelors extravaganza "You're Not The Boss Of Me" themed party involving a couple meals, Hooters Girls, a gentleman's club visit and limo service. For information, contact Allen Oakley at oakley@hooterslv.com or call 1-800-522-7366.
CONTINUE ON TO...:
>THIS WEEK'S LAUGHLIN SEGMENT
>LAST WEEK'S LAS VEGAS SEGMENT
>VEGAS VIEW FULL ARCHIVES
>Return to "Heard Around Town"
>Return to Las Vegas Leisure Guide