FREMONT STREET EXPERIENCE HOSTS WORLD FOOD CHAMPIONSHIPS!

The Fremont Street Experience and Fremont East District will be the official host venues for the second World Food Championships (WFC) taking place Nov. 7-10 and will feature almost 500 competitors during a four-day festival. For information, visit www.worldfoodchampionships.com.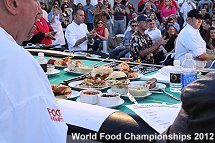 Champions from the biggest and best food competitions around the world will be invited to compete following a tournament-style format across seven iconic food categories. The WFC will culminate with a Final Table showdown where category champions will face potential elimination in front of a live audience and a discerning panel of culinary celebrities.
Trybe Targeting is the company producing the WFC. The official categories of competition will include barbecue, chili, burger, sandwich, recipe (with a pasta focus), dessert and bacon. In 2012, Las Vegas chef Robert Butler won the inaugural competition with his "Bahn Mi in France" sandwich, besting the six other category champions.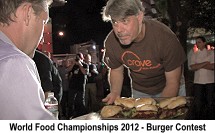 New for 2013, the WFC is introducing the Ultimate Bacon Experience with two sessions from 1-3 p.m. and 4-6 p.m. on Saturday, Nov. 9, and a specialty bacon cocktail included for all online ticket purchasers. Tickets for each session are $40.
Column Continues Below Advertisement
BALLY'S BRANDS AN ALL-NEW JUBILEE TOWER
Bally's plans to renovate and rename its existing South tower the all-new Jubilee Tower, named after the resort's iconic show, "Jubilee!," which celebrates its 32nd anniversary this summer, making it the longest-running show in Las Vegas. Renovations will include 756 remodeled hotel rooms and suites.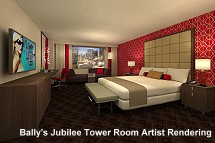 Jubilee Tower accommodations will encompass 450 square feet, have a 37-inch flat screen television, a refrigerator and redesigned bathroom with a spacious glass-enclosed shower. A total of 121 remodeled one- and two-bedroom suites will span 800 to 1,600 square feet and feature a separate living and dining room, bar, workspace and a master bedroom with an oversized, central whirlpool bathtub.
'PRISCILLA QUEEN OF THE DESERT' OPENS AT THE VENETIAN
The first national tour of "Priscilla Queen of the Desert The Musical" has opened an 11-week engagement at The Venetian. The musical features a trio of friends, on the road trip of a lifetime, who hop aboard a battered old bus searching for love and friendship in the middle of the Australian outback. The show is delightful with a hit parade of more than 20 dance-floor favorites, but the more than 500 dazzling 2011 Tony Award-winning costumes are a kaleidoscope of imagination and colors not to be missed!
DRAI'S AFTER HOURS HAS OPENED AT BALLY'S
A staple in Las Vegas nightlife for more than 15 years, Drai's After Hours recently opened its new location at Bally's. Drai's After Hours is owned and operated by Victor Drai, who created and founded Las Vegas mega-clubs Tryst and XS.
PRESS AT FOUR SEASONS IS NOW OPEN
PRESS, the Four Seasons new indoor/outdoor bar, is now open to the public serving food and drinks from morning through late night inside or overlooking the hotel's private pool.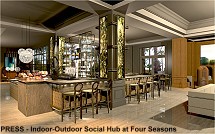 CAESARS PALACE REVEALS NEW APPIAN WAY SHOPS
Caesars Palace has a new lineup of stores in the newly remodeled Appian Way Shops that spans more than 22,000 square feet. The shopping experience features more than 15 distinctive stores, several of which can only be found at Caesars Palace. One-of-a-kind stores such as Bottlehood, HOME and Jimmy Crystal have opened their flagship U.S. locations at Appian Way Shops, while brands like King Baby and P!Q are making their Las Vegas debuts. Popular stores such as Optica and Olive & Beauty are also expanding their presence in Vegas with new locations inside the shopping destination. Additional stores which have also undergone renovations include Emperor's Essentials, Carina, Vittorio, Travel Plus, Colosseum Cigars and Forever Flawless.
'VEGAS! THE SHOW' CELEBRATES THIRD ANNIVERSARY MILESTONE
"VEGAS! The Show," the flagship production in the Saxe Theater at Planet Hollywood, has reached its three-year milestone. The show opened to rave reviews on June 26, 2010, and was the winner of the "Best Show in Las Vegas" award from Broadway World. "VEGAS! The Show" features an 11-piece live orchestra, showgirls, the dancers, specialty acts and singers. It takes a cast and crew of 100 to keep the show running seven nights a week, two shows a night.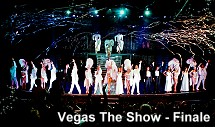 STEEL SKELETON FOR SLOTZILLA DOWNTOWN COMPLETED
The steel skeleton of the 128-foot tower for SlotZilla has been completed. The takeoff tower of the $11.5 million ride is set to open this summer and will alter the downtown Las Vegas skyline with a 12-story slot-machine-themed takeoff platform for the two-level thrill ride.
OPENTABLE DINERS PICK TOP 100 HOTTEST RESTAURANT BARS
In celebration of the nation's growing cocktail culture, OpenTable, provider of online restaurant reservations, announced the 2013 Diners' Choice Award winners for the Top 100 Hottest Restaurant Bars in the United States. These awards reflect the combined opinions of more than 5 million reviews submitted by verified OpenTable diners for more than 15,000 restaurants in all 50 states and the District of Columbia. Three from Las Vegas were recognized: STK-The Cosmopolitan of Las Vegas; Tao Restaurant and Night Club; and Todd English P.U.B.
DEANA MARTIN PERFORMS AT SOUTH POINT AGAIN
Deana Martin will be returning to the South Point showroom on Saturday and Sunday, July 20-21. Martin is the proud daughter of iconic entertainer, Dean Martin and will perform one of her most requested shows, "Deana Sings Dino." For this show, there's always a door on stage, where friends like to drop by and surprise her during a show. Tickets are priced from $15 to $25.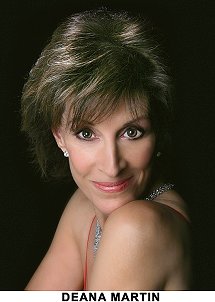 Martin achieved success early in her career in films, theater and television, then quickly added to her repertoire — recording artist, best-selling author, nationally syndicated radio host, licensed pilot, and entrepreneur. In her 2004 memoir, "Memories Are Made of This: Dean Martin Through His Daughter's Eyes," Martin delights in sharing stories about her father and his "Pallies." To her they were known as, Uncle Frank (Sinatra) and Uncle Sammy (Davis, Jr.) – to the world, they were known as the Rat Pack.
NEON MUSEUM LAUNCHES FIRST 'TIMES OF THE SIGNS' EVENT
On Thursday, July 11, the Neon Museum will host the first of an ongoing series of community programs called "Times of the Signs." Open to the public with reservations required call 702-387-2820, programs will take place in the Neon Boneyard and will consist of illuminating lectures, panel discussions, presentations or performances.
The topic for the first program will be "Stardust Showgirls" a special evening commemorating the 55th anniversary of the opening of the Stardust Hotel & Casino. Panelists participating will include: former "Enter the Night" showgirl-turned-attorney Akee Levin; Joyce Marshall Moore, oral historian, University of Nevada Las Vegas: and Lisa Gioia Acres, historian and author, College of Southern Nevada. Dr. Michael Greene, professor, Department of Social Sciences, College of Southern Nevada will moderate the evening's discussion. The program will begin at 7 p.m. A suggested donation is $5.
GEORGE TRULLINGER VISITS WITH ED SULLIVAN TRIBUTE SHOW
Famous for his long run as a faux Buddy Holly in "Legends in Concert" at the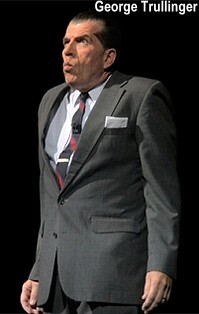 Imperial Palace, George Trullinger now has a "Memories of Ed Sullivan Tribute" show with him starring as the iconic character. He'll be appearing at the Summerlin Library, 1771 Inner Circle Drive, on Saturdays, July 6 and 13 at 7:30 p.m. Gary Anthony will appear as Frank Sinatra and other impersonations will include Tom Jones, Ray Charles, Judy Garland and more. Tickets are $22.50.
TOP OF NEXT COLUMN
WHITEY BULGER HISTORY, ARTIFACTS ON VIEW AT THE MOB MUSEUM
With notorious gangster-turned-FBI-informant James "Whitey" Bulger's trial under way in Boston, guests are visiting The Mob Museum to see artifacts and exhibits to understand the man's role in organized crime, which allegedly includes 19 murders in the 70s and 80s. In June 2011, the 81-year-old Bulger was arrested in Santa Monica, Calif. Today, he faces 19 murder counts. Bulger is featured in several places throughout the Museum.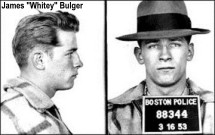 Journalist and author Beverly Ford, who, along with co-author Stephanie Schorow, will appear at the Museum Aug. 16-17 to discuss their book, "The Boston Mob Guide: Hit Men, Hoodlums and Hideouts." Ford is currently covering the Bulger trial in Boston for the "New York Daily News." For more information, visit www.TheMobMuseum.org.
GARTH BROOKS FILMS HIS REFLECTIVE WYNN ENGAGEMENT
After spending three years headlining at the Encore Theater, Brooks will be filming his upcoming July 4 weekend concerts to memorialize his time at the resort. His three shows are sold out but the special will be available on DVD.
CAESARS PALACE NOW OFFERS WINE ON TAP
Caesars Palace is now offering premium barrel-fresh wine on tap, an innovative and virtually waste-free way to pour premium wines by the glass. Wine on tap enables restaurants and bars to maintain the freshness of wine by utilizing stainless steel kegs that retain the quality and consistency. The primary benefit is freshness with wine connected to the taps by plastic tubing containing inert gas that pushes wine through the lines. This inert gas also protects the wines from oxidation by occupying the empty space in the keg.
In a standard wine-by-the glass program, it could take hours or days to finish an opened bottle, increasing the threat of oxidation, which damages the taste of the wine and leads to spoilage and waste. By taking the bottle out of the equation, concerns about bottle variation, bottle shock and faulty corks are eliminated.
TRIPADVISOR NAMES FOUNTAINS OF BELLAGIO TOP U.S. LANDMARK
In its first Travelers' Choice awards, TripAdvisor® has named The Fountains of Bellagio the nation's top landmark. The awards are based on millions of reviews and opinions from TripAdvisor travelers. Created by WET Design, The Fountains of Bellagio is one of the largest musical fountain systems in the world with more than 1,200 fountains spanning 1,000 feet and choreographed to send water soaring as high as 460 feet into the air. Since first launched in 1998, The Fountains of Bellagio have performed more than 190,000 times. Performances are every 30 minutes Monday through Friday from 3 to 7 p.m.; Saturday and holidays from noon to 7 p.m. and Sunday from 11 a.m. to 7 p.m. After 7 p.m., performances are every 15 minutes daily.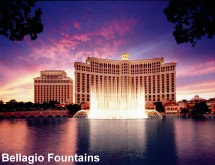 NOTEWORTHY NOTABLES
Toby Keith's I Love This Bar & Grill at Harrah's celebrated its eighth anniversary last week.
Pink Jeep Tours and Scenic Airlines are partnering to present the Grand Canyon experience with an air tour to the South Rim and ground tour in a signature open-air pink Jeep Wrangler.
The NASCAR Sprint Cup Series Awards, the annual culmination of Champion's Week, will be held Dec. 6 at Wynn. From 1981 until 2008, NASCAR held its year-ending premier series awards show in New York City. In 2009, the NASCAR Sprint Cup Series Awards moved to Las Vegas.
From July 1 through Sept. 30, the rapidly expanding Smashburger chain will unveil its newest Häagen-Dazs® shake, the Peanut Butter & Jelly, plucked directly from its secret menu of items created by guests.
The Las Vegas Bowl 2013 game will be played Saturday, Dec. 21, at 12:30 p.m. PT at Sam Boyd Stadium. The 22nd Las Vegas Bowl will be televised nationally on ABC, featuring the top choice from the Mountain West against the fifth pick from the Pac-12 Conference.
The biggest rivalry in Mexican soccer, El Súper Clásico (The Super Classic), featuring Club Deportivo Guadalajara and Club America, will be played in
Las Vegas for the first time on July 3 at Sam Boyd Stadium at 8 p.m. PDT. America and Guadalajara are the two most successful and popular Mexican football clubs with America holding 10 titles, and Guadalajara, commonly known as Chivas, with 11.
FOURTH OF JULY WEEKEND HAPPENINGS
Caesars Palace will light up the sky on Thursday, July 4 with a fireworks display from the rooftop of the Roman Tower at 9 p.m., weather permitting.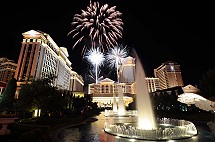 The Las Vegas Philharmonic will host an Independence Day celebration at The Smith Center from 4-9:30 p.m. Activities will include Family Fun Day at Symphony Park starting at 4 p.m., a Pops concert featuring guest vocalists Clint Holmes and Kristen Hertzenberg inside Reynolds Hall at 7:30 p.m., and a fireworks display over Symphony Park at 9 p.m. As an added bonus, Discovery Children's Museum, adjacent to The Smith Center, will offer free entry to "4th with the Phil" ticket holders from 5:30 to 7:30 p.m.
The "Rock of Vegas" summer concert series will feature a free concert by Three Days on the downtown stage on the Fourth of July.
Famed R&B group The O'Jays will headline at the Eastside Cannery on Friday, July 5. Tickets start at $29.95.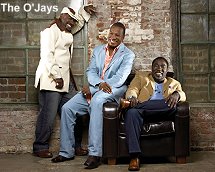 "Weird Al" Yankovic The Alpocalypse Tour will visit The Smith Center with a "rock and comedy multi-media extravaganza" featuring his band of three decades and celebrating his Grammy®-nominated album "Alpocalypse" on July 6 at 7:30 p.m. Hard to believe Weird Al, who was a shy, accordion-playing teenager got his start sending homemade tapes to the "Dr. Demento Radio Show," would go on to become the biggest-selling comedy recording artist in history with more than 12 million album sales.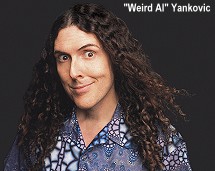 Joey Riedel and Michael John will pay tribute to Sir Elton John and Billy Joel at the South Point Showroom July 5 - 7 at 7:30 p.m. Tickets start at $15.
South Point has added a special July 4 performance by Wes Winters in the Grandview Lounge and he will also appear on July 5 and 6 and every Friday and Saturday in July from 6-9 p.m.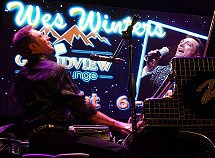 "Neil Diamond - The Tribute" starring Rob Garrett and the King of Diamonds Band will perform in the Chrome Showroom at Santa Fe Station on Saturday, July 6. Tickets are $15.
WIDESPREAD PANIC WILL VISIT THE JOINT
Rock band Widespread Panic with special guest Dirty Dozen Brass Band will visit The Joint on Friday and Saturday, July 12 and 13. Widespread Panic is known as a national touring force and a mainstay at many major U.S. festivals. The band still holds the single one-day attendance record for New Orleans Jazz & Heritage Festival, which was 63,000 attendees in 1999. Tickets for the show at Hard Rock start at $49.50.
'TRUNK SONGS' RETURNS TO THE ONYX THEATRE
The critically acclaimed original review "Trunk Songs" that made its Las Vegas premiere at the Onyx Theatre in February and March is coming back for encore performances July 5 and 6 at 8 p.m. The production is filled with songs that were cut from shows during try-outs on their way to Broadway or Cabaret productions. "Trunk Songs" stars are established Las Vegas talent: Lysander Abadia, Karalyn Clark, Dolly Coulter, Jay Joseph, Benjamin Loewy, Margaret (Gret) Menzies, and Kellie Wright. Tickets are $20, visit www.onyxtheatre.com.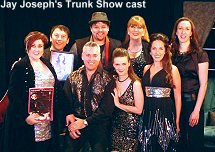 THE SECOND 'STYLE WITH A CAUSE' EVENT PLANNED FOR SEPTEMBER
The second "style with a cause" event inspiring women through fashion and beauty will take place at Stitch Factory located Downtown on Wednesday, Sept. 25 from 6-9 p.m. Adding to the excitement this year, special guests Joshua Christensen and Carlos Casanova from Lifetime's "Project Runway" and "Project Runway All Stars" will join the movement lending their fashion expertise. Portions of the proceeds will benefit the Pregnancy Foundation.
Created by local Las Vegas fashion stylist Jenna Doughton, the event will include honoring inspiring Las Vegas women, a cocktail hour, a fashion show presented by Saks Fifth Avenue, a silent auction and the reveal of beauty transformation recipients. For more information, additional event details, to submit a beauty transformation nominee, or to purchase tickets, visit http://www.stylewithacause.com/ or call 702-569-1008.
Column Continues Below Advertisement
CONTINUE ON TO...:

THIS WEEK'S >LAUGHLIN NEWS
LAST WEEK'S >LAS VEGAS NEWS
>VEGAS VIEW FULL NEWS ARCHIVES
Return to >"Heard Around Town"
Return to >Las Vegas Leisure Guide