<!A-- Left Column -->

Comedian and actor John Pinette will be presenting laughs at the Aquarius on July 26 at his 9 p.m. show. Tickets are $19.95 and $24.95.
Pinette has toured the comedy club circuit since the 80s and has appeared in cinema and television. Early in his stand-up career, he got his big break when he was asked to tour with Frank Sinatra. Since then, he has become a regular guest on The Tonight Show and The View.
Pinette's routines primarily revolve around his weight and his love for the buffet. However, in 2001, Pinette lost an incredible amount of weight. He explains this in his new DVD I Say Nay, Nay, which was released in 2004, as being the result of a long training routine developed by a series of trainers so that he could become more healthy. However, he still maintains his affinity for buffets and has not lost his signature "cherub-like demeanor."
Pinette has also enjoyed a long acting career in both television and film. Duets, starring Gwyneth Paltrow, Dear God, starring Greg Kinnear, and Junior, starring Arnold Schwarzenegger are just a few of his film credits. He was a series regular on the hit series Parker Lewis Can't Lose, and starred as the car-jack victim in the final episode of Seinfeld. Pinette was also seen in the summer of 2004 as the lovable Mr. Bumpo in Artisan Entertainment's The Punisher, starring Thomas Jane and John Travolta.
In 2005, Pinette joined the touring cast of the musical Hairspray in the role of Edna Turnblad and even replaced Bruce Vilanch in the Broadway production.
For most of July at Harrah's, laugh makers will be taking center stage. Comedy presenters will be Alonzo Bodden the winner from Last Comic Standing and David Huntsberger July 5-9; Kivi Rogers and Tess Drake July 12-16; and Todd Glass and Daniel Kinno July 19-23. Shows are at 8 p.m. and 10 p.m. on Saturdays, and 8 p.m. Sundays through Wednesdays. Tickets are $15.95, $20.95 and $25.95.
Alonzo Bodden born in 1962 in Queens, N.Y., is an American comedian and actor known for winning the grand prize in the third season of the reality-television series Last Comic Standing and he had been the runner-up in the previous season. He has performed on numerous television shows including The Tonight Show with Jay Leno, Late Night with Conan O'Brien, Make Me Laugh, Late Friday, The Late Late Show with Craig Kilborn, Comedy Central Presents and It's Showtime at the Apollo. He is also a voice actor who has worked on Power Rangers: Lightspeed Rescue, Masked Rider, and O'Grady. In 2005, he released his DVD Tall, Dark and Funny. He was a talent judge in NBC's fifth season of Last Comic Standing with Kathleen Madigan and ANT.
The River Palms Comedy Room continues to rumble with laughter brought on by the antics of three different nationally-known comics. All of the featured comics are comedy circuit regulars and veterans of one or more national venues with appearances on HBO specials, Comedy Central, Premium Blend, The Tonight Show, The Late Show, and more. John Joseph and Johnny B will appear the week of July 8-12. Tickets are $17.95 and $22.95, call 866-448-7849.Peter
Joseph is recently off his ninth tour of the United States and Canada opening for Julio Iglesias and just finished taping Live at Jongleurs in London, England. His appearance on The Rosie O'Donnell Show and The View with Barbara Walters has had his career definitely rising.

TOP OF NEXT COLUMN
Recently Joseph has been touring with "King of the Piano Bars" Johnny B, in a show titled A One Man Show Wit 2 Guys that incorporates comedy, music, and theatre for 90 minutes.
In addition to his club dates, Joseph has toured with such superstars as Huey Lewis and the News, Kenny Rogers, Rodney Dangerfield, Alan King, The Doobie Brothers, Leann Rimes and the Righteous Brothers.
Americana On Tour is a show that originated in Boise, Idaho. It is a combination band and stage production featuring four musician - singer - songwriter - entertainers who each have their own successful careers in the music industry. This show will be at the Riverside Resort, July 9-13. Tickets for the 8 p.m. shows are $20.
The four featured artists, who each perform 20 to 30 minutes in the show, are Jimmy Bivens on lead vocals and guitar, Tracy Underwood on lead vocals, flute, sax and keyboards, Kevin Sam on lead vocals and guitar, and Kayleigh Jack on lead vocals, fiddle and guitar. Their mini-sets are linked together within the show by musical transitions with brief narration and the featured artists remain on stage to support their counterparts throughout the show. An all-star band ranging from four to six musicians provide the rhythm section.
Jimmy Bivens, who also plays harmonica and foot tambourine, has just returned from sold-out performances in London and Paris. Tracy Underwood has recorded with Sir Harry Bowens of Was Not Was, Tony Snow from Motown, and Ratt, Poison plus other Los Angeles-based artists. Kevin Sam was chosen as Idaho Entertainer Of The Year in 1998 and has developed a strong following "down under" with a successful tour of New Zealand. Kayleigh Jack represented Idaho in the Miss Teen America pageant in Nashville in 2003 where she won several awards. She was a finalist of the VH-1 Song Of The Year Award and won the Best Emerging Song-writer Award in Nashville in 2006.
Bobby Vinton will headline at the Tropicana Express in The Pavilion Showroom on July 5 at 8 p.m. Tickets are $39 and $49.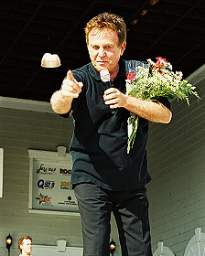 For 10 years, starting with his first hit release Roses Are Red in 1962 through 1972, he had more No. 1 records than any other solo male artist. Vinton has established himself as one of America's top concert performers and he has given fans hit tunes that have become classics. His renowned love songs include Roses Are Red, Blue Velvet and Mr. Lonely.
Vinton's hit-making capability was again evidenced with the release of My Melody of Love when it became the No. 1 song in the nation and was embraced by Polish Americans around the country as their new national anthem. In addition, he published his best selling autobiography The Polish Prince.
For three years, The Bobby Vinton Varity Show was syndicated and aired in more than 140 cities throughout the United States and Canada. He also hosted a highly-rated CBS network variety special that triumphed over Monday Night Football and starred in two John Wayne movies: Big Jake and The Train Robbers.
CONTINUE ON TO...:
>THIS WEEK'S LAS VEGAS NEWS
>LAST WEEK'S LAUGHLIN NEWS
>VEGAS VIEW FULL ARCHIVES
>Return to "Heard Around Town"
>Return to Las Vegas Leisure Guide