CHARO DEBUTS NEW RIVIERA SHOW


International music sensation, "cuchi-cuchi girl" and flamenco guitar virtuoso Charo has signed a long-term contract to perform her new show "Charo in Concert: A Musical Sensation" at the Riviera beginning Friday, July 10. Shows will be Wednesday - Monday at 7:30 p.m. For tickets, call 877-892-7469.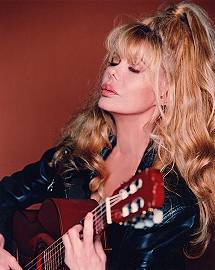 American pop culture icon, Charo is back on the Billboard charts with her latest dance club hit "España Cañí," the traditional bullfighting song. She's also teamed up with World of Wonder to produce the protest video, entitled "España Cañí: Dance, Don't Bullfight."

Column Continues Below Advertisement


MAGICIAN RICK THOMAS OPENS SHOW AT THE SAHARA
Rick Thomas, along with his beautiful white tigers, have been delighting Las Vegas audiences for more than a decade. He will be returning to the Strip at the end of his World Tour and open a show at the Sahara Theatre on July 16. Performances will be Tuesday through Sunday at 7 p.m. and also at 4 p.m. on Saturday and Sunday. Tickets are $39.95, $49.95, and $19.95 for children under 12. .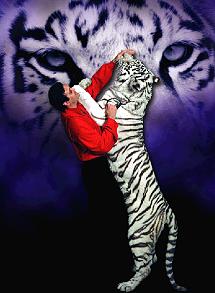 Thomas became a professional magician when he was 13 and as a teenager was named a National Ballroom Dance Champion.
SCARLETT OPENS MAGIC SHOW AT RIVIERA
Illusionist Scarlett will debut her magic show at the Riviera in the Versailles Theatre on July 1. Scarlett, who has succeeded in a male-dominated business, will perform at 10 p.m. nightly except Friday. Tickets are $44.55 and $53.64, call 702-794-9433.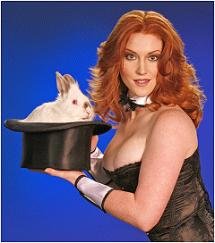 "Scarlett and Her Seductive Ladies of Magic" will bring an abra-ca-sexy element to the show with the beautiful dancers going topless.
'MENOPAUSE THE MUSICAL®' IS NOW AT THE LUXOR
After three years of entertaining more than 500,000 guests at the Las Vegas Hilton, "Menopause The Musical®" has transitioned to the 350-seat Atrium Showroom at the Luxor. The cast includes Queen Emily, a finalist in last year's "America's Got Talent," and Paige O'Hara, the voice of Belle in the Disney classic, "Beauty and the Beast."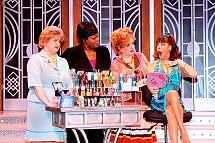 Show times are 5:30 p.m. Wednesday through Monday and 8 p.m. on Tuesdays. Tickets are $49.95 and $65, call 702-262-4400, 800-557-7428 or go online at www.luxor.com.
'NAKED BOYS SINGING' HAS OPENED AT THE ONYX THEATRE
The 100-seat Onyx Theatre, concealed inside The Rack clothing store in Commercial Center at 953 E. Sahara, offers some unusual entertainment. Move over showgirls, Las Vegas' production of the award winning off-Broadway musical, "Naked Boys Singing," has opened with really naked_men.
Cast member Nolan Christopher performed in the Windy City's version for two years and reaffirms that audience members quickly discover that the actors on stage also have faces...and voices. "Naked Boys Singing" has been running for 10 years in New York and played in most major cities around the world.
Seven cast members are accompanied by pianist Spencer Baker and in a 90-minute show present 16 songs. Ongoing show times are Thursdays, Fridays and Saturdays at 10 p.m. through July 4. Tickets are $30, call 702-732-7225.
DIVE WITH SHARKS NEW OFFERING AT MANDALAY BAY
Shark Reef Aquarium at Mandalay Bay has started a Dive with Sharks program for hotel guests of Mandalay Bay and THEhotel, who are certified divers 18 years and older. The experience is to dive side-by-side with guides and more than 30 sharks in a 1.3-million-gallon exhibit.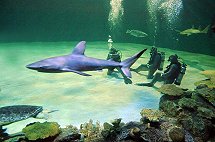 Throughout the four-hour experience that begins at 3 p.m., participants learn about shark health and behavior as well as Shark Reef Aquarium research projects that aid in the preservation of endangered species. To make the experience more intimate, the program is limited to two participants and one dive per day. Every dive is different as the sharks' needs change daily and costs $650 for a single diver or $1,000 for two divers booked together. Participants will get a video of their dive and can bring up to four observers to view the dive from outside the exhibit, call 702-632-4555.
KENNY G BRINGS HIS SAX SOUNDS TO THE ORLEANS
The world's most renowned saxophonist, Kenny G, will return to The Orleans Showroom July 10, 11 and 12 at 8 p.m. Tickets start at $4.95, call 702-365-7075.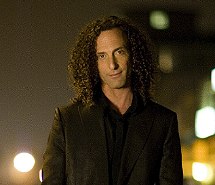 After years of playing professionally with groups like Barry White's Love Unlimited Orchestra and Jeff Lorber Fusion, he signed with Artista Records in 1982 and started out with three critically-acclaimed jazz albums. Kenny G's big moment came in 1988 on "The Tonight Show with Johnny Carson" when he launched into "Songbird." From there, he became a multi-platinum sensation.
On his most recent album, "Rhythm and Romance," Kenny ventures into uncharted creative territory with his first Latin Jazz release.
LITTLE ANTHONY AND THE IMPERIALS STOP AT THE CANNERY
Little Anthony & The Imperials will bring their show back to The Club inside the Cannery in North Las Vegas on Saturday, July 11 at 8 p.m. Tickets start at $9.95, call 702-507-5757 or 866-999-4899.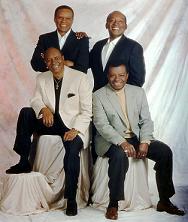 Fronted by Anthony Gourdine, the group is one of the memorable pop and R&B acts of the '50s and '60s. Originally known as The Chesters, the group changed their name to The Imperials and signed with End Records in 1958. Their very first record was a rare double-sided smash with side "A" having "Tears On My Pillow," and the flip side hit being "Two People In The World." The group was inducted into The Rock and Roll Hall of Fame in 2009.
QUICK CLIPS
Las Vegas Mayor Oscar Goodman, who played himself in the movie "The Casino," has a wax replica, and now, Minus 5 Experience at Mandalay Bay has unveiled a first-ever life-like "ice portrait" of the iconic figure that will remain on display through the summer.
JULY 4TH HOLIDAY HAPPENINGS ARE EVERYWHERE
The Fremont Street Experience downtown will present its second "American Pie 4th of July" celebration with major headlining entertainment Janis Joplin's Original Band Big Brother & The Holding Company on Friday, July 3 and The Grass Roots on Saturday, July 4.
The Grass Roots, known as one of the greatest rock bands of all time, charted between 1966 and 1975 and set a record for being on the Billboard charts for 307 straight weeks. The band also holds the all time U.S. attendance record for a concert consisting of only one act playing to 600,000 people on July 4, 1982 in Washington D.C. Since the disbanding of the original group in 1975, early member Rob Grill and a new lineup of The Grass Roots continue to play live shows each year.
Janis Joplin's Big Brother & The Holding Company formed in San Francisco in 1965 as part of the same psychedelic music scene and is best known as the band that featured Janis Joplin as their lead singer.
Alternative pop sensation Hoobastank will take to the stage at the "Rock the Block" party downtown this Fourth of July in the Fremont East Entertainment District. Tickets are$15 in advance and $20 at the door. For more information, visit www.hoobastank.com.
The Eldorado Casino in Henderson will host an Independence Day party from 4 to 7:30 p.m. atop the parking garage that will offer a prime view of the city's fireworks display. Adult admission is $5 and free for children under and parking. Food and beverages will be available for purchase.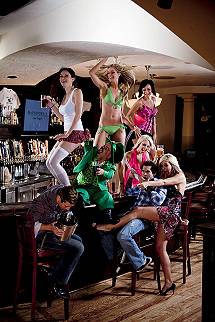 McFadden's Restaurant and Saloon at the Rio will host a "Red, White and Breasts" party hosted by Playmates Tiffany Selby and Monica Leigh on Saturday, July 4. There will be an open bar from 10 p.m. until 1 a.m. Cost for wristbands will be $15 for ladies and $25 for men.
The Rampart Casino has teamed up with the JW Marriott and United Blood Services to host a blood drive on July 4 and 5. Patrons who donate blood between 8 a.m. and 4 p.m. at the JW Marriott's Marquis Ballroom will receive one complimentary buffet, a free gift, and a free 30-minute golf swing diagnosis from GolfTec. For appointments, visit www.bloodhero.com and enter the sponsor code "Rampart." Walk-ins are also welcome.
MORE QUICK CLIPS
Got to see the show "Vocal Soup" starring Clint Holmes, Susan Anton, Domenick Allen from the group Foreigner, and Martin Nievera at the Suncoast. If this show doesn't make it to the Strip, then entertainment buyers are missing the boat.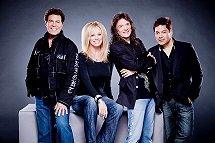 This show with special guest Vinnie Falcone, who worked for years with the "chairman of the board," playing piano for the Sinatra tribute is beyond incredible!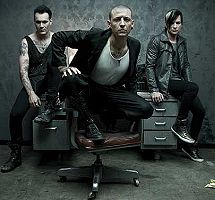 In celebration of Club Tattoo's grand opening inside the Miracle Mile Shops at Planet Hollywood, daredevil magician Steve Wyrick will perform a "Death Drop" escape featuring Chester Bennington, co-owner of Club Tattoo and Linkin Park frontman, on July 4 at 8:30 p.m. The event will take place by the Hawaiian Tropic Zone entrance to the mall. Club Tattoo opened its flagship store on March 5. This location is the fifth store for the growing company.
The nightly dinner show "Marriage Can Be Murder," which has been running 10 years, is moving to a new home at Fitzgeralds downtown and will start on June 29 in the showroom at 6:30 p.m. Tickets are $54.95 and $69.95, call 702-388-2222.
Comedienne, double Emmy award winner, Grammyr nominee and star of Bravo's "Kathy Griffin: My Life on the D-List" will be immortalized in wax on July 2 courtesy of Madame Tussauds Las Vegas at the Venetian.
The Las Vegas Hilton has opened its annual "Cool By The Pool" Happy Hour on the third-floor pool deck. Hours are 4 p.m.-8 p.m. daily. The event is open to the public and free, features live entertainment starting at 5:30 p.m. from Tommy Rocker, Kenny Owen and Bert Lynch, and offers two-for-one drinks, $2 shrimp cocktails and $3 ceviche. Daily drawings for show tickets, dinners, and souvenir cocktails are at 7 p.m.
Clark County is celebrating a milestone by attaching 100 banners to light poles along the Strip from Russell Road to Sahara Avenue. All the banners will be up before the county's 100th birthday on July 1. They are made up of 18 photos of iconic Las Vegas hotel-casinos, two showgirls, the Welcome to Las Vegas sign and Fremont Street.
The 2009 Ante Up For Africa Celebrity-Charity Poker Tournament will be held on Thursday, July 2 at the Rio at 2 p.m. The star-studded third annual event held during the 1009 World Series of Pokerr will be televised for the first time by ESPN on Tuesday, Aug. 11 from 8-10 p.m. ET. The entry fee is $5,000. This event is free and open to the public for viewing in the famed Amazon Ballroom in the Rio Convention Center.
In conjunction with Mandalay Bay's newest attraction, Disney's "The Lion King," Wolfgang Puck's Trattoria del Lupo will introduce a three-course pre-theatre menu, on Wednesday, July 1. The nightly menu from 5:30 p.m. - 7:30 p.m. will cost $45 excluding tax and gratuity.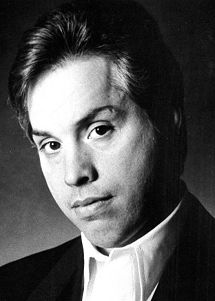 The son of a gangster, Willie Farrell with his razor sharp wit will appear with Steve Pilhen (The Roundguy) and newcomer Dwayne Clark at the Riviera Comedy Club, July 6-12. Shows are nightly at 8:30 and 10:30 p.m.
EXTRA TIDBITS
Twenty-one NBA teams, including the 2009 NBA Champion Los Angeles Lakers, will compete in this year's NBA Summer League presented by EA SPORTS in a 55-game schedule. A team of NBA Development League Select players will also participate in the action taking place at the Thomas & Mack Center and the COX Pavilion on the campus of the University of Nevada Las Vegas July 10-19. This year's action could include 24 of the 30 first round picks from the 2009 NBA Draft. General day admission tickets are $25, call 702-739-FANS.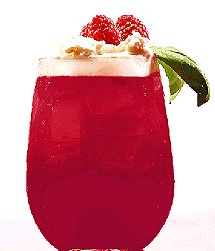 RHUMBAR at The Mirage has introduced "Pink Sugar Mondays," a weekly evening party every Monday on the contemporary outdoor patio from 8 p.m. until it's time to party at JET Nightclub. Until the end of 2009, RHUMBAR will donate $2 from each classic pink drink sale to Susan G. Komen for the Curer.
Hawaiian Tropic Zone inside Miracle Mile Shops is hosting karaoke tournaments on their Las Vegas Strip-side patio every Thursday and Sunday at 10 p.m.
A group of Las Vegas country artists have come together as "Cowboys for Cancer" to perform a benefit concert at 4 p.m. on Sunday, June 28 at Club Madrid inside Sunset Station. Proceeds will benefit Vance Davenport, who was with the "Country Tonight" show at the Aladdin, and The Caring Place. Tickets are $20, call 702-547-5300.
The United States Bowling Congress Open Championships that started in February will continue at Cashman Center through July 24.

Column Continues Below Advertisement



CONTINUE ON TO...:


>THIS WEEK'S LAUGHLIN SEGMENT
>LAST WEEK'S LAS VEGAS SEGMENT
>VEGAS VIEW FULL ARCHIVES
>Return to "Heard Around Town"
>Return to Las Vegas Leisure Guide