DENISE FRANKLIN WINS ANNUAL COUNTRY TALENT SHOW AT RIVERSIDE
The 29th annual Colgate Country Showdown held at the Riverside on June 24 attracted more than 400 fans as well as resort owner Don Laughlin to the Starview Room. The local contest hosted for the eleventh time by Highway Country (KIXW-FM and KIXF-FM) is part of the nationwide country music talent search.
Ten Individual acts competed for prizes and an opportunity to perform at the state contest that will be held at Nevada's state fair. One of the contestants came as far away as Gravette, Ark., two were from Arizona, one from Nevada and five from California. The winner from Landers, Calif., was Denise Franklin who sang Martina McBride's "Anyway" and Rodney Akin's "Invisibly Shaken."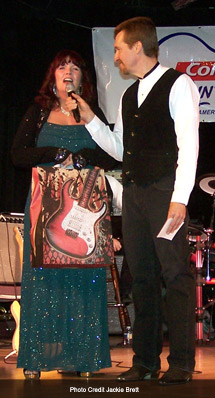 FOURTH OF JULY SPELLS FIREWORKS IN LAUGHLIN
Free Fourth of July fireworks displays on Sunday, July 4 will take place after dusk at the Avi's beach area and in the sky above casino row with the annual "Rockets Over the River."
TROPICANA FEATURES 'RED, WHITE & BLUES BROTHERS: THE TRIBUTE'
"Red, White & Blues Brothers: The Tribute" at the Tropicana Express will star Dan Meisner as Jake and Jeff Fairchild as Elwood, June 29-July 4 at 8 p.m. The show also features comedian/impressionist Rob Magnotti, the comedy and magic of Chip Lowell, and the Red, White and Blues Dancers. Tickets are $14.95 and there's a $2 discount with a Players Club card.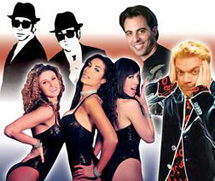 Meisner and Fairchild, who started out together at an Orlando movie studio theme park, have ultimately had a career that's lasted more than 20 years and produced more than 3,000 performances as the Blues Brothers. In 1997, they joined forces with tribute show "Legends in Concert," and have toured non-stop and appeared regularly at the Imperial Palace in Las Vegas.
While the Blues Brothers are the centerpiece to the show, the dancers and entertainers like Lowell and Magnotti make the production a lot more than just a tribute.
Lowell was twice awarded "Comedy Magician of the Year" by the International Magicians Society and his own solo show, "The Chipper Lowell Experience," was extended three times and ran for 600 performances over more than 13 months in Lake Tahoe, Nev.
Magnotti combines stand-up comedy with on-the-money celebrity impressions and even performed a two-night engagement at the Dubai Comedy Convention, the premier comedy festival in the Middle East. His talents landed him a role in the musical comedy "Funny Business" at the Kennedy Center in Washington D.C., and he toured the top casino theaters with the cast of HBO's "The Sopranos" in "Comedy You Can't Refuse!"
'DRINKIN', SINGIN', SWINGIN'' REVIVES RAT PACK DAYS AT HARRAH's
"Drinkin', Singing', Swingin'...A Salute to Sinatra-Davis-Martin," captures the essence of the Frank Sinatra, Sammy Davis Jr. and Dean Martin - Rat Pack camaraderie. This show will be performed July 3-8 in Harrah's Fiesta Showroom. Tickets start at $16.
The show is the brainchild of producer Rick Michel, who just happens to play Dean Martin. Michel has starred in numerous other take-offs on the whole Sinatra-Davis-Martin Vegas thing and a few years ago decided he could do it better and created the current show playing at Harrah's.
Joining Michel are Ryan Baker as Frank Sinatra and Bryan Clark as Sammy Davis Jr. In addition, the music is performed live by a seven-piece orchestra.
TOP OF NEXT COLUMN
'COMEDY ON THE EDGE' PROVIDES LAUGHTER AT THE EDGEWATER
The Edgewater is continuing with ongoing "Comedy on the Edge" in Kokopelli's Showroom every Friday, Saturday and Sunday at 7 p.m. Each show features two stand-up comedians. Upcoming acts are: July 2-4—Dante and Ken Pringle; July 9-11—Richard Villa and Kevin Young; July 16-18—Ron Feingold and Lola D. Gillebaard; July 23-25—Tim O'Rourke and Jorjeana Marie; and July 30-Aug. 1—John DiResta and Lang Parker. Tickets are $15 at the Edgewater Casino Cage or the door.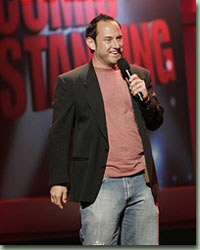 Today, Dante a top headlining comedian has appeared on numerous television shows, in films, and at U.S. military bases around the world. Dante won the $10,000 grand prize on ABC's "America's Funniest People" and still holds the record for winning the most comedy awards ever presented to a single comedian at the BET Comedy Awards.
Professional stand-up comedian Ken Pringle has made a name for himself on a very different stage - the World Wide Web. The creator of the wildly popular Web site Chucklemonkey.com, Pringle has become the unlikely voice for a new generation of comedians, and a pioneer in a rapidly changing industry. Chucklemonkey.com has become a vital career component in the world of comedy, with its databases of comedy clubs, open mics and festivals, as well as an ever-growing library of articles, essays, and interviews with top industry professionals - all geared towards teaching comedians how to build, grow, and maintain their careers in the business of comedy.
AVI HOLDS POOL PARTY AT LAGOON POOL
On July 16 and 17, the Avi will hold a pool party at the Lagoon Pool with music by Abraxas and their tribute to Santana. Gates will open at 6 p.m. with free admission, food and drinks will be sold separately, and music will take place at 7 and 9:15 p.m.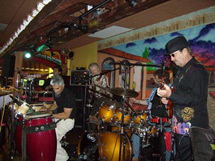 Widely recognized as America's No. 1 Santana Tribute Band, seven-member Abraxas was chosen to perform as Santana at the December 2007 concert "Woodstock Revisited" in Buffalo, N.Y., along with other world class tribute bands, and they are a mainstay at Woodstock Festivals across the nation.
This hand-picked group of musicians immerse themselves in the awesome task of replicating Santana's music. They do this with stunning accuracy, spirit and soul. The members of Abraxas have recorded and toured with many different world class acts.
TY HERNDON PERFORMS AT THE RIVERSIDE
Country star Ty Herndon will headline at Don's Celebrity Theatre, June 29-July 4 at 8 p.m. Tickets are $30.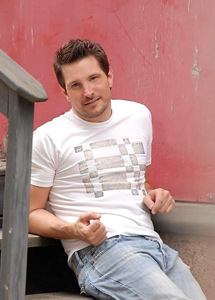 Herndon was raised in Alabama and started singing southern gospel music. He followed his dream to Nashville where he sang song demos and jingles and was a member of the Tennessee River Boys, whicho later became Diamond Rio. Herndon soared to instant solo success with his first single and his voice earned him the Best New Artist award at the 1995 Country Radio Music Awards.



CONTINUE ON TO...:

>THIS WEEK'S LAS VEGAS NEWS
>LAST WEEK'S LAUGHLIN NEWS
>VEGAS VIEW FULL ARCHIVES
>Return to "Heard Around Town"
>Return to Las Vegas Leisure Guide