INTERNATIONAL POP DIVA COCO LEE DEBUTS WORLD TOUR AT WYNN
International artist Coco Lee is bringing her comeback East to West World Tour to the Encore Theater for concerts on July 3 and 4 at 8 p.m. Tickets are on sale at reduced prices of $68, $88 and $138, call 702-770-SHOW (7469).
Column Continues Below Advertisement
Throughout the concert, Lee presents different stories that take audiences through a journey from East to West, including scenes such as the stunning "Eve in Eden;" the archaic, imperial concubine, "Yang Guifei;" the seductive "Egyptian Queen;" and the crowd pleaser, "Barbie Catwalk." All the scenes are matched with thematic costumes, which illustrate Lee's vast performance styles.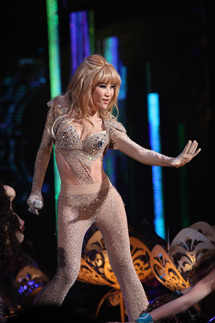 "TOURNAMENT OF KINGS" CELEBRATES 20th ANNIVERSARY
The "Tournament of Kings" celebrated 20 years of success in Las Vegas with a special show at the Excalibur on June 18 at 6 p.m. After not seeing the show for 10 years, it was a joy to find out that it is fresher than ever with plot and set changes while maintaining the glorious action scenes with the knights and their magnificent horses. While the show doesn't receive a lot of publicity, I'm here to tell you it is still timeless.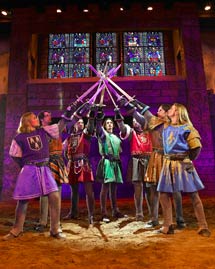 While you sit in divided sections representing different countries, the crowd is encouraged to cheer on their particular knight. The dinner, which you eat with your hands, is a set menu with soup in a bowl and a Cornish hen, potato and vegetable on a plate followed by dessert.
After the celebratory performance, the entire cast and crew gathered around a gigantic, enormous cake that replicated the Excalibur and the audience got freshly baked cookies with 20 written on them.
VENETIAN HEADLINER WAYNE BRADY IS SEEING DOUBLE
There was a wonderful private gathering for the unveiling of Venetian headliner Wayne Brady's wax figure at Madame Tussauds. There were even baked cookies with his image on it.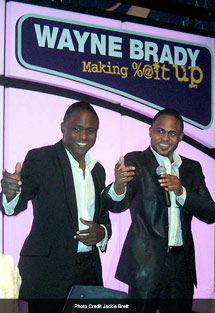 After the reception, everyone moved to the showroom to once again see Brady in action with his very talented comic sidekick Jonathan Mangum. The two have worked together since the early '90s and their experience playing off one another is what this improv show that involves the audience is all about. The show is like being at one big party and everyone gets involved. Brady's hit show "Making It Up" can be seen over select dates, including June 24-28 and July 1-5.
TOBY KEITH's AMERICAN RIDE TOUR VISITS THE PALMS
Toby Keith will bring his boots and guitar to The Pearl Concert Theater inside the Palms on Saturday, July 31. His guest will be Trace Adkins. Tickets range from $89 to $154, call 800-745-3000.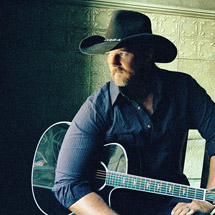 Keith's love for country music developed when he learned to play the guitar at eight years old. His self-titled debut album was released in 1993 and sold more than two million copies while the single "Should've Been a Cowboy," hit No. 1 on the Country Singles Billboard chart. Since then, the albums and hits haven't stopped.
'PHANTOM' AT THE VENETIAN CELEBRATES ITS FOURTH ANNIVERSARY
The fourth anniversary of "Phantom – The Las Vegas Spectacular" at The Venetian was celebrated on June 24 with a history making event. Audience members were given their own Phantom mask and transformed into "Angels of Music" following the performance. For one record-breaking moment, The Phantom Theatre was home to more than 1,800 "Phantoms," the largest gathering of "Phantoms" ever.
SILVERTON NAMES ITS JULY HEADLINERS
The Silverton has released it upcoming July headliners leading off with pop rock sounds by Sugar Ray. Singer/actor David Cassidy, best known for his role on the 1970s sitcom "The Partridge Family" will perform on July 10. Country sounds will prevail when the four-member vocal group, Little Big Town, takes the stage on July 17. Kool & The Gang will have the place rocking with songs like "Ladies Night" and "Celebration" on July 23. The month will close out on July 31 with Better Than Ezra, a group that was formed by four college students at Louisiana State University. Depending on the show, prices range from $25 to $40, call 702-263-7777.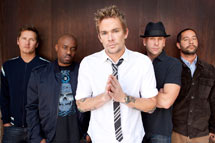 RICHARD BRANSON CELEBRATED BY APPEARING IN 'VIVA ELVIs'
Recently, Sir Richard Branson was in town to celebrate the 10th Anniversary of Virgin Atlantic direct flights between London and Las Vegas. The party kicked off at the Gold Lounge inside ARIA at CityCenter. From there, Branson before the "Viva ELVIS by Cirque du Soleil" show, was fitted with a leather jacket and given direction about his cameo role on stage during the "Blue Suede Shoes" scene where he rode on stage in the pink Cadillac.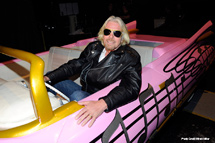 RICH LITTLE BRINGS MANY VOICES TO THE CANNERY
Las Vegas resident and master mimic Rich Little will perform at The Club inside the Cannery on Saturday, July 10 at 8 p.m. Tickets are $9.95, $19.95 and $29.95, call 702-507-5757 .
Little began his career as a talk show host and disc jockey in his native Canada. He was "discovered" in the United States when Mel Torme asked him to make a tape for CBs' "The Judy Garland Show." He had his own TV variety show in the 1970s and was an early guest host on "The Tonight Show," making 12 appearances in all.
During his career, Little has released nine comedy albums, starred in three HBO comedy specials, and had a regular seat on "Hollywood Squares." Little has dubbed the voices of famed actors such as Peter Sellers and Gene Kelly when the actors were unable to perform.
NEARBY PAHRUMP NUGGET PROVIDES JULY 4 WEEKEND ENTERTAINMENT
An hour's ride from Las Vegas lands you in Pahrump where the Pahrump Nugget has lined up entertainment for July 3 and 4.
Mixing the Motown and Philly sounds will be Coasters' Early Clover, the Marvelettes' Paula Anderson, Christy Love Brooks from the Platters, and Wesley Stevens from the Commodores and Stylistics along with a special guest on Saturday, July 3 at 8 p.m. Ticket prices are $20 in advance and $25 at the door.
The following day there will be a free music festival from noon to midnight at the Stage Bar with music provided by the Michael Chain Band, Twice as Nice featuring Wesley Stevens, Rick Scanlan, The County Line, Jimmy D & The Howling Dogs, Dean West & The Smoking Guns, The Rubber Band Band, and a special guest.
TOP OF NEXT COLUMN
ANTE UP FOR AFRICA CHARITY POKER TOURNAMENT ATTRACTS CELEBS
The fourth annual celebrity-charity Ante up for Africa poker tournament will be held at 2 p.m. on July 3 at the 2010 World Series of Poker in the Rio's Convention Center and be hosted by "Celebrity Apprentice" star Annie Duke and Academy Award nominee Don Cheadle. The tournament raises awareness and funds for Africa's needy. Celebrity attendees will include: Matt Damon, Ben Affleck, Ray Romano, Brad Garrett, Hank Azaria, Sara Rue, Montel Williams, Kenny Smith, Chris Webber, Jerome Bettis and Poker Pros Howard Lederer, Chris Ferguson, Andy Bloch, Phil Hellmuth, Erik Seidel and Phil Gordon. The public can watch for free.
GRANDMA LEE HAS SUMMER BOOKING AT BONKERZ COMEDY CLUB
"America's Got Talent" finalist Grandma Lee will be returning to headline at Bonkerz Comedy Club at Palace Station from July 5 through Sept. 4, Monday-Saturday at 8:;30 p.m. The sassy senior doesn't hold back and her humor is definitely uncut and uncensored. Tickets are $34.95, call 702-547-5300 or visit www.stationcasinos.com.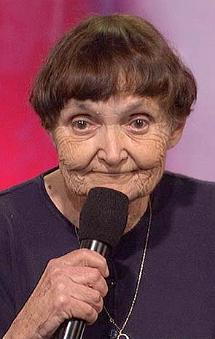 The Oklahoma native was inspired to take up comedy after the death of her husband and a series of odd jobs such as news reporter and directory assistance operator. In 1995, Lee attended a local comedy workshop to get her laughing again. Since then, this outrageous 76-year-old grandmother has appealed to audiences with her off-color humor and spunk.
Lee also won the 2003 Las Vegas Comedy Festival at the MGM Grand and was chosen as a finalist for the 2004 season of NBC's "Last Comic Standing." She is so popular with TV audiences that "Last Comic Standing" had her on as a special guest during three different seasons and chose her as a Top 10 Favorite Comic on the show.
Bonkerz hosts a comedy jam at 8:30 p.m. on Sunday evenings featuring local up-and-coming comics.
LIBERACE MUSEUM OFFERS DISCOUNTED ADMISSION FOR SUMMER
Through Sept. 5, the Liberace Museum is offering a discounted admission rate: $10 for adults and $8 for seniors and students.
For $12, guests may take advantage of the "Movie at the Museum" lunch special on Mondays and Fridays, which includes the designated movie for the day, a sandwich, chips, drink and dessert. Guests may enjoy the movie and a snack for $7 or the movie alone for $5.
Founded April 15, 1979, The non-profit Liberace Museum is a tribute to the legendary entertainer and pianist Liberace.
The Liberace Museum offers complimentary shuttle service to and from several Las Vegas Strip hotels daily, call 702-798-5595 or visit www.liberace.org.
QUICK CLIPS
LeAnn Rimes concert originally scheduled for July 16 at the Crown Theater inside the Rio is being canceled. There is no replacement date at this time.
The upcoming 2010 Miss Universe® Pageant is scheduled for Monday, Aug. 23 at the Mandalay Bay Events Center. The two-hour telecast will air live on NBC and Telemundo.
The Mix Lounge at THEhotel at Mandalay Bay hosted the Official Pre-Party for the 2010 Daytime Entertainment Emmy® Awards with the guest DJ being Emmy®-nominated Molly Burnett from "Days of Our Lives." The 37th annual awards show is being broadcast live from Las Vegas for the first time on June 27 on the CBS Television Network.
June 30 will mark the fourth anniversary of The Beatles "LOVE" show by Cirque du Soleil at The Mirage. An exclusive image commemorating the 4th anniversary will be distributed on or before Monday, June 28. The "Summer of Cirque" offer, which includes tickets to LOVE starting at $50, can be found at http://bit.ly/b2FzTq.
At Boulder Station, there will be an "Evening of Contemporary World Music with Ottmar Liebert & Luna Negra" on Friday, July 9 at 8 p.m. As a guitarist and one of the most successful instrumental artists of the past decade, Liebert's music has been embraced globally. He founded the first incarnation of his band Luna Negra by 1989. Tickets are $20 to $50, call 702-432-7777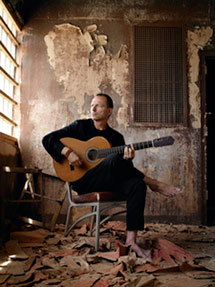 Hash House A Go Go held its inaugural Father's Day Photo Contest and the winner was 16- month-old A.J. Tillitson of Henderson. The irresistible photo shows A.J. and his father, Colby, walking along the beach in San Diego at sunset. The Tillitson family received brunch on Father's Day and won dinner once-a-month for the next year.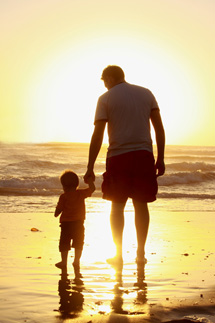 CLUB NEWS
Blush Boutique Nightclub at Wynn has moved the weekly "We Love House Music" party back to Wednesday evenings. The evening is sponsored by Internet radio channel Xradio.biz and social networking Web site MyCitySocial.com.
Star of MTV's reality sensation, "Jersey Shore JWoww" will celebrate the launch of her new sexy and edgy clothing line, FILTHY COUTURE, with a private fashion event at ghostbar inside the Palms on Saturday, July 3, and an after-party at 11 p.m. at Moon Nightclub. For information, visit www.jwoww.com.
Mike "The Situation" Sorrentino from the hit MTV show "Jersey Shore," will celebrate his birthday on Sunday, July 4 by hosting the daytime afternoon pool party, REHAB at the Hard Rock.
The cocktail lounge RHUMBAR at The Mirage, will pair its 10 Cane Rum Hurricane Punch with the premium XiKar HC Habano Colorado cigar for a flavorful indulgence, available for $20 throughout the month of July on the outside patio. For information, call 702-792-7615
As part of Budweiser SELECT's 55 Days of Summer, the Rockhouse Bar & Nightclub in front of the Imperial Palace will kick off Fourth of July with the "Road Trip Weekend," from July 1- 5. Road trip revelers will have complimentary cover, two-for-one beers and well drinks, non-stop beer pong competitions, and a tailgate party, "Red, White and Booze" on Independence Day. For information, call 702-731-9683.
James Cameron's "Avatar" will kick off the Freakin' Frog's Summer Movie Fest series on Monday, June 28 at 9 p.m. The Monday night movies on the Frog's big screen and freshly popped popcorn are free at the Maryland Parkway hangout across from the University of Nevada, Las Vegas.
DINING AND FOOD NEWS
Executive Chef Geno Bernardo will host a four-course cooking class at Nove Italiano at noon on Saturday, July 24. The restaurant sits atop the Fantasy Tower at the Palms. Cost is $75, call 702.942.6856.
The Cannery Row Buffet at the Cannery in North Las Vegas will feature a full outdoor barbeque station and more than 80 items on Sunday, July 4 from 8:30 a.m. to 8 p.m. The Independence Day Buffet is $10.99 for brunch and $12.99 for dinner.
On July 1, the Rampart Casino will start the New York Deli Buffet on Thursday nights, which will replace the existing Thursday night Seafood Buffet, and will be available from 4 to 9:30 p.m. for $18.99.
Wednesday, June 30, at 7 p.m. will be the next in the series of monthly "Pamper Your Palate" dinners at Sunset & Vines at Lake Las Vegas. Most of the cooking will be done outdoors, over a wood-fired grill (weather permitting). Cost is $80, call 702-382-7900 or e-mail: Max@sunsetvines.com.
The Las Vegas Valley has a new open air farmers market called Fresh 52. It began on Father's Day and runs 52 Sundays a year from 8:30 a.m. to 1 p.m. at Sansone Park Place, 9480 S. Eastern.
Column Continues Below Advertisement
CONTINUE ON TO...:
>THIS WEEK'S LAUGHLIN NEWS
>LAST WEEK'S LAS VEGAS NEWS
>VEGAS VIEWS FULL NEWS ARCHIVES
>Return to "Heard Around Town"
>Return to Las Vegas Leisure Guide