TED NUGENT HEADLINES EDGEWATER's INDOOR E CENTER

Rock legend Ted Nugent will perform in concert at the Edgewater's new 27,000-square-foot E Center, July 3 at 8 p.m. with classics from his five-decade career such as "Cat Scratch Fever," "Stranglehold." "Spirit of the Wild" and "Free-For-All." Concert tickets start at $25.

Nugent has been known for cranking his Gibson Byrdland and performing like a madman since his days with the Amboy Dukes. In the 30 years since departing the Dukes, he has established himself as a successful solo artist and has also been a part of a few supergroups, most notably Damn Yankees.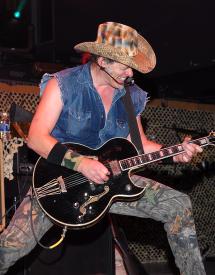 An avid hunter as well as a guitar legend, the Nuge's restless spirit has driven him into many other ventures, including stints as a radio show host and a regular contributor for numerous publications.
In recent years, Nugent has become known as an author penning a cookbook, "Kill It and Grill It," and "New York Times"-bestsellers "God, Guns, & Rock 'N' Roll" and "Ted, White, And Blue: The Nugent Manifesto." He also hosts his own hunting, fishing, trapping and shooting lifestyle show on Outdoor Channel – "Ted Nugent Spirit of the Wild."
COMEDIAN JOHN PINETTE PERFORMS AT AQUARIUS
John Pinette's "I'm Starvin'! Comedy Tour" will stop at the Aquarius Pavilion on Saturday, July 23 at 8 p.m. His gig bringing his love of all things food and hefty appetite for funny will be less than a week before his new Comedy Central special "Still Hungry" premieres worldwide. Pinette's current comedy special, "I'm Starvin'," is a follow up to his successful comedy CD, "Show Me the Buffet." "I'm Starvin'" illustrates the humor in America's obsession with food and being fat. Tickets start at $20.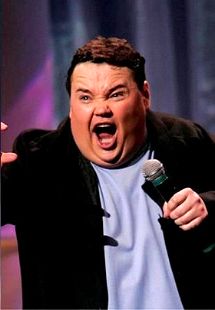 An accountant turned comedian, Pinette has appeared in movies, television, on Broadway and on comedy stages. He got his break touring with Frank Sinatra and has been a guest on "The Tonight Show with Jay Leno" and "The View." "Seinfeld" fans may recognize Pinette as the carjacking victim on the final episode of the hit television show. He also did a stint on Broadway performing as Edna Turnblad in the musical "Hairspray." Pinette's stand-up comedy DVDs include, "I'm Starvin'" and "I Say Nay Nay." His new Comedy Central special will premiere on July 29.
AQUARIUS DEBUTS 'CLUB AQ' FOR ONE NIGHT
The Aquarius will debut Club AQ on the Aquarius Outdoor Amphitheater stage on Saturday, July 2, from 9 p.m. to 2 a.m. A live DJ spinning club music and Top 40 tunes will rock the river, and drink specials will flow from a special on-site bar. Admission is free into Club AQ; however, guests must be 21.
EDGEWATER STICKS WITH LAUGH MAKERS
The Edgewater sticks with "Comedy on the Edge" in the showroom every Friday, Saturday and Sunday at 7 p.m. Each show features two stand-up comedians. Upcoming acts are: July 1-3—Mike Marino and Cliff Yates; July 8-10—Karen Rontowski and Emily Galati; July 15-17—Tim O'Rourke and Todd Link; July 22-24—Kris Shaw and Nola J; July 29-31 Barry Neal and Roxy Rich; and Aug. 5-7 Del Van Dyke and Dana Eagle. Tickets are $10 at the Edgewater Casino Cage or the door.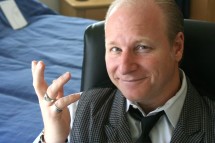 Mike Marino affectionately known to his fans as "New Jersey's Bad Boy" is a graduate of the prestigious American Academy of Dramatic Arts. He has appeared in more 200 national television commercials and received a Best Actor Clio Award Nomination. He has acted in many Prime Time soaps and television shows including: "As the World Turns," "One Life to Live," "Becker," "Nikki," "Frasier" and "Party of Five." His film credits include: "Crooks," "Pizza with Bullets," "Hangin' in Hedo" and Steven King's "Lucky Quarter." Marino's stand-up material ranges from cutting edge observations of everyday life to his Italian family roots; which recently spun into a TV pilot called "Marino's."
AVI HOLDS 'FIESTA 2011' FUNDRAISER AND RAFFLE
On July 8, the Avi will hold "Fiesta 2011," an annual margarita contest with casinos and local restaurants trying to make winning margaritas (rocks and blended categories), and also a "Fiesta 5,000" raffle with two $2,500 cash prizes being awarded. This Friday night event will be held in the Avi Ballroom from 6 -9 p.m. Admission is $35 and $40 at the door. The "Fiesta 5,000" drawing tickets are $50 with a maximum of 400 being sold. The event is sponsored by Western Arizona Medical Center as a fundraiser for Boys & Girls Clubs of the Colorado River. For tickets or information visit clubriver.org or call Teri Tomlinson at 928-763-1411.
RIVER PALMS FEATURES TRIBUTE SHOWS
If you can't see the Real McCoy, tribute acts offer a great option at the 2700 Club at the River Palms. Shows are at 9 p.m. and tickets are $10.
Tribute shows lined up for July include: July 2 - Journey Experience tribute to Journey; July 9 - Vitalogy tribute to Pearl Jam; July 16 - Pyromania tribute to Def Leppard; July 23 - Sixtiesmania tribute to music of the '60s; and July 30 - Z Band tribute to ZZ Top.
TOP OF NEXT COLUMN
RIVERSIDE FEATURES TRIBUTE ACTS IN JULY
The Riverside will host tribute acts in July in Don's Celebrity Theatre starting off with Revolver "The Beatles Show" at 8 p.m. July 7-10. Tickets are $25.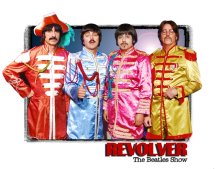 Revolver starts with The Beatles and their early Ed Sullivan appearances. They take the stage in the traditional black Beatles' suits, complete with all those classic guitars and those vocal harmonies that created a mania that shook the world. After a quick costume change the boys return for a fitting tribute to the Sgt. Pepper's album. Another move takes Revolver to the later period of The Beatles' career with great studio albums.
Other tribute shows will include Desperado - a tribute to the Eagles July 19-24 (tickets $32), and Good Vibrations - a tribute to the Beach Boys July 28-31 (tickets $25).
ASHLEY RUNNER WINS HIGHWAY COUNTRY TALENT CONTEST
The 30th Annual Texaco Country Showdown hosted by Highway Country (KIXW/KIXF) radio was held at Don Laughlin's Riverside this past week. The winner was Ashley Runner, who will advance to the next state-level, and first runner up was Katie Dix.
Runner is a California gal who resides in Alta Loma and loves country music. Her dad had her sing karaoke at a local pizza restaurant when she was 6 years old and she had a responsive audience.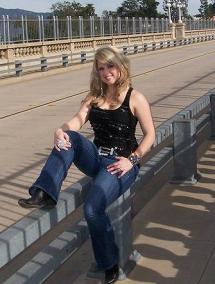 Ashley has her own band Ashley's Midnite Riders and has sung before numerous giant sporting events such as NASCAR and Super Cross. She won and FM radio contest once and took home $10,000 worth of furniture. In September 2005, Runner was the opening act for The Oak Ridge Boys.
TROPICIANA LINES UP TRIBUTE ACTS
The Tropicana has lined up tribute acts to perform in The Pavilion Theater on Saturday nights at 8 p.m. Tickets are $10.
"Fan Halen tribute to Van Halen" will perform on Saturday, July 2. Fan Halen brings back the party-time hard-rocking live music of "Classic" Van Halen with a true-to-life tribute to the famous band and its sprit. Fan Halen sets the stage for a night with Dave, Eddie, Alex and Michael.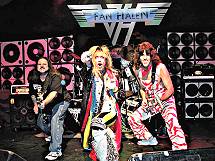 Other tribute acts to follow include: Damage Inc. - tribute to Metallica on July 16; Alice in Cooperland - tribute to Alice Cooper on Aug. 6; and The Joshua Tree - tribute to U2 on Aug. 13.
HARRAH's HAS 'COMEDY A GO-GO' ON WEEKENDS
Harrah's has lined up "Comedy A Go-Go" every Friday, Saturday and Sunday night in the Fiesta Showroom through Aug. 21 at 8 p.m. The show hosted by Zach Risan features sexy burlesque dancers and a lineup of headlining rotating comedians. Tickets are $14.99 and $19.95.
Upcoming comedians include: Lachlan Patterson - July 1-3; KT Tatara - July 8-10; Peter Berman - July 15-17; Willie Farrell - July 22-24; The Stagebenders - July 29-31; Derek Hughes – Aug. 5-7; Carl Labove – Aug. 12-14; and Tom McTigue -Aug. 19-21.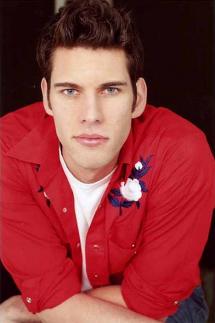 QUICK CLIPS
There will be free fireworks over the Colorado River on July 2 and 4, Saturday and Monday, just after dusk when "Rockets Over The River," the town's annual 4th of July display takes place.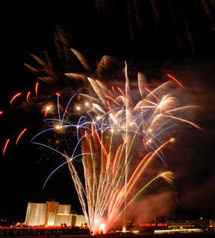 Over the 4th of July weekend, the Avi will feature fireworks by Zambelli Int'l in the sky above the beach area just after dusk. Viewing is free.

It will be something for the ladies on July 13 and 14 at the Riverside when "American Storm" that was named "Best Male Strip Show 2008" by the "Las Vegas Review Journal" takes to the stage in Don's Celebrity Theatre at 8 p.m. This is a fully costumed and choreographed production show with hard bodied performers living out every woman's fantasy from the lonely cowboy to the proud men in uniform. Tickets are $25.

On July 9, the Avi will feature "Vegas U2" – dinner and tribute to U2 from 7-10 p.m. in the party area at the Avi Beach Overlook. Vegas U2 is a rock show portraying the band in concert. Vegas U2 brings the costumes, uplifting music and attitude of a real U2 concert to audiences. Cost is $12, which include dinner, and a no host bar.

Tom & Sharon's Ballroom, Dance Party at the Riverside is scheduled on Saturdays July 9, 23 and Aug. 6, 27 from 1:30 – 4 p.m. Admission is free. For more information about parties or dance classes, call 928-754-2097.

CONTINUE ON TO...:

>THIS WEEK'S LAS VEGAS NEWS
>LAST WEEK'S LAUGHLIN NEWS
>VEGAS VIEW FULL ARCHIVES
>Return to "Heard Around Town"
>Return to Las Vegas Leisure Guide