The Las Vegas Hilton has signed three of country's top selling acts to headline during the National Finals Rodeo (NFR). They include previously announced Brooks & Dunn, Vince Gill, and Big & Rich.
The Brooks & Dunn performances, Dec. 4-6, are part of "The Long Haul Tour," presented by Toyota Tundra. Kix Brooks and Ronnie Dunn debuted as Brooks & Dunn in 1991 and became the nation's premier country music singer-songwriter duo. Their latest album is "Hillbilly Deluxe," which features the No. 1 single "Play Something Country." Tickets range from $100 to $195, which includes a meet-and-greet.

Column Continues Below Advertisement


Vince Gill will take the stage on Dec. 7, 8 and 9. Despite 15 Grammy awards, 18 CMA honors and 22 million in album sales, Gill is at heart still the Oklahoma kid who picked up a guitar about the time he could walk and never looked back. Tickets are $65 and $50.
Big & Rich, the popular country music duo of Big Kenny Alphin and John Rich, who was formerly of Lonestar, have performed together since 1998. Their first album, "Horse of a Different Color" in 2004 reached No. 1 on both the Billboard national chart and Billboard country music chart. Big & Rich will perform Dec. 1, 2 and 3. Tickets are $90 and $80, call 702-732-5755 or 1-800-222-5361.
Comedy legend Joan Rivers is returning to the Tropicana for a one-night only show next Saturday, July 1, in the Tiffany Theatre. Tickets are $49, call 702-739-2411.
Rivers distinguished career began in the '60s when she started doing her stand-up routine in small New York City venues and eventually joined Chicago's prestigious "Second City" comedy troupe. Since then, she has added such titles to her resume as author, actress, playwright, screen-writer, motion picture director, headliner, guest-speaker, Emmy Award-winning talk-show hostess, business woman with her jewelry and cosmetic empire, and mother to occasional on-air partner, daughter Melissa.
Also during her illustrious career, River's signature "Can we talk?" was registered as an official Federal Trademark.
Eddie Money, who arrived on the music scene in the late '70s at the height of album rock's popularity, will headline at the Silverton's Outdoor Events Center on July 15. Tickets are $30, call 702-914-8557 or 1-866-946-4373.
Money's catchy, blue-collar rock style, coupled with his knack for funny narrative videos, ensured his success through the early '80s and new MTV era. While his popularity dipped in the mid-'80s, Money made a remarkable comeback in the late '80s with the Top Ten album, "Can't Hold Back." Most recently, Money released his newest album "Wanna Go Back!," which is Eddie's first time back in the studio since "Ready Eddie" was released in 1999. Money and his band are currently on their year-long U.S. tour.
Delivering hits like "A Horse with No Name," and "Sailing" respectively, powerful artists America and Christopher Cross will grace the stage together for Lake Las Vegas Resort's 2006 Stars on the Lake Concert Series on Monday, July 3. Tickets are $59.95 for VIP seats or $29.95 for general admission seats, call Ticketmaster 702-474-4000.
America galloped into the hearts of fans in the early 70s, exuding a harmonious sound of rock, pop and folk elements that earned them a No. 1 record and a Grammyr for Best New Artist. America's hits delivered six gold and/or platinum albums, with their first greatest hits collection, "History," reaching the four million sales mark.
Cross's landmark debut album won five Grammy® awards including Best Album, Best Song and Best New Artist. Cross soon scored a second No. 1 hit as well as an Academy Award with "Arthur's Theme (Best That You Can Do)," which he co-wrote with Burt Bacharach, Carole Bayer Sager and Peter Allen.
Had a chance to visit the new Jerry's Famous Coffee Shop at Jerry's Nugget in North Las Vegas. It replaced the five-year-old Canal Street Café, which closed on April 23 for renovation. The 250-seat, 24-hour diner offers an updated menu with seven full pages of 140-plus entrée meals, 56 desserts and 68 beverage items.
The futuristic-style restaurant combines the nostalgia of the past with the contemporary designs of the present. Known as Googie style, the layout was influenced by the 50s space-like architecture of structured shapes and extraordinary angles. Old pictures on the wall represent the founders of the property and some clients.
Little Anthony & The Imperials will fill The Club with their greatest hits at the Cannery in North Las Vegas on Saturday, July 8. Tickets are $15.95 and $9.95, call 617-5585 or 866-287-4643.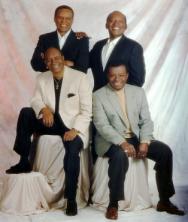 Anthony Gourdine formed his own vocal group, The Duponts, while still a teen. After high school, he left to join The Chesters who were looking for a lead voice. In early 1958, an executive from End Records spotted the group and signed them to a contract with the name The Imperials.
Their first record for End Records was a double-sided ballad smash. The "A" side, "Tears on My Pillow" instantly launched their career into musical history. This would be one of their largest selling hits, with more than one million copies sold, and has been one of the most enduring love ballads of the 1950s. The flip side hit, "Two People In The World" made this one of the most popular double-sided ballad records in vocal group history. This record was followed by more smash hits, 17 on the Pop Charts and 12 on the R&B charts.
The group was recently honored as recipients of the Rhythm & Blues Foundation's Fourth Annual Pioneer Award and inducted into the Vocal Group Hall of Fame Museum in Sharon, PA.
The Hard Rock Hotel was opened by Peter Morton in 1995 with a highlight for visitors being music memorabilia on display. The recent $770 million sale to the New York-based Morgans Hotel Group included the $5 million collection comprised of 3,000 pieces in more than 200 displays enveloping the casino floor. Most of the items were purchased, but many were donated by the artists themselves. A couple pieces are on loan.
Las Vegas favorite Jimmy Hopper will soon return to Las Vegas for a two-week run at Mandalay Bay, July 11-15 and 18-22. Hopper has been hailed as "Performer of the Year" by the Las Vegas Review-Journal and "Entertainer of the Year" by Gaming Today. Show times will be 5:00, 6:45 and 8:30 p.m.
Hopper, known for his ability to go from acoustic alternative music to performing arias with the symphonies, left Las Vegas two years ago for a national tour that has taken him from coast to coast. He is currently living in New York City, where he is working with the creators of the Tony Award-winning musical "The Lion King" on a new Broadway musical titled, "The Day There Was No More Music." Hopper is writing the show's music.
A couple weeks ago, he was interviewed and performed on ABC Family Channel's "Living the Life."
Barbra Streisand will be headlining the MGM Grand Garden Arena at 8 p.m. on Nov. 18. Tickets are on sale $1,000, $750, $350, $200 and $100 through Ticket Master.
The 80-year-old comedy legend Jerry Lewis is doing well after suffering a mild heart attack while flying back from New York, where he was roasted by the Friars Club. His July 13-16 engagement at The Orleans has been cancelled.
Brooks and Dunn, who will be headlining at the Las Vegas Hilton Dec. 4-6, will host the "The 40th Annual CMA Awards," that will air live on Monday, Nov. 6 on ABC. This will be their third consecutive year hosting the gala.
The Imperial Palace issued limited edition 30th anniversary commemorative casino chips on Father's Day. Only 500 $5, 100 $25 and 50 $100 chips were commissioned. One side of the chips featured old photos showing the Imperial Palace, the hotel's former marquee and the Flamingo Capri, the predecessor to the IP. The flip side of the $5 chip showed the front exterior of the hotel at night; the $25 highlighted the Las Vegas Monorail; and a daytime front exterior photo of the Imperial Palace distinguished the $100 check.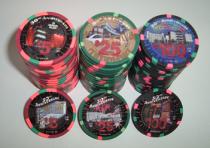 The 5th Annual Official Star Trek Convention will be celebrating the 40th Anniversary of Star Trek at the Las Vegas Hilton, Aug. 17-20. In honor of the event, the Las Vegas Hilton is producing two $5 commemorative chips. There will be a thousand of each chip available after the convention ends.
"Phantom of the Opera" at the Venetian has two people dividing up the lead role. In five performances a week Brent Barrett portrays the character and the other five shows have Anthony Crivello in the lead. Both actors have heavy-duty credits.
Barrett co-starred with his friend Reba McEntire in "Annie Get Your Gun" on Broadway in 2001. Crivello has worked with the show's director Hal Prince in two Broadway productions, 1979's "Evita" and "Kiss of the Spider Woman" in 1993.
Blue Man Group showed their creativity and dynamic music to Hollywood on June 23, when they performed for the first time with a full 80-piece symphony to honor Hollywood Bowl inductees; legendary guitarist Carlos Santana and celebrated pianist Andre Watts.
The Palms has booked the Bob Marley Roots Rock Reggae Festival on Aug. 15, at the all-new Palms Pool & Bungalows.
The Tropicana has closed two Las Vegas history nostalgia museums in the past couple years. Steve Cutler's Casino Legends Hall of Fame Museum was there from 1999 until April 2005. Then curator Richard Burgel took over 2,000 square feet and opened his displays that closed a couple months ago. Burgel also owns the Lost Vegas Gambling Museum and Store downtown at Neonopolis.
The Las The Las Vegas Hilton is taking advantage of its third floor pool deck with a city view to throw a "Cool By the Pool" happy hour, where two-for-one drinks are served, live music with a DJ is everywhere, and Foster's and Bacardi are sponsors. Happy hour is open to the public from 5 -8 p.m. daily.
The sales office is open for Las Vegas Central, which will be located near the Las Vegas Convention Center and have two 40-story towers. The proposed complex will be a mixed-use facility offering 1,000 residential units as well as retail stores, restaurants and office space. Prices will start at the high $300,000, with larger units selling for more than $2.5 million. Construction is slated to start in January 2007 and open in late 2008.
Some of the amenities will include two acres of recreational facilities, a 150-seat amphitheater, an 18,000-square-foot gourmet grocery store, lounge, spa and garden facilities, restaurant, etc.
Five venues along the Las Vegas Strip regularly feature dueling pianos - Harrah's, Hooters, New York-New York, Paris Las Vegas and the new South Coast. Prior to the Strip, Main Street station downtown opened in 1996 with dueling pianos, which lasted about eight months. The dueling pianos theme was solidified when it was introduced at New York-New York's Bar at Times Square in 1997. The piano party is so popular at New York-New York that a cover charge has been introduced. Harrah's remodeled its La Playa Lounge in 2004 to accommodate a dueling-piano act, which is identical twins Kimberley and Tamara Pinegar.
Many folks aren't aware that The Mirage has a trainer-for-a-day program connected with the Siegfried & Roy Secret Garden and Dolphin Habitat, which enjoys about 2,000 visitors a day. The exclusive adventure, which is the only one in the desert or at a casino resort, costs $500 and is limited to four participants a day. Guests are allowed to get up close and personal with six dolphins and enjoy a posh, three-course poolside lunch at a shaded jungle bivouac,
Unlike other similar programs, Mirage participants don't swim with the dolphins; however, they do put on wet suits and get a whistle before they are taught to help with such things as ultrasound medical checks, feeding, and the hand signals that make the marvelous marline mammals jump, flip and dance.
Boulder City's annual Dam Short Film Festival is eight months away, but in the meantime, on the third Saturday of each month, four to nine short films are being showcased beginning at 6:30 p.m. in the Boulder Dam Hotel.
CONTINUE ON TO...:
>THIS WEEK'S LAUGHLIN SEGMENT
>LAST WEEK'S LAS VEGAS SEGMENT
>VEGAS VIEWS FULL ARCHIVES
>Return to "Heard Around Town"
>Return to Las Vegas Leisure Guide